By Stephanie Chase
Guest Columnist
New York, NY, USA
---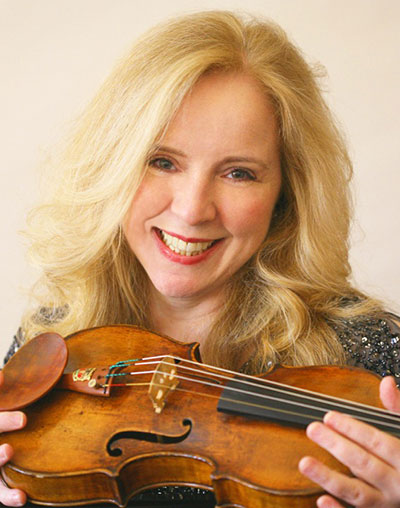 Since about 2002 I have been teaching violin and chamber music at New York University's Steinhardt School. My student groups this past semester included a piano trio working on the Trio in B Major by Johannes Brahms. The pianist, Joshua Cullen, is a master's candidate who was previously unknown to me and I enjoyed working with him, appreciating not only his talent but maturity – plus the fact that he laughed at my snarky remarks to the string players. At the semester's end, his performance in their concert impressed me enormously for its commitment, technical facility, attention to his colleagues, musicianship and power, which always remained in excellent balance with the string players. 
Although Josh's demeanor is that of a perfectly normal, intelligent young man in his early thirties, his background is anything but, and I want to share his fascinating story – and some of his music – with Stay Thirsty readers.
STEPHANIE CHASE: As a very young boy, what attracted you to the piano, and would you describe your early childhood?
JOSH CULLEN: I'd been playing on a little Casio toy keyboard as a kid – I played by ear. I tried to figure out the songs we sang in preschool. I was probably three or four. Formal lessons began once my parents bought their first house and their first piano – I was five by then. So I guess it all goes back to that little toy keyboard. I never knew anyone who played the piano when I first started taking lessons. It wasn't as though I had friends who took piano lessons and wanted to be cool like them. Eventually I did meet friends at school who took piano lessons. I remember them all being girls, and that made me self-conscious. Not self-conscious enough to quit, though. I had already quit ballet class – for that very reason. My mom said I was doing well in ballet class until one day I realized I was the only boy in the class, and then I apparently cried and refused to go back. I'm thankful the piano lessons were one-on-one, or I might have quit piano too.
I grew up in Livonia, Michigan, a suburb of Detroit. Back in 2000, Livonia was known as the whitest city of its size in the U.S.: over 95% of its 100,000+ residents were white. My mother is Japanese so along with my younger brother and sister, we were part of a tiny minority. I was actually born in Hawaii, where Asians formed the majority of the population, so moving to Livonia was a shock for us. But despite the racial segregation, the metro Detroit area was a great place to grow up. We were incredibly fortunate to have great musical institutions like the Detroit Symphony Orchestra, the Michigan Opera Theater and the School of Music at the nearby University of Michigan, which is where I ended up. My teacher there was Arthur Greene; prior to that I had studied with Mary Siciliano in my hometown of Livonia. At the time I was also taking periodic lessons with the great Viennese pianist Paul Badura-Skoda, whom I met on one of his U.S. concert tours and who served as a mentor for me for many years. My father was also a musical mentor for me – he had trained to be an opera singer earlier in his life, although he had stopped singing by the time I came along. Much of my "taste" in classical music comes from him, although it did not mirror his views exactly: occasionally I shared his ideas, but most of the time I found myself arguing with him! To put it simply, my dad had a flashier taste than I did: he was always trying to get me to play Liszt, whereas I was much happier playing Chopin and Beethoven.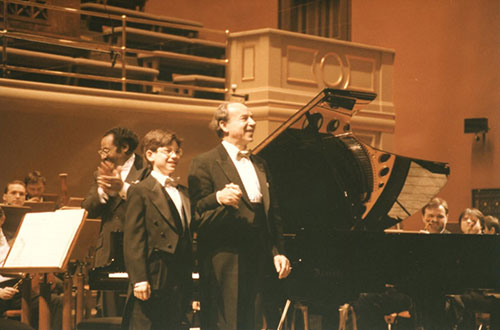 I have a younger brother named Christian and a younger sister named Catherine. Christian lives in Hawaii now, with my mother. Catherine is an Explosive Ordnance Disposal specialist in the army. She's stationed in Hawaii as well. Although my siblings each played musical instruments in childhood, they have followed their own paths growing up.
STEPHANIE CHASE: It's wonderful that your parents supported your interest in the piano – and exposed you to music in so many forms – and that Badura-Skoda, who at eighty-eight-years-old remains a mentor to one of my pianist friends, recognized your talent at such a tender age. Another mentor for you was the conductor Paul Freeman, who made several recordings with you when you were a child. What was your first recording and what were the circumstances?
JOSH CULLEN: I had just turned nine. I played Mozart's Piano Concerto in A Major, K. 488 in a concert in Tchaikovsky Hall in Moscow, with the Moscow Philharmonic conducted by Paul Freeman. The following week we made a studio recording of it, along with Mozart's Piano Sonata in F Major, K. 332.
STEPHANIE CHASE: I would love to hear that, and have memories of playing in that lovely hall during the Tchaikovsky Competition. What other recordings have you made?
JOSH CULLEN: I also made two other CD's. One of them was with Paul Badura-Skoda; we recorded Mozart's Concerto for Two Pianos in E-flat Major, K. 365. So one of the CD's included that, along with what I recall was Beethoven's first piano concerto. I also recorded Beethoven's second and third piano concertos, which I think were on a separate CD. These were made with the Czech National Symphony Orchestra, again with Paul Freeman conducting. I have some copies somewhere. I believe that none of these CD's is still in print.
STEPHANIE CHASE: The shelf life of CD's is diminishing quickly; I have made recordings in the past ten years that are now out of print.
It sounds like you spent a lot of time practicing and playing concerts as a kid. Were you home schooled? If so, did you have much contact with other children your age?
JOSH CULLEN: I used to tell people I was home schooled because it was an easy way to be forgiven for not having "normal" interests – like girls, or football. I had a hard time admitting that I was gay, so it ended up being convenient to use home school as an excuse for being weird. The truth is that I was home schooled but only for about five months. I was missing a lot of school from playing concert tours and making up school work was creating a lot of anxiety for me – and my mother was getting tired of arguing with school officials about whether my absences were allowable. So we chose what seemed like the easier route, which was to home school, but I ended up really hating it. I had been a public school student all my life and the sudden loss of that daily social interaction ended up being incredibly depressing. I was admitted to the University of Michigan in the Bachelor of Music program later that year, which was a great relief to me, although the social interactions I had there were awkward since I was thirteen at the time. By the time I was in my senior year, I had turned sixteen and had a driver's license, so things were a bit better by then. 
STEPHANIE CHASE: Your experience reminds me of a summer camp run by my husband's father, who was a school psychologist. It offered "geek" courses like slide rule, general science, music, orchestra, chess, debating, philosophy, and butterfly collecting, and the conductor John Mauceri – who was a camp counselor – conducted the camp orchestra and taught Wagnerian opera. I think it was a relief for many of the students to be able to pursue these interests outside of public school, where they were likely to be ridiculed. And my parents had the same argument with school officials over my absences for concerts, which is why I was mostly privately tutored from elementary school until high school.
When did you first realize that you have an exceptional talent?
JOSH CULLEN: It took a few years. At first, I had an incredibly difficult time learning to read music. For the first year or so, my mother wrote in the letter names above every note I played. I absolutely could not play a single note unless the letter name was written in. This continued until the music got more complicated and she started to write in the wrong letters. This infuriated me and I finally forced myself to learn how to read music. Perhaps this was her intent all along. 
But to answer your question, I don't think I recognized my talent for at least the first couple of years. It wasn't until I played my first piano concerto, Mozart's 23rd in A Major, that I felt like I was doing serious work as a musician. I was grateful to play it with my hometown orchestra, the Livonia Symphony Orchestra, and the success of that led to my performance and recording of the same concerto with the Moscow Philharmonic a year later.
STEPHANIE CHASE: This difficulty in reading music often arises from "playing by ear," but on the other hand it meant that you were really listening – and it is a more direct process to hear notes and play them back rather than read the symbols, interpret them, and then play them.
To make your first recording at age nine – and to have done so in Moscow – is astonishing, and I think the readers will share my fascination with the fact that you earned a bachelor's degree in piano performance from the University of Michigan at age sixteen, without having a high school diploma. What was it like to be such a young college student and how independent of your family were you?
JOSH CULLEN: For the first three years, my father dropped me off and picked me up from the university every day. He would drop me off on his way to work, usually around 7am, and pick me up on his way home. I would study or use the practice rooms until I got a page from him – I had to carry a pager, which I hid in my backpack because it wasn't cool to have one – and once he paged me I would make my way outside and sit on the curb until I got picked up. So I definitely felt like I was the least cool kid in school. But by my senior year, I was driving myself to school, and my parents let me stay in the dorms for my final semester.  
STEPHANIE CHASE: That must have been a welcome development! And while you were a student at the University of Michigan, at age fifteen you embarked on a European tour with the Chicago Sinfonietta conducted by Paul Freeman, playing Gershwin's Concerto in F Major. The Stuttgart Zeitung remarked that you "performed with an astounding mixture of coolness and intensity" and that you played well beyond your age.
Some parents of exceptionally gifted children just want their children to grow up "normally" and do not encourage them to skip grades – as was the case for my husband when he was at public school. In retrospect do you agree with the choices that your parents made for you?
JOSH CULLEN: I'm grateful for the commitment and the attitude my parents had towards supporting me and placing my education first. I agree enthusiastically with the out-of-the-box thinking that enabled them to even consider home school and early college entrance as possibilities. I also recognize that in the case of my father, his obsessive personality drove him to demand greatness from himself, from me, and from everyone around him. I'm no psychologist, but as an artist, I think having a little bit of an obsessive or addictive personality is what drives us to do great things with our art. So I cannot fault my parents for their enthusiasm, their attitude, or their personality traits. 
The specific decision for me to be home schooled and attend college early came with many drawbacks and negative consequences. The choices my parents made for my schooling certainly were not convenient for me or for my development as an adult. Had my parents known that accelerating my schooling would lead to me rejecting music for a life in the army, I'm guessing they probably would not have made that choice. But in retrospect, I've realized that when you are presented with an opportunity, you just have to grab it and see where it takes you. If we consider that the alternative might have been complacency, boredom, and even worse, not knowing what could have happened if one had only tried, I have to say I am thankful for my parents' decision.
STEPHANIE CHASE: I agree with you that the slightly addictive personality can be helpful in motivating an artist to work. And I think that it must be a huge challenge for parents to consider all of the possible future ramifications of choosing an unusual path for their child and providing exceptional opportunities in order to support that child's remarkable skill.
Following your graduation from the University of Michigan you went on to earn a master's degree from The Juilliard School, while still only a teenager. What were your ambitions at that time?
JOSH CULLEN: As an 18-year-old, I wanted to figure out what contribution I was going to make in the world. I wanted to know what my legacy would be – not in the sense of being famous, but I wanted to be significant to myself and among the people I cared about. Isn't that what we all think about when we're eighteen? I wanted my life to have meaning. It was something that plagued me the entire time I was at Juilliard. I had ambitions to be a concert musician, but I struggled to find meaning in that life pursuit. I found myself playing in unconventional, experimental ways, trying to find new ideas for the sake of creating something different and, therefore, relevant. Juilliard was a wonderful place to do that because, despite all of its competitive pressure, it was a place that truly embraced people's individuality and creativity. Nothing anybody ever did was ever "wrong" – we were only ever encouraged to do "even more." It was an attitude that served me well as an artist, and I developed a reliance on using my ears to constantly refine my work. However, it also was an attitude that allowed me to ignore technical challenges in pursuit of the more important "musical" goals, which led to rejection by a body of listeners that were becoming more and more accustomed to technical precision, thanks to the ubiquity of sophisticated editing in studio recordings. So, getting back to your question, my ambition at the time was to find myself as an artist, which I think I did to some extent, while at the same time losing faith in performing as a profession.
STEPHANIE CHASE: I think it's pretty evident that child prodigies are praised not only for their talent but also for their accomplishments in terms of their youth; however, an immature soloist's performance can often seem like a footrace – as in "how fast can I play this music?" – rather than a profound artistic exploration of a musical work. But the more sensitive prodigies recognize that they will not remain unusually young for very long and begin to seek artistic substance that proves their merit, such as wanting to play Beethoven rather than Liszt, as in your case. They start to expand beyond the mere technical accomplishment and focus on interpretation, which ultimately creates a more profound artist, but the journey can be painful because the identification with the instrument is so complete, and I think it also requires a major shift in how they view themselves. In your case, it almost sounds like a midlife crisis – but while you were still in your teens.
I went through something comparable at the same age, when I left my longtime teacher to go study in Belgium with Arthur Grumiaux. This necessitated a break also from my mother and I lived there without either financial or emotional support from my family, which was a real challenge. It was the right thing to do at that time but nonetheless very distressful in many ways, as I was remaking myself technically as a violinist, starting to really ponder the interpretation of music, and examining what I needed to do internally in order to identify more completely with the music.
In retrospect, I think that we have to know ourselves quite well before we can start to interpret, in a meaningful way, the great music by Bach, Beethoven, Schoenberg, and so many others. One of my favorite quotes is a from a book on the history of math, in which the author of the foreword makes a marvelous distinction between "training" – as in manipulating numbers and concepts – and "education," in which there is a real understanding of not only the concepts but also their history and contexts. I find this idea applies to music as well. The notes that we play do not exist in a vacuum but represent the emotions, desires and experiences of the composer within his or her "sound world," and we interpret them through our own life experiences and ideas.
Most students leaving Juilliard with a master's degree in performance start seeking concert work and, often, take on some teaching to help support themselves as they develop their performing career, yet you joined the army as a non-commissioned officer in 2003 and served in Iraq and Afghanistan. What led you to take this step and why did you remain for nearly twelve years?
JOSH CULLEN: I was seventeen on September 11, 2001. I had been at Juilliard for less than two weeks and I was sitting in an 8:30am ear training class when the World Trade Center was attacked. I wondered what impact I would have on the world as a classical pianist, a re-interpreter of the great canon of piano repertoire that had already been perfected and recorded for eternity by all the piano greats of the 20th century. I remember going to the American Red Cross in the days following September 11th and volunteering to help, but they didn't want my help. Did I speak foreign languages? Did I have medical skills? Did I have universal donor, O negative blood? We had just been attacked, and New York City wasn't looking for any more concert pianists. They needed real people with real skills. 
As time went on, I felt less and less relevant, and finally, when it was time to graduate, I knew I needed to make choices to make an impact in my life. The American Red Cross in New York might not have needed me but the army was happy to put me to work. I joined initially as a translator, learning Korean for a year and a half before learning that my first deployment would be to Iraq, not to Korea. Although my degrees were in music, the army saw that I had a master's degree and quickly promoted me to the rank of sergeant and had me oversee interrogations at a detention facility in Tikrit, Iraq for my first assignment. The learning curve was steep and the adjustment to the culture of the U.S. military was challenging, but after a couple of years I developed "competence" (one of my favorite army buzz words) and, as a result, promotions and an improved quality of life. 
The reason I stayed in for nearly twelve years was mainly because there was always the promise of doing more, and for the first eight years, there was always the threat of being called back involuntarily (everyone who joins the U.S. military incurs an eight-year military service obligation). By the time I left the army I had been promoted to Sergeant First Class (the pay grade for which is E-7, E-9 being the highest within the enlisted rank structure).   
STEPHANIE CHASE: My own 9/11 response was merely to play Bach for the recovery workers at St. Paul's Chapel – what an extraordinary action you took, in so many ways, and the contrast between furthering your career post-Juilliard to joining the military could not be greater. But you were now among other adults about your age and you had removed yourself from being particularly "special," in a difficult environment, which must have been an immense equalizer. What ultimately inspired you to renew your life as a musician?
JOSH CULLEN: One of the things I didn't expect to learn on my first deployment to Iraq was how much the U.S. troops relied on music and movies for comfort and to maintain their sanity. Whenever the infantry troops were resting between missions, they were listening to their iPods and watching DVDs. Of course, some of them played video games too. But for the first time in my life I realized how music universally speaks to people, and it wasn't just something they did to kill time. I saw how it restored their interest in life, how it renewed their energy and improved their mood – it might sound ridiculous, but it really fed their souls. And some of these soldiers actually listened to classical music. I remember one infantry sergeant I served with in the 82nd Airborne Division had brought his violin with him. I was astonished. This was an important realization for me as it validated the idea of being a musician as a profession. 
Deciding to leave the army after eleven years meant throwing away the prospect of military retirement, which can only be had after serving twenty years, but I grew impatient, having spent over three of those eleven years in Iraq and Afghanistan, and the deployments showed no sign of ending. I always knew I would return to a life of music; the question was only when and how. I made my decision to leave the army shortly after meeting my partner Sheldon, an aspiring actor whose dream was to work on Broadway. We decided we would pursue our dreams together, and there was nothing the army could do to convince me to stay.
STEPHANIE CHASE: Personally, I am very glad that you made this decision to return to music and come to New York. Thus far you have spent most of your life either in school or in the army – but what is your dream career?
JOSH CULLEN: Above all else, I want to be a performing musician, but I'm not sure ultimately what direction I'm headed in. I've spent the last couple of years exploring the musical theater world and the skills involved in music directing. I've been working on a second master's degree in collaborative piano at NYU Steinhardt, and in addition to vocal accompanying and chamber music, my teacher Dr. Grant Wenaus has also been introducing me to vocal coaching, conducting, and arranging.  Each of these different activities is like a different language for me; they share things in common but each one influences how I do the others. Ultimately I would love to have a career that allows me to do a little bit of each: music directing, ensemble playing, and solo playing. Isn't that exactly what you do? Please tell me it's possible!
STEPHANIE CHASE: Yes, what makes me happiest is to perform as a soloist, followed by chamber music and then teaching, but all are fulfilling and make for a good balance, and I find that teaching violin has really contributed to my understanding of technique. Coaching chamber music is not just about interpretation but guiding the students in learning about collaboration, problem solving, developing good rehearsal techniques, and the roles of leadership and following others, which requires cooperation, respect, trust and reliability. The solo performances allow me the greatest challenges and opportunities to independently interpret a work, but there is a vast amount of chamber music that is very gratifying to play, and with good colleagues the rehearsals can be a delightful part of the experience. I have also done some conducting and enjoyed it, and I have made a number of music arrangements, most recently of music by Sarasate that I arranged for solo violin and string orchestra and performed in San Jose and Boston. I also play occasional concerts on period instruments, with three this season on the Music in Context series in Houston.
The classical music world has been shrinking and the mechanisms for having a career have changed enormously since I first started out. Musicians have to be much more pro-active and flexible these days in terms of obtaining concerts and other performance opportunities, much as we'd like to focus merely on being better artists, which alone takes hours daily. In your case, I think you have gone through a huge process to discover yourself and have learned how to be one with the music that you play, which is a rare skill when it is the composer who is being served and not the ego of the artist. Experience deepens our interpretations, and I think we benefit from a lifelong commitment to learning from others and gaining from their experiences. 
Besides having worked with you at NYU, I have been listening to some of your recordings available online and have no doubt that, in terms of your artistic abilities and personality, you have the capacity to enjoy a substantial career. Incidentally, Jon Nakamura was teaching high school German when he decided to enter the Van Cliburn Competition at age 28 – and won!
You have many diverse musical interests, but my first advice is to get out there and play as much chamber music as you can, with a number of people. Not only is the repertoire amazingly varied, but it is an opportunity to try out your ideas with other musicians and to learn from them. Try to play for established people who can be helpful to you, not just for concert work but also for improving your playing. For example, as a participant at the Marlboro Music Festival I learned a tremendous amount about contemporary music technique – and how to put together really difficult chamber works by Bartók and Webern – from Felix Galimir and Siegfried Palm. Word of mouth is a key factor to having a career, along with excellent preparation, reliability, and being a good colleague. Look for solo opportunities with orchestra and in recital wherever you can, and perhaps consider repertoire that is unusual but attractive to an audience (and artistic director), so that you are distinctive from other pianists. Consider forming an ensemble – I would recommend a trio or quartet – and have fun with different kinds of music. 
It is possible to have a distinguished career as a collaborative pianist, but I would want to see you in a role well beyond accompanying students at lessons and competition entrants. Warren Jones, for example, is renowned for his recital and recording work with highly esteemed singers, and Samuel Sanders, who was a dear friend, was the pianist of choice for Itzhak Perlman and many other well-known performers. Ultimately, it's a matter of personal taste – the fulfillment of lied repertoire versus chamber or solo music versus musical theater – but I hope that you will aim as high as your dreams allow.
Some people self-manage their careers and others use concert managers, but good managers are a scarcity and are often not as dedicated to their artists as they should be. And don't forget to have an excellent press packet and enticing website! Unfortunately, humility is no longer considered a desirable trait, as we are witnessing in the political arena.
And now to conclude our conversation: up to this point, what has been your most influential life lesson, and why?
JOSH CULLEN: I think in the course of talking to you I've realized the most important thing I've learned is to just keep an open mind and be willing to explore anything. That's what's brought me the most happiness and success so far. For me, it's not exactly taking the road less traveled for the sake of it being less traveled; it's more of allowing yourself to try new things – and allowing yourself to fail – and make mistakes while having the faith that eventually something good – perhaps something amazing – will come of it!
STEPHANIE CHASE: I wish you safe travels on your glorious journey, and thank you for sharing your compelling life story and inspiring music with me and Stay Thirsty.
Links:
All opinions expressed in this article are solely those of its author and do not reflect the opinions of Stay Thirsty Media, Inc.