By Bascove
New York, NY, USA
---
Louise Fili, founder of Louise Fili Ltd, specializes in brand development for food packaging and restaurants, but her talents are called on for more ever-diverse projects. Whether designing a logo for Tiffany & Company or postage stamps for the U.S. Postal Service, her unique sense of lyricism and elegance are always in evidence. Working at Pantheon Books for over a decade, she designed almost 2,000 book jackets, adding an artist's heightened sensitivity to color and composition and a sophisticated understanding of typographic history that would reverberate throughout the world of publishing. She teaches at The School of Visual Arts in New York City and has lectured and taught the history of letterforms and graphic design throughout the US and Europe. Fili, with her sometime co-author husband, the teacher, lecturer, and writer extraordinaire Steven Heller, have published 18 books chronicling contemporary and classical typography. Her work is in the permanent collections of the Library of Congress, the Cooper-Hewitt Museum, and the Bibliothèque Nationale. Among her most recent projects are Elegantissima, a monograph featuring nearly forty years of her work, with illuminating case studies, and two volumes of her beautiful photographs of hand-lettered street signs, Grafica Della Strada: The Signs of Italy and Graphique de La Rue: The Signs of Paris.
BASCOVE: Growing up in a small town in New Jersey the neighborhood signage was standard Americana, did it leave you uninspired? What originally drew you to study letter forms?
LOUISE FILI: I was quite uninspired, yet for some reason I was always drawn to typography. At the age of four, I remember making alphabet books by day, and surreptitiously carving letterforms into the wall above my bed at night. I couldn't yet write complete words, but I thought the letters were beautiful.
BASCOVE: You have often spoken of seeing a Baci (Italian chocolate candy) poster at age 16 when traveling to Italy with your family for the first time. What did you see in that poster that was such an epiphany?
LOUISE FILI: I was struck by the overall simplicity and sensuality of the illustration and typography. I had never seen a billboard like that in the US.
BASCOVE: When you were starting out in the business, most women worked in graphic design studios doing paste up mechanicals or sitting behind the reception desk. Did you know other female designers?
LOUISE FILI: Not really. From the outset I was looking for role models, and found none.
BASCOVE: You worked with several well-established design offices including Herb Lubalin's studio. How did you find that position? Lubalin had made Annegret Beier the director of his Paris office. Did you find him to be more accepting and encouraging of women designers?
LOUISE FILI: Actually, I got the job simply by walking through the door on a day when someone had just given notice. (After I started working there I discovered that this was how they hired everyone.) But I must give Herb credit for being very much an equal-opportunity employer.
BASCOVE: How did you become involved in publishing?
LOUISE FILI: I had always loved books, and I was lucky to have had a perfect first job in publishing: designing an illustrated book on the women's suffrage movement in England. It was to tie-in to a documentary series on Masterpiece Theater. The director/author had stipulated that she work directly with the designer, so we were both put into an office together, and miraculously, six months later we emerged with a book! It was a first for each of us.
BASCOVE: Your work at Pantheon changed the way people responded to that eclectic imprint of Random House. The covers you produced were eloquent and aesthetically sophisticated. How did you develop such a unique philosophy about book covers?
LOUISE FILI: When I started at Pantheon, it was a grim time for designers in publishing. There were few risks being taken, and everyone seemed to think that type on book covers had to be big and vulgar. I was on a mission to prove that you didn't have to shout to capture someone's attention. The cover for The Lover is probably the best example of that. Marguerite Duras, although a celebrity in France, was relatively unknown in the United States. In spite of both that and the understated jacket design, the book became a runaway best-seller, Pantheon's first since Dr. Zhivago in 1958. Pantheon's Euro-centric roster of authors gave me the opportunity to experiment with a different period of design history on a daily basis.
BASCOVE: Is that when people started noticing your work?
LOUISE FILI: Yes.
BASCOVE: You were quite successful, you must have enjoyed what you were doing. What made you leave to start your own company?
LOUISE FILI: After 11 years, I felt that I had done everything that I had set out to do. It was time for my next act; I decided to tap into my interest in restaurants and food packaging.
BASCOVE: Graphic design is meant to be attractive, and compelling. At its best it's a grand seduction to make someone look at a product, want it, and buy it. You've become known for turning simple products into irresistible objects of desire. What makes a product identity, desirable or memorable?
LOUISE FILI: A product needs to inform and seduce. It must be beautiful but still accurately represent the brand. I believe that a well-designed package can actually make a product taste better! (That said, I would never take on a product that isn't good.)
BASCOVE: How do you analyze the requirements and demands of your clients? How do you educate them about the best direction to meet their needs? Have your designs changed companies?
LOUISE FILI: I spend a lot of time talking to the client about their fears and hopes for the products. Much of the package design work that we do is concerned with makeovers, where the client is understandably leery of making a big change. Will they lose their customer base? Will the investment ever pay off? The before and after section of my website can help assuage their fears: it shows that a lot can be changed as long as one or two key elements are retained. Happily, this has made all the difference for many companies. Consumers may not notice the redesign, but they suddenly have a higher regard for the product.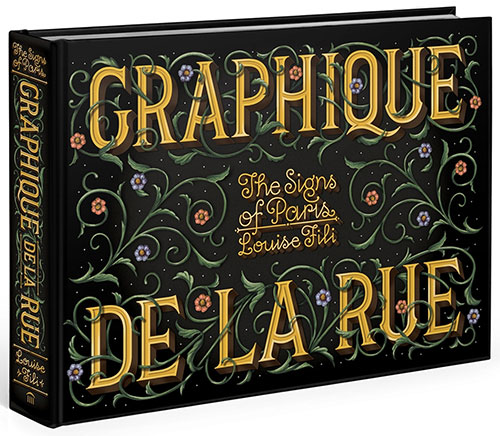 BASCOVE: You've designed an astounding number of books. One of the most recent, Grafica Della Strada: The Signs of Italy, feels like an homage to those first moments of enchantment you felt as a young woman on your first visit to Italy. How does Italian culture continue to excite your creativity?
LOUISE FILI: Every time I visit Italy, I feel like I've come home. And whenever I look at their sensuous and spirited typography from the 20s and 30s, I feel an intimate connection, like I have known it all my life. It is a constant source of inspiration for me.
BASCOVE: What catches your eye on a display of signage, what makes it significant?
LOUISE FILI: The style of typography is the most important. Most of the signage I am attracted to is hand-lettered, and not just based on type faces, which gives the signs a great deal of personality. The selection of materials certainly contributes to the sign's impact: gold leaf, hand-painted, mosaic, neon, wrought iron, or carved in stone.
BASCOVE: At what point did you feel that you were working without constraints, that you were solving a problem without having to compromise or hold back on the best that you could do?
LOUISE FILI: Once I earned the trust of my editors at Pantheon, I think I had found that place.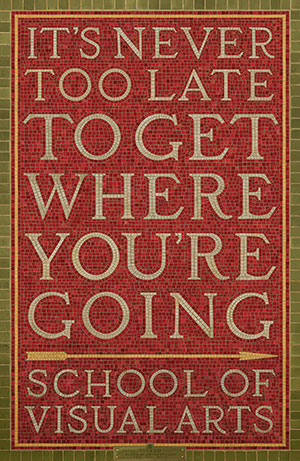 BASCOVE: What are your thoughts about the way technology is changing graphic design? I know you still prefer to design by hand using pencil drawing rather than sketching on a computer, but that you also use computers judiciously when necessary, as with the subway tile motif for your School of Visual Arts poster.
LOUISE FILI: No matter what technology is employed, a design should always start as a sketch on paper. For me, the sketching is the most exciting part of the process, but there is no denying the fact that computer programs can greatly enhance the final results in ways that were not possible in the pre-digital era.
BASCOVE: In your career as a graphic designer what has surprised you most?
LOUISE FILI: I don't think that I ever expected to be able to build a career out of a love of food and all things Italian.
BASCOVE: What is exciting for you now in graphic design?
LOUISE FILI: How quickly a design can be realized. Twenty years ago, it would have taken several weeks to achieve what can now be done in a matter of hours.
BASCOVE: There always seem to be personal projects coming from your studio, on subjects that are close to your heart. What is your dream project that you haven't gotten to do yet?
LOUISE FILI: It has been quite satisfying to develop a series of books on European signage, since I have been taking these photographs for decades. The next one will be Barcelona, which I am very excited about.
BASCOVE: The recent Art Directors Club exhibition of your work was constructed like a brilliantly colored, romantic stage set, complete with a violet fainting couch draped with intimate apparel, a retro kitchen stocked with Fili designed comestibles, a fireside collection of books, and wallpaper of enlarged packaging details. It was truly a design retrospective. How did it feel walking through those rooms?
LOUISE FILI: This was truly my dream house. When I sat down in each of the room environments, I felt completely at home.
Images courtesy of Louise Fili
Links:
All opinions expressed in this article are solely those of its author and do not reflect the opinions of Stay Thirsty Media, Inc.