By THIRSTY
---
Jorge Mejia emigrated from Bogotá, Colombia with his family in the early 1980s and settled in Miami. Living first in Key Biscayne, then downtown Miami and later Miami Beach, he did the majority of his classical music education under Miami's influence. After graduating cum laude from the University of Miami with a degree in piano performance, Jorge joined Sony Music and quickly transitioned to Sony Music Publishing. He is currently the Executive Vice President of Sony/ATV Music Publishing Latin America and US Latin, a role in which he is responsible for Sony/ATV Music Publishing's operation across Latin America and US Latin, and has been recognized time and again as one of the leaders in the Latin music industry.
When not directing the world's largest Latin music publishing house, Jorge composes classical music. His first album, entitled Preludes, was released this past summer to strong reviews.
Stay Thirsty Magazine was pleased to visit with Jorge Mejia at his home in Miami Beach for this Conversation about his new album, Latin music and the magnetism of Miami.
STAY THIRSTY: In June of 2015 you released an album of 25 short piano compositions entitled Preludes on which you are both the composer and the piano soloist. What is the backstory to the creation of this work?
JORGE MEJIA: I have been working on this project for a long time. Years. The Preludes were the pieces which I turned to on the piano regardless of what was going on in my life, or perhaps because of what was going on in my life. I always knew that I wanted to finish a whole set, one in each key and little by little, note by note, I finished them and ended up with one extra piece to boot – the Prelude in G Minor has two parts, Part 1 and 2, hence one Prelude for each of the 24 keys and 25 actual pieces.
STAY THIRSTY: Your music education includes the New World School of Arts (Miami), the New England Conservatory of Music (Boston) and the University of Miami where you graduated cum laude with a degree in piano performance. In addition to composing classical pieces, you also have an indie rock band, but your day job is focused on music publishing for Latin America and US Latin. How does this all fit together for you when you were composing your Preludes?
JORGE MEJIA: Everything in my life is interconnected because it all pretty much revolves around music. Whether it is a Chopin Prelude, one of my own preludes, an awesome indie song (check out Brika), or the latest Latin hit (check out Nicky Jam and Enrique's "El Perdón"), it is all music. If you go further, music, at its most basic, is pure vibration. And vibration is arguably the building block of what we see as physical objects, our physical reality. So working with music I am working with the most basic form of our everyday reality – and composing is rearranging those building blocks to create structures I can live in, I can sleep in, I can be proud of.
STAY THIRSTY: You have written that: "Freedom means the ability to choose. And the most important thing you are free to choose is your thoughts." Considering that you work in the corporate world, did composing these Preludes make you feel free?
JORGE MEJIA: That quote should actually be attributed to my good friend Maura Traylor. And what it means, and the reason it resonates so much with me, is that we are free to choose our thoughts, which in turn shape our reality. Which means that the corporate world is a choice as much as composition is another choice. Both made freely and willingly and both, in their own ways, a way to express our ability to be free. So to answer your question directly, I do not feel like my responsibilities at Sony are shackles that bind me and my preludes are my way to be free of them. They are both conscious, joyous choices…at least most of the time.
STAY THIRSTY: You have said that you were influenced by pianists Keith Jarrett and Glenn Gould. How would you describe your compositional style and your performance style?
JORGE MEJIA: What I am trying to achieve, what I would love to communicate, both in my composition and my performance of my compositions, is a sense of stillness within an incredibly busy, incredibly flowing, incredibly aggressive time, the time in which we live. I think Keith Jarrett's Köln Concert is an expression of this and Glenn Gould did this like no other with his Bach interpretations – when you listen to Glenn Gould playing the Goldberg Variations or one of the Preludes and Fugues, you get that sense, that sense of stillness that I think Bach must have felt when he was writing. Bach wrote for God, it was a religious experience for him, so he framed what he did around God, and for me it is similar – although I don't use the same symbols that Bach did – my writing is about that spiritual sense within, my own brand of spirituality, what I refer to as stillness.
STAY THIRSTY: Being an executive in the music business and debuting an album of original music before an audience of your peers at the Miami recording studio Art House showed courage and confidence. Well-known critic John Anderson said that your Preludes were "Gut wrenchingly beautiful…" Have you been encouraged by the response to your work to consider doing a second volume of Preludes?
JORGE MEJIA: Absolutely. I like to say that music chooses you, you don't choose it. Which means that even if I had been pelted with tomato skins at that performance (which thankfully I wasn't), I would still be working on the next project, which happens to be a book incorporating these Preludes and then after that, a piano concerto is in the works.
STAY THIRSTY: Do you plan to do any more public performances of your Preludes? Are you thinking about asking other pianists to record your compositions too?
JORGE MEJIA: Yes and yes and yes and yes and yes! A few friends have asked for the scores to the pieces so they can play them – which I would love – and I'm in the planning stages of a performance in NYC at the end of October, stay tuned.
STAY THIRSTY: Your day job at Sony/ATV reads like the American Dream. You were born in Colombia, moved to Miami when you were 12 and began to climb the corporate ladder right out of college with an internship at Sony Music that eventually led to your current position as Executive Vice President, Sony/ATV Music Publishing Latin America and US Latin. Under your tenure, Sony/ATV has been named the ASCAP Latin Publisher of the Year for 13 years in a row, the Billboard Latin Publishing Company of the Year for two years in a row and the BMI Publisher of the Year for two years in a row. What is the secret of your success in making this music publishing division such a powerhouse?
JORGE MEJIA: I've been lucky to surround myself with an amazing team of people. And that means both at a boss level, as well as those who work for me in my office and in the offices I oversee. As far as the things that I can actually control, an important part of success – I believe – is a clear vision of the best possible outcome firmly entrenched on your mind at all times even in the face of, or rather especially in the face of, challenging times.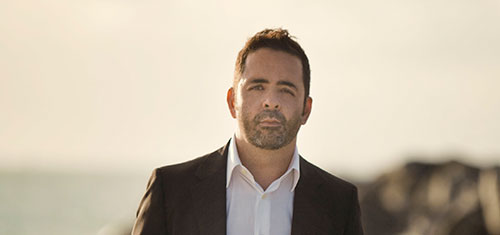 STAY THIRSTY: You have been named by Billboard Magazine as one of the "Latin Power Players" on several occasions and you have worked with artists and writers like Pitbull, Enrique Iglesias, Nicky Jam, Farruko and J Balvin. How do you choose which artists and writers Sony/ATV should back? What qualities in an artist and writer attract your attention?
JORGE MEJIA: I should clarify that although I admire him greatly, I haven't yet worked with J Balvin. I am looking forward to doing so someday in the future though! To answer the question, though, the music business is very much about business with a little bit of gut feeling thrown in for good measure. Which means you look for someone who has been able, through talent, tenacity, unyielding vision, and usually some luck, to achieve the incredible feat of rising above the noise, rising above the din and you go for that – with the same tenacity, unyielding vision, and hopefully with a little luck on your side too.
STAY THIRSTY: You live in Miami Beach with your wife Amanda who you persuaded to move to Miami from New York. What is it about Miami Beach that creates such a powerful energy and style that so influences the creative process?
JORGE MEJIA: You look out of your window and you see the ocean. You look out of your car window and you see the ocean. You walk for a few blocks and hopefully you are lucky enough to be at the ocean. For me, personally, it is a connection to the ocean that makes me vibrate in synch with creativity. And after that, the fact that Miami is slowly becoming a grown-up city – Art Basel, the amazing New World Symphony, the Nu Deco Ensemble, all the visiting orchestras, not to mention the awesome pop and rock and Latin concerts, check and check and check. Miami is an amazing place in which to live; it is like an early New York, a burgeoning Chicago, an early Paris building in momentum.
STAY THIRSTY: You mentioned an upcoming book project related to your Preludes. Can you reveal more about it at this time?
JORGE MEJIA: I am working on an interactive book, which is made up of a chapter for each of the piano preludes. The plan is to release the book in 2016, and the idea is that after you read each chapter (mostly short vignettes), you press play and listen to the corresponding Prelude. It is a corollary to this music-only CD release, because I wanted the music to stand on its own, at least at first.
Link: