By Jean Hanff Korelitz
Guest Columnist
New York, NY, USA
---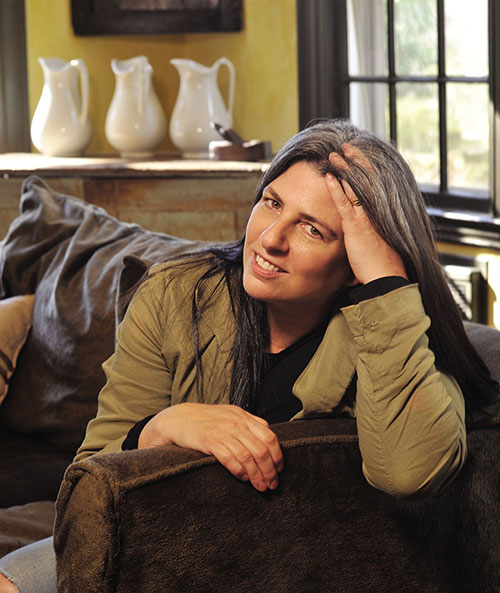 Two years ago, after a quarter century in exile (in Princeton, NJ, to be exact) I crossed the mighty Hudson and returned to my native isle of Manhattan. My husband and I made the move for so many reasons that they'd take up the entirety of this Stay Thirsty article if I even began to list them, so suffice it to say: I'm home. My husband, poet Paul Muldoon, is commuting to Princeton to teach and to his downtown office at The New Yorker, where he is the poetry editor. Our older child is living in a much hipper borough nearby, our younger child is attending my old high school, and the dog and cat have adjusted to their new schedules of sleeping all day. As for me, I'm working on a new novel entitled THE DEVIL AND WEBSTER, which, knock wood, will be published in 2017. (My fifth novel, YOU SHOULD HAVE KNOWN, was published in 2013. Before that I wrote ADMISSION, which was adapted as a film of the same title, starring Tina Fey and Lily Tomlin. That was fun.)
Also, I've done something I never thought I'd do. I've started a business.
In Princeton I ran a longstanding "Meet the Author" book group, with about 30 participants. We were like a normal book group except for two things. First, members paid a fee to participate (this was donated to a local organization), and second, the author was always present. It was such a fantastic experience, and as the only writer in the group, I must admit that I got a huge kick out of watching my fellow book group members be genuinely surprised to learn the same thing over and over again from our visiting authors – namely that the author seldom understands where the work is going when they begin it. There were so many extraordinary moments in our book group. Hearing novelist (and The Roches member!) Suzzy Roche play and sing songs she had written for the pop star protagonist of her novel, WAYWARD SAINTS. Having Julie Salamon tell us what she had learned about Wendy Wasserstein while undertaking her biography of the playwright. Listening to Steve Martin describe the process of writing his first novel. Laughing our heads off with memoirist Patricia Volk, who somehow got us all to spill our secrets. Of course, when I moved back to Manhattan I wanted to keep doing it.
So I started BOOKTHEWRITER, which now represents over 100 novelists, memoirists, poets, biographers and non-fiction writers, among them bestselling authors, actors, New Yorker writers, media figures, even a Real Housewife (who also happens to be...a Real Writer). Because I am committed to the radical notion that writers should be paid for their time, BOOKTHEWRITER is a business, and the book groups who invite our authors into their homes to take part in their discussions pay a fee for this service. We have sent authors to book groups in Manhattan and Brooklyn, but also to Connecticut, Long Island, New Jersey and Westchester, and we're thinking of expanding to a few other cities with lots of resident writers and lots of book groups: Boston, Chicago, LA, San Francisco and Washington. Sometimes, when our writers are traveling to other areas (such as Vermont and Palm Beach) they have also been available to book groups there. In addition BOOKTHEWRITER runs our own book groups (we call them "Pop-Up Book Groups") with our authors, for which people can sign up on an individual basis for a $25 fee. These are held in private homes, and are kept very small so that the conversation can be intimate and free flowing, like the best book groups are!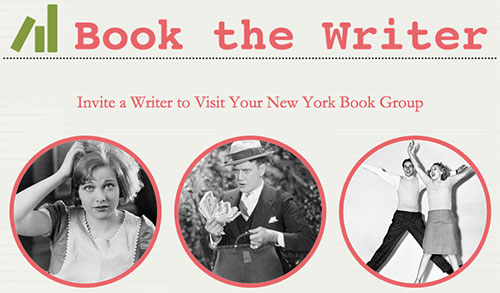 Writers and publishers alike have long understood that book groups are vital to the success of a new book, but no one truly understands how to reach them, and there's a good reason for that. If you think about it, a book group is the ultimate private club – you and your friends, gathered in someone's living room, talking about books. As a book group member you're probably not looking at advertising to choose what to read next, and you're probably not reading blog posts or scanning social media for recommendations. Instead, you're kicking back in a comfortable chair, pouring a glass of wine and having an actual conversation along the lines of: What books are we all reading now? What books are we hearing about? Publishers and marketers are trying very hard to reach you and your fellow book groups' members, but they're not succeeding, and I kind of think that's great. There are few enough truly person-to-person experiences left in modern life, and I think we need to preserve the ones we still have. But that doesn't mean the person-to-person experience of gathering to talk about books can't be improved. It can be improved, trust me.
Imagine arriving at your monthly book group, eager to talk about the novel you've just finished. The main character was a fascinating construction and the plot contained breathtaking turns. How had the author decided what to reveal to the reader, and in which order? Had she known in advance that her story would unfold as it did? Had she plotted everything out in advance, or was she as surprised in writing the story as her readers would be, years later, in reading it? Where had the idea come from? What books had she been reading while writing this book? Were there autobiographical elements? How about that Aunt Sarabeth character? Who was she based on? Was San Lorenzo, Indiana, where the protagonist grew up, a real place, and if it was, could you visit and stay in the mysterious Looking Glass Suite of the Olde Home Hotel where so many odd things had happened to guests whose surnames began with W…?
I could go on, but I won't! My point is that when we read a great book, we have questions. But at a typical book group, the farthest we can really get with our questions is: I wonder what the author was thinking…?
At a BOOKTHEWRITER book group the question not only gets answered, it leads to other questions, other discussion. You learn. You laugh. You discover. You write down the titles of other books you have to read and other writers you've never heard of. You figure out that you and the author attended the same summer camp, or revered the same children's book, or share the same secret passion for The Olive Garden. You connect. And it changes the way you feel about the book, the experience of reading and the act of creation. It can be…and I use this word very deliberately…magical.

So: how does BOOKTHEWRITER work? A book group may already be planning to read a title by one of our authors – Christina Baker Kline's ORPHAN TRAIN, for example, or Joshua Ferris's TO RISE AGAIN AT A DECENT HOUR, Katha Pollitt's fascinating book about abortion, Sherri Fink's universally praised book about Hurricane Katrina, FIVE DAYS AT MEMORIAL, or Jon Ronson's SO YOU'VE BEEN PUBLICLY SHAMED. If that's the case, all the group needs to do is go to our website, navigate to the page of the author you're interested in, and click on the booking link. We work with you to find a date that suits both your group and the author, and once we have it we'll invoice you. (The flat fee for a book group visit is $600. You may include as many book group members as you like, and some book groups have even doubled up to invite their authors. If an invitation involves significant travel – train fare, taxis, etc – it may be necessary to add coverage of those costs.) And then the author comes to your book group meeting, simple as that. Instead of asking "I wonder what the author was thinking when she wrote this" you can...ask the author herself. You'll get to hear about the twists and turns the book experienced on its way to being born, and what the author learned along the way. You'll learn about the author's writing process and what her evolution as a writer has been. You might even find yourself sharing a laugh or hearing a secret from a writer you've long admired. And it's worth remembering that you don't necessarily have to be in an existing book group to use BOOKTHEWRITER; if you and your friends have always loved Jane Green's novels, form a one-time group and invite her to join you.
I hope you'll visit Book the Writer to read about our great authors, and consider inviting one to your own book group. Can't choose? I love making book recommendations, so just ask! If you want to hear about our Pop-Up Book Groups as they're scheduled, the best way to do so is to sign up for our newsletter (use the sign up form on the website or send your email address to info@bookthewriter.com). I look forward to meeting you at a future book group!
Links:
All opinions expressed in this article are solely those of its author and do not reflect the opinions of Stay Thirsty Media, Inc.