By Jay Fox
Brooklyn, NY, USA
---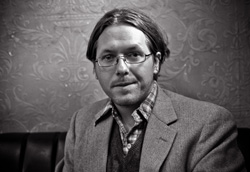 The global corporation operates with resolute constancy—at low relative cost—as if the entire world (or major regions of it) were a single entity; it sells the same things in the same way everywhere… — Theodore Levitt
New York is not a city of ruminators. It's not that New Yorkers are dumb; rather, they are just very active, frenetic even. It is, and always has been, a city of urgency populated with busy people who can at times come off as impatient, aggressive and rude. Even those of us who pride ourselves on our comportment and self-restraint can sometimes get caught up in the whirlwind of work and play and sex and booze that can turn entire decades (your twenties, for example) into one ultimately pleasant blur. While it's clear—even from the vantage of within the whirlwind—that all five boroughs have seen a lot of transition over the past ten years, the most important of these changes go far deeper than gentrification or development or the disappearance of a myriad of landmarks like the Domino Sugar Refinery, Shea Stadium or a few dozen Irish pubs in Midtown. If you don't sit and think about just how much the city has transformed every now and again, you can sometimes just accept it without really noticing it.
Perhaps what is most different about the city is its cultural landscape. There are several reasons for this. There's the obvious: Artists have been pushed out due to rising rents. And then there's the less obvious: They're being pushed out by aesthetes who appear to be artists and work in fields that require some degree of creativity, usually in the field of design, but "artist" is a bit of misnomer for them. While they have talent and enough of an artistic sensibility to successfully generate the aesthetic content that contributes to a brand's identity or its virtual presence, they are not really artists. They work on the creative side of a firm, thereby making them creatives. It is these individuals, and not the reviled yuppies working in fields like finance and law, who serve as the primary engine for change in this city.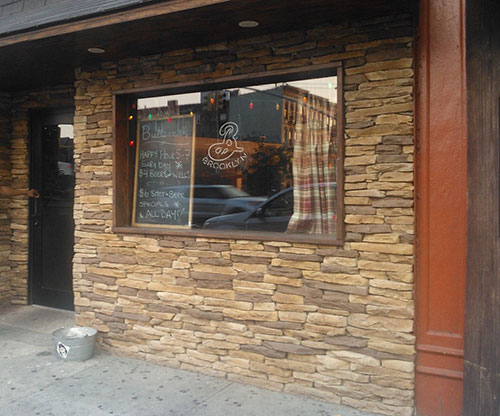 Creatives now occupy the same physical and cultural space in New York City that artists did roughly ten or twenty years ago. They look just like artists; they talk just like artists; they have interests that are similar to those of artists. The same can be said of the hipster. (In fact, one could even think of a hipster as being a creative in his or her larval stage.) And as these two groups intersect, the interests of the younger hipsters are introduced to the older creatives, who then disseminate said interests to a wider audience because they work for the marketing firms responsible for developing the looks and brand identities of entities from tiny startups to Fortune 500 companies. This is how what was once considered obscure and something so esoteric that only a hipster could enjoy it enters into and, eventually, becomes mainstream.
This process does not concern fashion or music tastes exclusively. In fact, of all the arenas where it is felt none is more widely felt than the ways in which creatives have changed the type of foods and beverages that most urbanites consume. This is for two reasons. As a result of possessing more money than the artists that they replaced, these creatives have developed more sophisticated tastes. However, they still possess the artists' sensibility that favors the unique and the authentic, while eschewing the corporate. And this is crucial. They are not just people who are throwing around money at any premium product (like vodka that has been distilled a thousand times until it tastes like water, or caviar or duck liver spread that has been created by torturing said duck—i.e. foie gras). The premium element is secondary to the authentic element in this equation.
Most of the establishments that open in creative neighborhoods strive to satisfy this itch by serving locally grown food, craft beer, interesting cocktails and the like. It is now entirely normal to assume that the new restaurants in these neighborhoods will source their food from a farm upstate and that their bartenders will know how to make a Vieux Carre or a Sazarac.
This is a huge cultural shift. Unless you were at a Michelin star-rated restaurant ten years ago, your only cocktail options were typically limited to ones with one type of booze and a mixer. Food came from…wherever food comes from. It was the absolute height of pretention to give a shit about the terroir of anything except for maybe French wine and weed. The idea of walking into a dive bar with a whiskey option more extensive than Jack, Jim and Jameson would have been met with ridicule.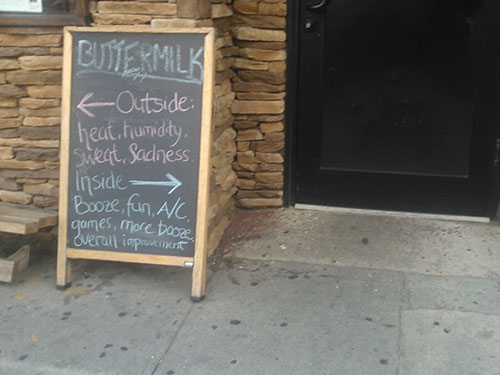 That was New York in 2005.
The reality of Brooklyn in 2015 is that the people who are defining the cultural landscape of the borough have money and an anti-corporate sentiment. This means that these ersatz artists don't have to settle for swill produced by multinational corporations like Anheuser-Busch, InBev or Diageo when they go out for a drink. Because of the anti-corporate sentiment behind the act, it is not considered pompous to favor the micro over the macro.
Again, this is a huge cultural shift, and it is one of the reasons why so many dive bars are hurting. Dive bars are being eschewed by creatives and those who have bought into the creative penchant for artisanal products not because the dives are dirty or because even their ceilings are coated in graffiti and punk band stickers; it's because the only beers they serve are Bud and MGD, and the only gin they have tastes like Pine Sol and comes from a plastic jug. If a dive is to survive, it can't just sell mass produced swill and the type of booze that will give you rotgut. The creative class may be willing to sell out to corporate America between the hours of nine and five, but happy hour is all about the small batch.
The concept of the dive bar has had to evolve to accommodate these somewhat finicky drinkers. And many have. One that I've come to drop into from time to time is Buttermilk Bar (577 5th Avenue, Park Slope).
Buttermilk is not what people who came of age during the Seventies will think of when they think of a dive. Rather, Buttermilk exemplifies what a New York City dive bar has come to be. It's not that there are no frills; it's that there's very little pretention, and this becomes obvious as you strike up conversations with the people who happen to be sitting next to you taking slugs from bottles of High Life or nursing pints of Smuttynose. You can talk to people in Buttermilk, and you can go on a pretty good tear without feeling as though you've somehow insulted a far more cultured patron's delicate sensibilities. Also, the occasional derelict will still happen to walk in from time to time, too, to argue with his equally disheveled girlfriend and to remind you that, yes, there are still junkies in this town. If you need another reminder, the bench in front of the bar is another a favorite hangout for the preternaturally fucked.
Ultimately, though, it's really that Buttermilk strives to be nothing more than a solid neighborhood bar with a pool table, a few TVs to watch big games, air hockey and even pinball. This is all a dive bar really is now: A simple place to simply have a drink.
Link:
Jay Fox at Stay Thirsty Publishing
All opinions expressed in this article are solely those of its author and do not reflect the opinions of Stay Thirsty Media, Inc.