By Lenny Cavallaro
Methuen, MA, USA
---
Gianluca Bersanetti is another composer I have encountered through Vox Saeculorum. I was immediately impressed by how beautifully he writes in the style of Scarlatti, but I have since come to appreciate the broad range of his musical voice.
I should probably begin with a disclaimer; I am also indebted to this man. I recently sent a score to him for critical review – my conjectural "completion" of the last contrapunctus from Bach's unfinished masterpiece, The Art of Fugue. Fortunately for me, he brought an error to my attention, one of those inevitable "rules" of harmony around which we all sometimes stumble. In addition, he put me in touch with Simone Stella, the outstanding organist who has recorded the work for me.
Bersanetti was born in Rome and moved with his family to Bergamo, where he devoted himself to the study of piano and composition. He later attended the University of Milan and majored in Italian literature. As a composer, he is largely self-taught. However, as far back as 1984 he had already garnered favorable critical review from critics, and he has continued writing ever since.
In 1988, Bersanetti immigrated to California, where he studied at UCLA and pursued a degree in early childhood music education. He now teaches at Turning Point School in Culver City. He became involved with the Orff-Schulwerk approach to music pedagogy and served as vice-president and later president of the Orff-Schulwerk Los Angeles. In addition, he won the 2008 National Composition Competition for Musical Themes with his instrumental work, "Festive Piece."
I chatted with this prolific, many-faceted composer in late August, shortly before the formal start of the academic year. 
STAY THIRSTY: Your online bios are a little vague about precisely where you studied, although it is clear that you majored in literature and are to some extent self-taught as a composer. Please fill in a few of the gaps, and tell us how you became Gianluca Bersanetti.
GIANLUCA BERSANETTI: I studied Italian literature (and comparative literature) in Milan, and took a few music history classes at the Università Cattolica and the Università Statale di Milano. I think my love of music developed naturally, due to simple exposure from childhood. My father and maternal grandmother were opera lovers, and I had memorized most of the works of Verdi and Puccini by a fairly early age. My mother preferred instrumental music, especially that of Mozart and Chopin. 
Of course, I also recall watching ballet on television, although primarily for the music. In fact, I remember dancing my heart out (i.e., mostly jumping on furniture) with my older sister when I was four or five years old.
STAY THIRSTY: To anything in particular?
GIANLUCA BERSANETTI: To my very first classical music record, Ponchielli's Dance of the Hours. We also acquired a series of records called The Great Classics (or something like that), which included Mozart's immortal G Minor Symphony (#40), Beethoven's 5th, Sibelius' The Swan of Tuonela, and similar "greatest hits." And perhaps yet another turning point arrived when I got to see Disney's Fantasia on the big screen. 
Later, I read about Mozart in a children's encyclopedia, and became altogether fascinated by a facsimile reproduction: the first page of the autograph of his great C major string quintet. If I had to pick a momentous occasion, perhaps that would be it. I wanted to learn how to do what Mozart had done: write music. In hindsight, that is probably why I began piano lessons.          
However, I was a relatively late starter. I've also always been a nature and science lover. My parents saw me more as a little scientist than a composer. I love drawing and grew up with books about the arts and the animal world. Thus, my love for music had probably been percolating on a back burner for years before I actually first started studying piano and theory privately in Italy (Bergamo). I was about 10. 
STAY THIRSTY: Yes, most keyboard players start somewhat earlier, for obvious reasons. As do strings, of course. And when did you begin to compose?
GIANLUCA BERSANETTI: Well, besides collecting the "usual" things – butterflies, toy soldiers, and stamps – I began amassing records, starting primarily with a series on classical composers (from Corelli and Vivaldi to Bartok), released by Mondadori Editions. Very soon thereafter, I tried writing music. The first things that came out were a few measures of a symphonic poem, written on one line.
STAY THIRSTY: A tone poem? What was the theme?
GIANLUCA BERSANETTI: It was about abiogenesis, the beginning of life on Earth as it arose from nonliving matter. 
STAY THIRSTY: That's would prove a rather difficult musical venture even for a mature composer!
GIANLUCA BERSANETTI: Of course, you are correct. But let me digress. From the age of 13-14 on, literature also became an important part of my education – mostly Italian classics, as well the standard great English, French, and Russian writers. Of course, I also continued clocking hour upon hour of piano practice until I reached 20, reading through everything I could get my hands on. To this day I remain a rather good sight-reader. However, at just about this time I also suffered my first disappointment with music, which I still remember with some distaste. I was unable to attend the Conservatory of Music in Bergamo, simply because I was one year too old.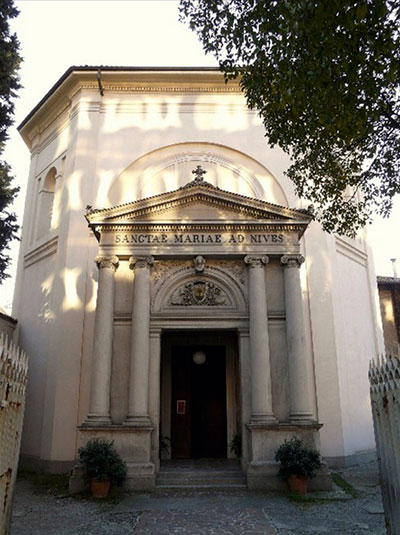 STAY THIRSTY: Fortunately, you didn't get discouraged before you had had the opportunity to discover the baroque period.
GIANLUCA BERSANETTI: Indeed, since that had already occurred. Between the ages of 12 and 18, I became involved with one of my other "true loves": the organ. Bergamo has some wonderful instruments in its monumental churches and the main cathedral. At 14, I became the "organist" of a small church, which had a small but lovely one-manual organ by Serassi with a shortened pedal board. I remember playing with gloves on in the winter because of the cold air coming up through the keys from the bellows! It was at this time that Herr Bach joined Herr Mozart as one of my official idols. Actually, one of my first decent attempts at writing was for the organ – the prelude that would later evolve into my Prelude and Fugue in C. 
STAY THIRSTY: A prodigious start. I suspect you benefitted from working with vocalists as well, even the choir of a small church. 
GIANLUCA BERSANETTI: I hope so. Even during Bach's time, some critics complained that he wrote for voices the same way he did for instruments, making it really hard to sing. Incidentally, choirs never stopped complaining, either, and still do today. 
I should add that my younger sister, Stella, was a professional singer, a lyric soprano. Unfortunately, she abandoned her promising career, though not before I had spent many hours accompanying her at home throughout her studies at the G. Donizetti Conservatory in Bergamo and also with several private teachers. 
STAY THIRSTY: Excellent! You had some wonderful musical experiences, though you haven't mentioned any training in composition. You were largely self-taught?
GIANLUCA BERSANETTI: Not entirely. True, I studied on my own, but also with private composition teachers in Italy, and I would later take a handful of elective courses at UCLA and at local community colleges. It was actually in one of these unassuming public institutions that I had the good fortune to encounter some of my very best music teachers. I would like to mention the late Professor David Karol, a virtuoso pianist of the first caliber. He had studied with Rosina Lhevinne, and was a friend of both John Browning and Van Cliburn. He was also an extremely knowledgeable and inspiring educator.
STAY THIRSTY: A very gracious acknowledgement, although we're getting a little ahead of the narrative chronologically. Let's return to Italy. Effectively by age 20, you had already accumulated many of the "tools" you would need. Was that when you decided to emigrate?
GIANLUCA BERSANETTI: Not quite. Shortly before moving (in 1988), I spent a year in the Italian army for what at the time was mandatory service, though it's no longer required today. 
STAY THIRSTY: Tell me you didn't become Johann Sebastian Rambo!
GIANLUCA BERSANETTI: Actually, I was a good soldier, in that I was part of the fanfara, the marching – and running (!) – brass-only ensemble of the traditional corps known as the Bersaglieri, who drew from both the marines and the "Royal Guards." Anyhow, it was there that I learned how to play the trumpet, to at least some mediocre level. I quickly realized it was not my instrument, but I gained some invaluable experience by arranging music and conducting the group. 
One other memory from my military stint has proven a very happy one. The same day I came home after completing compulsory service, I met my future American wife, who was visiting Europe.
STAY THIRSTY: How fortuitous. Children?
GIANLUCA BERSANETTI: Yes:  a daughter, 22, and a son, 17.
STAY THIRSTY: And so you moved to Los Angeles in the late 80s, by which point I must assume you already spoke some English. 
GIANLUCA BERSANETTI: Yes, I studied English in Italy from 5th grade until the end of high school. My father spoke German, French, English, and even some Russian, so various languages, as well as Italian dialects (from both the north and the south) have always been in my ears. Obviously, my English has improved enormously in the last 26 years. 
STAY THIRSTY: It certainly must have, since you're now a teacher! And on that score, I noticed that you also got involved with Orff-Schulwerk Los Angeles, and later became president of the organization. What has drawn you to the Orff Method, and how do you think it has most benefitted young students?
GIANLUCA BERSANETTI: I have served as the president of the Los Angeles Chapter of the American Orff Schulwerk Association (AOSA) for the last four years. In short, the Orff approach is student-centered, elemental music for the children and by the children. The importance and beauty of it lies in the process itself. The children (ages 3-8) develop their musicianship and appreciation of music through play, movement, dance, speaking, chanting, singing, and dabbling with all kinds of percussion instruments. The recorder is usually added to the curriculum around second grade. Improvisation and creativity form a very important part of the training, and every child should be able to find his or her way to contribute to a performance.
All in all, Orff offers an approach geared toward the children's development. It includes percussion instruments, designed specifically for youngsters to play. The ultimate goal is for them to create their own music, which may be simple, but it's quite effective.
Finally, I must add that the Orff method is truly the most fun for participants. I have been teaching music to children for more than twenty years, and I am quite passionate about it. I have been involved with Orff for about twelve years, and this is the approach I use for young children.
STAY THIRSTY: O.K. However, perhaps we should backtrack once again at this point. You were too old for the conservatory, but attended the Faculty of Arts in Milan. After completing the curriculum, you moved to Los Angeles, where you continued your own musical studies, focusing particularly in historical counterpoint of the seventeenth and eighteenth centuries, attending courses, and conducting research on the European baroque and classical periods. When did you begin to make a more serious effort at composition?
GIANLUCA BERSANETTI: Before coming to the US, I had written some piano piece, works for chamber ensembles, some orchestral music in various artistic styles from baroque to impressionistic, and even what I called "jazz". When I turned 20, three of my piano pieces (a rondo in the style of early Beethoven, a baroque/Scarlatti sonata, and a waltz à la Chopin) were performed during a concert dedicated to young composers from Bergamo ("Concerto di musiche di giovani compositori bergamaschi"). A couple of music critics actually enjoyed my selections, although only after labeling them as "clearly study pieces."
STAY THIRSTY: Well, you didn't give them the obligatory dissonance and percussiveness they expected and wanted! This, in turn, invites a question. What do you think of the directions music has taken post-Impressionism and, more pointedly, post-tonality? Also, have you ever felt at all inclined to write in the more modern idioms, or have you been baroque from Day One?
GIANLUCA BERSANETTI: I do listen to modern and contemporary music, and even as I recognize the importance of a composer, I tend to have my own distinct likes (Bartok, Britten, Corigliano, Shostakovich, and Stravinsky) and dislikes (Berio, Boulez, Schoenberg, Stockhausen, and the whole "avant-garde"). Outside of the Baroque style, I have written music in the classical, romantic, and contemporary (albeit definitely tonal) idioms. 
STAY THIRSTY: How did you become involved with Vox Saeculorum?
GIANLUCA BERSANETTI: Quite by chance, about ten years ago I ran into Grant Colburn's name on the Internet, and it all started from there. 
STAY THIRSTY: I ran into Miguel Robaina, and it all started from there for me! 
GIANLUCA BERSANETTI: Isn't that usually the case? Yes, Grant Colburn, Mark Moya, Giorgio Pacchioni, and Miguel Robaina were already there. During the last few years, high-caliber performers, scholars, conductors, and composers have joined the ranks. Amongst them we find the woodwind player Matthias Maute, harpsichordist Michele Barchi, conductor Federico Maria Sardelli, violinist Anton Martynov, and the renowned Vivaldi scholar Michael Talbot, all of whom love to compose in the Baroque style. Indeed, we have some very talented colleagues! Also, through Vox, I made contact with various people and got some of my music performed. 
STAY THIRSTY: As have I. And you've established yourself as one of the key forces within Vox today. Moreover, you have certainly had some recognition and won at least one award. 
GIANLUCA BERSANETTI: The only official "award" came when I took first place in a music composition competition for a podcast theme for the Orff group, AOSA. However, I should also mention that in 2009, through the harpsichordist and Vox member Michele Barchi, I was commissioned by the Grandezze & Meraviglie Baroque Festival in Modena, Italy to write a concerto for four harpsichords and strings, which was subsequently recorded by L'Arte dell'arco under the direction of Federico Guglielmo, with soloists Roberto Loreggian, Barchi, Francesca Bacchetta, and Francesco Baroni. This was produced as part of a set, along with Bach's concerti for three and four harpsichords. The last is Bach's transcription of Vivaldi's concerto for four violins, which they later added to the disc as a "bonus selection." It's in a series dedicated to early music, and this particular volume was titled, "Dresden during Bach's Times."
STAY THIRSTY: A major accomplishment, and one that has been heartily applauded! Of course, most of us are generally well received by audiences – and spat upon by academics – but with the "mainstream" slanted the way it is, do you think there is nevertheless a future for 21st-century baroque music?
GIANLUCA BERSANETTI: My baroque music has been performed with excellent public response on numerous occasions, although I don't know whether there were any official critical reviews. A baroque suite I wrote for oboe, violin, cello, strings, and continuo was performed in Venice, Italy in 2013, during a concert (preceded by a conference) titled, "Contemporary Baroque: Baroque Music for Our Times." The director was Vox member Sardelli. Just a few months ago, the same suite was performed in Turkey by the Izmir State Orchestra and Vox's Anton Martynov. Violinist and conductor Federico Guglielmo, with the Padua and Veneto Orchestra, performed an arrangement I had made for concerto grosso ensemble of Tartini beautiful "Devil's Trill" sonata, and the list goes on. As long as good, enjoyable music is being composed, I think the majority of everyday concertgoers will listen appreciatively. I never really care or worry about the music critics, no matter what kind of musical style I may be writing at the moment.
However, I should explain that I do occasionally compose in a somewhat more contemporary style – notably in my recent music for wind band. Some of these pieces are arrangements and "dressed-up" versions of music written originally for upper-elementary children and the Orff instrumentarium, which explains the use of modes and ostinatos – that "elemental" style of music we find in Orff's own works.
STAY THIRSTY: You are a remarkably versatile composer stylistically. This is true even when you stay within the baroque idiom. You seem perfectly at ease channeling Scarlatti or the French clavecinists, and you clearly have an affinity for the German baroque, complete with the influence of the Italian string composers. To what do you attribute these diverse aspects of your personal style?
GIANLUCA BERSANETTI: It is mostly a strong willingness to learn all possible idioms and nuances. My ideal is Bach, but softened by the Italians (Caldara, Corelli, Vivaldi, et al.). I usually tend to write a series of works in a particular style and specific genre in order to master something, almost as a bet with myself ("let's see if I can do that, too!"), although I generally try to put a personal spin on the music, looking for new textures and forms, while still trying to be strictly "historically correct."
STAY THIRSTY: Of course, we can all go to school and learn how to write a canon, fugue, or a sonata –
GIANLUCA BERSANETTI: True; by the way, I actually find it fairly easy to write canons.
STAY THIRSTY: I'm glad you do, although I have never yet completed a successful one. But let's look at the other forms. Ludwig Spohr, for example, wrote "perfect" sonata-form, but …
GIANLUCA BERSANETTI: It goes in one ear and out the other!
STAY THIRSTY: Exactly. On the other hand, though, there's Mozart, whose form is perfect, and whose music is divine! And we can see where else this argument goes. Anyone can piece a fugue together, but will it truly be music?
GIANLUCA BERSANETTI: That's a good question. Sometimes people make too much about what they can do with a given form, and forget there is so much more to creating music! Even today, I don't really consider myself a composer. However, now that I'm a little older – and hear some of the stuff people are just churning out with their computers – I suppose I might as well call myself one.
STAY THIRSTY: No argument there. And I shall also concede that it is important to learn the various "rules" of composition, even though they're sometimes a little difficult to obey, simply because small "errors" are almost inevitable. For example, I am most indebted to you for catching a mistake in my score, the parallel octaves.
GIANLUCA BERSANETTI: You make an interesting point, since even when we look at Bach, Beethoven, Scarlatti, and others, sooner or later we find some of what we may inaccurately perceive as "mistakes." For example, in the last movement of Bach's Brandenburg Concerto #2, there appear to be some parallel fifths between the bass and the flute. I remember how shocked I was by this – three or four in a row! Then I studied more carefully, and I discovered that what we really had were "compound lines," which form what might more effectively be called "phantom lines." Thus, it seems old Bach was always one step ahead of us, at least with that piece! However, we eventually do see some "famous mistakes" here and there. 
STAY THIRSTY: It's interesting the way those compound lines mysteriously develop. Can you offer another example – something a little more familiar – to illustrate what you mean?
GIANLUCA BERSANETTI: We find the compound lines in the second variation of the slow movement of Beethoven's "Appassionata" Sonata. These are not errors, or mistakes, at all, although if we look superficially, we may be led to believe they are. There are also the notorious parallel octaves in measure 11 of Bach's Brandenburg Concerto #5, which Bach himself "corrected" but then turned into parallel fifths. These were spotted by the young Felix Mendelssohn. But I consider this an extremely rare exception in Bach, who probably possessed the most perfect musical grammar in the history of music.
STAY THIRSTY: Those are excellent examples. However, I noticed also that the composers, themselves, occasionally had to make "corrections" within a thematic line, as I have, too.
GIANLUCA BERSANETTI: Oh, yes. That's very true. I have studied the works of Buxtehude, Pachelbel, Heinrich Biber, and Bach. When they tried to create a canon from a Lutheran chorale – a fixed tune – they sometimes had to "adjust" the line very slightly. Otherwise, they would have had all sorts of technical problems.
STAY THIRSTY: Excuse me for belaboring the obvious, but it seems as though you have spent a colossal amount of time studying scores. 
GIANLUCA BERSANETTI: I think one essentially needs to develop a certain "manic" quality, because it is truly necessary to bury oneself in these composers, living with them all day, if one wishes to understand them. 
STAY THIRSTY: Indeed. Let's start with the most obvious example: Bach copied so much music by his predecessors – and even contemporaries – by hand.
GIANLUCA BERSANETTI: Yes, he copied, and then he arranged and transcribed. In my own way, I have done something rather similar. I have input into my little keyboard a fair amount of Bach, Mozart – his symphonies, Beethoven, and others. I would enter one part at a time. I did this with so much music, and it was very instructive for me. It was profoundly instructive for Bach to copy so much, and he was surely the biggest "sponge" of all time! 
STAY THIRSTY: I see your point. As we live the experience of a given style of music and capture that intensity, strange things can happen. In fact, this is true not only in music, but even with literary idioms. For example, I immersed myself in Shakespeare and wrote a one-act play, Hamlet, Revisited – most of which came to me in a dream, and in iambic pentameter at that! Well, I would read Shakespeare aloud – just the verse. It didn't even have to be from any particular play; I could open up the volume at random, and if I saw a passage in iambic pentameter, I would try it. After a while, the rhythm began to manifest, effortlessly. This surely happens also if one listens to and plays a lot of Bach. 
GIANLUCA BERSANETTI: Well, supposedly language and music – and also religion, for that matter – developed around the same time, so perhaps there is something almost "elemental" in the repetitions we experience.
STAY THIRSTY: You are surely correct. And think how many times Bach must have "repeated" various experiences. For example, you mentioned Buxtehude, and we know how much Bach learned from that composer. He requested four weeks of leave from Arnstadt to visit the older master and came back more than four months later!
GIANLUCA BERSANETTI: Yes, but the one from whom Bach probably got even more – at least on organ – was Reincken [Johann Adam Reincken, 1623(?) or 1643(?) to 1722 – ed.]. Reincken, Pachelbel, and also Buxtehude were all enormously influential, the latter particularly with his organ preludes, toccatas, and fugues. Reincken's influence on Bach was probably more subtle, and mostly through the former's keyboard fugues and organ improvisations, which we know Bach heard in person in Hamburg. The dynamics of these things are hard to pinpoint exactly, but the influences are undeniable. Thus, Bach was not a comet that burst precipitously through the sky, since it seems he took the time to learn a few tricks along the way.
STAY THIRSTY: You mentioned Pachelbel, who is probably familiar to most readers for both a famous canon and the theme music used for many years by Masterpiece Theatre.
GIANLUCA BERSANETTI: For about a month I've been listening to, playing, and studying the scores of Pachelbel. This experience truly opened my mind about the composer, and when I went back to Bach, it was a shock – like a cold shower! This is not to say that one is greater than the other, but musically I could see such a different approach, as well as a clear influence. For a composer of baroque music, I feel it's vital to know both of them.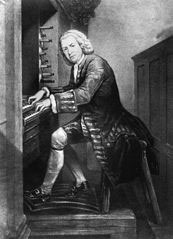 STAY THIRSTY: Yes, Bach certainly knew, studied, and learned from his predecessors – especially those three, although there were many others, as you know.
GIANLUCA BERSANETTI: Oh, of course. When we look at his trio sonatas (for organ), we can also see the Italian influences – Corelli and others.
STAY THIRSTY: Right. And we know he copied Locatelli, Vivaldi, and other Italian giants.  He didn't have the software or the computer, so he listened and copied. 
GIANLUCA BERSANETTI: Christoph Wolff has a very illuminating chapter in his book, Bach: Essays on His Life and Music. He writes about the importance of Vivaldi's music in Bach development as a composer. Vivaldi made an everlasting impression on Bach, who felt compelled to change his style mid-career in order to incorporate the new "musical thinking" coming from south of the Alps. Nevertheless, with Bach we get some very unusual music as well.  Look at some of what we find in the six-part ricercare in his Musical Offering.
STAY THIRSTY: Absolutely! And in various parts of The Art of Fugue we get music that we know was written by Bach, but it simply doesn't seem to "sound" like Bach.
GIANLUCA BERSANETTI: Far earlier, there are some selections in his Orgelbuchlein that are amazingly chromatic. Moreover, I suspect that even people like Mozart often produced some very "wild" material, particularly when they improvised.
STAY THIRSTY: Well, Mozart is a discussion unto himself. But back to Bersanetti: have you written for strings – perhaps violin sonatas in the style of Bach?
GIANLUCA BERSANETTI: I have written a couple of string quartets in classical style, a string trio, and a couple of piano quartets. I've also written concerti for violin and strings (more Vivaldi-style), and also for two violins and strings.
STAY THIRSTY: And outside of the baroque period?
GIANLUCA BERSANETTI: I have some romantic pieces for piano and a movement of a piano sonata that's maybe closer to late Beethoven. For the school – the wind band – I have some music that sounds a little more modern. I have an unfinished piano concerto, also – though I shall probably rework it for bassoon.
STAY THIRSTY: Ah, yes, for Robert Rønnes; I'm reworking a concerto for him, also.
GIANLUCA BERSANETTI: I also have a few Lieder [art songs – ed.], but I'd guess that at least half of my compositions are in the baroque style. And I should add that I also have some symphonies in the early classical style – think a Haydn orchestra, with strings and paired oboes and horns.
STAY THIRSTY: That's probably a great way to start writing for orchestra, particularly since you're a pianist.
GIANLUCA BERSANETTI: I am not certain I agree with that. I prefer to tell people, "Yes, I play a little," but I'm really not a pianist, in that I cannot perform Rachmaninoff's third concerto with an orchestra.
STAY THIRSTY: Well, you certainly studied and worked at it, and it's a very difficult instrument. I believe you have also spoken warmly of the guitar.
GIANLUCA BERSANETTI: I met some good guitar players in Italy, and that's how I've developed a love for some of the guitar repertoire, particularly the early to mid 19th century works by composers like Boccherini, Carulli, and Giuliani, who wrote some wonderful music for guitar solo, as well as duets for flute and guitar and other such combinations.
STAY THIRSTY: Absolutely; wonderful music. And let's not forget Paganini, who loved the instrument. He wrote several guitar quartets, and his early Op. 2 sonatas were scored for violin and guitar. Have you written anything in the style of these Italian composers for guitar?
GIANLUCA BERSANETTI: It's very difficult. They're so delicately balanced between the periods. I'd really need to study the style more.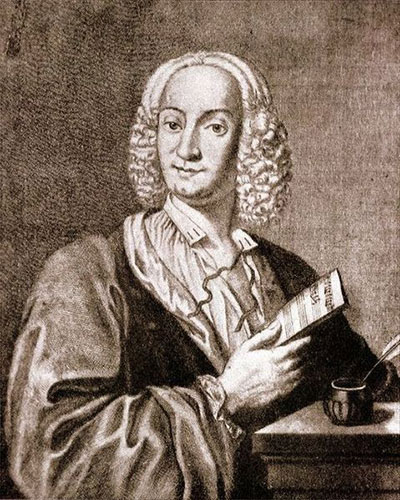 STAY THIRSTY: As you have with Scarlatti and Vivaldi. 
GIANLUCA BERSANETTI: Right. In fact, I had occasion to "finish" a Vivaldi concerto – really just a couple of measures of fragments. It came out OK, although it wasn't Vivaldi. I realized that I either didn't "feel" his style enough to allow myself to let go of my own stylistic traits, or I simply hadn't spent enough time on the subject.
STAY THIRSTY: Almost no one can actually pull it off. We may all listen to a few hours of Vivaldi and mimic him, but it never quite sounds like Vivaldi, does it?
GIANLUCA BERSANETTI: The only one who can do it successfully is (Federico Maria) Sardelli. He is a scholar, a wonderful composer, and a music director. He, truly, writes music that Vivaldi could have written. 
STAY THIRSTY: Well, that's theoretically what we're trying to do – write music that could have been written some centuries earlier. However, this leads us to a bigger question. What is the future of baroque music? Our group has some people who are composing in this style, and I'm sure there are other composers who are not in Vox doing the same thing and jousting with the same windmills. It's very difficult to get music published today, and it's also extremely difficult to get it performed. It's very expensive to get it recorded. I think audiences really enjoy us, although the academics hate us, and the critics tend to be rather venomous, also.
GIANLUCA BERSANETTI: There is an audience – both the connoisseurs and average concertgoers. Of course, there are the critics, who don't "approve" of it. However, we shouldn't take things too seriously. If something is beautiful, it's enjoyable, and it doesn't matter what it is. Most musicians would agree. To be sure, one cannot expect to have these pieces performed by Boulez, but that's another story. 
The artist today will not create a new masterpiece every time. Moreover, there's no such thing as complete originality, as you know. However, people still listen to the "standard repertoire," and some can't stand even Sibelius or Stravinsky. And modern composers to the contrary notwithstanding, some of us prefer tonal music. So if it feels good to write music that sounds like Strauss, why not write music that sounds like Bach? It may in fact be great music.
STAY THIRSTY: You raise an interesting point here. In a sense, there's nothing new about this, either. A number of famous composers wrote some compositions in what were (for them, at least) older idioms. 
GIANLUCA BERSANETTI: Haydn, Mozart, and others from their time wrote sacred music that reverted to the style of Handel. Later, we get Mendelssohn's Sieben Charakterstüke [Seven Character Pieces – ed.], Op. 7, which include a baroque invention and sarabande, two fugues, and three movements in the classical sonata-form.
STAY THIRSTY: And he gave the work a title from the romantic period.
GIANLUCA BERSANETTI: Moreover, consider some important details of his preludes and fugues for piano and organ, which owe a clear debt to Bach. 
STAY THIRSTY: Come to think of it, composers have "looked backward," even in the late 19th and early 20th century.
GIANLUCA BERSANETTI: Schoenberg's early string quartet certainly sounds like Dvorak. And please don't forget about Fritz Kreisler's lovely violin pieces, allegedly on material by "Baroque" masters. 
I think you can see the point I was raising. What is the difference between writing music in a style from fifty years ago (plenty of which is indeed being written today) or 300 years ago? Why should one be more acceptable, defensible, and tolerable than the other? In fact, going even further, why does one need to be writing music in a coherently contemporary style to be considered a "real" composer and an "authentic" artist?  It is the myth of the artist as a prophet, as vehicle of the Divine – eyes skyward, head leaning on a clenched fist, stormy clouds above – which I find laughable. The very idea of having to write something new and epoch-making, "the" masterpiece (or at least a work with comparable pretensions) every time one picks up the pencil (or starts typing away on the computer) is possibly one of the worst and least useful inheritances from the Romantic period. Music is a craft, which (and I may be among the minority here), extraordinary as it is, has no magic to it. Inspiration for me is nothing more that the capacity to recall musical material and the (re)-elaboration of it. The most "inspired" composers were undoubtedly the ones with the greatest musical intelligence, and not the ones endowed by God with a faster and clearer Internet connection with the heavens!
STAY THIRSTY: Your argument is irrefutable, of course, but another consideration rears its ugly head about this point. Most of us are not making money through our compositions. We consider ourselves lucky just to have something performed or published.
GIANLUCA BERSANETTI: True. I'm one of the lucky ones, in that I've had the good fortune to have several of my pieces performed by great artists. The Concerto for Four Harpsichords was also presented in France, and my Suite in B Minor was performed in Venice, as I mentioned earlier.
STAY THIRSTY: The performance of your Concerto for Four Harpsichords was wonderful.
GIANLUCA BERSANETTI: Yes, but even there, although I got the plane fare and accommodations, I didn't actually make money. I'm fortunate that I have a job – in other words, some other way to make a living. And a number of more contemporary composers didn't need to make their money through music – Virgil Thompson, for example.
STAY THIRSTY: Charles Ives, who made it through insurance.
GIANLUCA BERSANETTI: Let's be perfectly honest here. Bach admittedly made some extra money from commissions, but the reality is that he earned his "daily bread" through his various employers – for example, the St. Thomas School of Leipzig, where he taught for the last twenty-seven years of his life. I have no delusions about making a living by writing music. The publishing industry is effectively gone; the recording industry is gone for most of us, and we can't make money from sales of CDs. 
STAY THIRSTY: For most of us, recordings are really just for demo purposes.
GIANLUCA BERSANETTI: Let me give you an example. Sardelli put out two CDs – and I should add that his ensemble is fantastic. These two CDs of his own compositions garnered some very good reviews, along the lines of "If you enjoy Vivaldi, you'll love this CD!" Of course, there were also a few critics who preferred to make derisive comments, but for the most part the remarks were quite favorable. The reward for his fantastic artistic creations and absolutely wonderful recording was, as they say, "somewhere between break even and chump change."
STAY THIRSTY: How sad. On the other hand, though, we get some wonderful laughs, don't we? For example, you have an amusing anecdote about Michele Barchi's recording of your Sonata in E Major for Harpsichord.
GIANLUCA BERSANETTI: Yes, amazingly enough, a certain harpsichordist – who will remain nameless – didn't realize that I am a contemporary composer. She contacted the producer and asked about the "unknown baroque composer, Bersanetti," even going so far as to inquire about how she might obtain the score. Well, I wrote back to her, basically to say, "Here I am, and I'm still alive!" Sadly, I suspect that once she knew I was on this side of the grass, her appreciation for the music diminished.
STAY THIRSTY: In a way, that idea almost segues to one of the more humorous topics, which is the way forgery – long a popular activity in the visual arts – has occurred even in the musical world. We think at once of the great violinist and composer, Fritz Kreisler, who frequently offered a piece of music "based on a theme of" some or other famous predecessor. This was all well and good, except that sometimes that famous predecessor had absolutely no connection to the theme in question.
GIANLUCA BERSANETTI: That is true, and a little over twenty years ago, we had quite a "musical scandal," when Winfried Michel, who also used the pseudonym Giovanni Paolo Simonetti, tried to pass off some of his works as sonatas of Haydn. He actually managed to get his hands on some old manuscript paper, and wrote on it. Then he devised a story about how he had acquired it from an old widow, whose late husband had left it with her.
STAY THIRSTY: Yes, I remember. That got extensive coverage in The New York Times [Source 1, Source 2]. If I remember correctly, the "official story" was that it had been copied by someone from an original by Josef Haydn.
GIANLUCA BERSANETTI: You are correct, and no less an authority than Paul Badura-Skoda fell for these sonatas, and championed them, even recording them. Of course, he was saddened when the truth came out, but he had the intellectual integrity to stand by his high opinion of the music. 
I actually possess a couple of scores by "Simonetti." The amusing thing is that he did not try to hide the fact that the music was written in our time. This, too, is explained in The End of Early Music, in which Bruce Haynes quotes Michel's notes to his published text(s): "... [in the] handwritten score ... used for the present edition. Formal, melodic, and harmonic particularities ... enable a likely dating of the work at between 1730 and 1740 ..." This is well and good, but on the title page it clearly states, "composed and edited by Winfried Michel in 1978-79"! I find it very funny, and the story about the Haydn sonatas reveals a lot about the "serious" music world and its take on authorship, the "genius argument," and so much more. And this, in turn, leads me to another point: Perhaps you have heard about a famous painting titled, Supper at Emmaus (or The Disciples at Emmaus).Although it was actually the work of the famous forger, Van Meegeren, it was long considered the best of Vermeer's paintings, and was purchased by the Boijmans Museum in Rotterdam. Van Meegeren probably would have gotten away with the deception, except that at the end of World War II he was arrested.
STAY THIRSTY: He got into trouble for selling another "Vermeer," only this time it was to Hermann Goering. If I remember correctly, they suspected that either he looted it, or else that he might have collaborated with the Nazis. And in order to save his hide, he confessed that it was a forgery.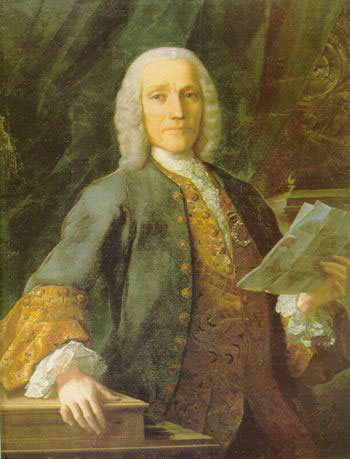 GIANLUCA BERSANETTI: Right, and he soon confessed about a lot of other forgeries, too. But does that mean his Emmaus was great when it was a Vermeer, and not so great as a forgery?
I should add that while I was in Italy, three busts by "Modigliani" were discovered at the bottom of the canal in Livorno. These attracted immense attention from the "experts" – until three students admitted they had made one of them, and another local artist, Angelo Froglia, claimed he had made the others. It was all part of a prank to expose the ignorance of the art critics.
STAY THIRSTY: So what can we conclude?
GIANLUCA BERSANETTI: I think we must all agree that we place a little too much value on the "name." We put artists, authors, and – yes – even some composers up on a pedestal, but not all of them, and certainly not all of their work, necessarily belong there. Why not just appreciate it? Conversely, if someone can write sonnets that are just like Shakespeare's, why should such works be deemed "inferior"? Why not enjoy them? 
That is why I am so happy to return to Sardelli: because I like his music as much as I like Vivaldi's. And I remember some pieces by Miguel Robaina that were truly in the voice of the French baroque.
STAY THIRSTY: I remember some music by Gianluca Bersanetti that is truly in the voice of Scarlatti. Let's talk a little about those sonatas of yours. I think you do magnificently when you "channel" Scarlatti.
GIANLUCA BERSANETTI: Thank you. By the way, I agree with you and others that we're writing 21st-century baroque music. So I try to compose in that idiom, within that framework, which one can do only if one is truly knowledgeable about the style. I have been playing and listening to Scarlatti all of my life. Some while ago, I spent more than a year going through all 555 of Scarlatti's keyboard sonatas many times each. After all that, I was comfortable with the form and figurations, feeling I had sufficiently assimilated them, yet my pieces were still "different" – though recognizable from the time, and maybe things he might have written another ten years later.
STAY THIRSTY: What I meant by my comment is that you capture that essence, that spirit, and then you do something different with it.
GIANLUCA BERSANETTI: Thank you, again. Now, as I said, the only way one can do something like this is to study it, live with it, and truly understand it. It's no different with the counterpoint of Bach. And then look at Vivaldi. It seems easy to mimic him, but it's so hard to do it well.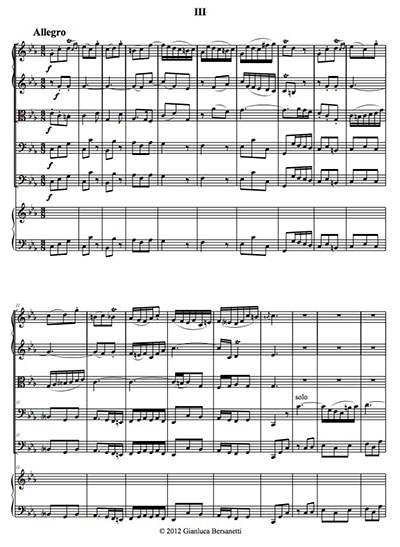 STAY THIRSTY: That is so painfully true. 
GIANLUCA BERSANETTI: Let me turn to something else. I can truly relate to another argument Bruce Haynes raises in The End of Early Music. He says the point of studying a language is to speak it, so why not try to do the same thing with baroque music today? This carries over to "speaking" Scarlatti and the period in general. One of the less obvious aspects of writing in that style – and this is something about which I care a great deal with my Baroque music – is the freedom of form and structure the composer (then and now) retains. As you know, Domenico Scarlatti's sonatas are not examples of standard "sonata-form," although there are many "happy" accidents here and there that give us a glimpse into the future of the genre. However, with Scarlatti and other composers, I try to step into their shoes and let go of our stiff, well-delineated preconceptions about forms and styles. Once we allow ourselves enough time and the patience to survey all of that music, it is astonishing to discover the broad fluidity and highly diversified approaches to form shown by composers of the 17th and 18th centuries. Even someone like Haydn – whom we might consider pretty much as an adherent to the standard "classical" sonata forms with few modifications for most of his output – maintained a surprising amount of freedom. It is safe to say that in this case, there is no such thing as the wisdom of progress and historical perspective. Therefore, I see far more possibilities, with plenty of room for more music written in any specific style of our choice.
STAY THIRSTY: You make some excellent observations here, and I hope these will help others enjoy your music even more. Final question: What are your projects for the immediate future?
GIANLUCA BERSANETTI: First, using more contemporary techniques, I have been working on music for wind band, both arrangements of pre-existent material and also newly composed music. On the Baroque side, I am just coming out of a period during which I wrote many pieces for organ (fugues, chorales, etc.). I am planning to go back to finish that bassoon concerto for our mutual friend, Robert Rønnes, although it will be in the Classical style, not baroque. I also intend to complete a harpsichord concerto that has been sitting in a drawer for two years, this time looking at Bach as the main inspiration. In addition, I have begun writing some vocal sacred music. Lastly, I have an old Romantic suite for orchestra (in the style of Mendelssohn or Schumann) that I'd like to revise and eventually finish.
STAY THIRSTY: That many projects should keep even you busy for a while. Let me wish you the very best of fortune with all of these, and I very much look forward to hearing them.
Links:
Scores of Gianluca Bersanetti's music
Vox Saeculorum
Vox Saeculorum on Facebook
Lenny Cavallaro at Stay Thirsty Publishing
Lenny Cavallaro - Composer and Pianist
Lenny Cavallaro at Broadbent & Dunn Ltd.
All opinions expressed in this article are solely those of its author and do not reflect the opinions of Stay Thirsty Media, Inc.