By THIRSTY
---
Julianna Baggott is the author of over twenty books, including Pure, which was a New York Times Notable Book in 2012. Her novels have been published in over 50 overseas editions, her essays have appeared in the New York Times, the Washington Post, the Boston Globe and her poems have appeared in the Best American Poetry. Her latest novel is Harriet Wolf's Seventh Book of Wonders. She is a professor in the College of Motion Picture Arts at Florida State University and holds the Jenks Chair at The College of the Holy Cross. Stay Thirsty Magazine was honored to have Julianna participate in our One Hundred Words project by writing her responses to topics we suggested.
STAY THIRSTY: Magical realism.
JULIANNA BAGGOTT: My roots are in magical realism, as a reader and novelist, and you see some of that come out in HARRIET WOLF'S SEVENTH BOOK OF WONDERS. The novel is realism, set against the sweep of the 20th century, but it has an air of whimsy at times, and it's about Harriet Wolf herself, a famed reclusive novelist who has written some magical realism. I read ONE HUNDRED YEARS OF SOLITUDE at seventeen and was awed by Marquez. It was a real pleasure to write about a writer whose work blurs genres and audiences, but work that speaks to the readers' hearts.
STAY THIRSTY: Pen names.
JULIANNA BAGGOTT: I write under my own name as well as two pen names, Bridget Asher writes contemporary women's fiction and sometimes, like with HARRIET WOLF'S SEVENTH BOOK OF WONDERS, I write about women, sisters, mother-daughter relationships and intergenerational ties, as well as love and loss. ALL OF US AND EVERYTHING, my next Asher novel, comes out in November. N.E. Bode writes odd whimsy for younger readers, aged 8-13. J.Q. Coyle is one pen name for Quinn Dalton and me. Our upcoming young adult novel is about a girl leaping between parallel universes, THE INFINITY OF YOU AND ME. We're the co-authors.
STAY THIRSTY: Bottles and boats.
JULIANNA BAGGOTT: I often explain to my students that the structure of a novel is a small glass bottle. One can rely on a basic structure that's been done before, but it's only see-through glass holding the real story which is the wee, often intricately ornate boat. The boat – the story itself – is what's really being displayed. It's a way to separate how the story is told – and there are infinite options around that boat – from the story itself – also infinite and hopefully so very authentically your own that only you could have penned it. The boat might be on fire. So.
STAY THIRSTY: Associative memory.
JULIANNA BAGGOTT: I was reading the book THINKING FAST AND SLOW by economist Daniel Kahneman, but I was reading it as a writer. When I came to the line that gave Medmick's definition of creativity – associative memory that works exceptionally well – it struck me as the most resonant definition of how my creative brain works I'd ever read. I was relieved and thankful that someone had put such succinct words to my process, my reliance on memory entwined with imagination. It helped me embrace my creative process and draw more heavily on visualization and the wild natural association coming from my brain.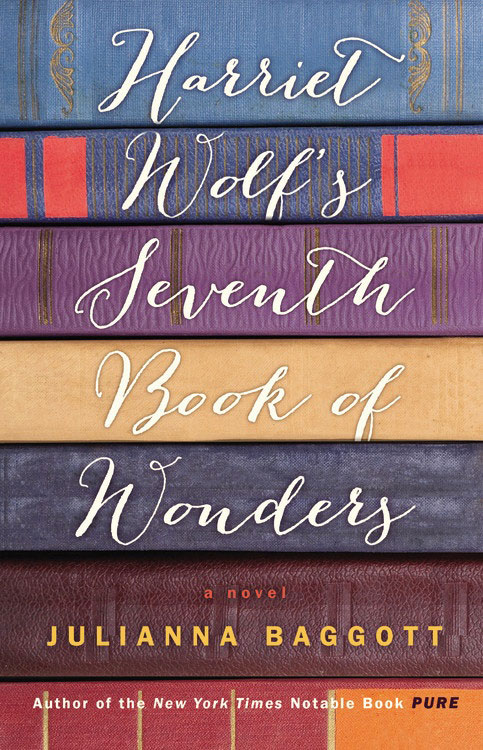 STAY THIRSTY: Fear and insulation.
JULIANNA BAGGOTT: It's absolutely necessary that a writer have a way to insulate themselves from the noise, the gonging, the news, the publishing world, the roaring internet, the critic's interruptions…in order to create a space to build a world of your own making. I've had to do this while living a noisy chaotic life so it's more an act of mental will – or survival – than it is anything resembling actual quiet and insulation. One has to find ways to self-insulate so they can go off and create, headlong and steaming, alone and gusting, desperate to come up for air but resisting.
STAY THIRSTY: Recluse.
JULIANNA BAGGOTT: Part of me is jealous of Harriet Wolf, the recluse. I often say that I'd Salinger this career if I could – write but hoard and not go public. But I don't know that I'd actually do it. For one thing, your cut off from what your work has to say to your own generation. It comes out posthumously but it doesn't strike the same chords, not that the writer is ever in control of the chords they strike in the reader, but the writer is a necessary translator for their era. But I really get the instinct. I surely do.
STAY THIRSTY: Older sisters.
JULIANNA BAGGOTT: I come from a somewhat large family – by today's definition. I have two older sisters and an older brother. I also am raising four kids, and my husband was raised in a family of four kids. But I've really veered away from writing about siblings for a very long time. I'm certainly not writing about my own sisters in these works, but psychologically I am certainly drawing on what it was like for me, deep down, to have sisters – and women as best friends. Now, I absolutely love writing about sisterhood, in all of the varied ways women are sisterly.
Link: