A Conversation with Hollywood Insiders Joan Kramer and David Heeley
By THIRSTY
---
Joan Kramer and David Heeley won six Emmy Awards between them for documentaries on subjects as diverse as Nature: The Nature of Australia to The Spencer Tracy Legacy: A Tribute by Katharine Hepburn. During their career together as producers of television programs about Hollywood's greatest stars, including Fred Astaire, Katharine Hepburn, Spencer Tracy, Jimmy Stewart and Judy Garland, to name just a few, Kramer and Heeley preserved the history of Hollywood's true royalty. In their new book, In The Company of Legends,with a Foreword by Richard Dreyfuss, the real backstories come to light about how these extraordinary Hollywood people lived, worked and created images that are a permanent part of movie lore. It was Stay Thirsty Magazine's sincere pleasure to visit with Joan Kramer and David Heeley in New York for this insightful and very special Conversation.
STAY THIRSTY: The Hollywood of your "legends" was invented by the great movie moguls, Louis B. Mayer, Samuel Goldwyn, the Warner Brothers, William Fox and a few others, during the 1920s and 1930s. Many of the movie stars you write about in your book, In The Company of Legends, were created during that era and their careers often lasted for the rest of their lives. What motivated you to want to meet and chronicle these people?
DAVID HEELEY: Joan can tell this story better than I can. She and I talked about the concept of a program involving Astaire, Joanne Woodward and Rudolf Nureyev. From that discussion evolved the idea of a profile of Astaire – which actually became two programs (and Nureyev appeared on them both). PBS found the money and the shows were a big success, with one of them winning an Emmy. We were then asked, "So who are you going to do next?" Up to that point, there had been no thought of a "next," but PBS wanted another profile, so we approached Katharine Hepburn. After that we were hooked and sought out the biggest and brightest stars from that classic Hollywood era.
JOAN KRAMER: It began almost by accident. I was hired as an associate producer at WNET for a television series called Skyline and suggested profiles of the dancer Rudolf Nureyev, Lotte Lenya, choreographer Patricia Birch and opera star Birgit Nilsson. David Heeley and I produced those programs. I had met Nureyev earlier when I booked him on The Dick Cavett Show and he told me how much he admired Fred Astaire. He also asked if I could arrange for them to meet. By then, I was friends with Joanne Woodward – a ballet devotee – who knew both Nureyev and Astaire. So David and I came up with the idea of doing a television special in which Joanne would interview both of them. Nureyev leapt at the idea. Astaire turned it down flat. We then decided to do a profile of Astaire. We interviewed Nureyev for it and asked Joanne to narrate the program – which turned out to be two programs. The first one focused on the Astaire/Rogers films at RKO; the second showcased Astaire's films and partners after he left RKO. Both shows were nominated for Emmy Awards and one of them won.
STAY THIRSTY: Your television work has garnered six Primetime Emmy Awards between you both and this is a feat that very few have achieved. What impact did winning so many Emmys have on your careers?
DAVID HEELEY: Winning an Emmy is not quite as powerful as winning an Oscar. Nevertheless, it does have a career impact. If nothing else, it acts as a "seal of approval" – proof that you know what you are doing and that your productions have integrity.
When famous people allow you to tell their story, or that of someone close to them, they are putting a great deal of trust in you. And astonishingly, no one ever asked us what clips, stills, interviews, etc. we were planning to use, nor asked for any kind of editorial control. The Emmys helped us get that level of trust. 
JOAN KRAMER: The awards probably made it easier to get funding for other profiles we wanted to do. But not always. For instance, we wanted to do a profile about Cary Grant, and had his permission to proceed, but then PBS refused to fund the program.
STAY THIRSTY: You write fondly about many encounters with some of Hollywood's greatest actors and actresses but you seem to have a special place in your hearts for Katharine Hepburn. What made her so special as a performer and as a person?
DAVID HEELEY: With the possible exception of Joanne Woodward, we worked with Katharine Hepburn more than anyone else. There are six chapters in the book devoted entirely to her and more in which she plays a major role. By the time we got to know her, she was already a legend, having become more than a "movie star." That she let us into her life, and trusted us, is still astounding. 
Every meeting with her was memorable and working with her could have been overwhelming – but it wasn't; she brought out the best in us, and everyone on the crew.
As a performer, she knew her strengths and her limitations and always strove to be better. At one point in her career, she said, she wanted to test herself, to prove that she could be more than just "Katharine Hepburn," and went on to perform on stage in "the classics." John Houseman, not only a great actor, was also the artistic director of the American Shakespeare Festival in Stratford, Connecticut, where Kate starred in several productions. He told us how brave it was for an actress of her fame to open herself up to criticism by taking on such roles.
She had high standards for herself and for everyone she worked with. We can only hope we lived up to them.
JOAN KRAMER: We could talk for hours about Katharine Hepburn. The short answer is that she was unique. She was smart, tough, funny, kind, shrewd, completely aware of her own image and mystique and felt it was her job to keep that "creature" (as she referred to her public persona) fascinating. She knew what worked for her and what didn't and was known to trust very few people. The fact that we were among the ones she did trust still fills us with pride. And although she worked with a lot of producers and directors throughout her long movie and stage career, she chose us to do programs that were personal to her: the one about Spencer Tracy, which she hosted, and the one about herself, in which she is both subject and host.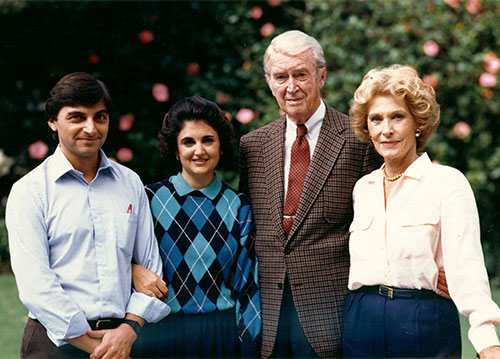 STAY THIRSTY: Jimmy Stewart, Henry Fonda, Fred Astaire and Spencer Tracy were four leading men that attracted your attention. Did you find any common qualities among them? How were they able to stay in the public's eye for so long and to make so many classic movies?
DAVID HEELEY: We only met James Stewart, Henry Fonda and Fred Astaire in person. Katharine Hepburn became our proxy for Spencer Tracy when she suggested we produce a program about him together.
Tracy was an "actor's actor." Everyone admired his technique. Even today, there are few who can match his ease and believability on camera. He was not classically handsome, but had no trouble playing romantic roles and audiences always accepted him in whatever role he inhabited.
Astaire was a disciplined perfectionist. His dancing was sublime and has never been matched, even to this day. Like Tracy, he did not have "movie star" looks. But, like Tracy, it was easy for audiences to accept him as a romantic lead. His voice was not exceptional either, but all the leading songwriters of his day wanted to write for him because he always delivered what they wrote. He has probably introduced more songs which have gone on to become "classics" (that word again!) than any other performer.
Stewart and Fonda were of the same generation and were also good friends. It's no accident that their styles are similar, as they grew up as actors together. Although both their ranges were wide, we tend to think of the roles in which they played the "everyman," the person we could identify with and wished we could have as our neighbor. Of course, when they gave darker performances, it made the impact even greater.
We just missed out on working with Fonda on his own profile (although we did interview him soon after On Golden Pond). But we were lucky enough to have that experience with Jimmy Stewart and it was memorable.
JOAN KRAMER: They were groomed in the old "studio system," where they learned how to act. One film didn't make or break a career. And the studios controlled every ounce of publicity about these stars. So they were bigger-than-life on the silver screens in movie theaters – just out of reach, which created a mystique. Audiences were captivated by them and wanted to see every picture they made.
STAY THIRSTY: Lauren Bacall, Elizabeth Taylor, Joanne Woodward, Audrey Hepburn were just a few of the legendary female leading actresses that you worked with. Was it easier to work with the famous women or the famous men?
DAVID HEELEY: Male or female did not make a difference here. What was most striking was that the actors who were raised in the Hollywood studio system all showed the same discipline. They were always prompt (with the one notable exception – as you'll read in the book), and had no problem taking direction. That doesn't mean they didn't have opinions and ideas – and usually their ideas were valuable and constructive.
JOAN KRAMER: We never thought about the difference between working with famous women or famous men. I don't think it was easier or harder to work with either.
STAY THIRSTY: You both could be considered to be the consummate insiders into Hollywood during its golden age. Many of the greats became your close friends. Who did you enjoy spending time with the most and how did they impact your lives?
DAVID HEELEY: We probably spent most time with Joanne Woodward. Joan and she had become friends even before I met Joan, and I was soon brought into that friendship. It was sorely tested in the production of the documentary we made together about "The Group Theatre" (Chapter 21 in the book tells that story), but became stronger than ever afterward.
It is a relaxed and easy-going friendship. Joanne (and Paul, when he was alive) would often come to our homes for dinner or a private screening and we would frequently go to Westport where Joanne still lives.
JOAN KRAMER: That's a very hard question to answer. Some became closer friends than others. And all of them enriched my life.
STAY THIRSTY: How would you characterize your body of work and what place do you think it will have in the history of film and television?
DAVID HEELEY: We were lucky. It's hard to believe, but no one was making movie-star profiles when we started in 1979 (with our shows about Fred Astaire). So we had our pick and were able to document the lives of many of Hollywood's greatest.
These were not "tell-all," "dig the dirt" programs, but honest attempts on our part to show who these people were and what it was that made them so famous. We always tried to include substantial examples of their work (in the case of Astaire, most of the dances we showed were complete, from beginning to end). I'm sure there will be other documentaries about the same people we profiled, and some might be better than ours, but I think the ones we produced will stand the test of time. 
JOAN KRAMER: Another hard question. We never did programs with the thought of pleasing our subjects. But the fact that they and their families told us that we did the "definitive" portraits of them makes me hope that the shows will stand the test of time and will be seen and enjoyed by audiences for many more years.
STAY THIRSTY: Johnny Carson had an extraordinary impact on late night television and on how America processed the events of the day. Almost all of the people you chronicle in your book appeared on his show and there was a special rapport between him and Jimmy Stewart. What were the dynamics that made that relationship stand out?
DAVID HEELEY: Johnny and Jimmy genuinely liked each other. It wasn't an act put on for The Tonight Show audience. That was evident when we filmed them on the Universal backlot and it comes across in the program.
When Johnny had Jimmy on his show shortly before our profile was to air, he told Jimmy that the day they spent working together was the best time he'd had in his entire career. Maybe that was an exaggeration, a way of making his guest feel special. But my guess is that it was pretty close to the truth.
JOAN KRAMER: I always tell people that they were like a "mutual admiration society." Johnny thought Jimmy was a terrific actor and felt lucky to have become his friend. Jimmy thought Johnny was a huge star and couldn't believe that he would want to host this show about him. Johnny told us that Jimmy also reminded him of his own father – both from small Midwestern cities, with common values, and both somewhat hard-of-hearing. The friendship between Stewart and Carson was genuine…it wasn't just rolled out for our show or for when Jimmy appeared on Johnny's show.
STAY THIRSTY: Lew Wasserman carried the mantle built by Julie Stein at MCA that became Universal Studios. Stein and Wasserman were the powerhouses who led the movie studios into the television era. What impact did Lew Wasserman have in making movie stars and how did some of the people you chronicle react to him?
DAVID HEELEY: Many volumes have been written about Lew Wasserman and the power he held in Hollywood. There's no doubt that he turned Universal around. It was a struggling, second-class operation when he, as head of MCA, took it over and he turned it into Hollywood's powerhouse. He was a behind-the-scenes person, staying away from cameras and microphones if he could. But everyone knew his influence. He knew how to handle stars (after all, he'd been the head of the biggest talent agency in the world), but whether or not he was a star-maker is debatable.
He was close to both James Stewart and Johnny Carson, so when we asked to film them on the Universal backlot, we not only had an answer in the affirmative, but it came at no cost!
That is what led us to be asked to make The Universal Story, which in turn was the beginning of our friendship with "The Last Mogul."
JOAN KRAMER: Wasserman wielded enormous power as an agent and then as the head of Universal. He was feared and revered. He built careers and relationships with everyone from musicians to singers to actors to directors, producers, writers, other studio heads, politicians and the Pope.  We didn't ask many people about their reactions to him, but several of them, including Paul Newman, told us that they considered him a "genius." I found him quite adorable…a word that apparently wasn't often used to describe him.
STAY THIRSTY: Looking back on your extraordinary career together, what two moments were the highlights that you will always remember?
DAVID HEELEY: The first day of filming Katharine Hepburn (at The Riviera Country Club) for The Spencer Tracy Legacy: A Tribute by Katharine Hepburn.
Working with James Stewart and Johnny Carson on the Universal backlot for James Stewart: A Wonderful Life.
These are more than just "moments," but they are vivid to this day.
JOAN KRAMER: There are so many and the book is filled with most of them. One of my favorite memories is picking up the phone and hearing Katharine Hepburn ask if David and I would like to do a program with her about Spencer Tracy. Another is the call I received from Johnny Carson the day after Cary Grant died. Carson had wanted to replace himself as host of the Jimmy Stewart profile because he though Cary Grant would be more appropriate. But he discovered that Grant was out-of-town for several weeks doing his one-man show at colleges. It was right before one of those events in Davenport, Iowa, that Grant had a stroke and died. When I spoke to Johnny the next morning, he said, "Now don't get upset with me for what I wanted to say when you answered the phone." I said, "Okay; I'm ready." He said, "I asked Cary Grant to host your show and he dropped dead."
STAY THIRSTY: Richard Dreyfuss, Robert Osborne and Dick Cavett all sung praise for your book. Do you still keep in touch with the families of the stars you wrote about? Do you think you will do a retrospective program based on it?
DAVID HEELEY: No more retrospectives. As you'll gather from the book, they are very hard work – exhausting. I don't think I have that sort of sustainable energy today.
It's unfortunate that many of the stars we have written about are gone. In producing these profiles we came to care about our subjects and always tried to stay in touch for as long as possible.
Among others, we are still very close to Joanne Woodward, Julie Garfield and Richard Dreyfuss. And we kept in touch with Patrice Wymore Flynn, who lived on the Flynn ranch in Jamaica until she died only recently.
JOAN KRAMER: Yes, we're still in touch with Spencer Tracy's daughter, Susie; Henry Fonda's widow, Shirlee; Audrey Hepburn's companion, Robert Wolders; Errol Flynn's daughter, Deirdre; John Garfield's daughter, Julie; and of course, Richard Dreyfuss, Dick Cavett, Joanne Woodward, among others. But we doubt we'll do a retrospective based on the book.
STAY THIRSTY: Will we ever see a golden age in Hollywood again?
DAVID HEELEY: It will never be the same Hollywood as it was in the 30s and 40s. Television and social media have changed the landscape completely. However the era of the movie star is far from over and there are still some outstanding films being produced (along with the dreck – but even the golden age produced its share of that). I still get pleasure from going to the movies and don't put down what is being made today.
Of course, we have to thank publications and websites like yours and Turner Classic Movies for keeping the "golden age" alive. I am still discovering gems I missed or thought I'd seen, but hadn't.
JOAN KRAMER: I don't think another "Golden Age of Hollywood" is possible, unless there's another "studio system" in the future. However, there are actors, such as Meryl Streep, Tom Hanks, Maggie Smith, Barbra Streisand, and directors such as Steven Spielberg, Ron Howard and others, each of who has made an impact on the entertainment industry. Wonderful movies are being made by talented filmmakers and charismatic, talented actors and actresses. And some terrible films get made too, but that's been the case throughout the history of motion pictures and television.
Link: