By Sarah L. Myers
New York, USA
---
It's my favorite New York City bar, my favorite New York Dolls song, and now it's my favorite way to get trashed.
---
What can be said about 2014 that wasn't already predicted in last year's final Trash? For one, I did not expect to break my ankle again (one of the true highlights of 2011), but I did expect sunrise rock n' roll nights, more time in my beloved London, and the sense that something needed to be shaken loose. I became more embedded into the people, places, and things that color my version of this city. Last year I had asked to knock some artists off my Top 5, and while I did not interview Nick Cave, I stood under the Prospect Park band shell while "Jubilee Street" entranced the crowd beneath a star-filled summer sky. I practically moved to London and firmly planted my feet into my future home (I'll get there), traveled solo to Amsterdam, and finally visited the memorial stone of Ian Curtis. Perhaps this is my greatest moment of the year. Thirsty was born from another special section of stone. Leaving mementos in Macclesfield scatters our spirit even farther.
I put together the following highlights of 2014 just in time to welcome the New Year in one single platform glitter heel, but trust me – my ankle cast was jazzed up. Glamdammit! Stay Thirsty!
1. Ian Curtis memorial stone visit, Macclesfield – Having put this visit off from the previous year, I was ready for an emotional day. Brandy Row joined me for the trek out to Macclesfield – a place so stark, gray, and somber it looks like the type of music it inspired. We were welcomed like space aliens, as if we boasted sandwich boards announcing us from a land with sun and smiles. The cemetery itself wasn't difficult to locate, but one single stone in a sea of slate is nearly impossible. I was almost ready to give up when Brandy found it. It's incredible that a structure no larger than one foot can evoke such reaction from devotees around the world. I leave my treasures and take a pause. In the grass I spy a Chicago CTA card. You can only keep certain feelings down for as long as they'll allow. I didn't have any room left that day for mine. What an incredible memory.
2. Los Angeles birthday - Well, now, it wouldn't be my birthday without a night at the Rainbow now would it?! My annual journey included my sister Jill, Thirsty friend Ben, our LA lady Chelse and her hubby, and my beloved Kim and Scarlett, with whom I redefined class and sophistication for Virgin America. As always, there were photos with Ron Jeremy. As always, there were multiple outgoing texts of "Where'd you go? Will you get me a whiskey? Can we get more pizza?" As always, there were protests from me as I was shuffled away into the car. Those images of Kate Moss entering and leaving her birthday enter my mind. What a difference a few hours makes.... The next morning we were knee-deep in In and Out burgers and the birthday angels smiled on me when my forgotten iPhone was returned by our Uber driver – in the Hollywood Forever Cemetery! I left kisses for Dee Dee and picked a flower for my locket. Gabba Gabba Hey!
3. The Adicts – It's so wonderful to consider these gentlemen my friends. The 12-year-old fangirl who still lives inside me would've never believed it. Thirsty first met the Adicts in 2011 and we've just never fallen out of love since. I couldn't wait to hang out with them after yet another incredible live show at Highline Ballroom in May. We headed straight backstage, where I met the newest Adict, Dave Menza, who totally shredded it onstage and kicked the boys up higher than I thought possible. Many beers later (including two I snuck outside with Scruff – I love you, sir) we had already made plans to join the guys a couple nights later in Asbury Park. Cue Nikki and I in a rental car, Thelma and Louise-style, yelling "Is that the exit? Wait, is it that one?" before filing into the best seaside punk bar on the planet – the Wonder Bar. Take Freak Bar, add a better bathroom, and there you have it. Security be damned, we hung backstage until the van drove off, leaving us to find the IHOP and drive back with the birds chirping. See you next time, guys!
4. Amsterdam – Let's get something straight right now. Yes, I did. And it contributed to me having a pretty difficult time figuring out how to open the door at my Air BnB. Is this the reason they asked me to leave early? Or did they really need to "clean the room right now?" I'll never know. I do know that people in Amsterdam are fantastically friendly otherwise, my friend Robil has the most badass moped and is one hell of a tour guide (thank you Robil and Contessa!), Genever is both my nemesis and my soulmate (that's the way love goes), and the single best part of the trip was my first bite into a croquette. I ate four in one day, one which was pulled from the wall at an Automat. What a beautiful city. Sitting outside with a notebook, watching people walk the canals, a street cat looping my ankles, I felt so accomplished. I can't describe the exact sensation of those moments. I'm just glad I had them. I cannot wait to go back.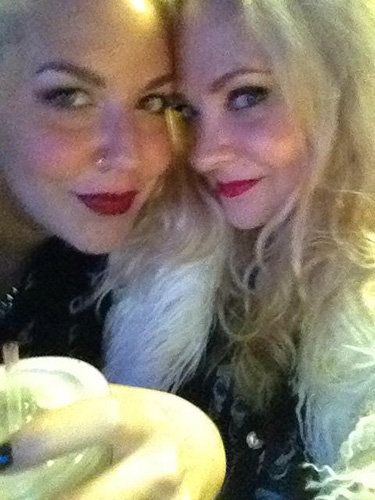 5. Motley Crue at Madison Square Garden – Remember that 12-year-old fangirl? I had never seen Motley Crue before this night, and what a way to go out! This was Mecca, my mothership. And who better to share the night with than my best friend and Rock of Love, Jordi Scott? My adrenaline was through the ceiling so only a few songs stick out, but I do specifically remember those first thundering bass lines of "Primal Scream", sending my eyes directly to Nikki's hips for that sway-and-stance. "Without You" was a surprise, and I secretly wanted someone to do that couples-dancing-at-a-rock-show hug with, but Jordi and I made do with each other. "Home Sweet Home" was decadent 1980s metal at its best. With the house lights up we could see everyone's faces as mesmerized as ours. We saw one of the biggest bands in the world, at the most famous venue in the world, in the greatest city in the world. I can try but I don't know if I can ever top that. I hope 2015 gives me that opportunity.
Until next time...


Link: