By THIRSTY
---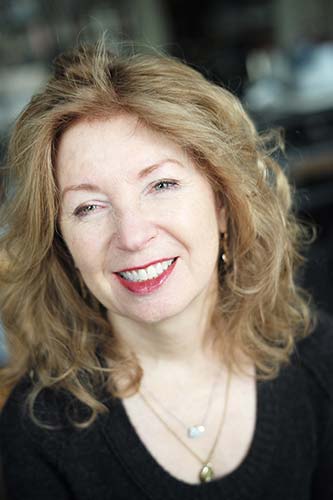 April Gornik had her first one-person exhibition in 1981. Her work is in the collections of major American museums, including the Metropolitan Museum of Art (New York), the Whitney Museum of American Art (New York), the Museum of Modern Art (New York), the National Museum of American Art (Washington, D.C.) and the National Museum of Women in the Arts (Washington, D.C.), and in important public and private collections around the world. She has shown extensively in one-person and group shows in the United States and abroad. In 2003, she received the Guild Hall Museum's Lifetime Achievement Award and in 2004, she was the Neuberger Museum of Art Annual Honoree. Stay Thirsty Magazine was pleased to visit with her at her home on Long Island for this conversation.
STAY THIRSTY: Stay Thirsty Magazine visited with you back in 2012 and we thought another visit was in order to discuss, among other things, your recent book entitled April Gornik: Drawings that was released in July of 2014. How did this project come about?
APRIL GORNIK: It was Eric [Fischl] who came up with the idea, and it was a gift to me from him. Many people are particularly fond of my drawings, and he thought they would make a great book.
STAY THIRSTY: In your new book there are essays by Steve Martin and artist Archie Rand, an interview of you by Lawrence Weschler and a musical contribution by composer Bruce Wolosoff with, of course, more than 200 charcoal reproductions taken from your body of work since 1984. What motivated you to combine so many different mediums of communication into one book? How did you choose who would contribute to it?
APRIL GORNIK: Well the book was somewhat intuitive and as ideas would come up, we'd think, for instance, "Wow, wouldn't it be great if Steve would agree to write something for it since he writes so beautifully about art (and collects my drawings)?" Archie's piece was actually originally an email he sent to me out of the blue that knocked my socks off. We've become good friends since. Eric and I are both huge admirers of Bruce Wolosoff, and also close to him and his wife, the artist Margaret Garrett. Ralph Gibson is one of our oldest and dearest friends, so it made sense he'd take my picture. And don't you think Ren Weschler is one of the most brilliant minds out there? It felt like a coup that he agreed to interview me. Anyway, since it was our project, we were able to be really creative with it.
STAY THIRSTY: What is it about charcoal that has attracted you for so long and why did you limit this book to only your works done in charcoal?
APRIL GORNIK: There's something absolutely unique about the feeling and effect of a charcoal drawing. The hand is so close to the paper as you're working, working the charcoal into it by mark-making and smudging, so the hand leaves its evidence in a very particular way. It's both a very specific and very tricky medium. I love deep deep blacks, and you can build up to something that's almost depthless using it. And the paper affords you brilliant light, if you don't wreck it with a careless smudge or mark. Charcoal really celebrates the hand in art and the light in paper. So I wouldn't call it limiting, I'd call it fully celebrating the medium.
STAY THIRSTY: In a presentation you did with Archie Rand at the New York Public Library in October 2014, he speaks to your charcoal drawings as works of atmosphere rather than symbolism. When you set about creating one of these drawings what are you trying to communicate to the person who views your work?
APRIL GORNIK: Archie is so right about that. I want the work I do, paintings or drawings, to pull the viewer in by the seduction of the medium, but I want the response to be open-ended, giving the viewer a small but whole world of options for engagement and interpretation. I hope people looking at the work will feel a powerful sense of place in my interpretation of it that they can springboard from to their own.
STAY THIRSTY: Your paintings and drawings come from nature – the forests, the deserts and the sea – what is it that attracts you to these subjects rather than focusing on people like the work of your husband Eric Fischl? What in your life experiences has drawn you to these subjects? Did your undergraduate B.F.A. studies in Nova Scotia have any influence on your perception of nature then and now?
APRIL GORNIK: Landscape, or place, is not something I ever chose to do. It just emerged from my subconscious (to my surprise) and then has turned out to be apparently infinite in scope and possibility. I think maybe some sense of threat and vulnerability in my childhood makes me yearn for a safe place from which to view the overwhelmingness of the world, but I also clearly want to celebrate its wildness, without impact or mediation from other people and their presence. Of course I am the mediator, and am completely responsible for them, so that's a contradiction if there ever was one.
STAY THIRSTY: In our Stay Thirsty interview with you in 2012, you indicated that your initial and abiding interest is in abstract art and in how to represent a sense of light, space and place for contemplation. Does that still speak to how you feel today? How have your views evolved over the past decade?
APRIL GORNIK: My views are fundamentally the same, and generally over the last decade I'd say I've been thinking more and more about detail, what it means, and can mean, and how I can make the surface of a painting or drawing, which is of course all there is to 2-D art, more intense and more compelling.
STAY THIRSTY: Your work is in the collections of the Museum of Modern Art, the Metropolitan Museum of Art, the Museum of Fine Arts Houston, the Smithsonian American Art Museum and the Whitney Museum of American Art. When you graduated from college did you think your paintings and drawings would gain such wide acceptance? What was the key turning point in your career that opened the way for such acceptance?
APRIL GORNIK: Oh there are so many degrees of art acceptance, from being in a museum's collection to having a retrospective at MoMA… I feel damn lucky that I'm represented in a lot of august institutions, and I think part of the longevity of my career is that I've remained a bit of an outsider, or as I like to think of it, an eccentric, in relation to the rest of the trendy art world.
STAY THIRSTY: The home you and your husband built in the Hamptons seems to be your retreat from the world and yet you have a strong sense of the fragility of the global environment. How concerned are you that the subjects you love to paint and draw are endangered or at least at risk from global warming? Will some of those changes appear in your future works and evidence your concerns?  
APRIL GORNIK: There's nothing like the transience and beauty of light to show us our own mortality and transient natures. From that it's an easy, small step to the fragility of the global environment. People who like my work will most likely concern themselves with that, and from having been clear when I first began painting landscapes that they were not "ecological statements," I have done a 180 to the point that if people only see the work as remarking on the fragility of what's left of the world untouched by man, and its concomitant concerns like species extinction, I'm now perfectly happy with that reaction.
STAY THIRSTY: When you are not working in your studio, what charitable organizations do you devote time to helping?
APRIL GORNIK: I'm a think global, act local kind of person. I've been trying for years to mitigate damage to sharks at tournaments in Montauk (yes, they still occur!) and I support Planned Parenthood, AIDS research, and lots of environmental organizations, both local and national.
STAY THIRSTY: Do you have plans for another solo show in New York or is there another project in the works for the near future?
APRIL GORNIK: I'm working on a print project at the moment, have a painting that's going to the Museo Grimani in Venice next May, and am always working towards my next solo show, whenever that will be. Since the last solo show was last spring, I have nothing scheduled yet. I actually love the time right after a show when I can just be in the studio working and not towards anything in particular.
Links: