By Kent Brown
Atlanta, GA, USA
---
John Densmore, the drummer for The Doors, was inducted into the Rock and Roll Hall of Fame with the band in 1993. A musician, songwriter and author, Densmore joined The Doors in 1965 and remained a member until the band dissolved in 1973. He was an integral player in the band's influence on Rock and Roll and is ranked in the top 100 Drummers of all-time by Rolling Stone. He is the author of two books about the band, Riders On The Storm and The Doors Unhinged – Jim Morrison's Legacy Goes On Trial, and speaks frequently about his experiences with the band and afterward. Stay Thirsty Magazine was fortunate to catch up with him at his home in Los Angeles for this conversation.
STAY THIRSTY: John, thank you for spending time with us today. You have been busy lately and congrats on your recent Inspiration Award. Henry Rollins, a friend of Stay Thirsty, presented the award to you. Can you tell us what that award meant to you personally and professionally?
JOHN DENSMORE: Well, when first approached, I wasn't going to attend because I'm not really a heavy metal guy and Sammy Hagar and Ozzy are not really my cup of meat. Then I heard Henry Rollins was presenting the award to me, so I went. The guitar player from Queen was there… then there was Eric Idle whom I had a high-five with on the way up to the stage. These are people I admire and to receive the award in front of them felt good.   
STAY THIRSTY: The Doors have also been in the news recently with regard to the long-awaited release of the documentary Feast of Friends. Can you share how you feel about its release so many years after the project began?
JOHN DENSMORE: It was bootlegged so much we decided to put the whole thing out with the best sound and visuals possible. We have cherry-picked it for other films, but seeing the whole thing reminds me of the early days…I look back fondly. 
STAY THIRSTY: You also have written a riveting book entitled The Doors Unhinged – Jim Morrison's Legacy Goes on Trial. Obviously, your bitter court battle (or "divorce" as you put it) with Ray Manzarek and Robby Krieger weighed heavily on you as you wrote The Doors Unhinged. What were some of your other motivations for telling this story so many years after Jim Morrison's death and the band's breakup?
JOHN DENSMORE: When I started this train wreck (suing my bandmates), hardcore fans thought I was ruining the band they loved. This document hopefully shows I was trying to keep Jim's original idea of the four of us intact. 
STAY THIRSTY: You describe the story of The Doors as a tragedy. Yet, in many ways, it is a unique American, Rock and Roll, rags-to-riches story as well. You went from a true garage band playing smoky L.A. clubs to the very top of the music world. Then Jim Morrison died. Later the divorce between you Ray and Robby. The Doors have since been immortalized. As you look back on it all today, what do you wish had been different? Any part of the story that you wish you could have changed?
JOHN DENSMORE: Yes, and no. Of course I hope that I learn from what I've gone through, and if done again, would change things… and no because I like myself today and am a product of what I've been through.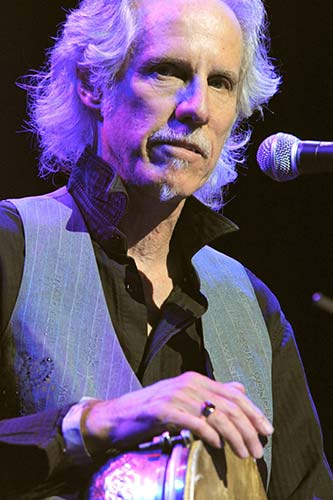 STAY THIRSTY: In your book, you indicate that a fight or an eruption from Jim Morrison occurred with regard to a Buick commercial contract that Ray and Robby had arranged behind your and Jim's back. The band's hit "Light My Fire" was going to accompany a Buick sports car commercial and that act apparently "unhinged" The Doors irreparably. Today, we live in an age where commercialization, advertisement and artistry live hand-in-hand with very little outcry from the artistic community. Musical artists' work is constantly used in television ads, movies and internet promos. Has the landscape or sense of values changed in the artistic community over the years? And how would Jim Morrison and The Doors feel about our current marriage of artistry and commercialism?
JOHN DENSMORE: First of all, I wanted to do the Buick ad as well as R and R, but Jim's strong reaction against a song he primarily didn't write has stayed with me up to today. As I say in Unhinged, if you're a new band trying to pay the rent, do a commercial, but later maybe considering dropping new ones because they pollute your songs. 
STAY THIRSTY: Let's pretend for a moment that Jim and Ray were still alive. Would The Doors have continued charging though the decades, like the Rolling Stones or The Who, selling out arenas and play halftime shows at the Super Bowl?
JOHN DENSMORE: I think we would be doing music for films and making films.
STAY THIRSTY: You often speak of Jim's "fabulous" lyrics. In Unhinged you even describe the band as a vehicle for his words. Where does Jim Morrison stack up in the pantheon of Rock and Roll lyricists in your mind?
JOHN DENSMORE: One of a kind. Unique as Dylan or Springsteen or Neil Young. 
STAY THIRSTY: Jim Morrison has often been compared to a guy from my era, Kurt Cobain. Is that a fair comparison, in your opinion?
JOHN DENSMORE: Artistically fair…I just have trouble with Kurt taking himself out when he was a parent. Obviously Kurt was extremely troubled, but when you bring someone else into the world, you're not the center of attention any more. You must consider the effect your actions will have on your kids.
STAY THIRSTY: You wrote a very heartfelt letter at the end of Unhinged to Ray and Robby. Did either of them reach out to you after The Doors Unhinged was published? And were you ever able to reconcile your differences with Ray Manzarek before his death last year?
JOHN DENSMORE: I sent the last chapter to R and R before the book was published with a note saying this will be a hard pill to swallow but I wanted to make sure you got to this chapter where I say…how can I not love you guys. You're my musical brothers…we created magic in a garage.
When I heard Ray was getting really sick, I called him and we had a closing talk.
STAY THIRSTY: What is your current relationship with Robby Krieger like?
JOHN DENSMORE: We're doing fine. We played a little music together at LACMA for a screening of The Making of L.A. Woman…it was like old times!
STAY THIRSTY: I always enjoy interviewing great drummers. Who did you admire and model your style after when you first decided to pick up the sticks?
JOHN DENSMORE: Elvin Jones, Coltrane's drummer, was my idol. I eventually helped him carry his kit to the car after a gig. 
STAY THIRSTY: Who are some other drummers during your era and into today that you look at and just say, "Wow! That guy can play!?"
JOHN DENSMORE: Billy Cobham, Peter Erskine, Ringo, Keith Moon.
STAY THIRSTY: It must be strange for someone to see himself portrayed on film. How did you feel about Oliver Stone's movie The Doors. Was it a fair depiction of your journey as a band?
JOHN DENSMORE: I felt Val [Kilmer] should have been nominated for an Oscar. Oliver's movie was a beautiful impressionistic painting of us. The film doc, When You're Strange, completes the picture, showing the era we were in as well as the path of a struggling artist. 
STAY THIRSTY: What's next for you? Any new books, documentaries or jam sessions that we should keep our eyes and ears peeled for?
JOHN DENSMORE: Meeting with Remarkable Musicians – each chapter will deal with someone I have admired: Elvin, Santana, Patti Smith, Ravi Shankar.
Link: