By Robert Wolf
Decorah, IA, USA
---
Sherwood Anderson had published Winesburg, Ohio by the time he introduced himself to Gertrude Stein in Paris in 1921. Stein, who had published only small editions of two works, Three Lives and Tender Buttons, was known primarily to other writers.
Anderson's praise of Stein's work endeared him to her, especially because Anderson was a major figure in American prose and Stein was struggling to make her work known. She was, at that time, writing her more than 900-page tome, The Making of Americans, and collecting smaller pieces into what became Geography and Plays, published in 1922. Stein's editor suggested that she ask Anderson to write an introduction to that book, which he did.
In return, Stein wrote a tribute to him in 1922, "Idem the Same: A Valentine to Sherwood Anderson." You can hear Stein read it at: poetryfoundation.org/poem.
The year before, 1921, young Ernest Hemingway and his wife Hadley Richardson, visited Stein and Toklas. Anderson had provided Hemingway with an introduction, not only to Stein but also to Ezra Pound and others in the émigré community.
Hemingway came to Paris with experience as a journalist, which gave him the basis for his craft. As a young reporter for The Kansas City Star, he knew its style-sheet, which began: "Use short sentences. Use short first paragraphs. Use vigorous English. Be positive, not negative." Hemingway said that, "Those were the best rules I ever learned for the business of writing. I've never forgotten them."
Ezra Pound became one of his mentors. In a letter to Lewis Galantiere, Hemingway wrote that Pound is "teaching me to write, and I'm teaching him to box." What Pound undoubtedly taught him were the principles of a style of writing he called Imagism—a lean, spare style that dispenses with adjectives and adverbs and any other word not absolutely necessary to a direct presentation of the subject.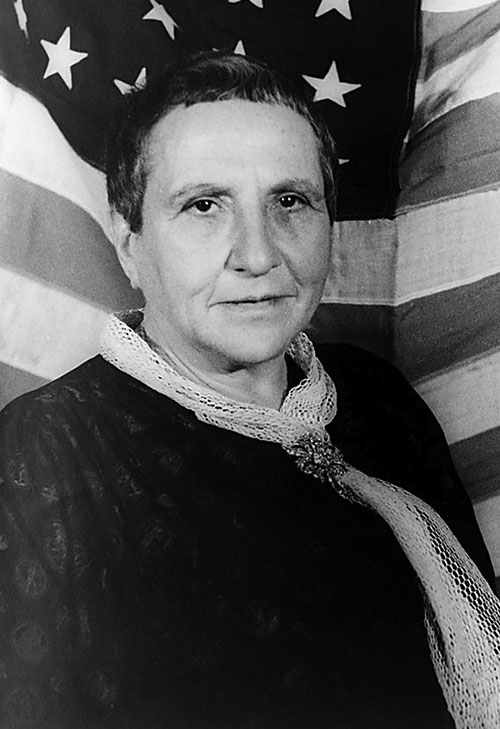 At the same time, Hemingway was getting advice from Stein, who was not fond of Pound. (He had broken one of her chairs by sitting on it.) In Ernest Hemingway: A Life Story, Carlos Baker described a conversation in which Stein, shortly after first meeting Hemingway, offered him criticism of one of his works-in-progress. According to Baker, ". . . she did not care for the novel. 'There is a great deal of description in this,' she said, 'and not particularly good description. Begin over again and concentrate.' Ernest picked up his ears."
Later, in Spain, Hemingway wrote Stein and Toklas ". . . I'm trying to do the country like Cé́zanne and having a hell of a time and sometimes getting it a little bit . . . but isn't writing a hard job though? It used to be easy before I met you. I certainly was bad, gosh, I'm awfully bad now but it's a different kind of bad."
Years later, in A Moveable Feast, Hemingway wrote that Stein "had . . . discovered many truths about rhythms and the uses of words in repetition that were valid and valuable . . . . But she disliked the drudgery of revision and the obligation to make her writing intelligible . . ."
Of The Making of Americans, Hemingway wrote, "This book began magnificently, went on very well for a long way with great stretches of great brilliance, and then went on endlessly in repetitions that a more conscientious and less lazy writer would have put in the waste basket."
Stein began The Making of Americans in 1902 or 1903 (opinions differ), and completed it in 1911. Whether or not it ranks in quality alongside Joyce's Ulysses and Marcel Proust's Remembrance of Things Past, it is, like them, a significant modernist experiment. Hemingway proofread the manuscript and arranged for the publication of excerpts in the transatlantic review in 1924.
The Making of Americans is not an obscure work. Consider its third and fourth paragraphs: "It has always seemed to me a rare privilege, this, of being an American, a real American, one whose tradition it has taken scarcely sixty years to create. We need only realize our parents, remember our grandparents and know ourselves and our history is complete.
"The old people in the new world, the new people made out of the old, that is the story that I mean to tell, for that is what really is and what I really know."
Stein was a writer of many styles, and the language of The Making of Americans has no similarity to her experiments in pure sound, such as "Idem the Same." As noted in Part One of my article in Stay Thirsty (Summer 2014), Stein's earliest sound experiment, Tender Buttons, inspired Anderson to begin his own, unpublished experiments. His explorations, together with the prose of Three Lives, opened something within Anderson that found fit expression for his sensibility.
Each of the seminal works of the three writers—Three Lives, Tender Buttons, Winesburg, Oho, and In Our Time—has its distinctive rhythm and style. What the books have in common is their authors' deliberate choice to work with a limited vocabulary. With their simple words, critic Edmund Wilson wrote, the three writers could convey "profound emotions and complex states of mind."
Hemingway biographer Carlos Baker wrote that in 1925, when Hemingway, Scott Fitzgerald and Christian Gauss discussed their respective influences, "Hemingway named Sherwood Anderson's Winesburg, Ohio as his first pattern."
Baker also reported that in 1935 Hemingway listed sixteen books that he would rather read for the first time than receive one million dollars annually. Of the sixteen, only two books were American—Winesburg, Ohio and Huckleberry Finn.
When In Our Time was published, the first edition came with a blurb from Anderson on the dust jacket. Hemingway bristled. He did not want the association. At least two reviewers found similarities between the writing of the two men. Hemingway's story, "My Old Man," one wrote, was clearly influenced by Anderson's racetrack stories. "By this time," Baker wrote, "Ernest was sick of being compared to Anderson."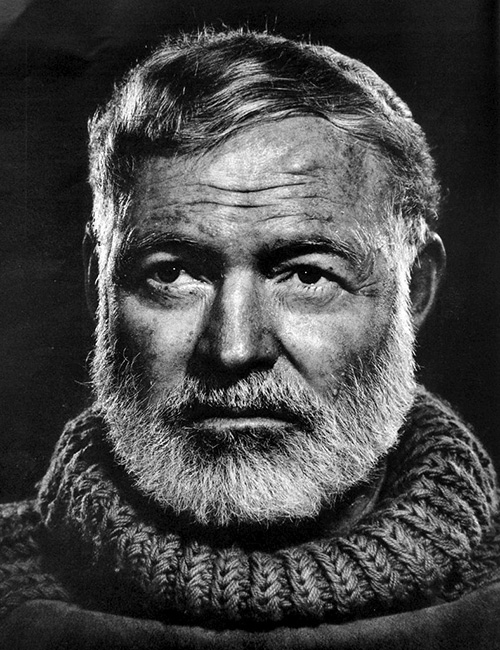 An interesting distinction between the two writers lies in Hemingway's treatment of a theme Anderson handled in Winesburg—that of a woman who gives herself to a man. "Up in Michigan" is a very early story and written from a woman's point of view, something Hemingway never again attempted.
The man takes the woman for a walk. They sit and he touches her under her dress; she tells him to stop. "She was frightened but she wanted it. She had to have it but it frightened her."
He does not stop and he hurts her. Afterwards, he falls asleep and she works out from under him and kisses him on the cheek. When he does not respond, she cries. "She was cold and miserable and everything felt gone." Then: "Liz took off her coat and leaned over and covered him with it. She tucked it around him neatly and carefully."
Like all early Hemingway it is written in an almost clinical manner. We don't care about Liz, because she is not fully alive. This is partly due to Hemingway's youth, and partly a result of his artistic vision, which at the time focused on the essential exterior of things. But most of all it is because Hemingway has no sympathy for the woman.
For whom did Hemingway have sympathy? In The Pound Era, Hugh Kenner quotes Pound as saying, " . . . Hem . . .never knew one human being from another . . . and never much cared."
Anderson, on the contrary, had a deep interest in people, in what they thought and felt. One of the early stories in Winesburg contains an episode that I believe formed the germ of "Up in Michigan."
In "Mother," a young woman seeks out the company of traveling salesmen and goes for walks with them. "She did not blame the men who walked with her and later she did not blame Tom Willard. It was always the same, beginning with kisses and ending, after strange wild emotions, with peace and then sobbing repentance. When she sobbed she put her hand upon the face of the man and had always the same thought. Even though he were large and bearded she thought he had become suddenly a little boy. She wondered why he did not sob also."
Wanting to distance himself from Anderson, Hemingway wrote The Torrents of Spring, a parody of Anderson's style and vision. Anderson, mind you, had gotten Hemingway a contract for In Our Time with his publisher, Boni and Liveright. To break his contract, which included future works, and to further distance himself from Anderson, Hemingway offered the firm The Torrents of Spring. The firm naturally declined the book and the contract was severed.
Stein responded by breaking with Hemingway. In The Autobiography of Alice B. Toklas, Stein wrote: "Gertrude Stein and Sherwood Anderson are very funny on the subject of Hemingway. The last time that Sherwood was in Paris they often talked about him. Hemingway had been formed by the two of them and they were both a little proud and a little ashamed of the work of their minds."
But with characteristic charity, Anderson never replied to Hemingway in kind. After his death in 1941, Anderson's friends and fellow writers contributed essays to Homage to Sherwood Anderson. Stein contributed a piece in which she wrote, "Yes undoubtedly, Sherwood Anderson had a sweetness, and sweetness is rare. Once or twice somebody is sweet, but everything in Sherwood was made of sweetness."
Theodore Dreiser wrote, "And so sometimes the things he wrote . . . had the value of a poetic prayer for the happiness and the well being of everything and everybody . . ."
New York music critic Paul Rosenfeld wrote, "… through the Chicagoan's personality and his work a beautiful, extraordinarily humanizing force was active in American life."
Anderson's empathy and understanding of what lay beneath the surface in others (qualities he said he developed in the army) allowed him insight into people. Hemingway acknowledged this empathy in A Moveable Feast when he wrote, " . . . I liked some of his short stories very much. They were simply written and sometimes beautifully written and he knew the people he was writing about and cared deeply for them."
In1937 letter Thomas Wolfe wrote to Anderson, "I think you are one of the most important writers of this century, that you ploughed another deep furrow in the American earth, revealed to us another beauty that we knew was there but that no one else had spoken. I think of you with Whitman and with Twain—that is, with men who have seen America with a poet's vision and with a poetic vision of life, which to my mind is the only way ultimately it can be seen."
***
Of the three writers, Stein is the fountainhead. Through the influence her earliest published writings had on Anderson and Hemingway, Stein indirectly influenced countless other writers.
Today Stein is lionized by contemporary poets for her nonsensical writings, which are called "hermetic" by those who want to enshrine her reputation as a master. But "hermetic" is a misnomer: "hermetic" indicates that which has inner meaning, and much of Stein's work has none. Her experiments with sound and her unexpected juxtapositions of words, however, have made her a writer's writer.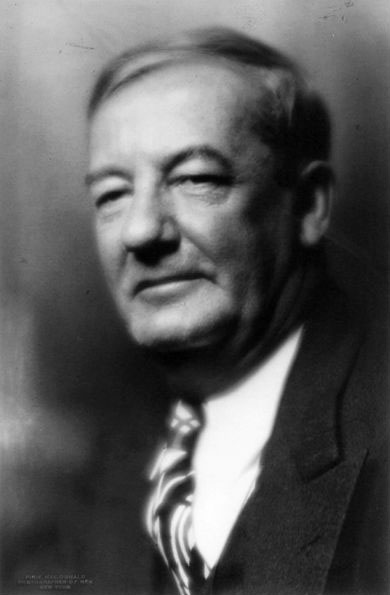 Stein and Anderson preserved their friendship through letters and rare visits until Anderson's death in 1941. By that time, Anderson's literary reputation had faded, as Hemingway's continued to rise. The irony is that Anderson is the much more sincere and honest writer. After Hemingway's first brilliant short story collection, his work slowly fossilized. Hemingway's characters do not speak as real people; they talk like Hemingway characters. The writer who was so consumed with "getting things right," including atmosphere, sights, sounds and smells, did not create living characters.
To repeat what his friend Pound said, " . . . Hem . . .never knew one human being from another . . . and never much cared."
From an early age Hemingway carried deep wounds within him—his father's suicide and his own war injuries, which, added to his alcoholism, surely account for his frequent spiteful behavior and nihilism. The nihilism reached unfettered expression in an essay cum story, "A Natural History of the Dead," published in his 1933 story collection, Winner Take Nothing. Reading Hemingway from the perspective of his nihilism and self-disgust, his suicide makes sense.
Anderson, by contrast, was, as Paul Rosenfeld wrote, a powerful humanizing force in America. Anderson is now known to the reading public exclusively for Winesburg, Ohio, but two of his other books, his novel Poor White and his memoir, A Storyteller's Story, need to be read. Like Leaves of Grass and Huckleberry Finn, they are quintessential American works. His style is rooted in American speech and his overarching concern is with the American landscape.
His works are meditations on the transformation of the American character under the influence of the machine. He is not, as J.B. Priestley claimed, longing for a pre-industrial idyllic existence. Anderson had seen too much and lived too much to fall for that.
He, perhaps, was the first of our writers to make loneliness and the individual's inability to connect with others a major theme in American literature, one that later became central with Thomas Wolfe. One wonders what course American culture might have taken had more writers had Anderson's concerns and sensibility.
Links:
Stein, Hemingway and Anderson – Part One by Robert Wolf
All opinions expressed by Robert Wolf are solely his own and do not reflect the opinions of Stay Thirsty Media, Inc.