By Robert Wolf
Decorah, IA, USA
---
For nearly 100 years American planners have confronted the facts of our centralized American economy and culture. But how many Americans consider the problems posed by centralization, which is the control of capital, production and distribution by a few urban centers?
From its inception, centralization in America slowly began eroding cultural distinctions between regions—between New England and the Midwest, for example—as standardized, industrial products began flowing out of urban centers.
Once Americans accepted industrialization, their lives changed forever. Machine tools replaced hand tools, and crafts were forgotten. Standardized products flooded America; local and regional folkways were lost.
America, which was once a patchwork of regional cultures, lost the cultural markings, including modes of production, that distinguished one region from another.
Cities and their suburban rings grew as more people flocked to urban centers. Rural America continued losing population and became increasingly impoverished.
The list of planners and writers who sought to rectify the imbalance of power between city and country, and between regions, reads like a stellar roll call of American planners and thinkers. They and their efforts at the decentralization—the regionalization and remapping—of America are largely unknown.
The earliest of these planners formed the Regional Planning Association of America, just prior to the Great Depression. They were most active during the 1930s, writing books and articles at the time when regionalist painters like Grant Wood and Thomas Hart Benton, and writers like Marie Sandoz and John G. Neihardt, enjoyed a national following.
Interest in regionalism declined during and after the Second World War. But in 1970, the Center for the Study of Democratic Institutions, headed by Robert Hutchins, published Rexford Tugwell's Constitution for a United Republics of America. For years prior to the publication, Center fellows had been discussing the need for a revised Constitution that would address realities undreamed of by the founders.
In 1981 the idea of remapping America was revived with the publication of Joel Garreau's The Nine Nations of North America. More recently, the idea of remapping America gained notice with the publication of books and papers advocating bioregionalism. A bioregion is identified by its flora and fauna, its topography and other geographical and environmental features. Some of the most distinguished writers on sustainability, including Thomas Berry and Fitzpatrick Sales, have contributed to the bioregional movement.
The Midwest's Driftless region, comprised of portions of northeast Iowa, southeast Minnesota, southwest Wisconsin and northwest Illinois is a bioregion marked by a topography of winding hills and valleys built on a limestone foundation. It is approximately the size of Massachusetts and dotted throughout by small farms. Its residents identify with their region as much, or more, than they do with their respective states.
The Driftless region is attracting farmers and entrepreneurs, young and old. Among the newcomers are Andrew Wunschel and Eryn Jennings, who moved to northeast Iowa in January 2014. I visited with Andrew and Eryn at their home in early September.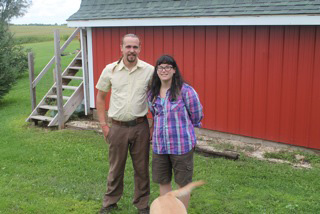 ROBERT WOLF: Please tell us something about your upbringing and what in your upbringing or background motivated you to farm.
ANDREW WUNSCHEL: I spent my childhood in small town Iowa. No particular one, really, as we moved around a lot. We were always in town, but my aunt rented several old farmsteads during my childhood, and I would often spend a week or more in the summer with her family in the country, giving my single mom a rest. I helped in the garden pulling weeds and picking beans, or I helped with the canning, snapping the beans and unleashing a barrage of questions while my aunt made pickles. There's a family video of my sister making my baby cousin giggle when I come in from outside barefoot, shirtless and eating a garden onion like an apple.
ERYN JENNINGS: I was raised in a moderately rural area of northeast Connecticut by a close-knit extended family of working class baby boomers with a pretty solid hippie bent. Us kids were basically shoved outside and left to our imaginations. I spent a majority of my summers camping and I participated in some farm related activities at Girl Scouts and 4-H camp. It is still not uncommon for my whole family to spend time together hiking, canoeing, fishing, etc. Also, my mom and aunts always had large vegetable gardens and I was often tasked with helping out.
I was definitely taught to appreciate and respect the natural world. Conservation and environmental consciousness were especially emphasized.
In college I studied Wendell Berry and Thoreau and pined for a life away from all the strip malls and gas stations. For me, it has never been about farming per se but about escaping the claustrophobia of the modern world.
ANDREW WUNSCHEL: My family had seen and lived through the farm crises of the 70s and 80s, and watched the small towns get smaller. I was pretty sure that the city was the place for me. So I moved to Chicago after college.
I went through a really tough time for a few years, in a dark and ugly place. I worked at nonprofits and charities, trying to do some good in the world, but the famous saying about laws and sausages applies to the nonprofit world for sure. Everywhere I looked was only despair and oppression, and people pretending to be asleep on the train to avoid interacting. I'm a voracious reader, and I spent a lot of time reading things that don't instill hope in a person. I went a little off the deep end, studying wilderness survival skills, post-apocalyptic theory and practice, conspiracy theorists, all sorts of stuff to get me ready for the coming dark days.
It occurred to me that I had been happy before, and possibly happiest, pulling a bean off the plant and popping it into my mouth. I had dreams of spinning fiber into cloth and making my own clothes, or having a woman do it for me. Maybe a commune…who knows. One thing was for sure, was that I'd better start practicing. And then my lady, Eryn, stumbled across a job posting for an organic veggie farm in the suburbs, and we took it. I felt the seasons change, and saw seeds I planted nurtured into food for hundreds of families.
ROBERT WOLF: Had each of you made the decision to farm prior to meeting?
ANDREW WUNSCHEL: No. We spent hours and hours talking about how nice it would be, a little piece of land. Same sort of thing a bunch of city people daydream about. We had the advantage of nothing really to lose, though. We'd both decided that we had no interest in the American Dream before we met, but we had to experience the city to realize we wanted something like the Jeffersonian Ideal.
ERYN JENNINGS: I think we both had the foundation already in place but not any sort of solid plans. And I think having these ideals in common helped bring us together. We always talked about how great it would be if we had some land somewhere that we could do what we wanted with. It was part of our starry-eyed epic love story. But I don't think that we necessarily thought we would be like any farmer we had known growing up. I think we've always approached it more like homesteading than farming. We wanted to go somewhere and try and be more off grid and self-sufficient. We wanted an adventure.
In the beginning we harbored these grand illusions of gathering up all our misfit friends and trying to build some sort of communal life. We knew we wanted to be somewhere rural but we also knew that to be "self-sufficient" you really need some kind of community. Since young people these days tend to leave rural places as soon as they get the opportunity, we figured why not bring the community with us? We spent a long time trying to see how that would play out. So we trudged along in the city with our weirdo friends as a sort of practice for this utopia we imagined. But eventually we got that out of our system.
We met while working for a thrift store that gave all its proceeds to an AIDS clinic. Andy was living on a couch in a squalid bachelor pad he shared with three other dudes. We knew we wanted out, we just didn't know how we were ever going to do it. We had all but given up on it ever being a possibility until I found us a job on an organic farm.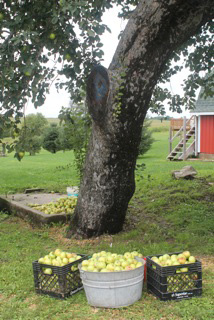 ROBERT WOLF: Do you have any preparation for farming?
ANDREW WUNSCHEL: I worked two seasons on that organic veggie farm, one of the better ones in Chicago. I got a good bit of experience with irrigation work and tractors. After those two years I took a job working for the Chicago Academy of Sciences, working as assistant horticulturist. There I spent my days working six acres of prairie and savanna restoration in the heart of Lincoln Park, learning about native Midwest ecosystems, working with scientists, and doing awesome stuff like learning to handle rattlesnakes, going on endangered butterfly-hunting expeditions, and teaching workshops. It helped to shape the vision of my dream farm into one closely modeled after the Midwest ecosystems that were here before the corn and soy deserts replaced them. I also would consider myself quite widely read on the subject of sustainable agriculture and did go and get myself a Permaculture Design Certificate. I think the permaculture movement has something important to offer.
ERYN JENNINGS: Our time on the organic vegetable farm was a really valuable experience. We learned a lot about what we liked and didn't like about row crop farming. And I think it reinforced some of what we already had been feeling about the way we wanted to farm and the lifestyle we wanted to be living. It also showed us a path to getting out of the city. It gave us some resources, namely some really fantastic people that have been a great network for us to draw on.
After that [the organic farm], I went on to work at a dairy goat farm. It is a small hand-milking operation that makes goat milk soap. I knew that we would likely want to raise some livestock of our own and I thought working on the goat farm would be good practical experience. I found that I really loved working with the goats. We used rotational grazing practices and kept the goats out in the prairie. I loved incorporating the prairie and the livestock into one experience. It made for a really optimal work environment and really happy goats. I definitely think we want to try and explore grazing animals on prairie in the future.
ROBERT WOLF: Where will you farm? How much land do you have? Will you raise livestock? Will you garden?
ERYN JENNINGS: We are currently renting a place close to the Minnesota border, close to the Upper Iowa River. We wanted to be rural enough to feel like homesteaders but within a reasonable distance to town. And we don't want to rush into buying anything without really getting to know the area first. For now, we found a terrific landlord who has given us a lot of flexibility to do many of the things we want to do.
On our property we have about two acres of pasture available for livestock and another acre or so specifically for gardening. We already have a large vegetable garden and I have been canning the excess for the winter. Canning is one of my favorite homesteading activities. It's the prefect combination of science and magic. I can be both Marie Curie in her laboratory and Circe in her mansion.
We are also raising laying hens and meat chickens. This winter we plan on building facilities for some meat rabbits. Also in the spring we will be getting a pregnant goat from the farm where I used to work. We plan on putting them on the neighbor's old abandoned home site to do some weed control. We want to try a little bit of everything before we settle on doing the things we like best. So far the barter system has been working out pretty well for us. I have been trading eggs for vegetables, meat, and even some shrubs at my day job. The more things we can work out in trade with our neighbors the better as far as I'm concerned. For us, lessening the need for money is the same as making money.
ANDREW WUNSCHEL: We've chosen northeast Iowa's Driftless region to homestead. Our plan is to grow into "farming," if we ever actually end up doing what we would call farming. Our current home is a rental and we are considering making it a long-term rental instead of trying to buy. Then we can use our meager savings to start projects rather than incur debt. We have over an acre of yard, which adjoins a two-acre pasture we can rent next year. There is also a friend and neighbor who has another acre or two he'd let us play around on. Right now we've got a veggie patch and a half-dozen laying chickens, and twenty meat chickens went in the freezer a couple weeks ago. Next year will be more veggies, more eggs for barter/sale, and more livestock. Probably, at least one milking goat/kids and a couple other grazers of some sort. As of right now we're both working full-time, but the plan is for me to phase into part-time work and increase the time I spend providing for our food needs, and producing a little surplus. I'm looking to implement as many perennial systems as possible, so I would like to focus on pasture-based livestock and tree crops, but that can be tricky on land we don't own. Fruit and nut trees don't do much for at least five years, after all. I may find more success coming up with plans to install perennial polyculture systems for a landowner, and possibly maintain them, than to have a farm of our own. I would have to call myself a consultant or designer, rather than a farmer, but I'll always be a gardener or homesteader.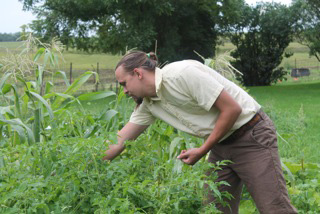 ROBERT WOLF: Who are you looking to for advice?
ANDREW WUNSCHEL: We know a great guy named Harold, who is the uncle of our good friend from the city. He's a big part of the reason we moved out here. He's done just about all the sort of stuff we want to do, and has a bunch of old machinery to do it with. He's the fella with an extra acre or two we can maybe work with, and has already given us a lot of great advice. 
ERYN JENNINGS: He let us house sit for him this winter while he was in Florida. This was pretty much the only reason we were able to afford to leave the city and come out here.
ANDREW WUNSCHEL: There is a sizable community of folks doing the sort of things we are hoping to do, and a sizable community of people hoping to buy the kinds of products we want to sell. We have farming friends we've met in our careers as well, and I'm well aware of the government and academic resources available. We also chose this area partly because of great organizations like Seed Savers, Ion Exchange, and Badgersett Research Farm, which are all within a few dozen miles from us, as well as the great groups we have not met yet.
ERYN JENNINGS: There are a lot of people from our grandparent's generation who remember how small local farming communities used to be. They have tried a lot of the things we want to try and have a vast well of knowledge to draw on. They are valuable resources to our communities and welcome our enthusiasm. We have had a lot of fun getting to know some of them. They have been really inspiring to us and we feel lucky to have the chance to learn from them.
ROBERT WOLF: Talk about your values and how those values helped form your decision to farm.
ERYN JENNINGS: The communities we grew up in are changing. If we want to see them change for the better we have to take responsibility for them. This means showing up and doing the work. And I for one have never been afraid to get my hands dirty.
ANDREW WUNSCHEL: What I've gathered from our current ecological, economic, and political crap storm is that we face an ugly crash if things don't change. [If they don't change and we crash], then my neighbors and I will thrive, and be in a position to help other communities, exactly in proportion to how divorced we become from the broken industrial modes that dominate today. Having lost all my faith in governments, charities, and essentially all groups larger than four, in my mind it comes down to the individual person to get their stuff in order, to help get their household's stuff in order, to help get the neighborhood's, and so on. It's at least important to go down swinging.
Links:
All opinions expressed by Robert Wolf are solely his own and do not reflect the opinions of Stay Thirsty Media, Inc.