By THIRSTY
---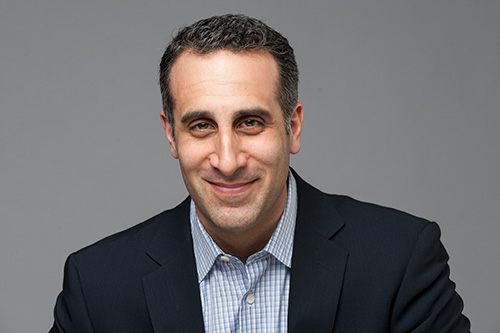 Mike Thomas, the longtime arts and entertainment reporter for the Chicago Sun-Times, is a man with a heart and an enthusiasm for great entertainment, especially comedy. During his career as a journalist, he has been up close and personal with greats like Louis C.K., Stephen Colbert, Bill Cosby and Jon Stewart, and his first book, The Second City Unscripted: Revolution and Revelation at the World-Famous Comedy Theater, is the oral history of that Chicago institution. THIRSTY was fortunate to catch up with Mike at his home in Chicago to discuss his recently released biography of comedy legend Phil Hartman.
THIRSTY: What attracted you about Phil Hartman to consider writing his biography?
MIKE THOMAS: I started watching SNL [Saturday Night Live] in the fall of 1986, just as Phil joined the cast with Dana Carvey, Kevin Nealon and others. For me, that's the show's best era with the most memorable characters and the greatest writing. So when a comedy-world friend of mine in Chicago emailed out of the blue one day and said he'd love to read a book about Phil, I knew instantly it was a stellar idea. Plus, it certainly didn't hurt that nobody had done it before.
THIRSTY: After completing your research and the writing of YOU MIGHT REMEMBER ME: The Life and Times of Phil Hartman do you believe you have uncovered the "real" Phil Hartman? Who was he at his core?
MIKE THOMAS: As much as anyone ever has or will. Phil was largely unknowable to the public because he didn't wear his heart on his sleeve and wasn't a big self-discloser. Also, he was often at least half in character. In private, however, with various individuals to whom he felt close, his performer switch was off and they got to know they real guy –the deep thinker, the quiet contemplator, the generous mentor, the fun-loving adventurer. I talked to a lot of those people – good friends, ex-wives – who shared with me details of behind-the-scenes Phil that comprise a large portion of this book.
THIRSTY: Your first book, The Second City Unscripted: Revolution and Revelation at the World-Famous Comedy Theater, traced the history and the people who made Chicago's Second City a force in the world of comedy. Did some of the Second City alums encourage you to pursue the onstage and offstage life of Phil Hartman?
MIKE THOMAS: No. But once the Phil book deal was announced, some of them were thrilled that his story was being told.
THIRSTY: The murder of Phil Hartman by his third wife, Brynn, and her subsequent suicide became sensational national news. They had two young children at the time. What has become of them?
MIKE THOMAS: I don't know much about Phil's kids except that they're not kids anymore (both are in their 20s), they're apparently doing well and they value their privacy.
THIRSTY: By writing about the life and times of Phil Hartman you have helped to memorialize his work in television and in the movies. Do you think his comedy and his influence will grow over time? What enduring legacy did Phil Hartman leave behind?
MIKE THOMAS: I sure hope so. When I started work on this book, I was amazed to learn how intensely Phil's many fans still adore him and how vital his work remains. I'm confident that appreciation will continue to grow. As for his legacy, Phil let his work speak for itself. He was always prepared, exceedingly generous on stage and screen and above all a highly decent guy. Even when he played schmucks, which he loved to play, a sympathetic humanity shone through that endeared people to him. Stephen Colbert has the same quality.
THIRSTY: As a veteran newspaper reporter, how difficult was it for you to shift gears from reporting the news to writing a celebrity biography?
MIKE THOMAS: While I've done stints in religion and metro at the Sun-Times, most of my 14 years at the paper have been spent covering arts and entertainment, with a concentration in comedy. So doing the Phil book was only a stretch in that I'd never written a narrative biography before.
THIRSTY: You have met and interviewed dozens of today's most famous comedians and actors in writing your two books. Are there any common traits that make it easier for you to identify the greats from the near-greats?
MIKE THOMAS: The best comedy comes from truth, so the greatest comics tend to be those who are highly sensitive to the world around them and able to refract what they see and hear through a unique prism. There's also an innate internal rhythm that's necessary, especially for stand-ups, and the ability to accept an ever-looming potential for failure in a kill-or-die profession. Commitment is huge too, and Phil had that in spades from his earliest days at the Groundlings. His SNL cast mate Jan Hooks told me that even when Phil had only a small role in a sketch, he "played it for blood."
THIRSTY: How has coming to know Phil Hartman on such a personal level affected you?
MIKE THOMAS: Phil lived his life as if he had only a limited time on this earth. Not recklessly, but with a sense of joy and a near-constant attitude of gratitude. That's a quality I admire and would like to emulate more. I've also learned, from his portrayal of Frankenstein's monster on SNL that "Bread good, Fire bad."
THIRSTY: What's next for Mike Thomas?
MIKE THOMAS: Most likely another pop culture biography, but I'm keeping my options open.
Link: