By Juliet Aykroyd
Somerset, UK
---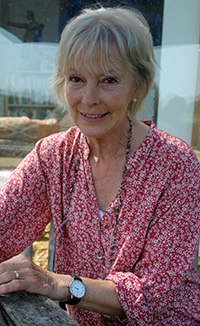 "This garden they made together. Its life beyond the glass."
          –from Darwin: A Life in Poems by Ruth Padel
The English poet Ruth Padel (born 1946) is a polymath. She took a degree in classics, taught Greek at Oxford, Princeton and London Universities, is an accomplished singer, a novelist, conservationist and world traveller. She has written and lectured on subjects ranging from Greek literature to rock music, from prosody to tigers, and she broadcasts and blogs on poetry, biology and opera. She is a Fellow of the Zoological Society of London and of the Royal Society of Literature. To crown all this she has published nine books of poetry, including some wonderful love lyrics, and in 1996 she won the National Poetry Competition for best single poem.
I knew nothing of this amazing woman until I attended a public reading by poets shortlisted for the annual T.S. Eliot Prize in London. Padel stood out from the others because she read from memory, which is unusual at this event, and so she engaged us mesmerically with her eyes and vocal delivery, seeming to inhabit rather than recite her poems. I could imagine her, with her striking presence, as a bard in ancient times, enrapturing a circle of listeners; then I discovered her excellent weekly column in The Independent newspaper, in which she unpicked a contemporary poem chosen from a range of poets and styles. These revelatory articles are collected in 52 Ways of Looking at a Poem (2006). Anyone who needs guidance through the thickets of modern poetry should seek this book out and keep it under their pillows.
Padel's polymathy informs but never weighs down two recent collections: The Mara Crossing (2012), a sequence of essays and poems on the theme of migration, and Darwin: A Life in Poems (2009). Having researched Darwin for my play Darwin & FitzRoy, I was fascinated to know how his life and work could be turned into poetry. Padel's book contains some fine poems, and also raises intriguing questions about science-as-poetry and biography-as-poetry: can these modes of writing overlap, or work together in an illuminating way? My conclusion is, emphatically, yes they can.
Good biographers need some empathetic connection with the person they are writing about. Padel's link with Charles Darwin goes further, in that it's genetic: her grandmother Nora Barlow, from whom Padel heard about Darwin and his wife Emma at first hand, was his granddaughter. Darwin's grandfather Erasmus (1731-1802), another polymath, produced volumes of not-so-readable verse on matters such as eroticism, zoology and evolution. Barlow herself wrote and edited first-class books about her grandfather. And Darwin himself was of course a prolific writer. Though we think of him as a scientist, he was educated mainly in Greek and Latin, studied medicine and theology at university, and was not impervious to English literature. On the Beagle voyage he carried Milton's Paradise Lost in his pocket for light reading. He once claimed that he was no good at expressing himself but in fact his prose is lucid, sometimes lyrical and always a pleasure to read. If On the Origin of Species had been turgidly written it might well not have become such an instant and ongoing best seller.
So inheritance could account at least partly for Ruth Padel's compendious interests, and her ability to interpret science to the general public in a palatable way. In Darwin: A Life in Poems she re-tells a well-known story: how a young man in his 20s, in a far more dangerous and uncomfortable era than this, set off all unknowing in a tiny ship on a voyage around the world, and came home to change forever how human beings think about their origins: how on the one hand he was privileged by class, wealth and a loving family, and on the other suffered from chronic sickness (possibly Crohn's disease), bereavement, anxiety, guilt and depression.
We know a lot about Charles Darwin, from his own works, his autobiography and copious letters, and from what others, including his children, have written about him. Padel has plenty of material to draw on and she sets about shaping it in a surprising way. Darwin: A Life in Poems is organised under five chapter headings, with dates, delineating major life-events as Padel sees them: Boy, Journey, City, Emma, A Coat of Fur. Within each chapter are sub-headings, and under these are groups of single poems whose number varies. Sometimes the sub-heading is the title of just one poem. Headings and titles often grab us with their off-beatness: "ON NOT THINKING ABOUT VARIATION IN TORTOISE-SHELL": "She Thinks the Hairs Under His Arm Grow Like a Crescent Moon." Some are direct quotations: "Forgive the Trumpery Letter"; "Father Says I May Often Take Calomel." We are never sure what to expect next. To keep us focussed on the biographical narrative, Padel makes use of a rubric – a concise marginal commentary in prose – which supplies dates, facts and notes. This is skilfully done, and is similar to some editions of the Bible, or to epic written ballads such as Coleridge's Rime of the Ancient Mariner.
Overall the layout is reminiscent of an old-time photograph album: images of a man, his family and acquaintances, some distant, some in close-up, lovingly compiled by a perceptive observer. But the poems, being poems, are of course much more than static snapshots.
Lucy Hughes-Hallett, author of The Pike, a prize-winning biography of Gabriele d'Annunzio, wrote in a recent article: "A 'Life' can never be an exact representation of a life…However hard a writer strives for timeless objectivity, intellectual fashion and subjectivity keep seeping back in." By choosing to tell Darwin's story in verse, Padel licences herself to imagine the known facts in her own highly original way.
Her approach is to interweave direct quotation from Darwin, and others, with the voice of a knowing third person. In her introduction to the book she clearly states her intention. "Many feelings...which the poems attribute to him, or imply, are of course interpretation. As for the words: I have had to tinker with some of them as they became poems. But I have not changed their sense. Nor, I hope, what I most wanted to give: his voice." I think she succeeds brilliantly in this. On one level, the quotations reassure us that we are hearing recorded truth: on another level, we can take pleasure in her licensed interpretation of that truth. Here are just a few examples of the many and various ways she stitches quotation into the poems:
"Vegetation he's never seen, and every step a new surprise. / 'New insects, fluttering about still newer flowers. It has been / for me a glorious day, like giving to a blind man eyes.'" (from "LIKE GIVING TO A BLIND MAN EYES")
Notice the neat scaffolding of internal rhymes, and how we are kept alert and in the present by the shift from third to first person narrative.
When Darwin is moved by what he sees, he is capable of exalted language in his journals and letters. Padel seizes on some of these moments, and with a little tweaking, as in this almost verbatim passage, show us the poet in the scientist:
"The night pitch dark. The whole sea luminous. / Every part of water which by day is seen as foam / glowed with pale light. The vessel drove before her bows / two billows of liquid phosphorus. Her wake was a milky train." (from "REMEMBERING MILTON IN THE NIGHT AT SEA")
At rare moments the third-person observer morphs into the poet, to give us a new experience; in this poem Padel, not Darwin, is imagining the moment and speaking in her own words:
"They lower his creel / to blue pores of subtropical ocean. Wave-flicker, white / as a gun-flash, over the blown heart of sapphire. / Peacock eyes, beaten and swollen, / tossing on lazuline steel." (from "PLANKTON")
The medium of poetry allows Padel to portray Darwin on many levels, too many to describe here. We are left not only with an illuminating account of his life and scientific achievements, but also with a strong and convincing impression of his voice – as she intended – and his amiable personality. By subtle means she creates a powerful sense of his bodily and emotional suffering.
For her, the spine of Charles's story is his relationship with his wife Emma. The epigraph for the book quotes a letter from Charles to Emma when he was courting her: "I believe you will humanize me." Many poems deal sensitively with their marriage. His total dependence on her in later years (he called her "Mammy") has been attributed, notably by John Bowlby (1990), to the death of his mother when he was eight-years-old. In that pre-Freudian time it was thought that if a terrible event was ignored or denied children would simply forget that it had happened. Padel touches on this theme, without comment, in poems such as The Year My Mother Died ("Her memory was silence. No memento of her face.") and links it with the penultimate poem He Discovers a Portrait of his Mother ("…it was a good likeness, this sweet, this kind expression.") His mother's death may explain Charles's extreme reaction to pain and suffering and to the deaths of three of his own children, most of all to the death of his loveable and loving daughter Annie. Padel suggests another outcome of the bereavement: his passion from childhood for collecting and categorising things. In "THE MISER" she writes:
"Collecting: to assert control / over what's unbearable. To gather and to list….Collect yourself: to smother what you feel, / recall to order, summon in one place; / making, like Orpheus, a system against loss."
The poems I love best in this book are those that carry us back into the time and place where Darwin lived. Notice the simplicity of the language, the shifting foci and the allusive references (the darkling glass, the skull-reflection, the white ammonite) in this one: In "SALTING THE SEEDS" we are with Darwin, in his study at night time, after Annie's death, before the publication of the great work On the Origin of Species, which he agonised over for so long: we hear his own voice, then follow his gaze out of the window at the spirit of suffering, the lost daughter, his lost youth.
There are so many sympathetic insights in this extraordinary book, and it includes a vast amount of contemporary information, from the blessings of chloroform to the experiences of Darwin's great rival Alfred Russell Wallace in Borneo. Scientists, poetry-lovers, general readers – anyone who wants to explore Darwin's life could do worse than start with this biography: you are in the skilled hands of a wonderful interpreter.
Link:
Juliet Aykroyd at Stay Thirsty Publishing
All opinions expressed by Juliet Aykroyd are solely her own and do not reflect the opinions of Stay Thirsty Media, Inc.