#49
By Sarah L. Myers
Editor-in-Chief
New York, USA

It's my favorite New York City bar, my favorite New York Dolls song, and now it's my favorite way to get trashed.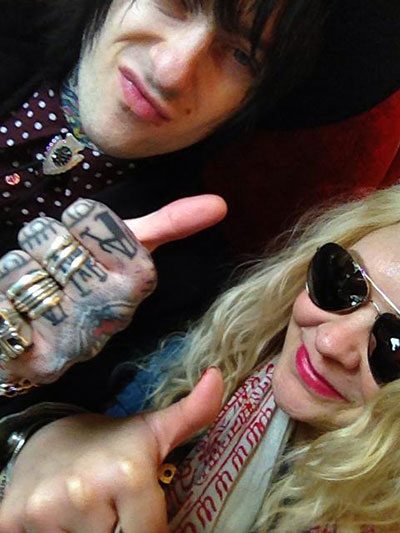 Brandy Row and Sarah
The sloping hills of Regent's Park stretch out before me, aglow with lamppost shadows and the blessing of a full moon. Brandy Row lies beside me, strumming his guitar in the grass. My pen moves furiously on pages I can't see in this dark. It's my last night in London and I want to get it all down. Tomorrow I'll be wiping away tears at the airport, disguising my sadness with laughter and by pulling my hair farther down across my face. New York is on the other side of the night, waiting to take me back.
London Trash…
In true Thirsty fashion, I bedded down in Camden for my stay. My little flat, hidden in a cul-de-sac just steps from Camden Lock, becomes my fantasy apartment for my fantasy life. My schedule has so many boxes to check, starting with a punk show at the Boston Arms. I'm in town less than an hour before I'm chugging a pint as Parkinsons' front man Afonso Pinto thrashes and contorts and spits on the thrashing, contorting, and spitting crowd at his feet. I sleep just long enough to recharge for Alice's 30th birthday party. The empty bottles of wine numbered into the dozens, and the only thing I remember about leaving was my constant London whine, "Why aren't there any cabs?" Happy birthday, Alice! We lived through another night!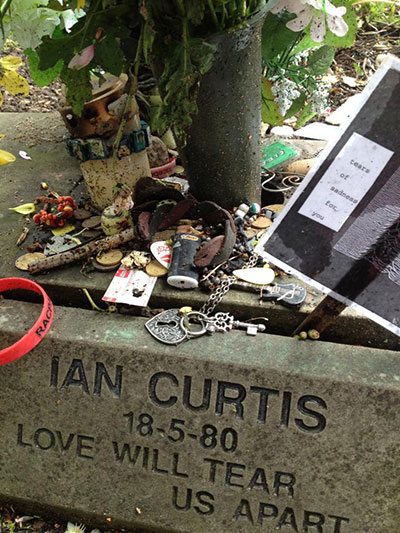 Euston station: 9am. I'm clutching a Hot & Crusty and scanning the crowd for Brandy's signature wide-brim hat. Last night's indulgence is a punishment I wear like a branding. Two hours of train travel doesn't help the situation, but we're off to Macclesfield to check Box #1 - a visit to Ian Curtis's memorial stone. It's a cold, damp day. As we walk directionless through the market town, I realize it looks exactly how Joy Division sounds. A visual manifestation of "Shadowplay". We finally find the cemetery but now need to find a single stone in a sea of stones. Pathways snake endlessly through larger memorials. After some help, we finally locate Ian's marker. It's littered with mementos and treasures from fans. I see cigarettes, a ring, small drawings, flowers, and train tickets. Tucked farther away in the grass I see a Chicago CTA card. Home follows us wherever we go. It was an intensely challenging day and I teetered between heartbreak and acquiescence for much of it. Walking back to the city center, we coin a new phrase - "tack in the map."
My London escapades stretch way back into Trash's history so there's not much new to learn here. However, for the Thirstiest of travelers, here are a few tips! #1: You can get a table at Teyyab's, eat everything complimentary on the table, then leave without paying. Score! #2: That moment when someone asks you for directions thinking you're a local feels awesome. #3: Double awesome when you actually know how to help them! #4: Flashback Records in Islington is MY treasure trove so stay away from it. #5: If you find a vintage WWII rifle cuff bracelet near King's Cross, please take good care of it. I'll be back soon.
Amsterdam Trash…
Wink, wink. A knowing smile. A level of "What Happens in Vegas" schmaltz applies here. Amsterdam was one of those places I never expected to visit. With a good friend extending an invite, I booked an Air B&B and an early flight out of London to Amsterdam not really knowing what to expect. I was bewildered within seconds of trying to figure out the train into city center. I was lonely not understanding those around me but ecstatic when I remembered how I handled this in Paris. Mnemonic devices are always the way to go! (Stephanie: "What Metro stop do we take again?" Me: "Rue de Blah Blah rhymes with…Sargeant!") The trams were another intimidating system I couldn't figure. How do you know where each one stops when they all stop in the same place? I replaced numbers with letters and pretended I was taking the NQR to Coney Island. Express going south, please! The upswing to confusion is free fare. I only paid for one tram ride during my two days in the city. Maybe they thought I was high.
I find my Air B&B off Witte de Withstraat in Oud-West, throw down my bags, and hit the street for my first taste of Amsterdam food. What are these things called croquettes? What is bitterballen? I hang at a café and crack open my travel books. New York has never felt so far away. My friend Robil picks me up that night. Forget the boats and the bikes. Amsterdam by moped, preferably at night, preferably after a coffee shop visit, is the only way to roll! Our first stop is the Red Light District, where I'm horrified to see bored window-working girls texting on their phones. We duck into a small bar where I'm introduced to my nemesis, Genever. Think of the worst qualities of gin, with just a whisper of juniper to kick the evil up a notch. My thimble of sin wobbles in front of me as I lean down to sip the surface, as is custom in Amsterdam. My beer back warms me up and a slow fire begins to burn in my chest. I'm in love. My last night in the city sees Robil and I knocking back about six of these.
Van Dobben could only exist in Amsterdam. Or maybe a Kubrick film. Robil, shocked that I hadn't yet experienced a croquette, beelines for this legendary joint. He explains the line stretches the length of the street at lunch. This is their Hot Doug's, their Crif Dogs. The place looks like an abattoir/operating room. Stainless steel slicers occupy stark-white counters and glass cases display every color of mystery meat. There is no color in the place. I'm trying to get the gist when two massive women in white (lab?) coats approach. In an accent that could be German or Russian they take our order and I'm presented with something simply called Hot Meat. It's shaved turkey on a white roll positively smothered with peanut sauce. Thank you, potheads! Next up is the fabled croquette. A deep-friend tube of meaty goo nestled in the same white bun and topped with mustard. I order a second before my second bite, and I eat yet another before the end of the night.
Imbibing on this many levels made for pretty noisy nightly returns, and I'm asked to leave my Air B&B early the next morning. Defeated, I pack up my bag and spend my last hours in Amsterdam sleeping in Vondelpark. My only travel advice for you readers? Please make sure you understand how to unlock the door before you're using the screen of your iPhone as a flashlight at 4am. Amsterdam. It's funny that way.
Thirsty for More?
Scruff and Sarah
Believe it or not, more madness awaited me mere days after my return. My beloved Adicts were in town and Jordi and I hit up Highline Ballroom for another night with our favorite boys. Monkey and the gang were as welcoming as always Scruff and I snuck our beers outside and chatted until he was shooed away into the van around 1am. Dave Menza, the newest Adict, invited us out to Asbury Park for the next show and Nikki and I instantly planned our Thelma and Louise adventure! Forty-eight hours later we were avoiding the pit in a New Jersey coastline bar. We partied the night away with punk rock bowling and cheap beer, and I pined for Scruff as always. We drove back into the city as the sun was rising, collapsing with exhaustion as the birds began to sing. It was a perfect night and the perfect welcome back to NYC.
There's so much yet to come this summer, including our usual Mermaid Parade shenanigans! Brandy Row returns to the city for an East Coast tour this fall. Stay tuned for even more memories, more rock n' roll, and more travel adventures with our renegade poet from the Big Smoke. The anticipation is killing me. So until next time, Stay Thirsty!!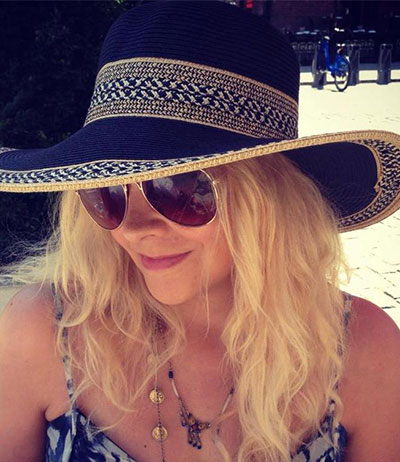 Link: