By Michael Lara
Tokyo, Japan
---
"Let me take you on trip/Around the world and back." DEPECHE MODE 's opener for VIOLATOR (1990), embodies much of what happens to all when they make the leap to join SMASH's eye-opening, mammoth, fifteen stage, mountainside extravaganza that makes you look outside and in from Thursday to Monday morning.
After 17 years of being Japan's most famous internationally friendly musical pitch to both domestics and others, diversity is being once again orchestrated for this year's gathering, spanning an eclectic representation and influence that runs global.
Allowing you to see the world from your astute eyes and those gathered, this year has plenty to be educated from, especially from those whom you will meet while present over the sprawling festival grounds that give you diverse environments throughout. The menu is full and resplendent as usual and absolute inspiration can be found from THE WATERBOYS, OZOMATLI, SKA-TALITES and THE POGUES, while floor freedom will be provided through LA's DISCLOSURE, UK's GOLDIE and THE ORB, alongside Japan's legendary DENKI GROOVE.
New entries into FUJI ROCK lexicon emerge like THE KILLERS and GHOST PATROL. Others this year will be the UK's BOMBAY BICYCLE CLUB, JUNGLE and SLOWDIVE and Israel's BOOM PAM, Canada's ARCADE FIRE, Japan's MAN WITH A MISSION and the USA's FOSTER THE PEOPLE, JAKE SHIMABUKURO, HUNTER HAYES and OUTKAST.
With more matches than any World Cup could offer, expect to see the usual flurry of national flags throughout the FUJI ROCK grounds while you soak up the energy shared from the international talents showcased onstage and offstage whether rain, shine and otherwise.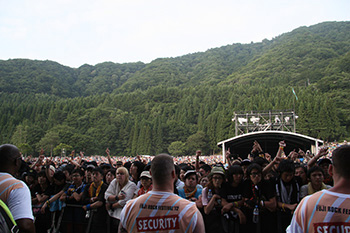 FUJI ROCK 2014
Naeba Ski Resort, Niigata (July 24th-July 28th)
Recommended plates from Friday's menu:
FRANZ FERDINAND (SCO)
DENKI GROOVE (JPN)
FOSTER THE PEOPLE (USA)
HUNTER HAYES (USA)
BASEMENT JAXX (UK)
DISCLOSURE (USA)
YUKIHIRO TAKAHASHI (YMO) With IN PHASE (JPN)
BOMBAY BICYCLE CLUB (UK)
TEMPLES (UK)
SLOWDIVE (UK)
JUNGLE (UK)
ROVO and SYSTEM 7
THE ORB (UK)
EYE (JPN)
GOLDIE (UK)
KEN ISHII (JPN)
Regarding Saturday's menu:
ARCADE FIRE (CAN)
MANIC STREET PREACHERS (UK)
DAMON ALBARN (UK)
THE WATERBOYS (UK)
TRAVIS
THE HEAVY (UK)
BOOM PAM (ISR)
JONATHAN WILSON (USA)
MAN WITH A MISSION (JPN)
PHIL LESH & THE TERRAPIN FAMILY BAND (USA)
JAKE SHIMABUKURO (USA)
GRANT NICHOLAS (AUS)
YOKO ONO PLASTIC ONO BAND (JPN)
And for Sunday's finale menu:
JACK JOHNSON (USA)
THE FLAMING LIPS (USA)
OUTKAST (USA)
KELIS (USA)
OZOMATLI (USA)
THE POGUES (UK)
SBTRKT (UK)
THE PAINS OF BEING PURE AT HEART (USA)
BUFFALO DAUGHTER (JPN)
GAZ MAYALL (UK)
TOKYO SKA PARADISE ORCHESTRA (JPN)
THE SKA-TALITES (JAM)
JUNGLE BY NIGHT (UK)
Stages
Lineup
Tickets
Fuji Rock Channel
Accommodation
Organizers:
All opinions expressed by Michael Lara are solely his own and do not reflect the opinions of Stay Thirsty Media, Inc.