By THIRSTY
---
Amanda Martinez has an undergraduate degree in Biology, a Masters degree in International Business and was on a promising career path as the Associate Director of Trade Finance for Latin America at a major bank – and then she walked away.
The daughter of a Mexican father (an engineer) and a South African mother (a teacher), Amanda Martínez grew up in Toronto speaking English and Spanish and listening to her father's eclectic record collection of classical music, Latin legends like Trio Los Panchos, bossa nova and jazz recordings, including the work of Stan Getz and Cleo Laine.
Growing up, she studied ballet, took piano lessons and got a taste of being on stage while performing in musicals in high school. However, her parents wanted her to have a real career and instead of devoting her life to music, she graduated the University of Western Ontario and then completed a Masters in International Business at York University's Schulich School of Business specializing in Latin America. She was hired by a major bank while still on campus, but less than a year later, she walked into a small jazz club, got an audition with the house band and secured a spot singing on Monday nights. After some soul searching, she never looked back.
Since then, Amanda Martinez has recorded two albums, Sola (2006) and Amor (2009), earned a nomination as Latin Jazz Artist of the Year at Canada's National Jazz Awards and won Best World Music Artist at Toronto's Independent Music Awards. She sang before 30,000 people at the 2010 World Cup in South Africa (the Mexico-South Africa match of course) and recorded and toured with Canadian guitarist Jesse Cook. Complementing her work as a singer, she also hosted Café Latino on Toronto's JAZZ FM91 radio for three years and worked in film and television.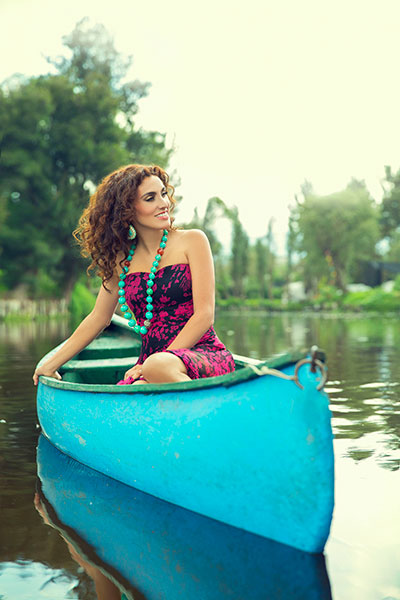 Her third album, Mañana,was delayed when she became pregnant with twins. Following their birth in 2012, Amanda Martinez went back into the studio. All but two of the songs on Mañana are originals written by her and includes collaborations with Javier Limón, Latin Grammy-winner Fernando Osorio and Elsten Torres. Mañana will be released this April and THIRSTY caught up with Amanda Martinez at her home in Toronto as she prepared for her debut U.S. tour.
After listening to her music, it is clear that Amanda Martinez made the right career choice and THIRSTY is proud to make her our Spring 2014 DISCOVERY.
THIRSTY: After pursuing a serious career in international banking, what made you switch to a less secure career in music?
AMANDA MARTINEZ: I always loved music but never thought of it as a career option – it was just a secret fantasy to one day become a singer. It wasn't until I was in my first real year as an IMBA graduate working in the corporate world of trade finance that I suddenly felt an early midlife crisis when I realized that I had never given myself the opportunity to take my secret dream seriously. I realized I didn't want to be 80-years-old looking back on my life and wondering what if so I decided to go for it. It wasn't an overnight decision. I took time off from work and after a lot of discussions realized that the idea that "you can't make a living as a singer" wasn't actually something I had tested. It was just a rule I had in my head. When I finally gave myself that chance to go for it, it didn't feel like such a risk as those skills actually came more naturally to me than finance did!
THIRSTY: Although you grew up in Canada, your music is deeply engrained in the Latin culture and yet your soul seems to gravitate to a combination of flamenco, jazz and Afro-Cuban music. What drew you to these genres?
AMANDA MARTINEZ: I grew up going to Mexico most holidays with my family and fell in love with the music I heard there at family gatherings as well as the music my father would play at home. He and my mom have a huge record collection of all sorts of music and that is what I would listen to even as a kid. I didn't listen to what was on the radio but what was in my house. The feeling that music gives me is almost difficult to put into words. When I listen to those genres of music, it feeds my soul like nothing else. I remember being called for dinner when I was listening to my favorite albums and I would have a hard time tearing myself away as I no longer was hungry – the music was feeding me!
THIRSTY: With a mother originally from South Africa, it is not a surprise that soccer might be in your DNA. Your performance at the 2010 FIFA World Cup Festivities brought together your unique style of music with a world-class athletic competition. How did that experience energize you to continue to bridge the gap between music and athletics?
AMANDA MARTINEZ: Ha! Good question. It is funny because I have always loved to dance, do gymnastics and ski; sports that I can do on my own and don't involve a ball or any hand eye coordination. My father, on the other hand, is a huge soccer fan so I grew up watching games with him at the TV and watching him get so passionate and yelling at the screen. To be in South Africa with my South African mother and Mexican father for the opening game of these two countries – Mexico and Canada – was indescribable. Seeing the Mexican and South African flags up in the audience and such excitement was really emotional. I never would have thought that my music would be woven so closely to athletics but this experience led to a performance for the PanAM Festivities in Mexico and now in Toronto for 2015. I was recently appointed to Co-Chair the Ignite Program where my role helps get the community involved in all areas for the TO2015 games. There is a huge opportunity for arts and culture organizations and individuals to showcase their talents for this wonderful event that will be coming to our city.
THIRSTY: Your work in music, radio and television is well known in Canada. What motivated you to bring your music to the United States?
AMANDA MARTINEZ: I have always wanted to perform in the USA. As in Canada, there is such a diverse population living in the USA and I believe there is an audience that would enjoy my music. I have always loved going on trips to New York and soaking up the wonderful music of the city and now I am excited to bring my music there in May. I am also very excited to finally experience Chicago which I have heard so much about.
THIRSTY: As the mother of three young children and as an Ambassador of SOS Children's Villages, it is clear that your connection to family is very important. How do you view the role of your music in bringing families together in more hopeful ways?
AMANDA MARTINEZ: Family has been such an important part of my life. Growing up I felt very close to my parents and sister – I have such strong memories of our open dinner table discussions, weekends skiing together and extra help with my homework. I felt very supported through my childhood and adolescence and would love for all kids to have that love and support. Now with children of my own I hope to instill that same sense of love and encouragement for my kids to follow their dreams.
Through my music I hope to build awareness of SOS Children's Villages whose work is to help abandoned and orphaned children around the world. One of their main goals is to help families stay together with an adopted SOS mother. It is amazing to see how children thrive when they are reunited with their brothers and sisters in a loving home.
I recently went to visit the SOS Children's Village in Mexico where the kids were so excited to listen to our music and to invite me into their homes. I think music can be a bridge to bring people together, not just for concerts, but within a family where music can unite the different generations.
Link: