By THIRSTY
---
Frank Galati will not tell you the following things about himself but they need to be told to properly set the stage before he enters stage right for this interview. He won a Tony Award for his direction of The Grapes of Wrath on Broadway of a production that originated in Chicago at the Steppenwolf Theatre where he has been a member of the ensemble since 1986. He also won a Tony Award for his adaptation of John Steinbeck's iconic novel for that production. He directed the Tony Award-winning musical Ragtime that ran for 834 performances on Broadway. He was nominated for an Academy Award for adapting, along with Lawrence Kasdan, the novel, The Accidental Tourist, into a screenplay. He has won nine Joseph Jefferson Awards, including the Best Actor Award, for his contributions to Chicago theatre. He was the Associate Director of the Goodman Theatre in Chicago from 1986-2008 and he taught in the School of Communications at Northwestern University for forty years. Throughout those decades, Frank Galati also directed an extraordinary array of plays and musicals in the United States and abroad.
Whether asked to direct musicals or dramas, comedies or histories; whether asked to adapt classics or contemporary literature for stage, screen or television; whether asked to portray characters who evidence the human condition; or, whether asked to conduct a master class in writing, directing or acting, Frank Galati is truly a man for all seasons and a man who embodies the best of the American theatre. It was a great privilege to visit with him at his home to discuss his long career, his current and future plans and the state of theatre in America.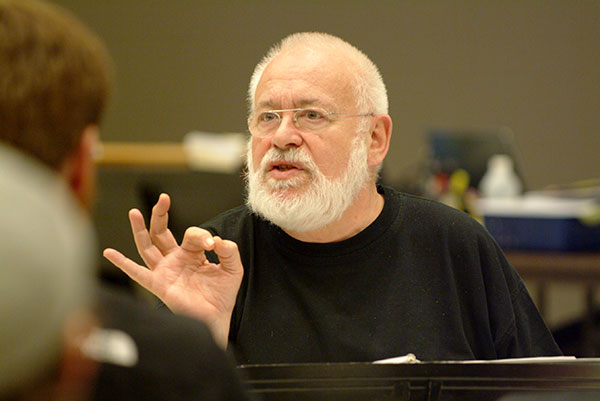 THIRSTY: During your storied, award-winning career as a director, a writer and an actor, you have worked on the stage, the big screen and television. Which medium is most in step with your soul?
FRANK GALATI: I have not done much film and television. For some years I wrote screen-adaptations. The only one produced was The Accidental Tourist. I have one produced television adaptation: Arthur Miller's The American Clock. My heart is in the theatre. I began writing and acting in plays in high school. In college one of my major professors was Robert Breen. He taught at Northwestern for many years. His courses were about studying non-dramatic literature through performance. In his classes I began adapting fiction for the stage. It was thrilling. I loved exploring the relationship between a narrator and her characters. Drama usually presents the audience with a degree of social reality. The agency of story in drama is speech and dialogue as well as action. The audience observes characters act and interact. In a novel often the narrator gains access to the inner lives of characters. We penetrate a psychological realty in addition to witnessing a social reality. I found I learned a good deal about character and drama by studying works of fiction. The first text I adapted for performance was James Joyce's story "The Dead." That set me on my path. It led directly to The Grapes of Wrath years later and then the musical Ragtime.
THIRSTY: You have chosen to direct works written by such literary luminaries as E.L Doctorow, Gertrude Stein, John Steinbeck, Tennessee Williams, Tony Kushner and Haruki Murakami. What drew you to projects by these writers?
FRANK GALATI: E.L. Doctorow may be our greatest living novelist. He propels the reader into the past and once there we experience a vivid world long gone. I was offered the job of directing Ragtime after meeting Terence McNally and reading his "treatment" of the novel for the musical. What was thrilling to me about Terence's proposed adaptation was his willingness to embrace the conventions of storytelling that are more the modality of the novel than the stage. He wanted to preserve Doctorow's narrative voice. At the center of the story is a little boy. He is the lens through which the action is observed. His name is Edgar. (As in Edgar Doctorow). The narrator of the novel seems to be looking back at the events in the story from some distance. Edgar has grown up and is "re-membering" the turbulent years at the beginning of the last century. The novel begins:
"In 1902 Father built a house at the crest of the Broadview Avenue hill in New Rochelle, New York….The family took possession of this stout manse on a sunny day in June and it seemed for some years thereafter that all their days would be warm and fair."
Lynn Ahrens lyrics and Stephen Flaherty's score also embraced the narrative dimension in the novel and many of the musical numbers are "stories." Younger Brother begins one number, "It was winter in New York and the snow began to fall…" The song tells the story of The Night That (Emma) Goldman Spoke at Union Square. Even the gorgeous lullaby, delivered with heartbreaking honesty by Audra MacDonald, Your Daddy's Son, is the story of how a desperate mother attempts to destroy her own child.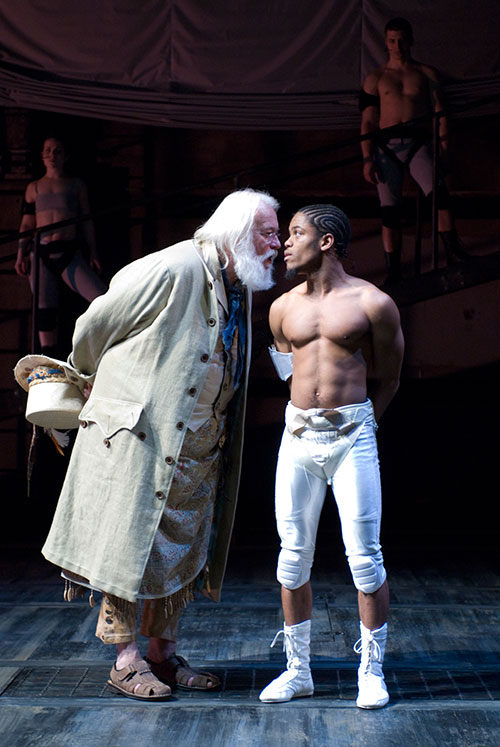 I think it was a combination of these epic conventions and the focus on three American families, one from New Rochelle, one from Harlem and one from the Lower East Side, that made working on Ragtime irresistible. Family and the trauma of family life has long been a factor in the choices I have made for projects. That was true of The Grapes of Wrath, a work about the sacred bond of the family, one that concludes with the enactment of a taboo, a pieta in which a young mother gives the milk from her swollen breast to a starving stranger. By enacting that sacramental moment (which was cut from the John Ford film) we join Steinbeck in recognizing that acts of mercy affirm the bond of our human family. We are all brothers and sisters. We are the parents of all children and we have an obligation as members of that human family to take care of each other.
I have been drawn over many years to the works of Gertrude Stein for some of the same reasons. Miss Stein celebrates love and family in her works. I have directed her opera The Mother of Us All three times. The score by Virgil Thompson is a gorgeous American hullabaloo of tunes. It is about the larger American family and Susan B. Anthony, the Mother of us all, is the pioneer of women's rights who is entombed as a prophetess in her final aria. Her last sung words cut deeply into the conscience of the American character:
"Do you know because I tell you so? Or do you know? Do you know?"
I directed Julie Harris and Calista Flockhart in The Glass Menagerie, another theatrical memory play examining a damaged family. And I worked with Tony Kushner on a production of Homebody/Kabul at BAM [Brooklyn Academy of Music]. In this haunting intellectually explosive drama, a father and estranged daughter go to Afghanistan in search of the Homebody, the wife and mother drawn away from her deeply neurotic family to the world of Islam and the grave of Cain, the slain brother in that primal biblical family.
Haruki Murakami is a writer I have admired for years. I have adapted two of his works of fiction for the stage: After the Quake and Kafka on the Shore. The latter is about a teenage boy in contemporary Japan who may or may not have murdered his father and may or may not have slept with his mother. It is the Oedipus template placed over the shifting ambiguities of a conditional and consciously invented world. In After the Quake a five-year-old girl is haunted by dreams of the "Earthquake Man" in the aftermath of the 1995 Kobe disaster. The family that surrounds the little girl tries to protect her from the shadow of death and fear of the gargantuan and monstrous.
THIRSTY: Your body of work spans the spectrum of topics from contemporary to political to historical. Given such a broad palette, what are the essential elements that you look for in a story?
FRANK GALATI: What I look for in a story (short or long) is the play hiding inside. At Northwestern, where I taught for forty years, my students and I did stage adaptations of Twain, Hawthorne, Nabokov, Wilder, Joyce, Pynchon, DeLillo, Beckett, Faulkner, Welty, O'Connor and scores of other writers.
Almost every novel conceals a drama. Some of those dramas are very hard to coax out, some jump out of the book and run up onto the stage. Of course if the novelist creates scenes that play through brilliant dialogue, that's half the battle. That's very true of Steinbeck. The scenes in his books are completely stage-worthy. Other writers, like Henry James, are much harder to adapt.
THIRSTY: Storytelling is a subject that you have often spoken about. How do you approach storytelling when you are wearing your director's hat vs. your writer's?
FRANK GALATI: Writers, directors and actors are all doing the same thing: telling stories. Roland Barthes, in one of his most fascinating books S/Z has a lot to say about storytelling. He mentions how skilled storytellers (in this case Balzac) will give the reader just enough information to guess at what may be buried or just around the corner in a work of fiction. But often, just as the storyteller gets close to a revelation, the narrative is jammed and the secret remains hidden. Interpreters of texts, no matter which "hat" they wear, must know the secrets and know how to conceal and then reveal them.
Meryl Streep came to visit the Northwestern campus when her daughter was a theatre student there. Cindy Gold, head of acting at NU, and I were asked to interview Ms. Streep before an audience of students and faculty. We were talking about Sophie's Choice. I commented that when you read the novel, for several hundred pages you have no idea what the title means. THEN when Sophie is confronted with that terrible choice and forced to make it, the reader is in emotional free-fall. I asked Ms. Streep how she plays a character in the dark about her fate when, as an actress, she knows the terrible scene is coming. Once you have read Sophie's choice you can't un-know what you learn reading it. She said she was not sure that her approach was conscious and deliberate but she only read the screenplay once and she did not look at the scene again until the night before it was shot. She said she read the scene, had a glass of wine and went to bed. The scene was not really rehearsed and when the camera rolled she was as shocked and horrified as any innocent reader. She told us they shot the scene only once. For me, that is a stunning insight into the ways in which the actor's art is also the art of storytelling. I guess when I am directing one of my own adaptations, I am "beside myself" wearing two hats.
THIRSTY: In our current culture, everyone has the self-directed possibility of achieving the oft-quoted "15 minutes of fame" via YouTube, social media and websites. Is the informality and ease of access to broad, uncurated communication's distribution diminishing the importance of learning the classical tools for writing, acting and directing?
FRANK GALATI: I sincerely hope not. Our miraculous inventions complicate and expand our level of expressiveness and the reach of personal communication. Our technology now not only connects us to a web (the perfect word for the Internet) of living human intercourse but also has inserted itself into the content of stories. There are no telephones in Moliere's plays but there are iPhones in Christopher Durang's. Digital modes will have a real impact on the way worlds are projected by writers, filmmakers and other artists. But the classical tools for writing, acting and directing will remain essential to learn. Look at the spectacle of the opening ceremony of the 2014 Winter Olympics in Sochi. For all of the cutting-edge state-of-the-art image making that George Tsipin and his colleagues created, it was essential to find a narrative and characters to be the agents of that narrative. The little girl, Lubov, (love) becomes a dreamer floating along on the current of Russian history. What a poignant expression of the tragedy of the Soviet Union and the widely accepted fall of Communism in Russia when little Lubov lets go of a red balloon and watches with the world's millions as that blood-bubble lifts up above the crowd of former Soviet citizens and vanishes in dark space.
THIRSTY: Does this instant global media interaction that makes every smartphone user a videographer of history and feeds the shortening of society's attention span make it more difficult for the playwright, screenwriter and director to attract and keep today's audiences?
FRANK GALATI: Yes, in some ways it does. But languages themselves change when new vocabulary and syntax are added. So many brilliant writers have moved from theatre to television and film, but remember Tolstoy was very interested in film and felt his writing was influenced by film. In turn films have repeatedly found their source and content in novels, short stories and plays. But that current is sometimes reversed. Playwrights are now influenced by television formats. The pulse of interrupted commercial programming beats in the audience at a live theatre performance. The five-act Shakespearean form is not easy for a contemporary audience, though Shakespeare remains hugely popular. The conventional three-act form of America plays from the thirties and forties has given way to a two-act structure. Audiences want a live performance to be as easy to hear and understand as a TV show. The audiences today are up for complexity, even ambiguity, but they demand clarity and energy. They want to be pulled along, they don't want to lean back. They want to be on the edge of their seats. They don't mind big ideas and they crave big emotions but they want it with momentum, with a sense of trajectory and velocity. They weary of talk and abhor the static. The same may be said, however, of the audience at the theatre in Ancient Greece.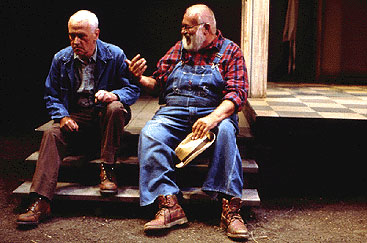 THIRSTY: Explorations of gender, sexuality and race are becoming more mainstream in contemporary literature and entertainment. Do today's audiences react differently to these issues when they are presented in the theatre vs. on film or television?
FRANK GALATI: I think the theatre has always been a site of disclosure and a field of combat. From Ancient Greece to Elizabethan England, from the "wooden O" of the Globe to Brecht's boxing ring to Beckett's tree, the theatre re-affirms human taboos (Oedipus), posits a moral order (Hamlet), meditates on gender identity (Good Person of Setzuan) and meditates on human sexuality (Cat on a Hot Tin Roof) and the tragedy of racism (A Raisin in the Sun). It has taken both film and television a number of years to catch up to the theatre when it comes to these issues of gender, sexuality and race. The audience is more than ready.
THIRSTY: What is the future of regional ensemble theatre in America?
FRANK GALATI: I think the future is very bright indeed for regional ensemble theatre. The number of professional regional theatres in the country has grown and ensembles like Steppenwolf are stronger and more passionately supported by the public than ever. Theatre training programs of very high quality exist all over the map and young people, raised in a media world of performance and story-telling, are eager to get in on the act. The theatre can be and often is the place where a community comes together to dream.
THIRSTY: What can we expect next from you?
FRANK GALATI: I am adapting John Steinbeck's East of Eden for the stage. It is planned for production at Steppenwolf, in Chicago, sometime in the near future. Thanks for giving me the opportunity to have this conversation.
Links:
Frank Galati – American Theatre Wing
Frank Galati at Steppenwolf Theatre
Frank Galati at Asolo Repertory Theatre