#47
By Sarah L. Myers
Editor-in-Chief
New York, USA

It's my favorite New York City bar, my favorite New York Dolls song, and now it's my favorite way to get trashed.

I'd never felt so far from New York City. Curled in a ball on my little blow-up mattress, I heard the news from the BBC in London. Lou Reed was dead. I flashed upon my bedroom as a child of 14, listening to the "Trainspotting" soundtrack on repeat, frequently sticking to "Perfect Day" and imagining Mark Renton sinking into the floor. Years later I discovered a different Lou Reed. My personal struggles were physically and emotionally debilitating. The pain I could not express appeared in the lyrics to "Candy Says". This Lou Reed was mine. Silver-haired and sunglassed, he was my New York City poet. I'd meet several over the years - Patti Smith, Joey Ramone, Alan Vega - but Lou was first.
Lou Reed died on my last day in London. The week was full of rock n' roll. The year? Just keep reading.
London Trash…
Sarah at Banksy mural,
Princess of Wales Pub

London stole my heart on my first visit three years ago (Primal Scream "Screamadelica" tour 2010). My November visit promised never to return it, as I spent a week with friends, musicians, poets, and more musicians. October in London can quickly impress its weather upon your posture - the heads go down, the eyes don't meet, the feet move quickly. This October was an anomaly, with actual sun shining for more than one day. I abandoned my fur, threw on Rory's jacket, and hit the streets of Bethnal Green for my Libertine walking tour. My first stop was The Hare pub, directly around the corner from Up the Bracket alley. Its stained red carpet, dart boards, and aging housecat all lent a touch of old-Vegas to the place. After a few pints with the bartender I head around the corner, under the dip of the bridge, and turn left. Stretched in front of me is a pathway lined with brick walls, nearly every inch of it covered with notes scribbled by Libertine fans. This alley, the shooting location for the "Up the Bracket" video, is Mecca for fans. I see odes to the lads from all over the world. Finland boasting "Pete is a poet", a sketch of Carl and Pete captioned "the likely lads", lyrics from "Music When the Lights Go Out" outnumber any others. I uncapped my marker, picked my place, and carefully pen two lines from my favorite song, "You're My Waterloo".
A couple of nights later I finally get to see my Killing Floor boys across the pond! After a day of marketing in Camden, Contessa and I check out the famous Dublin Castle pub, where the boys hit the stage and tear it up while we all dance right in front. It could have been any night in New York, though I quickly realize vodka and soda is a little different over there… Many hours and countless pints later, I pour myself into a taxi back to Farringdon, back to my blow-up mattress, and pass out just before dawn.
The next night, The Killing Floor's Marco Argiro and I experienced Nick Cave at Hammersmith Apollo. I say "experienced" as there really is no other word. Thirsty readers know how I love Nick, and how many times he's been in this column. Nick at Hammersmith is indescribable, so just imagine his bent shadow reaching over the crowd, cigarette in hand, legs splayed and arms thrown up the sky. Our cocktails and energy drained, we pour over the set list ("Jack the Ripper" being the answer to one fan's prayer) and I am beside myself at having seen "Push the Sky Away" close yet another magical evening. We stumble into the only restaurant still open, and devour kabobs on the Tube, having just beaten the gate closing the station in the rain.
Brandy Row
(credit: Jason Kuffer)
One of my last nights in London was spent with Brandy Row, one of my absolute loves and greatest surprises of last year. It's rare that I get that excited about an artist, but Brandy, just in his mid-twenties, revived any complacency I might've had about rock n' roll. He's a beautiful poet and a soul I connect with on levels so close to Thirsty's heart. I jumped over to the Islington to catch him playing guest harmonica, and we spent the rest of the evening walking the rainy Soho streets and drinking tea. It was another sunrise night by the time I revisit my mattress, and I quickly scrap any Manchester plans for the following day. I sleep until afternoon, get a takeout curry, and hole up watching movies in bed. Just like any night in New York…
Year in Trash…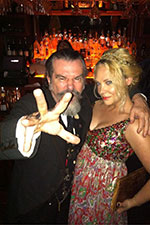 Joe Coleman and Sarah

With so many rock n' roll memories this year it's difficult to remember a top few for this column. Maybe it's easier to report what I DIDN'T do (Joey Ramone Birthday Bash, was sick; my own birthday bash, was sick)! All of the highlights were those repeated from years past - Joe Coleman and Whitney Ward's parties, our Halloween A-Go-Go blowout, The Kills nights, Coney Island Freak Bar days. But seeing Spiritualized at Webster Hall September 10th had Stephanie and I pinching back tears. The evocative "Ladies and Gentleman We Are Floating in Space" is pure gospel in a dark room, illuminated only by lasers and a planetarium's glow. I bit my lip during "Stay With Me" and raised up off my heels during "Come Together", adoring the bouts of quiet that fell between each song. I'd witness the same thing two short months later, as Patti Smith sent off 2013 on the same stage. One poet saluted another as she paid tribute to Lou, blew out the candles on her birthday cake, and a room of family batted falling balloons back and forth.
There is so much more I could say about this year. There are personal goals, Thirsty goals, spiritual goals to accomplish in 2014. I'll be spending more time in my beloved New York City and vow to solve any puzzle it places before me. The steak frites at Les Halles isn't going to eat itself, for one thing! I want more music, more cocktails, more sunrise nights, more vintage fur coats, and more Alexander McQueen rings. I want more tattoos, more days with my family, to master French, and to finally cross every name off my Top 5 Interview list. I'm coming for you, Nick!
Until next time…


Link: