By S. I. Wells
Senior Columnist
USA
---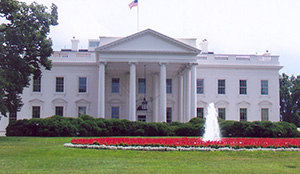 The White House
The race for President in 2016 will begin soon. As Christmas merchandise is now appearing in stores before Halloween, so will eager politicians establish their exploratory committees for the 2016 race for the White House in the coming months. Considering how divided Americans seem to be over just about every issue, I think it is time that we figure out some new ideas that have a chance of broad acceptance and that offer huge rewards for our nation. Ideas like: Every child in America deserves three meals a day. You may not agree with these eight ideas, but I thought it was time for someone to at least get them in play. I would like to hear from you and welcome your opinions. You can write to me at: info@staythirstymedia.com.
So here they are:
1. No child in the United States should go hungry. We must guarantee three nutritious meals per day for every child whose family's income is at or below the national poverty line. The eradication of childhood hunger in America is not only achievable, but it is also the right thing for a great country to do. Let us feed our own children before we feed the world's. The additional cost to the Federal budget: Seriously? I can't believe you would even ask. If you are truly against this, please email your name, address and phone number. We need to talk.
2. Forgive student loans in exchange for work in the Student Work Corp. Here's the plan:
-    500 hours of community service for up to $  25,000 of loans
- 1,000 hours of community service for up to $  50,000 of loans
- 1,500 hours of community service for up to $100,000 of loans
- 2,000 hours of community service for loan amounts over $100,000
Student Work Corp community service work should be managed by recognized national and local non-profit organizations and established faith-based charities.
During the time of community service, students shall pay only the interest on their student loans at a 3% rate. At the end of a student's service obligation, the principal of the loan will be forgiven tax-free. If a student fails to complete their community service obligation within the time allotted, loan interest will resume at the then current legislated rate and the amount the interest was reduced from the legislated rate during the service period will be added to the principal amount of the loan.
All community service must be completed in two years (500 hours), four years (1,000 hours), six years (1,500 hours) and eight years (2,000 hours) respectively after graduation. This works out to approximately two long Saturdays per month. Not much of a personal sacrifice for a huge financial benefit.
Removing the $1 trillion student debt burden will give a significant boost to the U.S. economy and restore a future of possibilities to our educated young men and women while building and strengthening our nonprofit organizations. It will instill in a new generation the importance of giving-back. Let us not make our students lifetime debtors, but instead give them the opportunity to unleash their energies, ideas and economic might to propel America into greater prosperity.
The average outstanding student loan balance is approximately $25,000. The economic impact of approximately 37 million students with student loans working 500 hours each to build American's non-profit sector: Far in excess of the $1 trillion owed. The long-term benefit to our society and our economy: Priceless.
3. Every foreign national who graduates with an M.D. or a Ph.D. from an accredited U.S. university should automatically receive a Green Card. Keeping the best and the brightest minds from all over the world in our medical and scientific communities will help secure America's leadership in medicine and science for decades to come. The additional cost to the Federal budget: $0.00. The long-term benefit: America remains #1.
4. The 17-year limit on patents should be raised to 34 years for all new pharmaceutical patents so long as the drug that is subject to the patent is sold in the U.S. market at price that reflects a 34-year depreciation schedule. In addition, the U.S. price cannot be greater for such drug than its price anywhere else in the world. This will bring down the cost of prescription drugs for everyone and will give a financial incentive to pharmaceutical companies to invest in the research and development of new drugs because of the longer exclusive sales period. The additional cost to change the duration of patents to the Federal budget: $0.00. The long-term reduction in the cost of medicine: Huge.
5. Take 2% of the U.S. Defense Budget per year (approximately $13.6 Billion) and redirect the funds into medical, scientific and technology research at accredited U.S. universities in order to promote discovery, developments and breakthroughs that will have broad societal benefits for decades to come. The additional cost to the Federal budget: $0.00. The long-term benefits: Enormous.
6. Withhold all foreign aid to countries that permit the export of illegal drugs like heroin and cocaine directly or indirectly into the United States. It is time that we succeed at curbing the flow of illegal drugs. It is time we draw a line and put our money where our mouth is in order to save our children. The additional cost to the Federal budget: $0.00. The life-saving benefits to our young people: Priceless.
7. Because participating in government should be a privilege and not a career, there should be Congressional Term Limits: U.S. Senator – two six-year terms for a total of 12 years in a lifetime; U.S. House of Representatives – six two-year terms for a total of 12 years in a lifetime. Our Federal government should be responsive to the will of the people and not the will of career politicians and special interests. The additional cost to the Federal budget: $0.00. The opportunity to reduce Washington gridlock: Priceless.
8. Our Constitutional right to bear arms is clear and unequivocal. Owning a gun, regardless of the type, make, model or caliber should be possible for anyone who can pass a simple background check.
However, there is no inherent Constitutional right to own gunpowder. I believe that gunpowder should be classified as a controlled substance that can only be purchased or possessed by people who have been licensed by the state of their residency. A person without such a license who is arrested and convicted of possessing gunpowder should be subject to a mandatory one-year imprisonment for their first offense and a mandatory five-year imprisonment for their second offense. In this way, each state can regulate the licensing and will have the power to control the sale and distribution of gunpowder as a controlled substance. Moreover, if people make gunpowder themselves, they will be guilty of trafficking in a controlled substance. In addition, local law enforcement should employ gunpowder-sniffing dogs in high crime areas to justify stop-and-frisk probable cause. The additional cost to the Federal budget: $0.00. The resulting reduction of gun violence and the saving of innocent lives: Priceless.
There you have it. Eight common sense ideas for a better America. That's what I think. If you agree, start talking about them and say Wells told you so.

Link:
S. I. Wells' Profile at Stay Thirsty Publishing
All opinions expressed by S. I. Wells are solely his own and do not reflect the opinions of Stay Thirsty Media, Inc.