By THIRSTY
---
James Gandre
Dr. James Gandre, educator and musician, returned to Manhattan School of Music in May 2013 to become its President. He had served the School for fifteen years (1985-2000) before becoming Dean of Chicago College of Performing Arts at Roosevelt University, where he went on to serve as the Interim Dean of the College of Education and ultimately as the University's Provost and Executive Vice President.
With a broad knowledge of the history and discourse of the American conservatory, he is recognized nationally for his expertise about conservatories and conservatory education, and its impact on cultural life in America.
James Gandre is also a distinguished tenor soloist whose performing credits include The Cleveland Orchestra, London Classical Players, Philharmonia Baroque Orchestra, and members of the San Francisco Symphony, and his professional choral engagements include more than 175 performances worldwide. He has twenty commercial recordings to his credit and television appearances that range from NBC's The Today Show to PBS's Live from Lincoln Center, and he has worked under such conductors as Leonard Bernstein, Zubin Mehta, Sir Colin Davis, James Levine, Mstislav Rostropovich, and Christopher Hogwood, to name only a few.
Dr. Gandre is a voting member of the National Academy of Recording Arts and Sciences (GRAMMYS), a member of the Recommendation Board of the Avery Fisher Artist Program, and a frequent lecturer at colleges throughout the country. In the fall of 2013, he was a judge for the regional auditions for the Metropolitan Opera Council and he was a panelist for the William Randolph Hearst Foundation/New World Symphony's symposium on future multicultural recruitment for the orchestra and for the joint Andrew W. Mellon Foundation/Aspen Music Festival panel about bridging the worlds of musical training and future music performance.
A Wisconsin native, James Gandre earned his Bachelor of Music degree with honors from Lawrence University, a Master of Music degree from the San Francisco Conservatory of Music, and his Doctor of Education from the University of Nebraska–Lincoln. He also attended the Harvard University Institute for Management and Leadership in Education and pursued postgraduate music study at the Blossom Festival School of Music/Kent State University. He is married to Dr. Boris Thomas, a psychotherapist in private practice.
THIRSTY was fortunate to be able to visit with James Gandre at his home in New York City to explore current issues confronting music education and the future for music students in today's economy.

STAY THIRSTY: The Manhattan School of Music (MSM) has a rich and storied history. How do you see your role in music education in the 21st century?
JAMES GANDRE: The role of a leader in the 21st century is, in many ways, not different than the 20th century. To that end, it is about ensuring there is a clear vision for the future of the institution; working to provide the support needed for the faculty and staff to do their work on behalf of the students whom we serve so their musical and personal lives are transformed; ensuring excellence in all things; and getting external folks involved in the institution as donors, Board members, patrons, etc.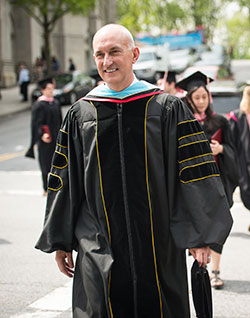 Dr. James Gandre
The way in which the 21st century is different, however, is key. We live in a fast-changing landscape within both the classical and jazz worlds (these are the worlds of MSM, so I focus on them here). This change will mean that our traditional view of organizations, like symphony orchestras and opera companies, as well as jazz venues will likely change dramatically (and they have in many ways already) for two reasons: 1) Because the structure of these institutions and their venues are going to be financially unsustainable in many, perhaps most, locations throughout the US; and 2) Due to changing societal needs and wants, we will need to break with tradition and regularly present performances in different kinds of venues and in different ways than we do now. This has, for some time, already been brewing and it is causing consternation among many in the classical and jazz arenas. So, those of us who lead in education must venture out and be catalysts for the change we seek (or at least be the catalyst for the change that will likely happen). We must do everything we can to prepare our students for the world in which they will function, not the world in which we lived and/or feel the most comfortable. Although the future is never actually known, I am certain it will not be what it has been through say the last half of the 20th century.

STAY THIRSTY: With the introduction of new technologies almost daily and the speed of technological innovation in the music industry, how has the Manhattan School of Music adapted to the changes both in its teaching methodologies and in its management?
JAMES GANDRE: Distance Learning or live, interactive audio-visual collaboration using videoconferencing technology is transforming music conservatory education in the 21st century. Throughout history, much musical training has been predicated on the direct transmission of knowledge and expertise from master to apprentice in a process unfolding in real-time; thus, synchronous technological solutions, such as videoconferencing, appropriately designed for musical sound, retain this traditional learning paradigm while addressing modern realities and opportunities.
Manhattan School of Music instituted its groundbreaking music distance learning program – the first of its kind at a major conservatory in the mid-1990s – under the pioneering vision of Maestro Pinchas Zukerman. The impetus for this initiative was the creation of a mutually-beneficial system, which accommodated the touring schedule of an internationally-renowned artist and faculty member while providing greater access and learning opportunities for talented and aspiring students. Achieving these initial goals prompted Manhattan School of Music to further explore the vast potential and creative use of incipient broadband videoconferencing for music performance and education.
Today the Program has become a leading provider of distance learning content to higher education, K-12 schools, and community organizations, offering a wide range of programs and classes in music instruction, general music, master classes and coachings, clinics, audition preparation techniques, professional development and academic seminars. To date, teaching and learning partnerships with students, educators, and distinguished artists around the globe have been established in 39 of the 50 states, 22 foreign countries on five continents, impacting an average of 7,500 learners each year.
In the area of higher education, music distance learning has enabled a number of new and innovative opportunities in musical training. For example, each year Manhattan School of Music partners with peer music institutions to present videoconference master class exchanges which expand and enhance the artistic training of all students. In the upcoming 2013-14 academic year, Manhattan School of Music will work with peer institutions such as the Sibelius Academy in Finland, the Royal Danish Conservatory in Denmark, the Shanghai Conservatory in China and the Cleveland Institute of Music in Ohio to provide and receive classical and jazz master classes and clinics on solo repertoire, chamber music, orchestral auditioning, improvisation techniques, and other professional development topics.
MSM's artist faculty and special guest artists regularly participate in this exchange program including several members of the New York Philharmonic on the School's Orchestral Performance Program faculty, and the internationally-renown operatic baritone, Thomas Hampson—a major proponent and advocate for music distance learning. An exciting byproduct of this virtual exchange program has been student to student interactions, which provide young artists with the opportunity to develop professional connections and to contextual their musical training within a broader musical community.
Uniquely, Manhattan School of Music is putting distance learning in the hands of its own students. In collaboration with MSM's Distance Learning Program, graduate and doctoral students, including recent alumni, referred to as "teaching artists" are creating and presenting standards-based music and interdisciplinary programs to learners around the world. For the past two years, the Center for Interactive Learning and Collaboration, a nationally-recognized resource for distance learning content, has awarded its Pinnacle Award to MSM and its teaching artists in recognition of outstanding standards-based K-12 program content delivery. Recently, Amir Khosrowpour, doctoral candidate in piano performance, created a new interdisciplinary program for 4th and 5th grade learners entitled, Musical Math. This interactive videoconference program correlates fractions and quantitative reasoning to musical note values through a series of activities, which enable students to create music together on the spot. This past spring, the program was offered to 16 different primary schools in the Dumfries Galloway region of Scotland.
Manhattan School of Music
In addition to interdisciplinary and musical-themed programs, MSM teaching artists are offering applied music instruction and coaching to K-12 learners. Notably, in collaboration with the state of Nebraska, 22 MSM graduate and alumni teaching artists are giving weekly private and group lessons and coachings to middle and high school students in various regions of the state. Distance learning incentive dollars funded by the Nebraska Lottery have enabled the Nebraska Educational Service Unit Coordinating Council (ESUCC) to create special distance learning music classes with Manhattan School of Music which award graduation credit.
As music programs in public education are being downsized, investment in distance learning technology may just be the saving grace, enabling music to remain in the schools, bolstering local music programs through educational support at a distance. Music teachers in public education are often spread very thinly and required to have expansive expertise in all areas of musical training in order to serve a broad range of learners. Through this program, Manhattan School of Music Distance Learning has been able to support Nebraskan learners with specialized circumstances and requests, such as voice training given in Spanish language; coachings for a classical saxophone quartet; improvisation clinics for young jazz combos; or private chanter lessons for an aspiring bagpipe player.
Through MSM's distance learning program entitled, "The Global Conservatory," the School also is able to provide unprecedented access to its world-class faculty and programs for community colleges and universities seeking the School's renowned, specialized musical training, which supports or expands the educational offerings on their own campuses. A prominent university in the middle of the country may not have a New York-based, performing artist on their campus; however, that reality no longer needs to be an impediment to access. Such engagements include master classes, private lessons, clinics, audition coaching and professional seminars.

STAY THIRSTY: As a difficult economic landscape continues to reshape American life after the Great Recession, how should current and future students view the likelihood of a sustainable career in music or music education?
JAMES GANDRE: The "viability" of an arts degree in its purest form – education, then a full-time life as a performer – has never been one that was realized by many even in the most venerable institutions on this continent and beyond. In fact, there has always been only a small percentage of students who have gone on to have such a rarified life. Most did – and continue to – create their musical lives in multi-faceted ways. Many perform and teach. Some make their way to Broadway orchestras. Some teach full time. Others become doctors, lawyers, business people and either do music as a professional past time or perhaps serve on boards of music organizations.
I actually believe that the 21st century provides more opportunities in some ways than the 20th century. However, these opportunities will be significantly different from the past century. With technology changing by the minute, new performance venues popping up, changing performance formats and repertoire planning, and the like, there will be even more opportunities out there, but they will not be "traditional" in the 20th century model. They will be more fast-paced, they will likely require artists to have two or three or four different areas in which they practice and succeed, and they will have to be far more business savvy and nimble than they ever had to before. But, this is beginning to be discussed and even explored openly now in schools here and there. At MSM, we have our Center for Music Entrepreneurship where we teach students to think beyond the traditional so they can set themselves up to have that new life in the arts. Through our Distance Learning projects, which I discussed before, we teach students how to expand their technological and pedagogical skills as well.

STAY THIRSTY: As a seasoned performer yourself, how does your experience as a professional musician help you connect with the student population?
JAMES GANDRE: Knowing what it takes to be in this business – the discipline, the endless hours of practice and rehearsal, the stress and disappointment of auditions, the monetary investment it takes to train properly – is simply irreplaceable and anyone without this experience and in-depth knowledge will, I believe, fall short as a leader of a music conservatory or school. I think that my experiences first and foremost allow me to have simple empathy with my students by understanding what they're going through. Secondly, as I work with the faculty and senior administration of the School, my own (and others') experiences help inform and shape our decisions about everything from facilities needs to curricular changes to repertoire selection for our ensembles to my ability to talk passionately about the art form and our training and educational process to potential donors.

STAY THIRSTY: There is a growing trend in music education to include courses on musical entrepreneurship. How is the Manhattan School of Music working to flesh out the nexus between artistry and enterprise?
JAMES GANDRE: We started a career development office more than 30 years ago – we were one of the first schools to devote time, energy, and money into such an endeavor. We continue that pioneer spirit today. Our Center for Music Entrepreneurship has offered our students a place to experiment, to try their wings, and test themselves. They can do this through courses offered in the Center and various workshops we hold throughout the year as well as one-on-one sessions with Center staff. The Center is one of signature features. Few schools have anything like this. But, it's not enough! We must continue to expand the Center's reach and its impact so more of our students take advantage of all it has to offer and how it can help them as they move forward in their careers.

STAY THIRSTY: What role does improvisation and playing by ear have in a classical, conservatory curriculum? Can the street musician really become the classical artist?
Dr. James Gandre with some MSM 2013 Graduates
JAMES GANDRE: The worlds of improvisation found in jazz and playing what's written – "replicating and interpreting" music – in the classical arena are still relatively far apart. However, improvisation is now moving beyond jazz and into the classical realm, but not in any ubiquitous manner or nearly as fast as I think it might in the future. We have begun to teach our classical music majors about improvisation and this has been a great success, but it's still rather limited. As we embark on our strategic planning process this year, we will begin to clearly articulate our vision for the future, what we will teach our students and how we will operate to achieve our shared goals.
Playing by ear, another great skill, is something that is rarely taught in schools. Normally, one's innate ability in this area is either evident or not. To make oneself more viable in the marketplace, having this skill will increase the chances of employment later, but I think it's not as great a plus as it perhaps once was. Now, knowing more about technology and having business savvy has, I believe, greater traction and power.

STAY THIRSTY: Is there a place for the study of religious music and regional cultural music in today's conservatory experience?
JAMES GANDRE: I hope there will always be a place for the study of all kinds of disciplines and sub-disciplines in education as I happen to be one who believes that in-depth study of subjects can beget great thinking more generally and leads one to other discoveries in related disciplines. Education for education's sake! So, I hope that these areas of study will last well beyond my lifespan even if there are fewer of these programs than there were even 10 years ago (and there are).

STAY THIRSTY: How has the internet, podcasts, YouTube and the tablet changed the musical creative process and music education?
JAMES GANDRE: I don't think these have significantly changed music education/training yet. They have mostly been additive thus far, allowing access to particular works of music via YouTube, for example, or having on one small device thousands of pieces of music to which students have easy access. This is very helpful and convenient, but I'm not sure this has been transformative in relation to education.

STAY THIRSTY: What skill sets do musicians and performers need for the 21st century workplace to be able to move easily from the recording studio and control room to the performance stage?
JAMES GANDRE: What's interesting is I think it's the reverse of what you suggest here. We need to help students translate their numerous "acoustic" experiences to the recording studio and control room. Students have lived almost all of their musical lives on stages and they know less about how to move to the recording studio with ease and professional knowledge. This is an area where the vast majority of schools don't make the grade. Now, in our general defense, I would say that none of us can be everything to everyone. We can't prepare our students for every possible eventuality. Each institution must all evaluate the possibilities available out there for our students and each must decide where they will specialize and be "impactful". Too many of us try to have too many foci and we end up not doing anything particularly well.

STAY THIRSTY: The list of esteemed alumni of the Manhattan School of Music is long and includes such Grammy Award-winning artists as Herbie Hancock, Dave Grusin, Margaret Hillis and Susan Graham to name a few. What makes the Manhattan School of Music so special and such a draw for future world-class musicians?
JAMES GANDRE: There are three primary reasons for our great success over nearly 100 years of operation.
First, our faculty. These folks are amazing. Their collective performing backgrounds and experience as astonishing. From dozens and dozens of performers from the New York Philharmonic, Metropolitan Opera, Orpheus Chamber Orchestra, etc. as well as international soloists, chamber musicians, and jazz artists, I would put up our faculty to any in the country any time.
Second, New York City. This city is one of the greatest cities in the world. It is a place that is bustling in a way like no other American city. The cultural scene here so vibrant, so alive, so large, so serious, so competitive. The city and its music scene are literally extensions of our campus.
Third, our humanity. This conservatory has a humanity, a kindness, that is not found in many places, let alone a city center and, in this case, NYC, the most intense city in the States.

STAY THIRSTY: Do you have a 5-year plan for the Manhattan School of Music and for Jim Gandre?
JAMES GANDRE: This year, the faculty, staff, and Board of Trustees will begin work on our five-year strategic plan. This plan will set the course for the last five years of our first century and propel us into our second century. No matter what the outcome of this important plan, it will surely include the pursuit of excellence in everything we do and look to capitalize on our historic strengths and exploit future opportunities which are in synergy with those historic strengths.

Photo credits: Brian Hatton

Link: