By Steven Jay Griffel
Queens, NY, USA
---
Steven Jay Griffel
Secret societies like the Masons or Skull and Bones are well protected against the uninvited. Without an invitation there's no getting past their planked and riveted doors. In some ways, your local book club is even more formidable. If you are a reader looking to share your experiences with a like-minded group, you might be welcomed with open arms. But if you are a not-quite-famous author trying to interest a book club in reading your book, you will find it almost impossible to get past the gatekeeper.
There are thousands of book clubs. They can be as casual as a coffee cloche or as competitive as a poker game. They are a reflection of their members' tastes. Some clubs are strictly defined by their agenda. There are feminist book clubs and Holocaust book clubs. There are clubs for almost every literary genre: romance, mystery, sci-fi. There are clubs that focus exclusively on nonfiction: World War II, travel, self-help. But most books clubs are flexible; some are even omnivorous, devouring their members' consensus choice, whatever it might be.
Because most clubs meet once a month—or even less frequently—they are not likely to take a chance on a book that has not already been acclaimed. Understandably, they try to get the most bang for their book. This is why most book clubs tend to choose classics or best sellers—books that are critically hailed or popularly hyped.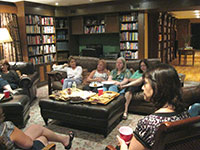 Book Club Meeting on
Grand View
Sands Point, Long Island, NY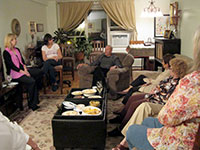 Book Club Meeting on
Grand View
Bayside, NY
When it comes to choosing a book, book club members face no shortage of choices. Thousands of books are published each year. Hundreds of thousands of books are in the public domain. Millions of books are available on Amazon.com. Many of these are popular books; books by great and famous authors; books that have been made into movies; books that have withstood the test of time and the crucible of critical opinion.
Why then would a book club choose to read a book by a critically credible but not yet famous author? Normally, they wouldn't. But there are exceptions. An author might have a personal connection to one of the book club members. An author might know someone who knows someone. In short, a not-yet-famous author has little chance of getting past the gatekeeper.
But some authors who enjoy public speaking may hold a trump card, an ace in the hole: They can offer to make a personal appearance. For many book club members, the prospect of having the real-life author guide a book discussion is an exciting idea. It is something new and vaguely sexy: a stranger sharing his motivations and personal backstory, revealing the unsuspected facts behind his fictions. This new dimension usually deepens the intimacy of the discussion, and the audience responds with great interest, not only with pointed textual questions and comments, but with a heightened need to share their own stories and revelations, sometimes even a confession or two.
I am very grateful to those book clubs that have invited me to help guide discussion of my novels. In a couple cases, book clubs have been following my career, inviting me to present each time a new novel of mine is published. The evenings are always entertaining, even illuminating. I learn new things about my work, and book club members get to learn about me and why I write as I do.
It's a beautiful relationship, book club and author, a wonderful win-win.
Bayside Book Club with Author
---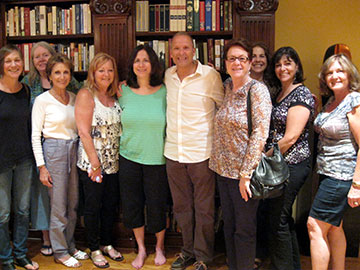 Sands Point Book Club with Author
---

Links:
Steven Jay Griffel's Profile at Stay Thirsty Publishing
Steven Jay Griffel on Facebook
All opinions expressed by Steven Jay Griffel are solely his own and do not reflect the opinions of Stay Thirsty Media, Inc.