By Jerry Bowen
Los Angeles, CA, USA
---
Jerry Bowen
The summer of '13 began with such promise in our part of flyover country, southwest Iowa where Troublesome Creek flows to the East Nishnabotna and the "Botna" joins the muddy Missouri.
Twenty inches of rain fell in May and June drenching the drought that made life so hard for the area farmers last year.
The wild asparagus popped up too. As good an omen as any. Our neighbor Vi spread the word and said she had some to share.
Vi and her husband Darrell live on the next farm over just a quarter-mile to the north. Their people, like mine, settled in this area back in the mid- 1850's. They've been married 60 years and always worked the land.
Darrell was baiting his live trap when I drove in, hoping to capture the raccoon or possum that was getting into the new tomato plants. He uses cat food instead of poison in case the farm cats decide to trap themselves.
At the kitchen table with Vi there was the finger-thick wild asparagus along with a frosted raisin cake and cinnamon cookies. Goodies to go back to the old farmhouse that my wife and I've been restoring for years.
And there was Vi's latest find. A very old love letter from a love struck soldier on his way to war.
Vi is the keeper of history in our part of Audubon County. Her family's and other's who aren't so interested in the past. Old letters and photos have a safe haven in her house and find their way there often as farms or small town homes get sold.
This letter really struck a chord. Maybe because of the florid prose or the ornate cursive penmanship. Or maybe because of the raw, but stilted emotion that jumped off the page.
"My dear friend," the writer begins, "with pleasure I treat my self to reply to your welcome letter. I am well and hope this will find you in good health for without it there is no comfort on this earth."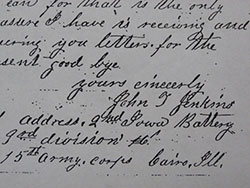 Excerpt from Jenkins Letter
The writer was Private John T. Jenkins of the 2nd Iowa Battery of the Union Army.
One hundred fifty years ago the 24-year-old Jenkins and his fellow Iowans were camped on the Mississippi River at Cairo, Illinois waiting for marching orders.
They were headed down river to a place called Vicksburg. Coupled with the battle at Gettysburg, the siege at Vicksburg would break the back of the South in that bloody year of 1863.
Jenkins and the others couldn't know that then. Besides he was focused on the girl he left behind. So late in the evening he took pen to hand and began to write in the lantern light. Poured out his Yankee soul:
The subject of matrimony is one that requires a thorough consideration. Perhaps you may think strange of this but I have consulted my feelings on this subject. I find myself possessed of a desire that can only be gratified by your giving your consent to become mine forever.
John Jenkins was a farm boy, the second oldest of five children in one of the families that first settled the county. In 1861 he volunteered to join the Union Army and didn't return home until the war was over.
The "dear friend" in his letter is never identified by name. But there is no doubt how "dear" she is.
"Oh, how I wish that I could get the answer to this tonight. Please give this a strong consideration and let me know if I am to be the happy man."
In 1863 it took weeks for mail to come from home to the front lines. John Jenkins wasn't sure what the answer would be. Or when it would come.
"How often will the question be asked in my mind? Will this meet with a warm reception or will she cast it from her with scorn. God forbid that it be the latter."
Then he signed off, "yours sincerely." And waited.
The woman who received the letter was Darthula Rogers, twenty-three-years-old and the daughter of a blacksmith. Her job was listed as "house work" in the census of 1856.
And she held on to that letter for the rest of her life. As did her children, grandchildren and great-grandchildren until it came into Vi's hands one hundred fifty years later.
Darthula Rogers said "Yes" to her farmer-soldier and when he was mustered out of the army two years later she became Mrs. John Jenkins.
The couple lived out their days in Audubon County, raised three children and carved out a prosperous farm.
The marriage lasted 55 years. John Jenkins became "the happy man" with the woman who was very much on his mind that night as he prepared to march into battle.
They died a year apart in the early 1920s and are buried at the rural Oakfield cemetery near Brayton, Iowa. And their story might have been lost except for an old letter that many hands felt worth saving.
The summer that started out with so much promise became richer for it. You see, my neighbor is not just the keeper of local history. She is sometimes the caretaker of happy endings.
Now if Vi was a rainmaker she could make all her neighbors happy. It's bone dry in flyover country. A hard rain or two would make this a real summer to remember.
All opinions expressed by Jerry Bowen are solely his own and do not reflect the opinions of Stay Thirsty Media, Inc.