By Juliet Aykroyd
Somerset, UK
---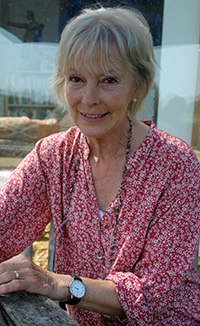 Juliet Aykroyd
(credit: Thea Lacey)
It's the 1960s. I'm one of a troupe of student actors poised in the wings of the Vanbrugh Theatre at the Royal Academy of Dramatic Art (RADA). We are wearing Victorian costume and old-fashioned makeup. Our training course is over. It's the curtain call of our showcase performance, and in the next five seconds we will prance on stage and radiate for all we are worth at an audience stiff with producers, directors, casting directors and agents. Will we induce the slightest twitch on any of those impassive faces?
Back in the 1960s, we had no idea how lucky we were. At that time it was easier than it is now to launch and sustain an acting career, for four simple reasons: there were fewer training schools, fewer people wanting to be professional actors, fewer actors, and relatively more acting work. Compared with the complicated uncertainties facing novice actors today, our prospects were straightforward.
Until it became illegal in 1988, the actors union Equity operated a closed shop, which had some effect in weeding faint-hearts out of the business. Of the finalists in our year who stayed with the profession, about 80% were employed by the end of the first year after school. Most had found agents. Four of us were invited to join one of the provincial repertory companies – excellent places for stretching young actors' skills and teaching them how to handle truculent audiences. Many rep companies faded away in the '80s and '90s as their funding dwindled, and their audiences switched to watching television.
In the 1960s there was a reasonable chance of being cast in TV dramas, soaps, series and commercials. TV is still one of the best-paid sources of acting work but in spite of the proliferation of channels there is not much quality drama, and there is immense competition for roles. The then-thriving British film industry is now pretty well defunct. The London fringe and alternative theatre scene offered exciting experience in ground-breaking plays which challenged staid middle-England traditions and told raw stories of working-class life, thereby demanding fresh acting styles and a new type of actor. The fringe is still an important source of work, although the pay is often a share of the ticket profits, and sometimes non-existent.
Acting work is always precarious. There are inevitable episodes of "resting", which means anything from price-tagging in supermarkets to serving in restaurants to dogsbodying in offices. But in the '60s there was plenty of temporary work, and we were lucky to have the dole to fall back on. With the mystification and erosion of state benefits there is no longer that kind of support. We were lucky too that most acting work – especially in theatre – offered scope for the skills we had so hopefully and painfully pursued at school. What were those skills?
Actors – as Hamlet says to the Players – must reflect the age and body of their time. They must keep up with the human story, be open to what is strange, and secure in what is eternal. Above all, they must communicate with audiences, and for this they need expressive voices and bodies.
RADA (credit: Chemical Engineer)
At RADA we were pushed to acquire what in earlier days was called "technique". In 1946 the actress Sybil Thorndike wrote in the RADA Magazine: "Technique is only the making flexible and use-able the medium with which we have to do. To make our bodies and our limbs flexible – the voice and mind flexible – able to take on whatever incarnation – whatever human life we are called on to portray."
RADA's current Prospectus claims that "our training is classically-based because we believe this provides the best possible foundation for acting in any form or media." "Classically-based" means that emphasis is placed more on textual study than improvised work, and in particular on the interpretation of roles in the plays of Shakespeare, the Greeks, Chekhov and other classical dramatists, and for these roles a receptive intelligence is important and a strong, clear voice is paramount. Voice-work is central to most English acting schools, and to the working life of all dedicated English actors.
Every day we worked on relaxation, breath control, resonance, range and diction. Our textbook was Voice and Speech in the Theatre by Clifford Turner, a stalwart of Received Pronunciation (RP). This is shifting sound, more accurately a concept, loosely based on the current speech of BBC newsreaders, and its promotion has snobbish origins. Until the New Drama in the '50s, regional accents were considered "common". Only RP qualified you for speaking the language of Shakespeare, our greatest national asset. Happily, this point of view is now history, but RP is even now a skill to be acquired, even by non-English students, at some schools. We were solemnly tested on it halfway through the course. We also had classes in British dialects, group and individual singing, and poetry-speaking.
For body flexibility there was daily movement based on Laban, classes in how to bow and curtsy and use a fan in Restoration Comedy, dance, fencing, tumbling, mask work and – a novelty at the time – group yoga. Alexander technique was introduced soon after.
Some of the classes were backward-looking, for example we were taught how to apply Leichner makeup, or greasepaint; improved theatre lighting put paid to that. There was a little radio work, but no camera training. Aside from rehearsing and performing plays, the most creative part of the curriculum was improvisation. One inspirational teacher, Eve Shapiro, introduced us to Stanislavsky basics. And Keith Johnstone and Ben Benison stretched our imaginations and gave a taste of theatre modes that lay in the future.
The training at RADA is pragmatic and insular, in the English way. It strives politely to keep up with the times and turn out employable actors. It is not driven by dogma or any far-out method. Its voice-and-movement programme has been the model for many other schools. But where RADA has contrived not to change much in half a century – perhaps cushioned by its own prestigious reputation – other academies have had to strike out in bold new directions.
John Philip Kemble
as Hamlet (1802)
In the '60s RADA was one of a mere handful of British drama schools. We were proud to be presented with a "Diploma". Today BA Degrees in Acting are offered at most of the 20 vocational schools accredited or recognised by Drama UK (the drama-training watchdog). Following long-established practice in the United States, some form of actor training is now a constituent of undergraduate and postgraduate drama degree courses at many UK universities. Plus there are countless non-vocational acting courses: part-time, short-term, evening, summertime, master classes, private tuition – the advertisement pages of The Stage weekly newspaper list dozens of them. "The main trouble about actor training in Britain today" say Richard Eyre and Nicholas Wright in their book Changing Stages (2000), "is that there is too much of it."
For complex reasons to do with movies, advertising and marketing, in the last hundred years, actors – those erstwhile rogues and vagabonds who were once denied burial in consecrated ground – have become respected, highly visible, high-status (titled, even, in England) citizens, and a lot of people want to join the club. And it's an expensive one.
In the '60s, RADA accepted around 25% of applicants. Today the figure is 3%, and applicants, regardless of their chances, must pay to attend an audition. (The current charge at the Central School of Speech and Drama is £60). Fees at the accredited schools are between £9,000 and £12,000 a year. Actor training – in line with most higher education – has become big business.
If academic recognition and market forces have in one sense bestowed status on actor training, they haven't improved job prospects. Supply enormously exceeds demand, to the disappointment year-after-year of talented, hopeful young people.
But to accommodate the challenges, acting schools are changing and diversifying. Students now study how to develop their own resources, set up their own work and organise their careers in a business-like way. There is no decline in the number of West End musicals, and musical-theatre courses are multiplying to meet the demand for actors who can sing and dance to a professional standard. Some schools have expanded impressively. The Central School of Speech & Drama (CSSD), for example, boasts "the most extensive range of specialist expertise and the broadest portfolio of drama, theatre and performance-related degree programmes available anywhere in Europe." Its courses include Drama Therapy and Applied Theatre – acting for the community, not just for the theatre. In 2003 a newcomer, the London International School of Performing Arts was set up with the purpose of training students to devise their own theatre, based on the vision of Jacques Lecoq. It announced: "The idea of the performer as the creator of her or his own work is no longer a fringe phenomenon, but an influential international movement."
This holistic approach to drama training leads actors beyond the base ambition to become stars of stage and screen. It proposes an awakening, a source of well-being, of personal discovery and communal good.
And if an aspiring actor can't afford to train, the future is not blank. Outside the schools there are all those part-time courses and support groups. In the end, given luck and determination, an actor doesn't need to go to acting school to enable a career. Several well-known actors' biographies are proof of this. Here is the viewpoint of Brian Parsonage-Kelly, a London agent at the employment battlefront: "…I have always looked to recruit some clients who have not come up the drama school route. Everyone...would have to have had some kind of training, but it need not be as formal as three years full-time at drama school. A talented teenager who has done stage school, the National Youth Theatre, or had private tuition, could well be a lot more marketable than an average graduate of an average drama school."

Link:
Juliet Aykroyd's Profile at Stay Thirsty Publishing
All opinions expressed by Juliet Aykroyd are solely her own and do not reflect the opinions of Stay Thirsty Media, Inc.