By THIRSTY
---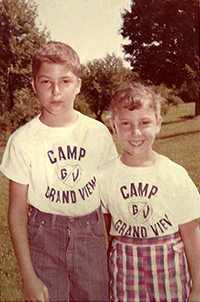 Steven Jay Griffel and his sister
Steven Jay Griffel's third novel, Grand View, was released in late June of 2013. It could easily be called the Jewish American Graffiti because it so vividly captures a 1960s coming-of-age story set during the peak years of the Catskill bungalow colonies. The era that Dirty Dancing brought to the movies, Grand View brings to the eBook.
Not long after those days, the entire Catskill culture began a slow decline into history. What was once a thriving summer community popular as the mountain getaway for Jewish families from New York City, often referred to as the "Jewish Alps," is now discussed in the past tense. Time, however, has not been kind to the Catskills, and it now falls on the shoulders of talented writers like Steven Jay Griffel to help rekindle the memories and experiences that shaped millions of lives during those vibrant Catskill years.
Set during one summer at the Grand View bungalow colony, Griffel's heartfelt novel not only represents a time and a place like no other, but also continues to weave the story of his main character, David Grossman, and brings to life the "idyllic" and troubling days of his formative years.
THIRSTY was fortunate to talk about the summer bungalow life of the 1960s, the Catskill culture, and Grand View with Steven Jay Griffel recently at his home in Queens, New York.
THIRSTY: The Catskill bungalow colonies represented a unique time in our social history. What drew you to them and to the period of the 1960s?
STEVEN JAY GRIFFEL: These were the last golden years of an extraordinary tradition that had begun in the late nineteenth century. Jews who tried to escape the summer heat of New York City for the green freshness of the Catskills were met everywhere by ironclad prejudice. And so began a new tradition: the Catskills Mountains as the New Promised Land. Before too long, many Jews began to live and vacation in New York's Ulster and Sullivan counties, establishing their own homes, resorts, and bungalow colonies as a response to the "Gentiles-Only" proscription that barred them elsewhere.
The bungalow colonies were a thing apart from the resorts and hotels. Like the rest of American society, they depended on a stay-at-home mother, and a father who would drive to the Catskills at the end of his workweek and return to work on early Monday morning.
Every year, from the last day of school to Labor Day weekend, I lived in a bungalow colony in the Catskill Mountains. Ten summers I spent there, from age 8 to 17. These were my Wonder Years.
Though I lived only one quarter of each year in the Catskills, they seem to have shaped me out of all proportion to time spent there. Why would that be? Perhaps there was more drama, more invention, more unveiling of mysteries during those summer months. Perhaps it was my release into pine-scented freedom after forty weeks in a Bronx apartment. Perhaps it was the relative lack of supervision. We had no teachers, no homework, no Hebrew school. We were generally left alone to wild our imaginations.
Memories are crystallized impressions; most of mine are preserved in the amber of remembered summers.
THIRSTY: How has the Catskill experience influenced you as a writer and as a family man?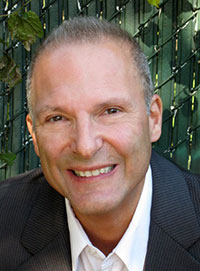 Stevan Jay Griffel
STEVEN JAY GRIFFEL: Catskill summers allowed me to see my family in new ways. Although we had a routine (actually two: weekday and weekend, when there was no day camp), it was all very different from our routines back in the city. In the Catskills, I often viewed my parents in social situations. I saw my father's good ol' boy bluster. I saw him as a poker player and as a sure-handed, pull-hitting second baseman. I saw my mother's tentative forays into friendship. I saw her endure and nurse grievances. I saw her selfless generosity when no one expected anything of her. Seeing my mother and father in roles other than as parents helped me understand them, which helped prepare me to write about them later.
By the time I was 16 I knew I would be a writer. And I knew, even then, that I would one day write a novel called Grand View. Grand View was the name of our Ellenville bungalow colony for the first eight of our ten Catskill summers. Our last two years were spent at Dr. Locker's, a bungalow colony in Mountaindale. Some of the scenes in my novel Forty Years Later are set there.
It is said (usually with a salacious grin) that one always remembers one's first time. I think this is true, though I think one remembers many of one's most important firsts. So many of mine occurred during my Catskill summers, and many of these have found their way into my stories: my first teen romance; my first tongue kiss; my first experience with death; my first game-saving catch; my first swim lesson; my first hike through uncharted woods; my first theatrical role before an adult audience; and, my first time at a strip show.
THIRSTY: As you look back to your personal experiences at summer camp at a Catskill bungalow colony, what do you regret that has been lost over time? Would you go back to relive those days?
STEVEN JAY GRIFFEL: I don't have any regrets associated with my Catskill summers. I used to have one: I used to regret that I didn't go to Woodstock, even though I was in the Catskills at the time. But, as you know, I used those feelings to write Forty Years Later, which became my first published book and, later, a best-seller.
I'm not particularly nostalgic. I don't worship the past. I don't get all tingly when people yell out nostalgic prompts: Salamanders! The Knish Man! Monticello Raceway! I remember all those things—for the most part fondly. They were all part of a life I loved. But I don't invest the past with inordinate importance. As much as I loved those things and those times, I have no strong desire to revisit them. There are photos and films and books—including my own—that make it easy enough to remember. And now there are active Facebook pages where people share memories and connect in real time.
THIRSTY: As a baby boomer looking back at your formative years in the 1960s, are there lessons you can pass along to your children and grandchildren?
STEVEN JAY GRIFFEL: Actually, I have no lessons to pass on. I have my oral stories and I have my novels—but I don't think of them as lessons, as in moral instruction. I've never been pedantic like that. Like everyone else I have had personal experiences. From some I have gained enough clarity and wisdom to regard them as personal lessons learned. But I would not share the distillation of what I have learned. No one can learn as I learned. We are all different. But I do take great pleasure in sharing stories about my Catskill summers. And I hope that my listeners and readers will take away from my stories whatever is most meaningful to them.
THIRSTY: You have written three novels that revolve around your "hero," David Grossman, and his turbulent life. Is Grossman representative of just one person, or does his life speak to a broader view of the human condition in today's world?
STEVEN JAY GRIFFEL: It may seem ironic or counter-intuitive, but the only way to achieve universal themes or a universally sympathetic character is to write as specifically and concretely as possible. Clearly identifiable universal themes and broad, symbolic characters are usually found only in allegories and in bad writing.
I am very gratified that David Grossman, along with many of my other fictional characters, appeals to so many readers. What this tells me is that the characters, especially David Grossman, are very believable. To be believable, characters have to be firmly grounded in their own world: they sleep, they eat, they yearn, they laugh and cry. They have goals and they face conflicts that complicate or threaten their goals. In Grand View, David Grossman is a young teen. He has never been very popular. He is a terrible athlete. But he is not a caricature. He is not a cartoon character. He is a three-dimensional, flesh-and-blood, scabby-knee teen; he has height, weight, and feelings. He is as real as the reader—except he exists only in the fictional world of my novels. Real characters tend to resonate with readers. When a readers say, "I really identified with David Grossman," I know I did my job. I didn't create David Grossman so he would be vague enough to have general appeal. I created a David Grossman so he would be unique—just like every reader who reads about him.
THIRSTY: For those who fondly remember their Catskill bungalow colony experience but want more, are there any organizations or groups that are keepers of the "faith" with regard to this era?
STEVEN JAY GRIFFEL: Dr. Phil Brown is the founder and director of the Catskills Institute. The institute is (as far as I know) the preeminent organization promoting research and education on the significance of the Catskill Mountains for Jewish American life.
I first became associated with Phil Brown when I was writing Grand View. Later, I had a relationship with the writer of the famous and much-loved Catskill film classic A Walk on the Moon. The relationship inspired my own Catskill work, my novel Forty Years Later. In large part,my new novel Grand View is meantas a tribute to all those who summered in the Jewish Catskills during the 1960s.
Facebook is another place to schmooze, kibitz, and kvetch about the bygone days of the Catskills. There are a number of active groups, each with their loyal followings. I belong to at least a half-dozen: Catskill Summers; Memories of the Catskills; Catskills 1960's and 70's; Grossinger's Hotel and The Catskills; I got dragged to the Catskills as a little kid, but still had fun!; and, I Know the Catskills Ain't what They Used to Be, But We Still Have Memories.
THIRSTY: Will we see a fourth book in your David Grossman series?
STEVEN JAY GRIFFEL: Yes. David Grossman has a lot of crazy living still to do, as do I.
Links:
Steven Jay Griffel's Profile at Stay Thirsty Publishing
Steven Jay Griffel on Facebook
All opinions expressed by Steven Jay Griffel are solely his own and do not reflect the opinions of Stay Thirsty Media, Inc.