By Anna Murphy
New York, NY, USA
---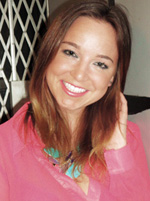 Anna Murphy
This summer marks my fifth year living in the city – and I feel that I can just say "city" and everyone will understand that I mean the greatest city on earth: New York City. It's kind of a milestone I never thought I'd reach, to be quite honest. Every year, starting in 2008, when someone would ask me if I'll be a "lifer" I'd laugh it off and say, "Oh, no way – I think this is temporary." I'm beginning to feel like after half a decade, the odds are not stacked in my "short-term" favor.
I've grown up a lot in my five summers and sometimes I feel like I have very little to show for it. But what I do know is this: I don't go the long way when I see there's a muttering homeless person in my path (although sometimes I step into the street). I have a complicated coffee order at my neighborhood coffee shop and a barista that knows it by heart. I have gone back to my roots, literally, in the form of my hair color. Bottle blonde was so (way too) southern of me. I have a few jobs under my belt, some bad bosses, many calendar invites and call agendas, some incredible friendships, a broadened skill set and an appreciation for interns…even when they smell like vodka the next morning (lest I forget that that was me not too long ago). I have had a lot of bad dates, a few silly relationships and even a serious one that will forever affect how I look at certain spots in the city. But thank God, it's a big city and there are many ways to avoid "our spots " and get where I'm going. Wine-filled weekly viewings of The Bachelor with my friends make me realize that we're just career girls who need a break sometimes…and we just happen to live in the best city in the world.
I've seen my favorite bands perform in concert and gotten closer to them than I ever thought possible. I have an appreciation for open cabs on a Friday night and smoothly running L trains on my way to work. I have a never-ceasing admiration for Central Park reservoir and the Hudson River running path. Really, after going almost weekly, I still am rendered speechless by the fact nature can exist in this concrete jungle. I have a church that I have started going to regularly and a routine that is as "normal" as I know to be possible.
I've learned how to live alone, deal with brokers and score a sweet (if not very expensive) pad via Craigslist. I refuse to add up how many thousands of dollars I have paid in rent over the last five years because it will make me cry. But if I did, I would cry on the street because I am a New Yorker and every emotion can acceptably happen in public. You can't fight with your boyfriend in your apartment, what would the neighbors say?
While I don't have it all figured out (if anyone does, please direct me their way), I have a much better grasp on reality and a greater sense of purpose after five years here. Although I have a depleted savings account, I wouldn't have spent my money any other way. Although I thought age 27 would find me married with children, I recently heard that 33 is the average age in NYC and realized I'm not an old maid. Although I have anxiety about my future, because my future is now, I'm living my life the only way I would want to.
There's no place like New York to make you realize that you are a tiny little piece in this great big puzzle. The longer I am here the more I have self-awareness. I need to treat people better, right my wrongs, and not fear the unknown. So while I say, for the fifth time, that it's my last year in this glorious city – who can really say what happens? And for the first time, this not knowing is A-Okay.
All opinions expressed by Anna Murphy are solely her own and do not reflect the opinions of Stay Thirsty Media, Inc.