By Jay Fox
Brooklyn, NY, USA
---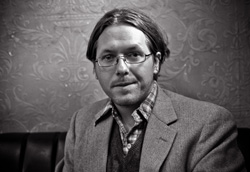 Jay Fox
There's a party in my mouth and everyone's invited — Ken Griffey Jr.
I don't think I knew what I had come across the first time I stopped in for a beer at The Gate (321 Fifth Avenue). If memory serves me right, I was more interested in the fact that there was an outdoor area that both allowed smoking and wasn't crowded, even if the summer heat had finally ceased to be so imperious as to demand air conditioning at all times of day. My date for the night didn't really like drinking or smoking very much, which was probably why there weren't very many subsequent dates or even phone calls. I also think she didn't care for the fact that I was in the midst of a creative streak, which meant I would often dart out of bed in the middle of the night to bang out a thousand words of stream of consciousness narration that would later become (what I consider to be) the best part of the novel I was writing at the time. Maybe she felt a bit neglected. Maybe she didn't like the fact that the nascent stage of the relationship was set in a studio apartment that was too small, too hot, too smoky and too loud on account of the frantic pitter-patter of keystrokes coming from within the apartment and the din of reggaeton and drunken stoop chatter from the streets four stories below.
Even if things didn't work out with this woman, I'll always remember her for leading me to Park Slope for dinner, and, from there, to The Gate. Our night at the bar was relatively brief, as we were both fairly broke and it was already somewhat late when we arrived. She and I only stayed for a beer or two before taking the R back to Sunset Park, but I thought to myself that I had finally stumbled upon a place in Park Slope that wasn't primarily catering to wine enthusiasts and cocktail drinkers. Obviously, this was a few years ago—before small, American breweries began opening up shop in every part of the country, before the realization that Shock Top and Blue Moon were both corporate attempts to insert themselves into the craft beer market, before a lot of people came to realize that the green-bottled European lagers for which they'd been paying a premium price didn't offer a premium-tasting beer. There were plenty of bars that carried Goose Island, Magic Hat, Sierra Nevada and Sam Adams. A majority had begun selling Brooklyn Lager, or at least proudly displaying its neon logo in one of their windows—especially in Brooklyn. Virtually every place in New York City, provided they had a tap selection, had Yuengling and Guinness. However, some of the more recognizable names from the world of craft beer had not become all that common. Victory, Six Point, Troegs and Founders were pretty much unknown. Dogfish Head was gaining some traction, but it was still rare to see it on tap. If you went into a normal bar, only one or two of the drafts would have been a domestic beer not owned by one of the Big Three—which, of course, became the Big Two when Coors and Miller merged in 2008. Suffice to say, The Gate was a breath of fresh air, and I vowed to come back as often as I could.
The Gate
While it's true that I love craft beer, I can be just as happy drinking PBR or High Life. If drinking the former, I usually like to limit my intake to only a few, typically over a long period of time, due to the high alcohol content and price of these beers. Drinking the latter, however will allow you to keep your head, even as you reach into the cooler or fridge and grab another, light a cigarette, note to whomever you're with that the sky is beginning to gray over with the impending dawn, and then concede that it may be best to turn in after one more. On ambitious nights such as these, it's hardly prudent to start knocking back barley wines and imperial stouts, unless, of course, you're some type of masochist who revels in those Sunday morning (or afternoon) phone calls that begin with "Do you remember what you did last night?" and end with some kind of ultimatum about what happens if you ever act that way again. The Gate, in other words, is not homey like your friend's backyard or that dive bar that does the occasional lock-in. It's a place to enjoy some of the finest beers that New York City has to offer at a leisurely pace, and it's long been one of my favorite places to have two or three seriously delicious beers while enjoying a good book or a long conversation with people I've known for years.
One problem with the bar, however, is that it is the premier spot in Brooklyn to have a pint of beer that you probably won't be able to find anywhere else, and the bartenders consequently cater to people who like to drink these kinds of beers. Furthermore, they have no problem dismissing people who come into their bar expecting to find the most common beers readily available. While I'm normally not one for any type of exclusivity, it makes sense at this bar. The Gate is filling a niche. Consequently, it should not be required to carry products that appease mainstream tastes. True, the bartenders could be more accommodating to some polite but ignorant patrons who just want a pint of beer with which they are familiar, but these types of run-ins usually take place late at night, and most of the individuals who give the bar a poor review online never courteously inquire into the reason behind the lack of Budweiser at the establishment; they want to know "What kind of fucking bar doesn't have Bud?" While the victorious write history books, the infallible write Yelp reviews.
As infuriating as it may be to come across someone in the service industry who is not out to make your every wish come true, such indignation is misdirected. Bars in New York do not have a lot of space. Not many are going to have a huge bottle selection, and only a handful will have more than twenty taps. With well over two thousand breweries in America, it seems bizarre that people should feel so much contempt for a bar's decision to not feature the products of the world's two largest beer conglomerates (who, according to a March article on NPR's website, possess a 90 percent share of the domestic beer market), and to instead showcase smaller breweries that are attempting to make the best beer possible since they cannot compete with the larger companies when it comes to name recognition, affordability or distribution. If they are to survive, they have to make a superior product, and they do. The Gate is very similar to these breweries in many regards, and if their uncompromising attitude leads to a few angry rants on the internet about beer snobbery and a few more empty seats because people want to go elsewhere to drink the same thing they've had every weekend since college, I'm fine with that—it means there's a better chance I won't have to stand when I stop in for a beer.

Link:
Jay Fox's Profile at Stay Thirsty Publishing
All opinions expressed by Jay Fox are solely his own and do not reflect the opinions of Stay Thirsty Media, Inc.