By THIRSTY
---

Elizabeth Waugh
(credit: Joshua Dorfman)

From the Pantheon Series (2011)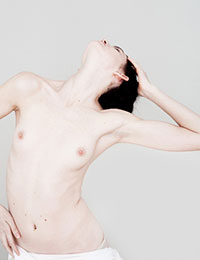 From the Pantheon Series (2011)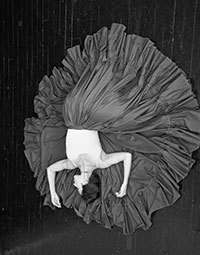 Andra Lujan (2012)

Nina (2012)

Ivan (2012)
Elizabeth Waugh is part of the new wave of gifted and highly creative millennials drawn to today's Brooklyn. Raised in Chicago and educated in Southern California, her move to Brooklyn speaks volumes about its revived magnetic energy. She is a fashion and portrait photographer who creative directs campaigns for designers and companies, and shoots editorial for magazines. Her photography has been exhibited in Los Angeles and Brooklyn and she creates fine art books of photography each year. Her new book of black and white portraits entitled The New God is due out in 2014. THIRSTY was fortunate to visit with her at her studio.

STAY THIRSTY: You grew up in Chicago, went to college in southern California and chose Brooklyn as the place to launch your photography studio and creative consulting business. Why Brooklyn?
ELIZABETH WAUGH: I moved east to New York for its passionate culture and central positioning in the international art and fashion worlds. I wanted to have access to those particular creative pools, those industries employed in creating the fantastical and exotic. My penchant has always been for whatever transposes the edges of what's possible.
I moved to Brooklyn in 2008 into a warehouse where I could start shooting my first New York portfolio. And I just fell in love with the strangeness of Brooklyn, its wild heart and roaming industrial areas: The Brooklyn Navy Yard, Floyd Bennett Field and others. I would shoot my subjects there.
There is physical space in Brooklyn, in sharp contrast to Manhattan, space to breathe and create, space to be quiet, and I need that. Right now, I have a large daylit loft deep in Brooklyn, almost in Queens, and it is so peaceful. I create much of my work here.
I was drawn to the culture of Brooklyn as well, in particular Williamsburg and Bushwick. A new generation of artists is discovering themselves in Brooklyn, realizing themselves and making themselves known.
Brooklyn is a renegade, it's an integral part of the future, and that is what my art is about, the future.
STAY THIRSTY: What drew you to the fashion and advertising fields as a photographer?
ELIZABETH WAUGH: Fashion is the centrifuge of the fantastical. It is the hotbed of the exotic, the unusual and the provocative. And high production value photography, which is found in the world of advertising, is the mechanism by which the fantastical is created. Given my commitment to creating work that is both magical and highly impactful, fashion and advertising were natural industries I gravitated towards.
STAY THIRSTY: During your artistic evolution over the past ten years, how has your view of photography as an art form changed?
ELIZABETH WAUGH: There was a long period when I was consumed with the technicalities of photography, and that was critical. I had to be trained in the tools. But now my vision is more paramount, and the actual tools of the medium, while still critical, are positioned more in the background, and less in the foreground.
STAY THIRSTY: You are working on a book of portraits that will be published in 2014. What is the process you use to capture the essence of your subjects?
ELIZABETH WAUGH: My book, The New God, shows a generation of New York artists in ninety-five black and white portraits. Having come of age in an era of war and recession, and championing their art in a cultural and economic wasteland, these triumphant individuals represent a new New York, one imbued with a transformed sense of community and values.
In New York, in the ultimate hotbed of creativity, there is a burgeoning new presence that could be considered a new spirituality, a New God. A new possibility, a new ethos, born from a bankrupt culture.
The process I use to capture the essence of my subjects? Great question. I could talk for six weeks straight about that answer. But for now, I'll just say, presence and magic.
STAY THIRSTY: Photography has undergone a revolutionary change from film to digital during your lifetime. Which format do you prefer and why?
ELIZABETH WAUGH: I shoot exclusively digital, but truth be told, my style is rooted in the naturalism of film. I don't retouch my images extensively, and I process my digital files in a more organic style. The commercial industry doesn't support using film as a medium. So I suppose, I have found a balance that pleases me.
STAY THIRSTY: Of all the subjects you photograph which ones are you most passionate about?
ELIZABETH WAUGH: People. Wild, beautiful, creative people. My fine art books are my purest work. And I love my commercial commissions as well. Frankly, I am passionate about it all. I am very grateful to be so wildly in love with my work and art.
STAY THIRSTY: How do you see yourself five years from now?
ELIZABETH WAUGH: Living and working primarily in New York City, with a studio in Brooklyn, traveling frequently to the west coast and Europe on commissions and art-based projects. Notable presence in the fine art world, higher-profile commercial commissions. More time and funding for my annual fine art books. In five years, I will be working on my seventeenth fine art book. Can't wait.
All photos courtesy of Elizabeth Waugh.
Link: