#45
By Sarah L. Myers
Editor-in-Chief
New York, USA

It's my favorite New York City bar, my favorite New York Dolls song, and now it's my favorite way to get trashed.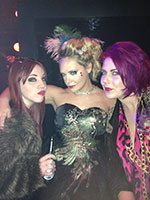 Jessica Slagle, Sarah
and Jordi
Johnny and Sarah
February swept into New York City with a vengeance, covering our little island in 12 inches of snow. I'm one of many who enjoy the isolation that comes with a blizzard. The streets get quiet, the parks fill up with those on sleds (fueled by peppermint schnapps and hot chocolate),  and the best place to be is right where you are – huddled in your apartment or, in our case, at Rodeo Bar. It was a busy month for Trash and a busy month for rock n' roll!
Valentine's Day Trash…
Who needs one valentine when you can have six? The Buena Vistas gathered together at Marquee for the premiere of Catwalk, Susanne Bartsch's new weekly soiree. We need no excuse to don wigs, feathers, and sequins, but this was like the dolls finding their mothership. We made camp by the DJ booth and spent the night ogling our fellow club kids. Japanese dominatrixes mingled with men (?) dressed as angel/demon hybrids, our own Nicole wore a crown of daises and a gold lame one-piece, and Johnny, our little Hawaiian pineapple, offset his tan with his best hot pink wig. We could only take the Marquee antics for so long, and soon it was off to the exact opposite of Susanne's confetti fabulousity… Rudy's! Imagine the surprise as we walked in, even more hilarious as Testament had a show that night so the entire place was filled with drunk, aging metalheads. By the end of the night it looked like a pinata had exploded. Our feathers and sequins left a trail all the way out to the porcelain pig, next to which lay Jordi's cigarette butts. She and I were the last ones standing, pouring ourselves into a cab around 4am. Happy Valentine's Day, NYC!
Justin Dean Thomas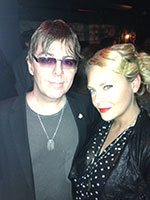 Andy Rourke and Sarah
Bowery Electric Trash…
Justin Dean Thomas and I have done some really cool things together. If our Thirsty readers remember, Justin and I not only saw the legendary Jerry Lee Lewis (if I recall, we were huddled near the stage, crouched down and listening as intently as two kids by a record player), and he accompanied me to Sirius Radio for our day with Richard Ashcroft. I was on crutches, Justin was in his best shoes. But of all of the shows we've seen, I'd never actually seen him play on his own. My history with the Bowery Riots goes back a few years, and I'd last saw the guys together at Mercury Lounge. Justin Dean was billed on the East Village Radio showcase, a night of acts hosted by none other than Andy Rourke. Slagle and I headed straight to the front, joking with the couple up front, both of whom were miming "There Is a Light That Never Goes Out" just as dramatically. Justin hit the stage, as cool as ever, and totally blew my mind. Without the accompaniment of the Riots' horn section and riotous backbeats, he is subdued. Displaying a voice both quiet and hurried, his solo style boasts a Woody Guthrie sentiment with the lyrical smarts of Joe Strummer. The pick-up shuffle of drummer Brandon Collins blends Justin Dean's harmonies together in a melodic swirl. His will be the perfect LP for that perfect night, whatever yours may be. We headed straight out the Delancey after, where Traci met us for a night of Britpop (yes, more Smiths). It was a great night in the LES and reminded me of my first months in NYC, when it was all about shows and the sunrise…
Toronto Trash…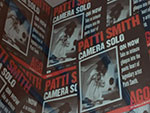 My second big journey up north had only one objective - Patti Smith! "Camera Solo", a photography exhibit featuring Patti's work and personal articles, debuted February 9th and after a month of waiting, I finally made it to the Art Gallery of Ontario. Upon entering the stark space, I was greeted with Rudolf Nureyev's slippers, delicately displayed in a rolltop desk not unlike Robert Mapplethorpe's. Patti's Polaroid Land 250 sat next to the slippers. The room's centerpiece was a reproduction of Arthur Rimbaud's litter, in which he was carried after his death. The poet's last journey took place on a stretcher as delicate as fishing net. The room held tiny photographs of a bible in the Glasgow Cathedral, Baudelaire's headstone, Frida Kahlo's dress, and Patti's children, Jackson and Jesse. I beamed inside, knowing I had pictures of many of these things. I'd also walked through Paris's Pere Lachaise and Montparnasse cemeteries, photographing tombs and leaving tokens at headstones. But I truly stopped in awe when viewing three things. First was Patti's worn copy of Rimbaud's "Illuminations". I knew this was the copy she'd taken on her first trip to Paris with her sister, and I knew inside it would be lined and inscribed with Patti's calligraphic handwriting. Second was Robert Mapplethorpe's marble cross, which I knew hung over his mantle and of which he'd taken his famous photographs. Third, and perhaps the most powerful, was the totem created for Brian Jones. I knew Patti and Robert made this together, gluing pieces of wood and feathers, dreamcatchers, and lettered odes, as a tribute to Jones. Here it was in real life, not just a photo in a book. The talismanic properties of these effects cannot be denied, as it's a way to keep the departed with you at all times. A coin, a frame, a bracelet, a ticket stub – I also assigned to these a hint of magic. I'd love to have that conversation with her. It was such a beautiful day and I walked out seeing things around me in a different way. Isn't that what Patti does best?
Thirsty for More?
March is here and it brings, hopefully, a touch of spring to this frigid city. Next month brings not one, not two, but THREE Nick Cave shows for yours truly. First in Boston, then two Bad Seeds shows at NYC's Beacon Theatre. "Push the Sky Away" might be his finest collection of ballads yet. But Nick's specialty is transforming a gentle recording into a violent assault onstage. I can't wait to see what he does with the "Higgs Boson Blues" and "Jubilee Street". It'll be a Trash for the record books! Stay tuned!
Stay Thirsty.

Link: