By Carolyn Schuster
Seattle, WA, USA
---
Clearly Beloved: "Mesopotamia"
What is it about Seattle that amasses so much creativity? Maybe it's the welcoming and easy atmosphere that finds Dave Matthews eating burritos with his kids in a nondescript neighborhood café or catches Macklemore shopping Capitol Hill thrift stores and being inspired by them. Or maybe it's just the everyday that becomes a source where artistry meets the throb and pulse of life being lived. Seattle has undergone many transitions and its music and visual arts have expressed those changes in ways that captured imaginations and changed cultures. Jimmy Hendrix gave way to Jerry Cantrell's Alice in Chains and then Grunge reverberated its distortion-filled guitar work into our mainstream consciousness. Alternative rockers like The Foo Fighters then tempered the angst-filled sounds to offer a new evolution in musical expression. The ebb and flow of creativity continues to be transformative in the Emerald City.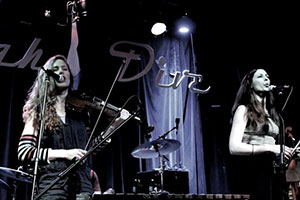 Clearly Beloved in concert
In this nurturing environment, the musical group Clearly Beloved has emerged to offer audiences a creative process that blends music with the visual. Born from a classical background, the five-member group has taken live concert performance to a new level where the aural meets the visual and tactile, creating a total sensory experience. Clearly Beloved was formed by a collaboration of musicians inspired by their art and bonded by genuine friendship. Recently, Jennifer Smith and Katie Corcoran of Clearly Beloved sat down with us to share their vision and passion for music, art and relationships.

STAY THIRSTY: How did you two meet?
KATIE CORCORAN:  We met at youth symphony where we both played the violin. Our relationship continued on in school where we majored in music along with band member, Brenden Smith. Later we hooked up with Andy Stockton (drums) and Robert Reis (bass).
JENNIFER SMITH: I started playing violin when I was in 5th grade. I continued to pursue my studies with the violin in college, studying with Prof. Carrie Rehkopf. I graduated with a BA in Music, married Brenden and moved to Seattle to start a family and a band. Brenden and I went to the same elementary school together, but we didn't really get to know each other until junior high. In junior high we were placed in the same string quartet so we really bonded playing music together.

STAY THIRSTY: So your background is solidly classical. How does that translate or affect your current less formal musical style?
KATIE CORCORAN: Our genesis musically meant integrating classical technique with performing and presenting in a live show.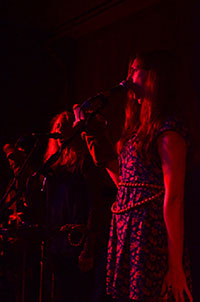 Clearly Beloved in concert
JENNIFER SMITH: We've performed in a classical setting and transitioning to a less formal setting with a different sound and mix has been the challenge. You know, so much of what we learned from our teachers in playing classical music has carried over to the way we perform now–you're always taught to look for the character of the piece or the theme and try to convey it to an audience who may not be familiar with that particular music. It's important to do that with the music you play in a band too, because ultimately you want people to get the feelings you're trying to share. The most difficult part about transitioning between the two is really, for me, the physical space that is so different–you're taking instruments that were meant to be played acoustically and running them through a soundboard so that the monitor is where your sound is coming from instead of right under your ear. It's kind of disorienting but at each show we learn something new.
KATIE CORCORAN: The energy in classical versus a less formal setting is so different; classical being a way of performing with an emphasis on nuances where every note is noticed, sort of a contained precision.
JENNIFER SMITH: We want people to be connected, part of it. We want to escape together, inviting the audience into sharing the journey with us–sharing and celebrating.

STAY THIRSTY: How would you describe the music that has developed through your collaboration, and who also influences your work?
KATIE CORCORAN: When Jenn and I were in school we went to Leavenworth [an alpine village in the Cascade Mountains of Washington] where we were exposed to the music of violinist Darol Anger. We saw and heard him and said, "That's what we want to do!" He pushed our fiddling to the next level–Gypsy, Bluegrass, Blues. He fiddled in a percussive way that we had never experienced before. Our music incorporates our violin work in these various ways.
JENNIFER SMITH: Our collaboration is a union of individual sensibilities in each member. The influence for our band can be found in an incredible array of genres–rock, metal, Irish folk, and of course, classical. One of our members plays in a metal group and another in a rock band.
KATIE CORCORAN: We are influenced by so many artists–SufJan Stevens, Tom Waits, Ani DiFranco. Even Roger Miller and Frank Zappa are just a few examples.

STAY THIRSTY: Roger Miller?
JENNIFER SMITH: We could sing the songs of Disney's "Robin Hood" from beginning to end.
Clearly Beloved: "Captain!"
KATIE CORCORAN: I love Ani DiFranco. Her lyrics are so rhythmic. She has an ability to capture a scene perfectly in words. Her imagery is astounding to me, so much more than most artists.
JENNIFER SMITH: The list of people who have inspired us is very long. I can show you sections of our music that have been clearly influenced by Bartok as well as portions that have been strongly influenced by Roger Miller and just about anything in between. And of course there are many non-musical things that have inspired us from writers like Tove Jansson and Umberto Eco to film makers like Terry Gilliam and Federico Fellini to visual artists like Banksy and Salvador Dali to other things like stonemasonry, Norse mythology, nature, etc. Essentially, art-begets-art and we love being inspired by anything and hopefully inspiring others in the process.

STAY THIRSTY: If you were to describe your musical style, what would it be?
JENNIFER SMITH: The most succinct summation we've come up with is: highly-theatrical avant-folk.

STAY THIRSTY: What led you to solidify your group collaboration and perform regularly?
KATIE CORCORAN: Originally, we created and played for family and friends, but a show at The White Rabbitended up being so much more and we were surprised at the response from the public. We wanted to create a collage where the visual, verbal and emotional textures the musical. Our original idea was simply to present a huge celebration, a party.
JENNIFER SMITH: Our secret goal of every show is to make everyone feel like they are gathered around a huge wooden feasting table. We are still trying to figure out the best way to do this.

STAY THIRSTY: The level of inspiration in the audience is palpable. One person leaving the concert could be heard saying, "I want to go out and create something." Besides the music, what seems to inspire the audience?
KATIE CORCORAN: Our key to the creation and flow in the continually changing process is our mutual trust and respect. Love and friendship shows. We write the lyrics and take them with snippets of musical ideas to the others.
JENNIFER SMITH: Brenden majored in composing. He orchestrates the inspirations. He, along with Andy and Bobby, re-imagines the music, fleshing out the bits and pieces to create a fully-realized song.
KATIE CORCORAN: It is an ultimate compliment to inspire. We want a contagious inspiration.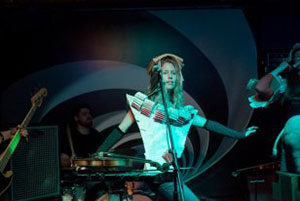 Clearly Beloved in concert
JENNIFER SMITH: Sometimes inspiration comes just prior to a show for the props or unique musical embellishments. We use a smattering of instruments to create texture and accents to evoke emotions. They are small nuggets…
KATIE CORCORAN: …you fill your basket with nuggets, then create something satisfying.

STAY THIRSTY: Your use of props is such an integral part of the performance, share a bit about them.
JENNIFER SMITH: I make most of the props and we revel in the awkwardness of less than perfect props.
KATIE CORCORAN: For our song, Paper Tango, Jenn created costumes for her and I out of books spines and pages.

STAY THIRSTY: Were props and interactive audience participation an original part of performing the songs?
KATIE CORCORAN: Our goal has been enhanced storytelling and audience participation was a byproduct of that intent.
JENNIFER SMITH: We are moving towards more theatrical performing and are excited to see where it goes. We are exploring more visual aspects.
KATIE CORCORAN: We want to surprise the audience each time with something new every show.

STAY THIRSTY: What is in the works for Clearly Beloved?
JENNIFER SMITH: We have two videos finishing up, Carrier Pigeon and Dear John. The shooting is completed on both of them and they are being released soon. Our future plans are vast! Currently we are developing an idea for a multi-media stage show based upon an original neo-fairy tale. We're also looking at doing our first West Coast tour this summer, recording a Christmas EP to be released later this year, applying to play at summer festivals, and hopefully recording another full length LP, more tours, more art, more life and less sleep.

STAY THIRSTY: Any words of wisdom for aspiring musicians and artists?
JENNIFER SMITH: There is a world of people out there who are trying to get you to compromise your art, to sell yourself short, to change your vision to fit their world. Likewise, there is a world of people out there who are trying to get you to flourish, to ask the hard questions that enable you to grow into the artist you were born to be, and to find out how your vision can change the world. Get to know the difference between these people.
Editor's Note: Clearly Beloved had a successful Kickstarter campaign to raise the funds necessary to record their self-titled debut album, the city i am building is for you.

Photo credits:
Cover art photo: Andrew Lynch
Concert photos: Courtney Martin

Link:
All opinions expressed by Carolyn Schuster are solely her own and do not reflect the opinions of Stay Thirsty Media, Inc.