#44 - TORONTO EDITION
By Sarah L. Myers
Editor-in-Chief
New York, USA

It's my favorite New York City bar, my favorite New York Dolls song, and now it's my favorite way to get trashed.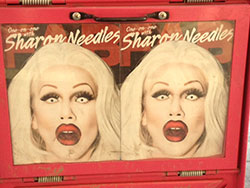 Canada is one of those places I thought I'd get to eventually. Nothing in particular drove me up north, where I'd surely find even crueler weather than Chicago's winters. But I fell in love with Toronto the second I checked-in to the hotel. It was like the offspring of New York, Chicago, and Paris - New York in that it was a new city to explore, Chicago for its cleanliness and hometown pride, and Paris for the rolling French. I spent an incredible week in my new favorite city making friends. My only regret was leaving town before seeing the spooky Miss Sharon Needles, who flew in on her broom for a one-off performance. That's a column I'll get to eventually, as well!
God Save the Queen (Street West)…
The stretch of Queen Street running through Toronto might as well be Las Vegas Boulevard. But instead of casinos and hotels, the street boasts miles of vintage stores, tiny cafes, pubs, and poutine and crepe shops. I checked-in to the Gladstone Hotel, the oldest hotel in Toronto, built in 1889, that reminds me of the Chelsea. The hallways are decorated with paintings and photographs from local artists. The Zeidler family, who employed late folk hero Cowboy Hank as the elevator operator, made me think about the Chelsea Hotel's proprietors, the Bards. There's a story to be written there, and I can't wait to further dig through this landmark's history.
After check-in I was promptly directed to the hand-operated elevator, which took me up three floors to my artist-decorated room - the "Teen Queen" suite. Upon opening the door I was greeted with Tiger Beat and Bop posters of Scott Baio, Tom Cruise, Rob Lowe, and Ralph Macchio. The dollhouse fixtures included a beautifully restored chandelier and unicorn bedside lamps. The gilded wallpaper and clashing patterns lent a Vivienne Westwood type of charm to the place. Who would ever stay anywhere else when gems like this exist? I unpacked and set out for my first taste of the city.
Cowboy Mouth Trash…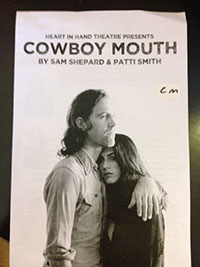 Sometimes having no plan is the best plan. I knew no one, had a few circled guidebook pages, and grabbed a local "NOW" magazine to check out that night's local music scene. I quickly jumped at The Painted Lady. Looking like a cross between NYC's Otto's and the Double Down, the burlesque inspired rock n' roll bar hosts local bands such as Lily Frost, whom I had the pleasure of seeing perform. Lily is simply charming and sings perfect, sweet pop songs in both French and English. I flashed right back to being in Paris, surrounded by friends in a tiny room lit with twinkling lights. I'd had a great conversation about Nick Cave with some strangers at the bar, and I quickly learned Canadians are the most approachable people I've met.
Earlier that night I'd raced down to Cameron House for a showing of Patti Smith and Sam Shepard's "Cowboy Mouth". Thirsty readers know my affection for Patti runs back to the days "Please Kill Me" (that would be age 14!) and my first book of her poetry. I've written about "Just Kids" countless times, and meeting her remains one of the best moments of my life. The play itself was phenomenal. Jessica Huras took on Patti's Cavale with an exact ferociousness. Jason Collett, a member of Broken Social Scene, played Slim - that coyote rock star with whom Patti was in love. It was touching, poignant, and hilarious, especially with the arrival of the Lobster Man. I'd only learned about the play hours earlier, and was literally the last person allowed in before the lights dimmed. Nothing's by accident, right? And the whole evening felt tinged with magic, just like the stories Patti has given us.
Thirsty for More?
I'll be reporting from Toronto on a monthly basis now so get ready for even more adventures! For the record, poutine is NOT for me (french fries with gravy and cheese curds), especially when topped with perogies and sour cream. Ironically, the poutine tots from Boston's Bukowski Tavern were delicious, as was the house margarita - as spicy as they come! There's so much to look forward to, not in the least are the two back-to-back Nick Cave shows in NYC. I'm headed down to Miami with Chicago Jen and a return trip to the UK is around the corner. Once I dig out from this latest blizzard, I'll have a lot more Trash to report!
Until then…
Stay Thirsty.

Link: