By Lenny Cavallaro
Groveland, MA, USA
---
Beethoven, Symphony #4 in B-flat Major -
3rd movement, "Allegro vivace"
Excerpt Courtesy of Sony Masterworks
To the extent that classical music may be said to have even a few "superstars" – and the notion is not altogether far-fetched – violinist Joshua Bell certainly appears to have achieved this illustrious status. The highly acclaimed artist has garnered numerous prizes and awards, including a 1986 Avery Fisher Career Grant, and was named "Instrumentalist of the Year" by Musical America in 2010.
Bell, who has more than forty CDs to his credit and now records exclusively for Sony Masterworks, performed on the soundtrack of The Red Violin, and helped the film (and composer John Corigliano) win an Oscar for "Best Original Score" in 1999. History may repeat later this month (February), this time for composer J. Ralph and the documentary film, Chasing Ice. The violinist and actress Scarlett Johansson performed Ralph's "Before My Time," which has received a 2013 Oscar nomination for "Best Original Song."
Joshua Bell (credit: Eric Kabik)
No discussion of Bell would be complete without mention of Gene Weingarten's Pulitzer Prize-winning story, "Pearls Before Breakfast" (2007). In what might indeed be viewed as a "social experiment about art and context," Joshua Bell played magnificently in the Washington, D.C. subway terminal, largely ignored by commuters scrambling to their respective destinations.
As remarkable as this violinist's career has been, Bell wears yet another hat. He now appears with the Academy of St. Martin in the Fields (ASMF), not merely as soloist, but rather as Artistic Director, the first American appointed to that position. This month marks the release of his first recordings in this new capacity, leading the ASMF in performances of the 4th and 7th Symphonies of Beethoven.
I caught up with Bell after his set of five appearances touring with the Cleveland Orchestra, and shortly before a series of solo recitals with pianist Sam Haywood.

STAY THIRSTY: Most people equate the notion of "conductor" with that character at the podium, stick in hand, and back to the audience. The Academy of St. Martin in the Fields has a "leader," who generally sits in the chair more commonly identified with "concertmaster." Of course, historically – particularly before the emergence of the conductor – orchestras were indeed led by the concertmaster. Do you prefer to conduct from the orchestra? What is gained – or lost?
Joshua Bell with ASMF (credit: Ian Douglas)
JOSHUA BELL: We should first reflect on what it means to "conduct." Basically, we refer simply to directing a group, and it is reasonable to assume there are different ways to do that. True, one may have a stick in one's hand, but one may also "lead" from the orchestra itself. When I sit in the leader's chair with the first violins, I often play as part of that section. However, in certain parts of the score – e.g., when the violins are not playing or are less important musically – I am also free to use my bow as a baton, or even to employ my left hand. Moreover, I don't always play along with the first violin section. Sometimes, I actually conduct while the orchestra is playing. Effectively, then, I have more or less found my own style of going back and forth between the two.

STAY THIRSTY: However, that must require additional preparation.
JOSHUA BELL: True. I generally need to make the decision ahead of time as to which sections of a given work will benefit more if I "conduct," and which might work more successfully if I "lead." To me, this is all part of a very natural, organic way of doing things. When I play along with the orchestra, in many ways it seems easier to convey various sorts of cues than if I used a stick. By way of a quick example, just consider that familiar baton with the imaginary downbeat line in mid-air. I believe it is often considerably easier for the orchestra to follow the placement of the bow on the string. So in that sense, something may indeed be gained by "leading" the orchestra in the older style.
Of course, these comments apply to the performance. What a great many people don't realize is that 90% or more of the leader's – or conductor's – work arises within the rehearsals and in the preparations that precede them. Long before the concert, the leader must determine which choices to make, what must be conveyed to the orchestra, and decisions about articulation, the pacing of the piece, etc. All of these things, and countless others that will come into the process of shaping the final product, arise during the rehearsals, and they certainly don't depend on whether one plans to sit (lead) or stand (conduct) during the actual concert!

STAY THIRSTY: True, but the conductor does have one obvious advantage – access to the full score. You surely can't carry anything that cumbersome to the concertmaster's stand! Doesn't this decision – to "lead" – more or less oblige you to conduct from memory?
Joshua Bell (credit: Bell family)
JOSHUA BELL: It does. Of course, that doesn't mean that one must be able to write out the entire score from memory.

STAY THIRSTY: It is alleged that Toscanini, with his photographic memory, could actually do that, ink-stains and all!
JOSHUA BELL: Well, it's not necessary to go to that extreme, but I feel I must know the score well enough to conduct it from memory. Indeed, I shouldn't really need the printed music. In fact, it would actually terrify me to have to rely on having the full score in front of me as I tried to conduct. Those pages go by very quickly! So, in the long run, I may not have a vast repertoire of orchestral works I can conduct, but I expect to do them all from memory. Of course, having said that, I must add that I am constantly going back to study the score, and I always have it with me during rehearsals.

STAY THIRSTY: How does the ASMF perform during those stretches of time when you are off on tour as a violinist?
JOSHUA BELL: We have a number of guest leaders. These include Murray Perahia, the great pianist, who works with them quite often, although we have several others as well. In fact, one of the nice things about being music director is that I get to understand the type of artist they want, and if I come across a good conductor during my travels, I can suggest a guest date with the orchestra. I am certainly not planning to lead them through their entire schedule, and I should add that the days of the music director who does all of the concerts are long gone. Guest conducting is now far more common than it ever was.

STAY THIRSTY: This leads us to a related point. You have clearly remained very active as a violinist. I certainly haven't read anything about your retirement!
Beethoven, Symphony #7 in A Major -
2nd movement, "Allegretto"
Excerpt Courtesy of Sony Masterworks
JOSHUA BELL: That's true. When I accepted the appointment as music director, many people wondered whether I had effectively stopped performing as a violinist. Obviously, I still have my solo career. Moreover, when I appear with the Academy, I also do concertos, so it's effectively double-duty: "lead" through the symphonic/orchestral program as well as my own solo appearance. It is much more work, but it is very satisfying artistically.

STAY THIRSTY: I can imagine. But speaking of concertos, I notice that while you have many appearances with orchestras, you also have a large number of recitals. Of course, there was a time when violinists and other soloists gave dozens of recitals each season. Now, however, they seem to play concertos with orchestras far more often.
JOSHUA BELL: I try to do as many recitals as I possibly can, because for me recitals and chamber music offer us the most intimate and important works one can present. Unfortunately, many of the great series have gone by the wayside in recent years, and this is an enormous loss. Nevertheless, I told my management, "The more you can balance my schedule with recitals, the better." This is because I love going out on stage with just a pianist and doing an entire program of very different pieces. In this way, I feel I'm giving the audience an entire meal, from appetizer to dessert. I also find it very gratifying as an artist – better than just coming in, doing something like the Bruch concerto, and leaving. Of course, the concerto is enjoyable and exciting in its own way, and there are certainly some great works in the repertoire, but a recital can be deeper, more satisfying, and more artistically rewarding.

STAY THIRSTY: You are touring with Sam Haywood this season, and you recorded the highly acclaimed CD, French Impressions, with Jeremy Denk. Is it difficult to work with different pianists?
JOSHUA BELL: Well, basically it's a question of learning how to feed off someone else's sensibilities. One tries to find partners with whom one shares certain musical values, since otherwise one may rue the day! Indeed, there are a number of great pianists out there whom I very much respect, yet I know that if I tried to perform with them, it would be a disaster. We could simply never see eye-to-eye about the interpretations.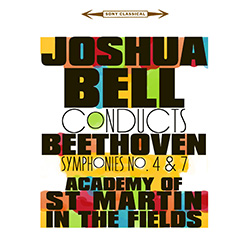 Jeremy Denk and I have really great chemistry. What I like about him is the huge amount of visceral energy he puts out on stage. He gives everything he has at every moment, and I find it very inspiring. I look for a partner who does that. Of course, Jeremy is very busy now; his solo career is really taking off, and I'm absolutely thrilled for him. Nevertheless, it has become more difficult to ask him to block a month out of his schedule for joint recitals.
However, I was very happy to discover Sam Haywood, who is an absolutely wonderful pianist. I encountered him in London, and we played together, really "hitting it off" musically. He, too, is a very sensitive artist. I find that each person brings out different qualities, and I enjoy the whole rehearsal process with a pianist who makes me think about the pieces in a fresh, new way. It is always interesting, and this is true with Sam, just as it was with Jeremy.

STAY THIRSTY: I've taken a look at your program, which lists great works to be sure, though not the more familiar "war-horses" – e.g., the Frank, the Faure, the Brahms d minor, or Beethoven's "Kreutzer." You're performing one of the Schubert sonatinas, the Sonata in E-flat, Op. 18, of Strauss, and Prokofiev's Sonata #2 in D Major, which was originally written for flute. How did you decide upon this repertoire?
JOSHUA BELL: The program centered on the Strauss. I try to put in one major work I haven't done whenever possible. Although I was never a huge Strauss fan, this is a piece I have considered for a long time. Now, I should explain: Strauss wrote many great orchestral works that I enjoy, but which I probably wouldn't bring with me to a desert island. However, I have completely fallen in love with this sonata, and I think it's one of the most beautiful compositions for the instrument. In fact, I rate it right up there with the Franck and the others. I started performing it in the fall, and I am most excited to be revisiting it in the spring.
Once I had made the decision on the Strauss, I started filling in the program. Schubert sets the stage with his melodies – and, I suppose, Strauss just "goes over-the-top" melodically.

STAY THIRSTY: Talk about "over-the-top"! No one could spawn melodies the way Schubert did!
JOSHUA BELL: He is in many ways my favorite, perhaps the most beautiful composer of all as far as his melodic sense. He grabs the listeners from the moment he starts, and he takes us into another world of beauty. I don't think any other composer could do so the way he did, in terms of melody and atmosphere. 
Joshua Bell
(credit: Lisa Marie Mazzucco)
Actually, I have done a lot of Schubert – his chamber music and most of the violin pieces. However, I'll be performing the Sonatina in A Minor for the first time. On the page – technically, that is – it really isn't difficult when one looks at it. However, to play it well musically is an enormous challenge, because there is so much substance, so much potential beauty, and we must strive to do it justice.

STAY THIRSTY: And then there's the Prokofiev. It was originally conceived for flute, but the composer rearranged it for violin, at the prompting of the great fiddler, David Oistrakh. Moreover, there are even successful versions for clarinet and bassoon. Which is the "definitive" sonata?
JOSHUA BELL: Well, with all due respect to the other arrangements, just let me say that it is an absolutely fantastic work for the violin! It goes really well on that instrument.

STAY THIRSTY: And I'm sure you'll do a magnificent job with it! For my final question, I'd like to return to the Academy of St. Martin in the Fields and your recording of the 4th and 7th. Are you indeed planning to record all nine Beethoven symphonies?
JOSHUA BELL: Well, it's a vague goal, and something I'd very much love to do, although nothing is formally planned. This year, we're performing the 5th, and we'll do the 3rd ("Eroica") next January. After that, I'll live with them for a while, and when I feel ready to record, perhaps we'll try the 1st and the 5th in the next album, because I have done the former a number of times. Then, when I feel ready again, we'll go on to the "Eroica."

STAY THIRSTY: And eventually?
JOSHUA BELL: I doubt the 9th Symphony will come any time soon. It is a formidable challenge, and it will definitely take a while. And for that immortal masterpiece, I may actually feel more comfortable standing on the podium.

STAY THIRSTY: Hah! A "conductor" and not a "leader"?
JOSHUA BELL: As the situation demands!
---
Although no longer a music critic, I feel compelled to append a few words about the CD. I was privileged to review the advance copy, and I was most favorably impressed by the performances of both symphonies by Bell and the Academy of St. Martin in the Fields. While this is not the forum for a detailed critique, I should point to the rich, symphonic timbre in the third movement of the 4th Symphony, the energy and internal urgency of the following movement, and wonderful dynamic motion throughout the 7th Symphony. Of course, Joshua Bell has already established himself as top-tier violinist, and he is also a splendid leader – or, (dare I suggest it?) conductor!

Links:
Lenny Cavallaro's Profile at Stay Thirsty Publishing
Lenny Cavallaro - Composer and Pianist
All opinions expressed by Lenny Cavallaro are solely his own and do not reflect the opinions of Stay Thirsty Media, Inc.