#43
By Sarah L. Myers
Editor-in-Chief
New York, USA

It's my favorite New York City bar, my favorite New York Dolls song, and now it's my favorite way to get trashed.
The Year in Trash: 2012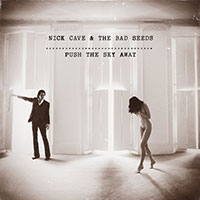 It certainly seems true that each year the adventures just keep getting better. In some ways, I'm wondering how 2013 can possibly top the past twelve months. There are still a few goals to check off the list, of both the personal and professional persuasion, and one main rock n' roll dream that continues to evade - interviewing Nick Cave. The Bad Seeds emerge with a new album in February, and yours truly has already scooped up tickets to both NYC appearances. Get ready, Thirsty ones, when this interview happens you'll feel the rumbles across the globe!
Winter Trash...
The Buena Vistas (AKA the gang) watched the ball drop from 31 floors above Times Square, kicking off a month of nonstop traveling and a year of surprises not even I could've imagined. We threw on our best sequined mini-dresses and most offensive furs for the 2012 Bowie Ball, closing out the night dancing to "Young Americans" on throbbing, platformed feet. The Ball continues this year, which means yet another morning of exclamations like "Did I make out with that English guy?!" and Johnny trying to get us all off the couch for brunch. No sooner had I recovered and it was off to Vegas for a birthday celebration of all things Elvis and gold-plated. I tried desperately to gamble, yet came away with nothing but vouchers for $.68 or less. When did slot machines become so complicated? Erin and Sammy were along for the ride, and we hit every hotel on the strip for the legendary buffets to refuel. I savored that first step into the Aria, then ran straight to the gift shop for a gold TCB necklace. Only a trip to Graceland (another 2013 goal) can satisfy my Elvis craving, but Aria came close!
Spring Trash...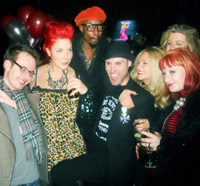 Betsey Johnson party
March kicked off quietly enough, just Fashion Week and the debauchery of Betsy Johnson's after party! I'd spent February traveling around with Derek, adventuring around D.C. and Baltimore, and our evening with the Kills in Boston was one I'd repeat every night if possible. Dancing to the Violent Femmes with Alison and watching Bobby Conn YouTube videos with Jamie? Brilliant. April brought "Blunderbuss" from Jack White, giving me a new anthem in "Sixteen Saltines". I jetted off to the UK for nearly two weeks, making wonderful new memories with a great group of friends. Pete, Alice, and Rory are my UK gang, and the four of us knocked out Oxford (punting with Pimm's), Cambridge (first in the pub for happy hour), Sunday lunches, Spitalfield's market, and Camden (new tattoo on the ribs for me!). I took the train to Scotland, admiring the beautiful scenery of rolling hills filled with lambs. I learned I can't row, but our ride along Loch Lomond was great all the same, especially with a menacing storm rolling in behind us. I'd only just gotten back to New York when Stephanie and I took in a night of Alan Vega at Bowery Electric. His short set of "Cherie" and "Dream Baby Dream" had me in tears, yet I composed myself enough to ask him for a photo.
Summer Trash...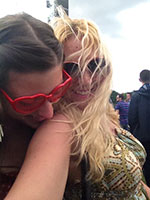 Stephanie and Sarah at
Heaton Park
I had the best summer of my life in 2004. I had the second in 2012. Stephanie and I took the trip of a lifetime for the reunited Stone Roses in Manchester. "Singing 'Made of Stone' that night, off key, with a sea of people, was indescribable. I only wish the show had come at the beginning of our trip, as 'I Am the Resurrection' coincided with us hitting the physical wall. It was the end of our marathon and our legs gave out. The sky exploded into fireworks as a friendly Mancunian walked us to the nearest Metrolink, sending us off for three short hours of sleep before boarding a 5am train back to London. The next morning's cab ride took us through Burnage at sunrise, which cast a warm glow on the squat, red-brick buildings of Liam and Noel's hometown," I wrote back in August. I fell a little more in love with the UK that trip, turning something over in that "I really could live here" place inside. Our visit to Paris took us to Serge Gainsbourg's apartment, the Sainte-Chapelle, sunset at the Sacre-Coeur, a night of rose with new friends, and a Ferris wheel ride overlooking the Louvre. "The Left Bank, with its cafes, bookshops, and winding streets, reminded me of the West Village. I thought of Fitzgerald sitting there, Picasso sitting over there, and Rimbaud stabbing Verlaine inside there. I put the whole of Montparnasse in a mental diorama and watched it all play out." I'd never felt so far from home. New York didn't matter. I was thinking of the journals I'd filled back in Indiana, dreaming of visiting these incredible places. My best memories are smelling the roses outside the Notre Dame, and picking tiny flowers in the park for my locket necklace.
Fall Trash...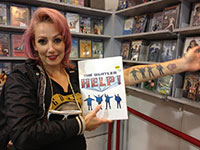 Scarlet
Ironic that I welcomed fall WITH a fall, from a horse specifically. A picturesque ride through the forest of the Poconos ended with me in the hospital in Pennsylvania. Only ten days earlier I'd been swinging from the ropes at trapeze class in Chicago, so I couldn't believe my bad luck. My concussion laid me up for a couple of weeks, long enough to compose my favorite Trash of all time - Ryan's favorites in Chicago. We find new ways every year to deal with the season, and I loved looking back on the laughter. This past year has been full of it. I lost track of the days in San Francisco with my Scarlet, and had the pleasure of sharing smiles with Patti Smith in Union Square. My signed copy of "Just Kids" now sits on the Special Shelf, right next to my signed "Virgin Suicides".
So now what? Bowie Ball is just around the corner, Black Rebel Motorcycle Club are back, and "Push the Sky Away" is days from release. I'm not sure what's better than that right now. Then again, the mofongo in San Juan could easily be added to that list.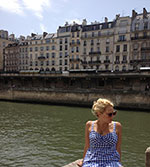 Stay Thirsty! Until next time...

Links: