By Robert Wolf
Decorah, IA, USA
---
Background: In 1963, at age 19, I went to stay in Duran, New Mexico, a tiny Mexican-American village in the high plains. I was the only Anglo in town, but soon became good friends with Manuel Chavez, a man perhaps twenty years older than I.
Robert Wolf
Manuel's father was part Apache, a drunk who periodically arrived unexpectedly in Duran. When Manuel was young his father often beat him and even now threatened Manuel whenever he came to Duran. Manuel, when I first met him, was in his early forties and still lived in fear of his father.
I began to know Manuel during the days when he and I and the older men of Duran sat in Kasim's store drinking coffee and smoking. The old men teased Manuel. They teased him, I think, because they could get a rise out of him and perhaps because he looked different from most of them. His was dark and wore glasses with thick lenses and his upper teeth protruded.
Manuel also limped. He had been in a highway crash, in a pickup driven by a friend. The pickup's cab had been nearly destroyed and Manuel's right leg had been shattered and was now held together with pins.
There was nothing else for the old men to do except sit around Kasim's store. Like the town itself, the people of Duran just hung on.
It had not always been so. The Southern Pacific Railroad had tracks running south from Vaughan past Duran, paralleling Highway 54. Years ago, Duran had a Southern Pacific roundhouse for engine and car repair. The roundhouse had been torn down long ago and all that now lay beyond the Southern Pacific tracks across from Duran were an abandoned two-story mercantile store and a gravel road that led from Duran fifteen miles to Estancia, another wisp of a town. Once the roundhouse was torn down, Duran began dying.
By 1963, the three operating businesses in town were the post office—a small stone building—Kasim's general store, and Sam Hindi's bar, which was open only on Saturday nights, and then only occasionally.
The Hindis were Lebanese and had arrived in America in the early twentieth century, before the First World War. They raised sheep and were said to raise the finest Arabian horses in America.
Kasim was uncle to Sam and Brahaim Hindi. Brahaim was in charge of the Hindi ranch. I saw Sam only on Saturday nights at his bar and Brahaim but seldom, and at a distance, in his pickup.
Most of the men and boys from town came to Sam's on the Saturday nights he was open. The women did not come to Sam's.
For Manuel and I, Sam's bar was where we had the most fun of the week. Manuel was not supposed to drink but he did, but only once a week, whenever Sam's bar was open. He was not supposed to drink because he had a bad stomach and always suffered the next day. One early morning, after a night at Sam's, Manuel was outside the trailer, splitting wood. He felt miserable. He put down the axe, and retched. A woman saw this and told him, "Why don't you drink some more, so you can throw up again?" Neither of us knew how to drink cautiously, slowly. We would each buy a quart of beer, and when we finished that, buy another. We drank them steadily.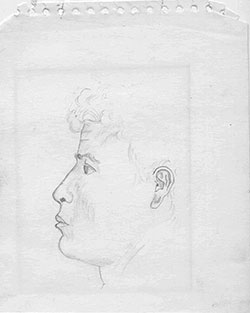 Sketch of Trinky Chavez by Robert Wolf
Sam's bar had a pool table. Manuel and I were miserable players but we loved the game. We were such miserable pool players, especially when we had drunk too many quarts, that everyone in the bar watched us, shouted comments and laughed. I think watching us play pool was their big kick of the week. Even kind-hearted, fat Memo roared with good-natured laughter at our antics at the pool table.
All the men and boys from the Chavez family came. The Chavez kids, Trinky and Jimmy, and their friends, including the twenty-some-year-old Herman who was crippled in one arm, hung together in the evenings and came to the bar on Saturday nights.
Frank Chavez, in his late twenties or early thirties, was the eldest of the Chavez boys. Unlike his brothers, Frank was quiet and serious. He was married and lived with his wife on the edge of the village. He came to the bar.
Polonio, the town postmaster, a jolly man with a paunch who was called Porky by the boys, would come. His brother, Anastasio, a somber-looking man, also showed up. So did Memo—big, kind-hearted, fat Memo.
If Manuel hit one of my balls into a pocket, someone would shout, "Hey! Manuel! Wrong color, primo! Get yourself a new pair of glasses!" and everyone would roar and cackle. Manuel did have thick glasses.
"That man is blind!" someone would say.
Depending on his mood, Manuel might turn and smile or else might say, "Eef you think you can do any better, les see you!" which made the men slap each other and cackle even louder.
With two beers Manuel became light-hearted. After three he began walking unsteadily. He would get soft and cry. Anything might set him off. Almost as much fun for the men as watching us play pool was to say something that would set Manuel to crying.
I began to spend time with Manuel at his tiny trailer, watching and later helping him cook simple meals of beef, potatoes and tortillas with powdered red chili. Manuel had stomach ulcers and could not eat hot peppers. If he ate a hot pepper he would hold his stomach and have to lie down. It was the same when he drank beer.
After Manuel and I cooked dinner in his trailer, we waited for the town kids and Herman to show up. Two of the Chavez brothers, Trinky and Jimmy, would come. Altogether there were about five kids, and nice kids they were. Tirnky though, an adolescent and five or six years older than Jimmy, was already becoming closed and angry. Many years later he would tell me how the family picked watermelons in summers moving about Texas and how they were treated by the whites and his anger would rise. From the time he was Jimmy's age he had known the humiliation of having to sit in a segregated section of a Texas movie theater. But my knowing this was not to be for many years, and for the time being in the evenings after dinner we all sat around Manuel's small woodstove in his tiny trailer, not knowing much about each other.
Although most everyone in Duran loved to gossip about everyone else in Duran, no one, not even the boys, asked me much of anything about where I had grown up. They had some questions, but they were not curious about what the town I lived in was like, what my people were like, and they did not care. But I knew little about any of them and never asked them to tell me about themselves and their families. The only man I knew anything about was Manuel.             

Links:
Free River Press
American Mosaic with Robert Wolf
All opinions expressed by Robert Wolf are solely his own and do not reflect the opinions of Stay Thirsty Media, Inc.