By THIRSTY
---
On November 30, 2012, a powerful testament to the strength of eight extraordinary and accomplished Latinas was published under the title of 8 Ways to Say "I Love My Life! by Arte Público Press, based at the University of Houston. Comprised of essays by eight trailblazing, professional Latina women, this anthology is meant to inspire women to overcome life's obstacles and lead happy, productive lives. Edited by Sylvia Mendoza with a Foreword by Grammy Award-winning Latina singer Vikki Carr, contributors include Latin Heat president Bel Hernandez Castillo, author of Real Women Have Curves Josefina López, Writers Nancy De Los Santos Reza, Margo De León, Laura De Anda, Susan Orosco, Joanna Ilizaliturri Diaz and Rita Mosqueda Marmolejo. THIRSTY was fortunate to interview three of these dynamic women concerning many important issues facing Latina women today.
Josefina López
STAY THIRSTY: Your new book 8 Ways to Say "I Love My Life!" recounts the powerful stories of eight remarkable Latinas who have overcome great obstacles to achieve happy lives. Is there still a cultural bias in the Latino family that holds women back?
JOSEFINA LÓPEZ: Let me start by saying that I came to this country from Mexico when I was 5 years old, born of parents who did not get to complete junior high school because they lived in the farm, and that I am an immigrant in every sense of the word. So when you ask if there is still a cultural bias in the Latino family that holds women back, I would answer that yes, but the hold weakens as Latinas become acculturated in U.S. culture. Latinas who were born here or have been here for many generations, they do have struggles in their families, but probably not to the extremes that I went through; I wasn't even allowed to sit with my father or brothers to eat at the table because men were considered superior and were always given preferential treatment and I was told that educating women was a waste of time and money.
SUSAN OROSCO: I believe the Latina is experiencing a struggle between her grandmother's archaic teachings of a woman's worth and her own inner awareness. She wants to be more than a wife, a mother or a possession. She wants to own herself, love her life and be her own hero. She wants to believe she can be complete without a man or the perfect body and material possessions. Her role model should not be the manipulated photos in magazines or on billboards.
Too often our culture teaches us that our value is in our home, family and marriage, but these are not the only things that truly define us. We have an inner awareness, and often an inner dialogue, that tells us otherwise. We cannot be fulfilled until that awareness is validated. Through that inner awareness you will learn who you really are.
NANCY DE LOS SANTOS REZA: Latino families and Latino cultures don't hold exclusive rights preventing women from living their lives fully. Past history, as well as current events, tell us that there's a bias in probably every culture that affects women throughout the world. Take a look at which gender dominates politics, business and religion. Males. Take a look at which gender suffers from lack of education and financial stability. Females. Women worldwide suffer from cultural bias in their own countries. The Latino culture has definitely designated certain roles for women to play: mother, wife and caregiver being the most prevalent, along with the Sexy Señorita and the Madonna Whore, but these roles are most likely similar to roles presented to women in Africa, India, Latin America, the Middle East and other areas.
I feel that the American Latina culture is leading the way for women worldwide to take responsibility for their lives and make positive, effective changes. Latinas, both American born and immigrants, are the fastest growing and leading economic force in the U.S. A recent study stated that Latinas are now placing getting an education and having a career before having children and getting married in that order! That's a major change in the way Latinas think about their lives. Cultural bias is being shattered by Latinas. American Latinas are taking active roles in their communities, changing the whole notion that they are submissive or being held back by anything or anyone. A generation or two ago, a cultural bias might have held Latinas back, but in our world today, in our country today, that bias has little or no foundation.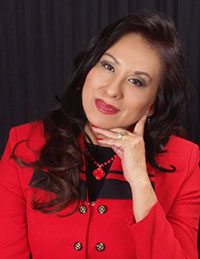 Susan Orosco
STAY THIRSTY: Your book resonates with stories of love, loss, realization, abuse, neglect and societal strictures. How difficult is it for Latinas to triumph over such obstacles?
JOSEFINA LÓPEZ: As far as emotional challenges go, I think Latinas are lucky that we have a sisterhood/comadrazo that allows us to triumph over the difficulties of love, loss, abuse and neglect. However, when it comes to challenging societal structures and the status quo, it becomes more difficult to get support because many Latinas suffer from low self-esteem. Actually Latinos and indigenous people suffer from low self-esteem because, for generations, we were physically and spiritually beaten so that our minds and spirits would be conquered as a systematic way of keeping us in "our place." So when Latinas challenge their assigned place at the bottom, we sometimes stand alone having the audacity to believe we belong at the table of success and at all tables where abundance is the norm.
SUSAN OROSCO: Latinos are conditioned to live with limitation. We are children of once conquered countries. Somewhere along the line our ancestors decided to be meek and hoped to inherit the earth in the biblical sense; but instead, too many of us settled for a meager living, no education and a cap on our dreams.
It is difficult to triumph over obstacles because our ancestors and our culture have raised us with an unconscious victim's mentality. But times are changing. We are talking about these issues. We are bringing sunlight to the darkness of our culture. Once exposed, these things can be confronted, challenged and healed. With a healed heart comes the power to overcome all obstacles.
NANCY DE LOS SANTOS REZA: It's as difficult for a Latina to triumph over heartbreak, loss, abuse, neglect and societal strictures as it is for any woman to triumph over these obstacles or any kind of societal constraint. It may be even less difficult for American Latinas because of the many opportunities offered in our country. Racism and prejudice do exist in our lives, but if you have strength, gumption and tenacity, no one can hold you back.
We choose the wrong guy for the wrong reasons as much as the next African-American woman does or the next Asian-American woman or the next Anglo woman. Latinas fall in love like all other women and succeed or fail in realizing their best lives just like other women. Yes, we have a different set of life experiences in some areas, but globally, women are probably more alike in general than we are different. Granted, Latinas may have certain unique boundaries drawn around us by others, boundaries that are set in place because of perceptions of what we can and can't accomplish, but Latinas are constantly breaking through those walls and creating enormous successes in all aspects of our lives.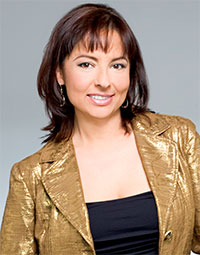 Nancy De Los Santos Reza
STAY THIRSTY: The recent Presidential election gave America a glimpse of the concept that "demographics is destiny." It is estimated that by 2050 nearly 29% of the US population will be of Hispanic origin. Does that mean Latinas will have more opportunities to play a bigger role in politics and business or will "the old ways" block their progress?
JOSEFINA LÓPEZ: Hmmm, according to Dr. Hayes Bautista by 2032, 50 percent of the U.S. will be Latino. Yes, I do think Latinos are finally at a time in history where we can no longer be ignored. Yes, Latinos will play a bigger role in leadership. I'm sure the Republican Party is already thinking Rubio has to run for President so they can split the Latino vote.
SUSAN OROSCO: I think it will take time to completely undo "the old ways," but we will succeed. Especially the newer generations that are more Americanized and are witnessing other Latinos succeed. This is something the older generations were scarcely able to witness.
Our future as Latino-Americans is looking very promising. Many of us are conquering our fears and are seeking education and advancement. I believe Latinos are an amazing combination of both the conquered and the conqueror. Both bloodlines run through our veins and we have the potential to master either side. I think we are learning to use the mind of the conqueror by first conquering our fears.
NANCY DE LOS SANTOS REZA: I don't think today's American Latina even knows that "the old ways" exists. I would hope that today's generation of Latinas are made aware of the sacrifices and strides made by the generation before them in order for them to have all the opportunities they do now. On the other hand, it's terrific that today's Latina doesn't let anything hold her back. Latinas are involved in politics, business and education in growing numbers and these numbers will only continue to grow.
We are all trailblazers forging our own paths. You want to write a book? Write it and publish it yourself. You want to make a movie? Get your cell phone out and do it. You want to get an education? There's a way to make that happen. You want to find true love? Pay attention to your inner voice and it will let you know when that person enters your life. You want to run for public office? Get involved in your community and start building your base. The opportunities for Latinas are limitless. Our strong work ethic makes success even more attainable. This doesn't mean that it's easy to accomplish all our goals, but it does mean that we can lead happy and productive lives.

STAY THIRSTY: Major issues face the Latino community ranging from immigration reform to healthcare to public school education. What advice do you have for young Latinas who want to get involved and make a difference in the coming years?
JOSEFINA LÓPEZ: A leader is a person who sees a possibility for a community. So Latinas must be bold in communicating the possibilities they see for their communities. They must learn to not take it personally when someone questions their credentials...and be so inspired by their possibility that the fear of not being the perfect person with all the right credentials becomes so small and insignificant. The other thing is that I would remind them that they do not need permission to be leaders or for anything else. When a person realizes they have the authority to make a difference by the power of their word, they will understand what it means to be powerful.
SUSAN OROSCO: Listen to your instincts, follow your inner guidance and seek the highest education you can. Let your dreams take shape and let them pull you toward your fullest potential. Don't give up once you have a desire. Push yourself and break through any limitations the world may inflict on you. But most importantly, challenge the limitations you inflict on yourself.
NANCY DE LOS SANTOS REZA: Follow your heart. Listen to your inner voice. Believe in your instincts. And then, take action. Get an education. You'll be judged for the rest of your life by how you speak, how you act, what you know and what you don't know. Get life experiences. Volunteer at a hospital. Become a Big Sister to a young person. Volunteer in your community. Teach someone else what you know. Tutor a youngster how to read or write. Increase your life circle to include people other than your family. Sometimes we tend to want to stay in our tribe, when we have the whole world at our disposal. Be less of a spectator and more of a participant in your own life. And remember, this is not a rehearsal! This is your life. Love your life and your life will love you back!

STAY THIRSTY: The attention paid to Latinas in the media has been on the increase. What role do you see Latinas playing as opinion leaders at the national level?
JOSEFINA LÓPEZ: Aside from Justice Sotomayor and a few other Latinas in politics, most of the media attention goes to the "Hot Señorita" types in Hollywood films and TV shows fulfilling the Anglo male fantasy of an exotic and erotic Latina always ready for sex. I hope as Latinos gain more power the roles of Latinas in the mainstream media will change from servant/sex servant to powerful and capable women capable of accomplishing their own dreams and fulfilling their own fantasies. I think Latinas must create a place for themselves by creating and producing their own TV shows and making their own films.
SUSAN OROSCO: I see more Latinas in politics. They represent a voice that has long been silenced – the voice of the dominated. The Latina is highly qualified to represent the minorities in this country. She is familiar with the pitfalls imposed by the traditional politicians. She knows about them because she has climbed out of them.
NANCY DE LOS SANTOS REZA: This area definitely needs improving and requires more Latinas participating on a national level voicing opinions on politics, society and the law. We have Janet Murguia, President and CEO of the National Council of La Raza, journalist Maria Hinojosa, and Deborah Deras, an incredible spiritual leader, but we need many more. We need more Latinas to take their spot on the national stage and use it for the good of both our community and the mainstream community. One person who does this well is Eva Longoria. She has parlayed her celebrity and talents to support many political and charitable causes, including child labor rights, farm worker rights and raising funds for children stricken with cancer. It was great to see her take an active role nationally as co-chair of President Obama's reelection campaign. But, we still need more Latinas on national news programs. More Latina opinion makers. More Latinas on national talk shows – both television and radio. I have co-founded with Azucena Maldonado The Wise Latina Society through which we are developing a national radio program to address this need.  The Wise Latina Society Hour will be a national radio program that will introduce us to Latina experts across the country who are working locally, but who can also influence nationally.

STAY THIRSTY: What are the key lessons you hope Latinas will learn from reading your book? How do you think your book will inspire them?
JOSEFINA LÓPEZ: I want them to get just like I do. No matter how much pain you feel and how broken you think you are, you can make yourself whole and you can overcome anything as long as you are willing to feel the pain and forgive whomever you are holding responsible for being the source of that pain and forgive yourself. I think they will see by reading our eight chapters that every life is an act of creation and they too have the power to transform their lives and follow whatever path they choose.
SUSAN OROSCO: The main message for 8 Ways to Say "I Love My Life!" is this – you are not alone. These experiences have happened to us too. But instead of letting the experiences own us, we decided to own the experiences. We put their lessons to work. Each time our stories are told we shed light on secrets. Taking secrets out of the dark is power – self-power.
When you can embrace your collective life experiences and turn them into empathy, passion and expression; you will have a set of tools that can help others to do the same. You can do this by making sure what happened to you does not happen to someone else. This creates the desire that creates the vehicle. Our vehicle is this book.
NANCY DE LOS SANTOS REZA: The key lesson I hope Latinas will learn from reading our book is that they are not alone and they are not the first to experience setbacks in their lives.  I'd like everyone who reads the book – Latinas, Latinos, African Americans, Asian Americans, Anglos, men and women – to completely embrace the thought life is an amazing gift, and the only way to be thankful for that gift is to live their happiest and most fulfilling life.
---
Josefina López is the author of the play and award-winning film Real Women Have Curves and is the Founder and Artistic Director of Casa 0101 Theater in Boyle Heights, Los Angeles where she celebrates women and Latinos on the stage.
Susan Orosco is an author, public speaker and hypnotherapist. She has inspired and motivated audiences in California for over 25 years.
Nancy De Los Santos Reza is an award-winning Los Angeles-based screenwriter, producer and director.
Links:
Josefina López: josefinalopez.com
Susan Orosco: latinopower7.com
Nancy De Los Santos Reza: NancyDeLosSantos.com
8 Ways to Say "I Love My Life!" on Amazon