By Jerry Bowen
Los Angeles, CA, USA
---
Jerry Bowen
This holiday season promises to be extraordinary for our family. A rare event, akin to Halley's Comet brushing by earth, is about to happen.
For only the third time in 101 years a baby girl will be born into the Bowen clan. A daughter to our youngest son, Spencer, and his wife, Caroline. Due New Year's Eve in Boston.
It may not be truly cosmic, but it's no small matter. Not for us. There is reason to celebrate, think of possible little girl names and ponder the world she's coming into. The America where the possibilities seem limitless and yet, as the recent elections illustrated, there remains unsettled business for women. The issue of certain rights of all things. Some day, her rights, too.
So I've given it some thought. And I think "Baby Girl" is coming to the right place. Ours is a family where strong women have played a significant role for generations. "B.G." will fit right in. And she'll have no shortage of interesting role models to draw on. People with backbone. Ancestors from the frontier days to her very modern mother, a biomedical engineer involved in stem cell research.
Ida Strahl
For starters, there's Ida. "B.G.'s" great-great-great-great Grandmother. Ida Strahl. A really tough old bird. The Strahls were among the first white settlers in Audubon County in southwest Iowa in the 1850s. Her two brothers were actual outlaws. One rode with the Cripple Creek Gang that terrorized small town folk and farm families. Both were killed in shootouts in 1883. And soon after, her father Colbert was gunned down when he sought revenge. The story passed down over time is that Ida was so angry she grabbed a rifle and rode her horse bareback for miles over the hill country in search of the killer. Never to find him.
She became something of a living legend and gained a reputation as a strong-willed person. More importantly, with the Strahl male line at an end, Ida eventually inherited the family farm. This made her a rare creature on the Iowa prairies of the late 1880's...a landowning woman. It should also be noted, a law-abiding woman in her remaining years.
Ida found a good mate in farmer Sam McGaffin and they went on to raise two daughters on the land. Grew corn and fed cattle and eked out a living. The land is still in our family today because of their youngest daughter, Eugenia. My grandmother Eugenia Bowen.
L-R:  Ida, daughter Eugenia,
husband Sam McGaffin, daughter Anna Bell
Grandma Gene and her husband Lester were not rich people. She worked as a restaurant cook and he drove a milk truck. They lived in a small wood-frame house in the farming town of Atlantic. When Grandpa became wheelchair-bound after several strokes, Grandma was left the sole breadwinner. A turn of events that made her decision all the more remarkable.
She decided to keep the farm rather than sell it off after her mother and father passed away. It was a leap of faith for someone who had survived the Great Depression and seen others lose their lands.
The local bank took the leap with her and loaned Grandma Gene the $50,000 she needed. Enough to buy out her sister's half-interest in the 300-acre farm. That was more than a ton of money back in the late 1940s. It was a mountain of debt. But with her cook's salary and the modest income she split with a sharecropper who worked the land, she finally retired that mortgage. Saved the old place where she'd been born and raised. She was, after all, her mother's child...tough and determined.
"Baby Girl" will also be told of her great-great Aunt Merle. "Crazy Aunt Merle" whose laugh could shake the gloom off a cloudy day. Merle outlived her twin brother, my father, and her older sister. That put her next in line for the farm.
Eugenia McGaffin Bowen
---
Merle Bowen Wallace
---
Merle was stricken by polio as an infant, but never stopped reveling in life. Merle and her boyfriend Graham eloped to get married on Halloween. They liked the date. They didn't tell his parents for a year because they didn't much care for Merle. Her appearance put them off. Merle's left arm and leg were withered by the polio. She walked with a shuffle. But her spirit was never crippled and Merle never felt sorry for herself. She was the definition of courage. The Halloween newlyweds lived into their nineties.
Grandma Val, my wife Val, will spin stories in the years ahead for "B.G." too. Stories about all the time we've spent restoring the old farmhouse where Ida lived and Eugenia grew up. The home that Merle insisted be saved. How Merle speaks to us there still, long after her passing. A most friendly ghost.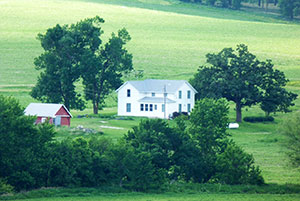 Bowen Farmstead
And Val will also note the irony of the times, then and now. Think about it. For all that these women achieved and overcame, their hardscrabble lives played out in an America without the opportunities, rights or choices that await this new baby girl.
The right to vote came to Ida late in life. Equal pay for equal work was not an issue for Eugenia or Merle. The right to choose was simply not a cause. A different time in a very different America.
For now we are eagerly looking ahead. Counting down the days to New Year's Eve when we will cheer the birth of our first granddaughter. No doubt she will wrap me around her tiny pink fingers. Grandpas are so easy.
But there is also no question in my mind that she will grow up to be as strong and determined as all those women who came before.
Fair to say, it's in her blood.
Photographs courtesy of Jerry Bowen and the Bowen family collection.
All opinions expressed by Jerry Bowen are solely his own and do not reflect the opinions of Stay Thirsty Media, Inc.