#42 - Special November Edition
By Sarah L. Myers
Editor-in-Chief
New York, USA

It's my favorite New York City bar, my favorite New York Dolls song, and now it's my favorite way to get trashed.
I always go into November wanting Trash to be a celebration of all things Chicago. I usually keep most of the memories to myself and focus on our Halloween shenanigans. In keeping with tradition, that story is still here, how could it not be? We plan Halloween from November 1st the year before. But this month I want to share different stories and focus on Ryan Licht Sang, for whom Thirsty was founded six years ago. These were Ryan's favorite spots – a "No Reservations" list for those as Thirsty as he was. As Tony Bourdain would say, "let's get lost". As Ryan would say, tongue firmly in cheek, "Keep the dream alive, baby bird!"
Pick Me Up
Countless nights here sipping lattes thick as mud and eating flourless chocolate cake. Pick Me Up was always the spot and usually a point of reference for any excursion. "It's right by Pick Me Up". "Head to Pick Me Up and turn right". "We'll go to Pick Me Up after". The restaurant itself has the interior of a watercolor painting. Murals cover every inch of the walls and the aroma of coffee and baked goods seeps out onto the street. Later on, I conducted interviews here, including Chicago's own Peter Blast and scores of local bands. One of Pick Me Up's greatest qualities was that it stands across the street from our other haunt…
The Twisted Spoke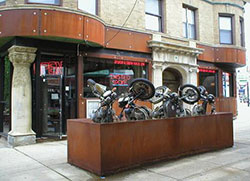 (credit: Sierra)
Not the one on Ogden, friends, the one on Clark! RIP "The Spoke". Having not lived in Chicago for three years, I have no idea what took the place of our beloved Spoke. When I first moved to Chicago, this was on Ryan's list of places to take me. We never went to "Smut and Eggs" brunch, preferring to hit Tempo instead, but the coffee and Guinness made a meal just fine. I loved settling in to those heavy wooden booths and talking for hours. I thought the Spoke was as punk rock as it got. Finally, a place where I could talk shop! I made a lot of friends here, and was so sad when I found it closed after trying to introduce it to someone else. The upended cycles, removed from the outside planters, hopefully found a home elsewhere. I always hit the Ogden Spoke when I return to Chicago, but it's just not the same. Tempo, on the other hand…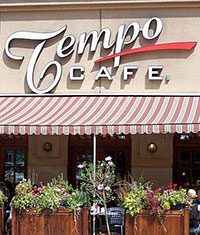 Tempo
Is an institution. I made it three days in Chicago before Ryan took me to Tempo. We'd sit and drink bottomless cups of coffee in those thick, beige mugs and scoot the bowl of creamers back and forth between us. The omelet skillets kept you full for days, and I'll never forget how we laughed when some vegan acquaintances ordered a fruit plate and received, basically, a farmer's market on the table. Tempo didn't do vegan. You come to eat diner, or you hoof it elsewhere. Going to pick up Mikey after his drunken 3am phone call was a real treat, as was the famed Chicago wind picking up your napkins, sending flotsam and jetsam all over the outside patio. Somehow after all of that coffee, I was still able to happily fall asleep.
The Metro
My first concert with Ryan was Blondie at the House of Blues, but my favorite was Beans at the Metro. Ryan had introduced me to his music. He loved the new wave of underground hip hop – artists like Aesop Rock and MF Doom. Artists that developed a massively devoted cult following but never broke out. As usual, Ryan was way ahead of the game. Beans was opening for Pelican. We didn't bother to stay for them. "You've gotta watch this guy, he's amazing." He particularly loved the songs "Hot Venom" and "Toast" and threw his fingers up in the air, keeping the beat and matching Beans word for word on each verse. Ryan was always the coolest guy in the room. When a hipster-type asked him if that was Henry Rollins tattooed on his arm, he suavely corrected him. "It's Ian Curtis," he said, then focused back on me and the front of the stage. I've seen some pretty incredible bands at the Metro. The Kills back when Alison wouldn't even lift her head. I was up in the balcony losing my mind – "who ARE these guys?!" The reunited New York Dolls, the sleazy Louis VIV, and Gogol Bordello, whose backstage warmup included some type of contortionist yoga. And let's not forget Primal Scream, and how I spent the night backstage drunk with Mani. The adventures next door at the Gingerman warrant their own column.
Amarit
The Holy Grail. Also long gone and, I think, replaced with a Starbucks. Amarit was the default dinner, a place where we had our own booth, and would sip our Thai iced teas and look out the window. We swirled sweet, salmon-colored clouds of cream and laughed our asses off. I can still taste the spicy beef appetizer with chili sauce, which I've yet to find duplicated on another menu. We absolutely loved this place and I can't round that corner without remembering all the nights we rushed down the street, barely escaping the rain, and jumped inside the door. Of course I went to Amarit with other friends, and by myself at times, but Ryan and I always had the best conversations here. It was the perfect spot to stop after an afternoon browsing horror DVDs and import vinyl at Virgin (now a Forever 21), and the cozy amber lighting offset the cold. Of all of the places I miss in Chicago, Amarit is at the top of the list.
Halloween Trash…
Helen, Traci, Sarah and Jordi
How could we top last year? And the year before? Jordi and I already have next year's costumes planned, and I started in on this year's after watching a particularly kickass episode of "Face/Off". A Tim Burton-inspired killer ice cream cone man threw my imagination into high gear. I immediately scouted a candy-striped frock (a smock-like $8 1980s housedress), and a red and white apron, and went to town with some scissors and my stock of Ben Nye blood. The hat was a much harder task. Ask people where you can find a giant ice cream cone and watch their expressions. I finally found a foam hat from, of all places, an online sports store in Wisconsin. Jordi's bloodied, zippered face and slicked hair resembled Aladdin Sane-era Bowie, and Traci donned an apron and wooden spoon for her 1950s housewife outfit. Did I mention she had bandaged, bloody wrists and a slashed throat? Our festivities at Webster Hall that night involved dancing onstage with a satanic-looking priest and making friends with some "Clockwork Orange" droogs. I couldn't go a few steps without someone stopping me for a photo. I guess it's not every day you see a murderous ice cream cone at Duane Reade. I know the night ended sometime around 4:30am, with most of Buena Vista holding out until the end. On to next year, where you'll see very special appearances from Bette Davis and Joan Crawford…
Traci, Sarah and Jordi
November is here and it proves difficult for many reasons. But here at Thirsty we're "keeping the dream alive", to adopt an expression once jokingly used. There's so much on the horizon, and next month I'll return to my own version of "No Reservations", (the last episode of which is this week, dammit). But someone's got to fill the void and it might as well be someone as crazy as Tony. So December will bring horseback adventures in the Poconos, MORE nights at the Deuce in Miami, and trapeze lessons back in Chicago – if our night at the Rainbo doesn't leave too bad a scar.
I also want to extend our support to our LES family at 200 Orchard, The Sixth Ward, and the Skinny, and also to our good friends down at the Coney Island Circus Sideshow and Freak Bar. You can't keep NYC, or a good freak, down for long. We'll be seeing you just as soon as those doors open up, guys! Stay Thirsty and save a seat for me.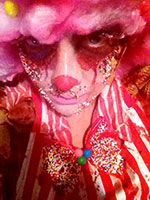 Until next time...

Links: