By Anna Murphy
New York, NY, USA
---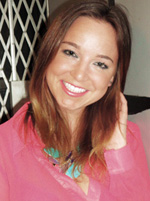 Anna Murphy
I'm going to go ahead and say it: Thanksgiving is my favorite holiday. Christmas is a close second - fitting given its close calendar proximity. But Thanksgiving takes the cake or rather the pecan pie. 
Thanksgiving is my favorite holiday for two very simple reasons: you get to be around the people you love and you get to eat exorbitant amounts of food. Loving and eating. And giving thanks for both.
It's that simple. Now I understand it means hours slaving over the stove if you happen to be the hostess, not to mention the added pressure of entertaining your guests…but I guess I'm not really there yet. I'm still at the proverbial kids' table in the holiday entertaining category. A few years ago Sarah, my best friend and ex-roommate, and I attempted to throw a retro Christmas party. It was like tacky Christmas party to the nth degree starring the 'N Sync Christmas album, upside down Peppermint Paddy shots and six calls from our super having to do with noise complaints. So, as I was saying, I have not had to put on my big girl apron quite yet, which is probably another reason that Thanksgiving is my favorite holiday.
I love how fall smells, from the food to the air. I'm burning a pumpkin spice candle right now trying to recreate a pumpkin pie without the baking and calories, although calories don't count on Thanksgiving, as with birthdays or any other holiday for that matter. But the food is important. Now you might ask, how does a vegan enjoy food on Thanksgiving? It's quite simple: green beans, sweet potatoes, cranberries - all just helpless vegetables/starches/fruits that get polluted with butter and cream. I catch them before that happens. My dad has grown accustomed to leaving out a small batch of everything for me. I am so THANKFUL for him and his adaptation to my needs.
The "Four Freedoms" Gallery at
Norman Rockwell Museum
Photo courtesy of Berkshire Visitors Bureau
And then there is the matter of the Tofurky. Yes, this exists. It looks like a little turkey and is stuffed with stuffing. There's even a side of gravy and a chocolate cake to really round out the meal. My dad has been kind enough the past two years to track down one of these babies. I end up eating the whole thing even though it's meant to be shared among six. So my eating "exorbitant amounts of food" actually does ring true, just vegan style.
Let's backtrack a little because one of the most fabulous things that also happens on Thanksgiving (WAY too early for my liking) is the parade. The Macy's Thanksgiving Day Parade officially kicks off the holiday season. I have never been in New York for it, but I am just fine with this as I can watch in the comfort of my parents' warm living room in front of the fireplace sipping a mug full of cocoa. And after that parade ends, it's no holds barred. Christmas music is suddenly on every station, Miracle on 34th Street on every television station…we are in the thick of it.
But before the hustle and bustle and the tourists that come to New York to do their holiday shopping and see the Rockettes perform, we can just do nothing on Thanksgiving. It's the one holiday that isn't over-commercialized in my opinion. People are giving the gift of thanks. You are expressing your gratitude to those closest to you. You're feeling warm and cozy and happy and home. And if you feel that way, you're lucky and have a lot to give thanks for. I know I do. And maybe I'll even show it by helping out in the kitchen this year.
All opinions expressed by Anna Murphy are solely her own and do not reflect the opinions of Stay Thirsty Media, Inc.