By Lenny Cavallaro
Groveland, MA, USA
---
Stephanie Chase
Bach - Sarabande*
I first heard Stephanie Chase perform in 1984, not long after her triumph in the International Tchaikovsky Competition. I knew that she had been a child prodigy and toured professionally at 13, and I was later thrilled to learn she had been awarded an Avery Fisher Career Grant (1987).
Stephanie has since been hailed as "one of the violin greats of our era." She has performed with over 170 orchestras and appeared in 25 countries around the world. Her career also involves arranging, composing, conducting, playing chamber music, and teaching, and there may even be a literary venture forthcoming.
Because she had so graciously agreed to write the Foreword to my mother's novel, I was anxious to interview Stephanie for Stay Thirsty. What emerged has taken me somewhat by surprise – a remarkable glimpse into the personal, as well as many professional sides of this outstanding, multi-faceted artist.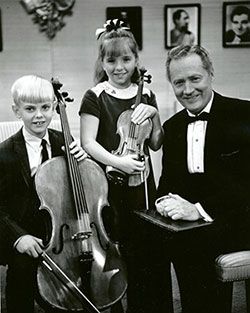 Stephanie Chase (age 8) - Artists' Showcase
with age 8, Lawrence Foster, cellist,
and host Louis Sudler.
(credit: Chicago Tribune)
STAY THIRSTY: You were clearly a child prodigy. An inevitable question: What was that like? You played with the Chicago Symphony at 9, were touring professionally at 13, and debuted at Carnegie Hall when you were 18. Did you ever feel these successes came at a personal cost?
STEPHANIE CHASE: I don't actually recall NOT playing the violin. I was about 18 months old when I started, and I was responsible for this. It seemed that everyone at home – my parents, older sisters, and students who came to study with my parents – played the violin, and I wanted to emulate them. I loved the violin and felt fascinated by it, which led to my dragging a small instrument all over our house and sometimes leaving it in inopportune places, like a staircase where my father stepped on it one day. 
STAY THIRSTY: Don't feel bad. I sat on my three-quarter-sized fiddle, and that's probably why I became a pianist!
STEPHANIE CHASE: I "practiced" daily with my mother, who began to teach me a bit more seriously when I was around four. Up until then, I devised my own fingerings and bowings. My first public performance was when I was about two years and three months old. 
My parents became aware early on that I have perfect pitch, which was something I took for granted. (It was only many years later, when I was sitting in Music Theory classes at the Juilliard School's Pre-College Division, that I realized how unusual it is.) I appeared on the Ted Mack Original Amateur Hour show when I was six and also began to develop a reputation around the Chicago area, where I was playing short recital programs, accompanied by my father on the piano and mother in some violin duets. (She also helped tune my violin for me in those days!) This led to my playing the Bach "Double" Concerto with Jack Benny when I was about nine years old, shortly after I had won the Chicago Symphony Youth Competition.
STAY THIRSTY: Jack Benny? I can only shudder to guess what sort of fee HE paid you.
STEPHANIE CHASE: Actually, unbeknownst to my parents, it was an audition. He was in town and staying at the Palmer House, and may have heard about me through a trip to one of the violin shops. He called – at first my mother didn't believe that it was really Jack Benny on the phone! – and asked if he could hear me play. As soon as I was back from school, we headed down to Chicago. Apparently he was looking for a young girl violinist for his act. The one he had was getting a bit grown-up for his purposes, and I recall his joking that he tried to get her to smoke cigars in order to stunt her growth. Well, apparently he offered me the job. 
I have to hand it to my parents. They had a bigger picture in mind for me and turned him down. This was probably because they themselves were extraordinary musicians, and I was already working with a violin teacher in New York. 
My father, who was 45 when I was born, had started out as a violinist and pianist, but apparently felt pushed by his mother, who was a prominent piano teacher in his hometown of Muscatine, Iowa. Although his father was also a violinist, he ultimately grew disinterested in the rigors of becoming a violin soloist, and it appears that he left home while still in his teens and traveled up to the Northwest, where he began to play in a swing band. It turned out that his band mates needed some music rearranged quickly to suit their instrumentation, and thus his career as a music arranger began. He soon returned to the Midwest and began playing violin in some of the orchestras in the region, including the Kansas Philharmonic (now the Kansas City Symphony). In 1939 they premiered his arrangement of "I Got Rhythm," which really launched his career. Before I was born and during my early childhood, he was involved with television and radio programs in the Chicago area – especially those oriented toward children – and conducted the band (wearing a uniform!) for a show called Super Circus.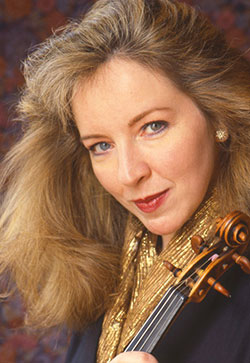 Stephanie Chase
(credit: Stewart Pollens)
My mother was the youngest child of a violinist from Bohemia who came to the United States as a young man and settled in rural Iowa, where he married a Norwegian immigrant. She grew up in what seems to have been an idyllic setting – her father ran a music store and gave violin lessons, and her older brothers doted on her. She was a serious violinist who performed as soloist early in her career, but her true loves were orchestra and pedagogy. She was the concertmaster of several regional orchestras from the time she was in college until not many years before her death, and she taught probably hundreds of students over her lifetime.
When I was seven, my parents read about a man who was called the greatest violin teacher of his time, Ivan Galamian. Accompanied by my mother, I traveled to New York and played for him and his principal assistant, Sally Thomas. I distinctly recall being unable to decipher much of what he was saying. Galamian was born in Persia, raised in Russia, and lived in France for fifteen years before coming to America, and this contributed to a thick fog of accents. He recommended that I work with Sally for a while before coming to him. I wound up studying with her ten years.
At this time my father was a music arranger for the television and radio stations of Chicago, and – often – conductor of the resident orchestra or band. My mother was active teaching and raising four daughters, and we lived in a large, slightly ramshackle, colonial-style house on four acres well north of the city. During the ten years that I lived there, we had dogs, cats, a couple of ponies, pet mice, and the occasional salamander or large pet spider. My parents had my IQ tested when I was five and – based on the results – decided that as long as I could keep up with overall academic requirements, I shouldn't have to attend school for as many hours as other kids, so that I would not only have time to practice the violin, but also to play with my sisters and friends. They were not successful in arguing this point with the local school board, but did find a school in another town that took me for half days, with the provision that I maintain a good academic record. I relished the time that I was home alone and, when I had finished practicing, was always off adventuring around our property, often looking under rocks for interesting bugs or reptiles, or taking the pony out for a ride.
After commuting to New York for a couple of years on a periodic basis, I was invited to come and live in Sally Thomas' apartment with her and a couple of other female students. It was exciting and certainly beneficial to my development, and I recall hearing many of the world's greatest violinists at Carnegie Hall and Town Hall – Francescatti, Menuhin, Milstein, Igor Oistrakh, Ricci, Stern, and Szering, though unfortunately not Heifetz. On the other hand, I was not enrolled in school and had a tutor until I entered high school (at the Professional Children's School), so my contact with others my age was severely limited. I didn't think of this as a problem at the time, but it did ultimately have an effect on my level of comfort in certain social situations.
Unfortunately, the era of live music in television and radio was coming to an end and, shortly after I moved to New York, my father lost his job with the cancellation of Don McNeil's Breakfast Club program. Within a year or two, he and my family relocated to Connecticut in hope of finding comparable work in New York, but he was unsuccessful, as the industry was vanishing. This led to quite a lot of trouble between my parents, and both eventually started drinking heavily, which made matters worse. 
Stephanie Chase
Falla - "Asturiana"**
When I was eleven, I appeared on a CBS children's show, which – thanks to a generous film and commercial producer, who was also an amateur violinist – led to appearances on the David Frost Show and concert management when I was thirteen. Shortly thereafter, I began to tour, playing numerous recitals and concertos with orchestra. It was very gratifying, with a lot of positive feedback. As the situation between my parents and their individual behavior deteriorated, it became a welcome relief from the stresses at home. Eventually, when I was fifteen, my father left us for a position in Milwaukee, where he remained in the second violin section for some twenty years and wrote popular arrangements for the orchestra, some of which are still in its repertoire. For a number of years he was the oldest (and probably the shortest) member of the ensemble, and his sense of humor and talents endeared him to his colleagues, many of whom still remember him fondly.
My mother was a bit less fortunate, and she battled with severe alcoholism for many years. The dry periods were wonderful and always welcome. She could be incredibly productive as a teacher and performer, and in other pursuits like gardening, but I was always in dread of the next relapse and possibly deadly repercussions. These fears were always present for me, since I was in many ways closer to her than anyone else in my family because of the violin (my sisters having long since given up), which was likely the thing that kept her going, as she still loved the entire process of teaching. 
At age 70 my mother had something of a rebirth when she began to take lessons in New York on a weekly basis with a retired member of the New York Philharmonic, William Lincer. This relationship was very therapeutic for her and lasted several years. She, too, remains beloved by many former students who acknowledge her major role in their development as musicians.
So, returning to your question, I spent a fair amount of my early life away from much of my family and without a lot of contact with others my age. On the other hand, I was doing very rewarding things in music and was physically absent from some of the severe troubles at home, although they were never far from my thoughts. By the way, this is the first interview I have ever done in which I acknowledge these difficult issues, which have had lasting repercussions for two of my sisters.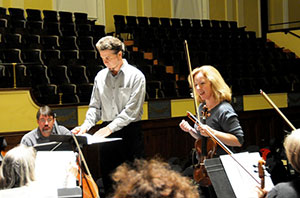 Stephanie Chase rehearses with the Lexington Symphony
(credit: Lexington Symphony)
STAY THIRSTY: We are honored by your candor! Perhaps we can shift to a more musical question next. Unlike Paganini, who had little to say about any of his pedagogues (who reportedly taught him nothing), you have always spoken extremely warmly about Arthur Grumiaux, who appears to have been a major influence in your musical development. Was he, indeed, your most important teacher?
STEPHANIE CHASE: Although my parents and Sally Thomas remain very important influences on me musically, my studies with Grumiaux, which began when I was 18, led to my real maturation as an artist. I went to Belgium to study with him without the support – financial or otherwise – of my family or Sally Thomas, so it was a difficult commitment on my part but one that was, without a doubt, worthwhile. His playing was characterized by elegance, an astonishingly expressive and round tone, tasteful discipline and subtlety, and a virtuosity that was not self-indulgent. I admired how exacting he was in his standards, and the way he strove to serve the composers whose music he played and not himself. As an interpreter, his training and understanding of the music's structure was thorough, yet he was never pedantic in his approach to either interpretation or teaching.
As a professor of violin, Grumiaux emphasized the need to listen closely to the phrase and its quality of sound. Although he demanded the highest technical proficiency from his pupils, he did not employ a rote system of teaching technique, instead preferring that the students find a personal solution to these problems and develop for themselves the artistry required to surmount them.
Through my mother – and by extension, her father, although he died when I was a toddler – I developed a lifelong love and enthusiasm for the violin and its music. Sally Thomas helped me improve my technique immensely and work on the training aspects of performance as well as the interpretive, and I initially learned much of my current repertoire with her.
STAY THIRSTY: You have garnered your share of prizes in various competitions, but most notable of these are the laurels you earned at the Tchaikovsky Competition in Moscow. This many years later, you have also judged a number of competitions, including the Concorso Postacchini (2011). What are these events like, for performers, but also for adjudicators? I mention this, because we know that Paganini, who clearly stood head and shoulders above his contemporaries, competed in a competition and placed third.
STEPHANIE CHASE: I almost wish that competitions were not considered a necessity, although I recognize their role in launching careers. On the positive side, they require the thorough preparation of a lot of repertoire and the ability to perform well under pressure, much as we have to do in our professional careers. On the negative side, they do not always reward the more artistically refined personality. As a judge, I always find the earlier rounds easier than the final, and it is important to be given instruction that is specific to the goal. For example, when I judge the concerto competitions at the Juilliard School, we are looking for a performance-ready presentation. This sometimes means a more interesting or thoughtful performance that is uneven during the entire work will be judged behind one that is somewhat clinical but well polished throughout the concerto. I find this a bit frustrating at times, but that is the rule; we judge as if the winner's concert were taking place the following day.
Depending on the competition, there is also the possibility of some unethical conduct, whether intentional or not. I once sat on a small jury and was absolutely dismayed to learn – during the finals – that two of the three violinists who had survived the preliminary rounds were students of one of my fellow judges. They certainly deserved to be there, but he should not have been on that panel for obvious reasons, and I find it nearly beyond belief that the competition's administrators allowed this. Unfortunately, shenanigans of this sort were not unprecedented. The year I got the Bronze Medal in the Tchaikovsky Competition, violinist Leonid Kogan was the Chairman of the jury, and his two students ended up sharing first prize. The second prize went to a Japanese violinist, which surprised several of my competitors who had heard her in previous rounds. I recall my horror when one judge actually told me that he had garnered for himself a concert tour of Japan. (He was also going home with a lot of caviar, which he intended to resell!) We also had a Japanese judge who had been a student of Kogan, prior to her own prize-winning result at the Tchaikovsky Competition in 1970. It's not too difficult to connect the dots. 
STAY THIRSTY: So, like Paganini, you placed third! Brava!
STEPHANIE CHASE: Thanks! I should add that US-Soviet relations were then at a notable low following the US boycott of the Olympic Games in Moscow.
I dislike judging mixed-instrument competitions, or those in which juniors are pitted against seniors. Also, as much as we all like to win first place, I think it is important not to take a lesser result too seriously, as the adjudication is ultimately a very subjective process. By the way, I just judged the semifinal round for strings at the Concert Artists Guild auditions, which will result in supportive career management and guidance for their winners that can last for several years. In addition to technical expertise, we assessed artistic merit and future potential. I think this is perhaps the best approach of all, although it lacks the melodrama and intrigues of some of the big international competitions – but who needs that?
STAY THIRSTY: Your command of repertoire is immense, and you are as comfortable with baroque composers as with contemporary – and everyone in between! I notice that you are also quite involved with "period piece" instruments. When we hear about "period piece" instruments, we think immediately about baroque performance, yet you were the first to record Beethoven's Concerto in D Major for Violin and Orchestra – with your own cadenzas – on original instruments. What was the inspiration for such a project?
STEPHANIE CHASE: My interest and experience in playing "original" instruments goes back many years now, and it began when I was partnered with fortepianist Steven Lubin at a summer festival. I was playing my Guarnerius and was totally intrigued by the sound and articulations of Steve's fortepiano, which was a replica of a Mozart-era instrument. We ended up with a very nice performance, and this led to many invitations to play with Steve and his colleagues at the Metropolitan Museum and elsewhere. (It is thanks to these concerts that I met my future husband, Stewart Pollens, who was then the Conservator of Musical Instruments at the Museum.) Within a short time it became clear that I needed a violin and bow with a Classical setup; this involves not only gut strings and lower pitch, but also a somewhat straighter neck angle. 
The violin and bow have essentially had three phases: Baroque, Classical and modern. The most recent change was to the stringing materials, which was due in part to the shortage of fine-quality gut during World War I, when it was being used to suture wounds.
The "inspiration" for the Beethoven Concerto project was actually quite mundane. The artistic head of Cala Records – a London-based firm – learned that a record club (remember those?) was committed to promoting and selling a recording of the work on historically accurate instruments, but that the previously scheduled project had run into problems. He decided to take this on for his label – partly to get Cala Records into a better spotlight in the record club's listings – and generously asked me to participate. I was in Denver playing with the Colorado Symphony at the time, and the recording was scheduled for less than a month away, which meant that I had a lot of research and homework to do in little time, not to mention the practicing end of it. There was also the question of cadenzas. Beethoven did not provide these, and the only contemporaneous ones available were by Spohr. I found that Spohr was a bore. 
STAY THIRSTY: No argument there – "perfect" sonata form that said nothing!
STEPHANIE CHASE: So, while working out the concerto on a Classical violin with no chinrest, gut strings, lower pitch, and transitional bow, I also set about creating my own cadenzas. 
This recording was done in collaboration with the Hanover Band, a terrific period-instrument chamber orchestra based near London, under the direction of Roy Goodman, who himself was a child prodigy as a vocalist and is an excellent violinist. The producer, Tim Handley, has gone on to win Grammys for his work. He is a great colleague, and brilliant at his job. All in all, we had a wonderful team. What a lot of people do not realize about the recording process is that we are at the mercy of a number of dreary things, especially noise. I recall having a really good take of the first movement's cadenza, only to have Tim tell me that I needed to do it again due to the microphone picking up the sound of a lorry (truck) rumbling outside.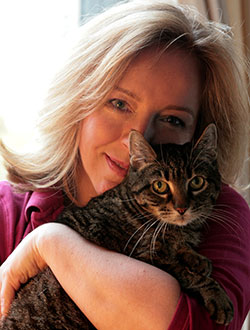 Stephanie Chase and Francesca
(credit: Stewart Pollens)
In terms of overall repertoire: I enjoy playing music from all eras and entering the "sound worlds" of the composers. A piece that I want to learn next is a brief solo work composed by Dr.  H.  T.  Ma for his daughter, Yeou-Cheng (Yo-Yo's sister), who is a dear and inspiring friend. She was but five years when this work was composed, which is the age that she began studies with Grumiaux, and it reveals that she was an absolute prodigy. The piece is based on Chinese folk tunes, and in its opening music the violin should sound like an erhu.
STAY THIRSTY: Well, if I may send you back to 19th century Europe: Paganini had been most anxious to meet Beethoven, though he did not actually reach Vienna until after that giant's demise. Above and beyond the concerto, you have certainly garnered immense recognition for your interpretation of Beethoven. You and Sara Davis Buechner will perform all ten of his sonatas for violin and piano in three concerts, November 26th, 27th, and 28th, in New York, later in Vancouver, and then record them in 2013. What insights can you share about these ten masterpieces?
STEPHANIE CHASE: I have to say that the longer I live, the more I appreciate Beethoven. The first thing to remember is that this was a fascinating human, who could rightfully be called a misanthrope, but who nevertheless wrote exquisitely sensitive music that reveals the most subtle of emotions. We should also keep in mind that many of his social difficulties probably stemmed from a combination of health and communication troubles (which began when he was still in his 20's), unfulfilled inner passions, and perfectionism in his music (though not his notation!).
As chamber music, the ten sonatas are an amazing journey. The earliest date from 1797-1798 and the final work is from 1812, and we must remind ourselves that Vienna was under French occupation during some of this period. Because these works are such masterpieces, it would take many pages to describe them properly, but what strikes me first is the variety of mood and emotion. There is an energetic elegance, much like what we find in Mozart's writing, in the outer movements of the first, second, fifth, and eighth sonatas, along with movements that include a beautifully gentle set of variations, a quietly tragic mood that sometimes evokes happier times, a very witty Scherzo and a warmly nostalgic Tempo di Minuetto. The third sonata – which immediately precedes his "Pathétique" Sonata (for piano) – is seemingly an abrupt swing into music as biography, in which the traditional forms are being abolished. The mood shifts and gestures are extreme, and we find a magnificent use of both rhythmic and harmonic tension. I find that the fourth and seventh sonatas also evince this more muscular kind of emotion. The ninth sonata (Opus 47) – which, due to its dedication, we know as the "Kreutzer" – was originally dedicated to an African-Polish violinist named George Bridgetower, who premiered it with Beethoven at the piano. They were apparently on excellent social terms until they had a squabble over a woman, and Beethoven then changed the dedication to Rudolph Kreutzer, who never played it. For this work, Beethoven specifies a stilo molto concertante, much like a double concerto, and it is by far the most challenging – not just for its technical demands, but also interpretive depths. 
I have not previously performed the sixth and tenth sonatas. Both are quite introspective overall but uncannily beautiful in their subtle turns of emotion, and I have a fond memory of standing outside a little cabin at the Marlboro Festival in Vermont and listening to Rudolf Serkin rehearsing the tenth with the violinist Ida Bieler. The Adagio molto espressivo movement of the sixth sonata (Opus 30, No.1) may in fact be my favorite movement of all, at least at this moment.
I find it interesting to note that Beethoven thought poorly of the musicians in Vienna, which may be why – in part – even his early music is so much more heavily edited than that of Mozart, for instance. The sustaining pedal in the piano and the modern-style bow – both having been perfected around the 1790's – undoubtedly contributed to composing music that had the possibility of more sustained sound in addition to greater dynamic contrasts. Beethoven apparently did not indicate pedal markings in these works until the ninth sonata, which was composed in 1803, the year that the Erard piano company gave him a grand piano with four pedals:  a lute stop, damper, una corda, and moderator. 
Beethoven's use of the theme and variation form throughout these works is reminiscent of his Romances, which are derived from a poetic genre (similar to a rondo) in which every return to the theme is characterized by a subtle change of affect.
I am privileged to be playing these sonatas with pianist Sara Davis Buechner, who is an amazing musician on every level. She has a fearsome technique but is capable of an incredibly light and nuanced touch, and she is a masterful interpreter of music from Bach to Bernstein - and just about everything written in between, throughout the world. My interpretation of this music is, of course, heavily influenced by my pianist partner – and this collaboration promises to be a career highlight. She is also a very dear and supportive friend, and I always relish the time that we can spend together.

[End of Part I]
---

Part II of "An Interview With Violinist Stephanie Chase" will be published in the December 2012 issue of staythirsty.com.

*Bach - Sarabande from Partita in D Minor for violin solo - Stephanie Chase violin.

**Falla - "Asturiana" from Siete Canciones Populares Espagnole, arr. for string quintet by Stephanie Chase.  Harumi Rhodes and Stephanie Chase, violins; Hsin-Yun Huang, viola; James Wilson, cello; Kurt Muroki, double.
Links:
Stephanie Chase
Chase Beethoven Concert Series - November 26, 27, 28, 2012 - Music of the Spheres Society
Lenny Cavallaro's Profile at Stay Thirsty Publishing
Lenny Cavallaro - Composer and Pianist
All opinions expressed by Lenny Cavallaro are solely his own and do not reflect the opinions of Stay Thirsty Media, Inc.