#41
By Sarah L. Myers
Editor-in-Chief
New York, USA

It's my favorite New York City bar, my favorite New York Dolls song, and now it's my favorite way to get trashed.
I'm lucky enough to celebrate my beloved Halloween in two cities this year – New York and Atlanta, so look forward to a supersized edition of Trash next month! I won't ruin the surprise but my costume involves ice cream…
Traveling Trash…
I was trying to keep track of my cities visited this year, but thought a better project would be my own version of "Julie & Julia". I'm not cooking my way through French dishes, but I AM following in the giant footsteps of another famous chef, Mr. Tony Bourdain. While Julie baked cassoulet, I'm hunting for the oldest dive bar, an oddities shop, or street food in Miami's Little Haiti. With the past month taking me from Boston to San Juan, I'll have plenty of places to check off the list. First on the map? Miami.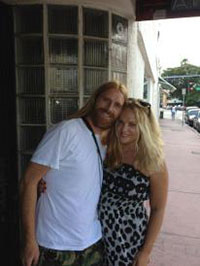 Sarah and friend Nick,
Miami's Mac Club Deuce
I don't particularly like Florida, and I especially can't identify with the spackled rhinestone-covered masses in South Beach. Everyone here is a tourist (myself included), and while the candy-colored art deco buildings lend a cartoonish air to the place, I just can't sense any real flavor. Kiosks and beachfronts stamp "YOLO" on tiny shorts, which seem to be the only thing people wear. Cocktails boast upended Coronas and Hurricanes come in a bowl. (Yes, I had one). My morning was spent at News Cafe, just a short walk down the sidewalk from Gianni Versace's mansion, still a tourist stop and now a luxury hotel. A couple of hours later I started itching for some grime. I needed facial tattoos, a true jukebox, somewhere, and something, dark. I'd already researched Mac's Club Deuce, and held out until the last minute. I was a kid at Christmas waiting to open the biggest present. Just two blocks down from Ocean Drive lay South Beach's oldest bar. I walked in to half a dozen patrons, one of which had…facial tattoos! Teardrops, lightning bolts, a diamond, all framed by the pirate patch covering his left eye. He stared at the beer before him, surrounded by bottles of cold medicines and various elixirs. The bartender, Rosie, walked in to thunderous applause and shouts of "I love you, girl!" It was 2-for-1 at 3pm, and my short stop turned into a three-hour tour, making new friends and hearing story after story from the people around me. The guy with the lazy eye played Josh Groban and told me he was a Broadway singer (the bikers just loved his singing). Nick, traveling back to London that afternoon, knew many of my UK haunts and we talked graffiti over the house draft. It felt so much like New York I just kept saying "I'm home!" I came out shielding my eyes. It was like stepping out of the landfill and seeing Oz. Too many colors and too much sun. I'm coming back, Rosie!
Boston Trash…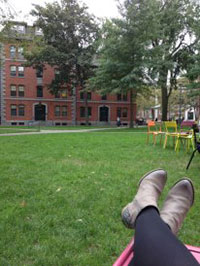 Sarah at Harvard Yard
I tried so hard to get my Boston pal Lauren (aka Pizz) to take me to Murphy's Law – that Southie institution featured on "No Reservations". She refused. I asked her if she'd go if we were accompanied by her boyfriend and another dude. "No, because then they would just beat up the guys." Apparently this pub is known for more than just Tony's visit. Recently a guy was stabbed to death, and a college student had his ear nearly bitten off by one of the friendly patrons. I understand this goes beyond divey. Even I wouldn't go to Mars Bar in the LES, and that says a lot. But I will get there, if only to have a great story to tell. In the meantime, I'll enjoy my afternoons on the yard at Harvard. Armed with crossword puzzles and a brand new copy of "Geek Love", I propped myself up before the residence halls and watched students coming and going in their first month of classes. I spent nearly an hour in the stationary stores fondling lab paper, computation logs, and journals with gold-leaf and heavy stock pages. With the leaves turning and seed pods falling from the limbs, it was like a scene straight out of "Good Will Hunting". Harvard Square itself is incredible. I ran straight to Charlie's Kitchen for the famous Guinness burger, then headed to Black Ink for some one-of-a-kind souvenirs. Later in the week we took in a showing of "The Master" and dined on shepard's pie at the Black Rose. I have a lot to look forward to in this city. And the best part of the trip? Halfway through dinner I notice a guy across the room wearing a Mac's Club Deuce shirt.
Jack White Trash…
Jack White
(credit: Jo McCaughey)
Always get tickets for the last show! I didn't follow my own advice and ended up at the much-debated Jack White debut at Radio City Music Hall September 29th. I was not one of the pissy attendees. I happen to think an hour of good rock n' roll is better than no rock n' roll at all. I've seen Jack in every configuration. I've seen him bare-bones with Meg, storied and folky with the Raconteurs, and showboating with the Dead Weather. I love the man. I love his constant inventions, the way he yelps and screams, and all of his madcap quirks. But under all of that is a blues man and a kick ass musician. I want my rockers to be unpredictable. I understand the ire of the audience that night, but I couldn't hide my smile when I saw the picture an ex-fan took from the street – someone's answer to the gathering boos was to raise a champagne bottle in the window of the backstage area. Who knows if it was Jack? But I kind of hope it was. There's talk that he wasn't pleased with the crowd's reaction, even saying something about it being like an NPR convention, and jabbing them about "having their popcorn." It is a little difficult to get up on velvet-covered seats and dance, so he should understand we couldn't trash the place and lose our minds. Also, you can't exactly form a mosh pit to "Love Interruption", and I think the crowd was decent. From where I stood (WAY the hell up in the balcony, which is terrifying), I could see dancing, but I could also see a peppering of blue screens – an annoyance beyond comprehension. When a preshow announcement is made to keep the damn phone out of your hands, then KEEP THE DAMN PHONE OUT OF YOUR HANDS. Watch the man in front of you, not the man through the screen in front of you. My man Chris got the proper experience at the second show, but seeing "Sixteen Saltines", "Freedom at 21", a revamped, draggy version of "Black Math" and the sedate, piano-driven rework of "Dead Leaves and the Dirty Ground" sat just fine with me. I still love you Jack, see you out there!
Stay tuned, Thirsty ones, as this column evolves into your Zagat guide for the underground! I'll have a new list next month, as well as Halloween shenanigans!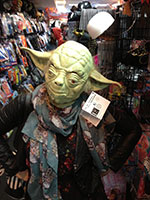 Until next time...

Links: