By Susan M. Sipprelle
Englewood, NJ, USA
---
Set for Life trailer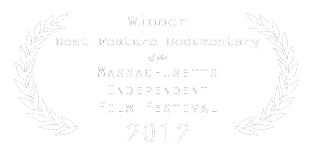 The first screening of Set for Life at the 2012 Massachusetts Independent Film Festival in Somerville, Mass. was fully sold out! The documentary follows three unemployed Baby Boomers who lost their jobs during the Great Recession as they struggle to get back to work.
Among the audience members were Harvard undergraduates, educators and laid-off older workers, including Joel Nitzberg, a Somerville, Mass. resident. Joel appears in Set for Life, and he participated in the online multimedia project, Over 50 and Out of Work that underlies the film. Joel lost his full-time position in 2010 when his employer, a local community college, experienced budget cutbacks and closed the lifelong learning department he headed.
While job-hunting, Joel wrote grant applications for towns and organizations, consulted part-time and volunteered in his community. In September 2011, Joel's intensive job search paid off, and he went back to work full-time for a non-profit organization serving Latinos. However, at the premiere he said that state fiscal constraints threaten his current job, and he is facing the prospect of being laid off again.
Joel's employment roller coaster ride reflects the current job market reality that workers face in today's economy.
Prior to Set for Life's screening, Dan Sato of Denville, N.J. emailed about his current employment situation. Dan had a 25-year career at Panasonic before he lost his job in March 2009 when the company restructured and laid off workers across all divisions.
Dan began a grueling job search while he simultaneously obtained his realtor's license and volunteered as an advisor to startup companies. Eventually Panasonic rehired Dan, but as an independent contractor at half of his former pay rate and without benefits.
In August 2012, the national unemployment rate was 8.1 percent, but that figure jumps to 14.7 percent, if all the people who are working part-time, but would prefer full-time work, as well as discouraged job seekers, are included. Equally troubling is the steep downward trend in the U.S. labor force participation rate as can be seen in the graph below and now stands at only 63.5 percent.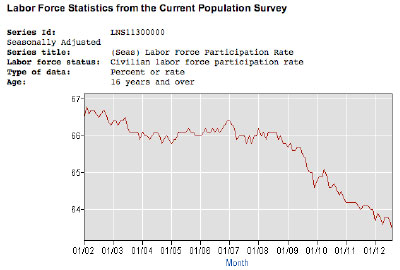 Courtesy Bureau of Labor Statistics
Workers such as Joel and Dan and the other Americans featured in Set for Life, who have not given up on finding jobs, are struggling to adapt to the labor market's turbulent ups and downs and its impact on their lives.
Joe Price, one of the three main characters in Set for Life, is a former steelworker from Weirton, W.V. Unlike the steady employment and rising standard of living that his father and grandfather enjoyed working in the mill, Joe's 25-year steel working career has been pockmarked by seven layoffs as the steelmaking industry in the United States contracted. When Joe's most recent layoff stretched to more than two years, he and his wife Jeanie saw their standard of living decline, their savings disappear and their plans for a secure retirement evaporate.
Joe searched for a new job on his dial-up Internet connection. He submitted 500 online applications. He earned an associate's degree in fiber optics. He volunteered to serve on Weirton's housing board. He renegotiated the terms of his mortgage with his bank to lower the payments, and Jeanie sold her jewelry, including her wedding ring, to help pay bills. 
Eventually, Joe successfully landed a full-time position with a solar mirror manufacturer, but the consequences of his roiling years of employment as a steelworker have tarnished the American Dream that he and Jeanie worked hard for a more than a quarter of a century to achieve.
"I haven't stopped thinking about the main characters and how they are incredibly dignified, hardworking and honest, despite their hardship and loss," emailed one Set for Life audience member after the screening.
The college-age audience members, apprehensive about their own entrance into the U.S. labor market, were chastened by the adversities that the older workers in Set for Life are enduring and trying to overcome.
"It should be mandatory for people in my generation to see this film," Madalyn Durgin, 21, said following Set for Life's premiere.
---
Set for Life is an official selection of the 2012 Massachusetts Independent Film Festival
and The Louisville International Festival of Film.

Link:
All opinions expressed by Susan M. Sipprelle are solely her own and do not reflect the opinions of Stay Thirsty Media, Inc.