By Michael Lara
Tokyo, Japan
---
"Running head on…To things that knock me down…Over again." While not included in 2001's cult classic Hedwig And The Angry Inch film, it is on the soundtrack and is a diamond in the rough. It was one discovery I came upon this past summer.
Another was on a sweltering summer Saturday afternoon in July after meeting my dear friend Hiromichi in nearby Sendagaya, famous for housing one of the 1964 Tokyo Olympics venues. Walking back from there through Yoyogi, I made my way to an obligatory stop at TOWER RECORDS-Shinjuku, still in vibrant operations despite its parental death in America years ago.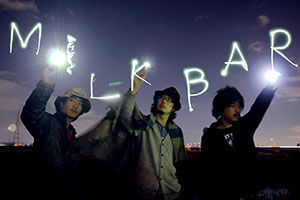 MILKBAR
And yes, since it was the weekend, it meant live music of some sort would be showcased, so my interest grew. Would it be a J-pop or K-pop band or what? Live in-store entertainment is always good fun as I have seen over the years at BOO-BOO RECORDS in San Luis Obispo, AMOEBA RECORDS in Berkeley and L.A., Apple Store-Ginza, McCABE'S in Santa Monica as well as in TOWER RECORDS-Shibuya. Of course, a guarantee of it being quality is never a given. Alas this day, "surprise-surprise," was my lucky day to find and be introduced to Kyoto's Naoya Kitakouji (vocals, guitar), Tatuji Terada (bass, vocals) and Ryouhei Kajitani (drums, vocals) of MILKBAR as well as their manager Sakamoto, after their outing in the famed Flags building in Shinjuku within the TOWER RECORDS-Shinjuku complex. I had simply stumbled upon a true find that needed to be shared.
Fresh from releasing their debut EP, these three coalesced to provide the kind of harmonic rhythm that can be easily put to a soundtrack for a road trip, alone or with others no matter the season.
Opening with "Shelly," its vibrant chiming freedom evokes a breezy confidence as its speed rises. The spinning, continued momentum of "Tears" slices through the clear waters ahead. The skipping, bouncy bass is awash in Naoya's calling to the surrounding seascape and his shipmates Rhohei and Tatuji. Piano sprinklings introduce steadily "Flashback" in its movement to the left and to the right that opens up into the running, swirling determination that builds in "Hungry & Summer." With sky's clearing, the seamlessly smoothness of "Beautiful Rain Town" slices through the waves as smiles flash from these three brothers from the cultural capital of Japan.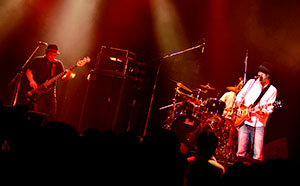 MILKBAR
Rest assured these three have the legs and willpower to cross any sea, desert or mountain range in extended travels. Fully anchored and motivated, what these three discover and create is something to hold close and tight, no matter the time, season or location.
Links:
www.milkbar.me
www.foghorn.jp
www.booboorecords.com
www.amoeba.com
www.mccabes.com
All opinions expressed by Michael Lara are solely his own and do not reflect the opinions of Stay Thirsty Media, Inc.