By Michael Lara
Tokyo, Japan
---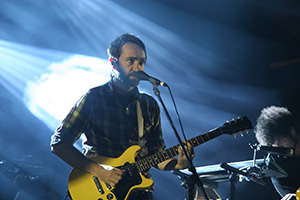 The Shins
"Now summertime's here babe, need somethin' to keep you cool. Ah now summertime's here babe, need somethin' to keep you cool. Better look out now though, Dave's got somethin' for you…" While penned way back in 1953 by Chicago bluesman John Brim, it wasn't for most until VAN HALEN covered "Ice Cream Man" in their seminal 1978 debut that it eventually gained worldwide fame and well-deserved accolades to Brim.
Not having to wait such an arduously long time, SMASH's ever-burgeoning FUJI ROCK was back for its 16th edition to give all the flavors to satisfy those ready for whatever Mother Nature would throw their way over its four-plus day gathering. It was unlikely eternal sunshine and warmth until Monday morning when showers helped exit all from these hallowed grounds.
As per usual, the campgrounds opened at high noon on Thursday, July 26th, but the queue for the most-determined seasoned or virgin punters started Wednesday night. As a blistering sun awoke the 300-plus awaiting entry in line at half-past four, it heralded an endless stream of humanity from all points of Japan and around the globe. Relief didn't come until noon when the lucky first rushed in to grab the prime camp spots, near the entrance or under a tree line.
James Iha
As people filled in steadily, a calm before the storm swirled about as all wore broad smiles, wide within the expansive campgrounds, imbibing their drinks, snacks and cigarettes of choice as music blared. All present pondered the hard choices of flavors to savor over the weekend just hours prior to the opening fireworks and celebratory evening hosted in the Red Marquee stage, which was set to ignite this long glorious weekend in pristine nature. Ready to relish the universals in life to be unleashed in full: music, drink, film, art, food and humanity, this was to be a most satisfying exquisite banquet.
As one awoke Friday morning under blue skies in the campsite and elsewhere, the anticipation for this day's menu was full, with both old and new wondering what would unfurl. The ever difficult-to-assemble foursome of THE STONE ROSES tightly came together as Friday headliners, opening with the hypnotically bass heavy "I Wanna Be Adored." Whereas the usual jester Mani in his PRIMAL SCREAM days, who ran playfully recklessly in past FUJI ROCK years, was clearly more subdued and focused on laying out his part large as John Squire unleashed his signature sound, while an ever-energetic Reni kept vital time as Ian clearly relished these four flavors making a monumental milkshake long overdue. First attempting to see them play in L.A. after the release of their seminal debut album in 1989, when their gig was abruptly cancelled, their gathering alone was reason enough to take the bullet train to Echigo Yuzawa station and rally to Naeba Ski Resort from Tokyo and all other points.
Jack White
The treasures this day and beyond were deep between countless new flavors introduced such as ELECTRIC GUEST, LOS LONELY BOYS, GOSSIP and veteran returnees such as THE BLACK HORN, THE TROJANS and THA BLUE HERB (all three were part of my FRF'00 baptism) as this international ice cream truck convoy would be held for days, satisfying the masses under a relentless burning sun that made up for a most rain-filled FUJI ROCK 2011.
Saturday, BUDDY GUY smoothly dished out all in both banter and music for those dedicated to travel to the outreaches of the Orange Court. Meanwhile, native favorite flavor DENKI GROOVE didn't disappoint as the lines wrapped around the Red Marquee, hoping to get a scoop of "Gari Gari Kun" and other flavors as did JUSTICE on the White Stage. Meanwhile, THE SPECIALS on the Green Stage duly delivered "Gangsters," "Guns of Navarone" and countless others in keeping momentum for this international ice cream parlor high in the mountains.
Sunday, the final and usual day of deep reflection for all newcomers and veterans, knowing the end was near, was full of more souls with their own special sauce and condiments to distribute on top of their respective sundaes. While RADIOHEAD at last headlined, the resounding verdict from patrons present was that theirs were a few days old, not in their tastiest form, yet still tasty. (However, I didn't personally have the pleasure to sample them this round.) Despite some patrons' disappointment, as when Flavor Flav was unable to join PUBLIC ENEMY at a past FRF, it didn't discourage the dedicated as a plethora of new and seasoned appetizers equally delivered their dishes beforehand and afterwards.  AT THE DRIVE-IN, DUMPSTAPHUNK, ELVIS COSTELLO & THE IMPOSTERS, JACK WHITE, JAMES IHA, REFUSED, HOWLER, OCEAN COLOUR SCENE and THE SHINS were just a few whose audiovisual sundaes invoked patrons to indulge at maximum capacity. 
The Specials
As all veteran patrons knew and those anew would soon know, the final destination was to be Crystal Palace and its adjacent gathering spot of Palace of Wonder. Until those final gasping hours on Monday morning, the last ones standing and dancing about there or at the Red Marquee enjoyed in full, reluctantly knowing that in a matter of hours they would be kicked off these festive-flavorful grounds, but with a most satisfied mind, body and soul and a strong will to be repeat customers.
"And if you let me cool you one time, you'll be my regular style." Indeed, once you sample this multi-staged, multi-day ice cream parlor guaranteed to satisfy, you are destined to return, eagerly ready to be their regular style for its run every July.
No matter had you economically camped or splurged in staying in the Naeba Prince Hotel or another sturdy sheltered place, one's life and outlook was again forever changed from the time spent together. A worthy life investment, another full-flavored one shall unfurl July 26th-28th, 2013. Be ready again for over 100 trucks to pull through these mountainous streets with a heavy stockpile of their respective treats.
Ian Brown (The Stone Roses)
FUJI ROCK FESTIVAL 2012
Naeba Ski Resort, Echigo-Yuzawa, Niigata, Japan
July 27th-July 29th  (Opening party July 26th)
Essential info to this Promised Land at the end of every July:
www.fujirockfestival.com
www.smash-jpn.com
www.smash-uk.com
www.fujirockers.org
www.smash-uk.com
www.princehotels.com
www.jreast.co.jp
Some of 2012's favorite ice cream trucks:
All opinions expressed by Michael Lara are solely his own and do not reflect the opinions of Stay Thirsty Media, Inc.