#40 - 6th ANNIVERSARY EDITION!
By Sarah L. Myers
Editor-in-Chief
New York, USA

It's my favorite New York City bar, my favorite New York Dolls song, and now it's my favorite way to get trashed.
There are probably many metaphors to be found in the setting of this month's column. I'm on an express Amtrak train heading out of New York City, with flashes of scenery moving just as fast as these six years. I'm also listening to Nick Cave and the Bad Seeds version of "Rye Whiskey" and, well, that's another story…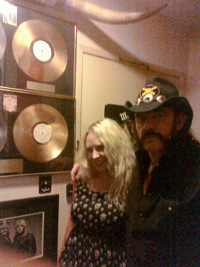 Sarah and Lemmy
We've all said the same thing - some things in life seem to have happened just yesterday, but also a lifetime ago. It's a trait reserved for the most significant events of our lives - a breakup, a journey, a death, a birth. I can pinpoint the exact details of the mundane, but our first Thirsty meeting lies behind layers of sentimental fogginess. If Trash didn't serve as my rock n' roll yearbook, I might have thought my 2011 L.A. birthday with Lemmy happened a couple of months ago. Only the warmth of NYC reminds me January was nearly one year ago. But which year? Trash archives take me right back to that night at the Rainbow, drowning in spirits with the cheap glow of the Sunset Strip a blur in the background.
I've had many favorite moments over the years and all of them involve my get-a-long gang of merry thieves: Jordi, Erin O, Jonathan Snipes, Traci Baker, Helen Kang, Dobrov, Garrett, Slagle, Pickle, Stephie, and Speedz,. I also extend huge thanks and many hugs to my boys in the Killing Floor, Prospector, and Des Roar, and my new batch of UK hooligans. I'm looking at you Rory, Pete, and Alice! They are as much a part of Trash and are honorary members of our Thirsty society. I'm waiting for the day I write this column from my apartment in London, a step I'm sure is just a few years away. But because I have to pick, here are a couple of highlights!
TALES FROM SIDESTAGE...
"Warren Ellis
If seeing Warren Ellis with the Bad Seeds is dangerous, and seeing him with Grinderman is violent, then Warren Ellis with Dirty Three is simply brutal. The influential trio made some of the most complex and beautiful music I've ever heard. It's like the score to an internal tale that's tragic, terrifying, and romantic all at once. The Bowery Ballroom crowd was hungry knowing Nick Cave was in town for his bookstore appearance, expecting him to perform. It happened in 2009 not even five feet from me - in a hall so quiet I searched for the one noise I heard outside the music, and found it to be Nick's boot heel keeping beat under the keyboard. Warren flailed and stomped about like he was shaking the spirits out. Everything about the night was incredible, and there's even more to come. Nick and Warren's latest collaboration, the double disc "White Lunar", is out now. The pair also scored the upcoming apocalyptic thriller "The Road", opening October 16th.
HALLOWEEN TRASH...
Sarah and Jordi
I am obsessed with horror - horror films, horror makeup, horror rock n' roll. I wait 364 days out of the year for that one special night when I can slather myself with stage blood (Ben Nye is the best, it coagulates and is even flavored!), and finally don that costume I've been constructing for weeks. No city does Halloween like New York. In 2010, the festivities fell on a Sunday, so everyone partied the night before. I'd found my costume back home in Indiana. A vintage 1940s trapeze uniform made of peach satin and candy-colored tulle, corseted, and holding me in within an inch of my life! I added some giant marabou feathers, heavy cord, broken glass (smash some plastic cups!), and a healthy dose of metallic glitter for that "antique zombie" look. Jordi made her costume from trash bags and electrical tape, making evil look glamorous as usual. The "Bloody Mary" party at the Hudson Hotel was a bust - the fire department shut it down around 12:30am - but it was worth the attitude just to see the latex-bound line-jumper murmur to the bouncer, "but I know someone at the hotel." Bargaining won't get you anywhere if you can't move your lips! So downtown we headed, where Marco and the Killing Floor boys helped DJ at Niagra. It was everything I wanted - the impossible trip home included. (Tip: just wave down an off-duty cab and offer cash at a double rate). Happy Halloween!
Maybe I shouldn't have chosen this location for this column. Trains make me sentimental as it is. I've written many poems and journal entries on the rails, and particular songs seem to hold more meaning. I decided on my "History" tattoo while listening to the Verve on the way back from Scotland. We've changed very much in the past six years, but Thirsty remains my most personal achievement. It's a testament to survival which takes many forms. It's an ode to insatiability, a forum for those who never stop searching and keep on when life kicks them in the gut. It's also a great outlet for stories about breaking ankles, drinking with the Kills, and dodging riots in Manchester at the Stone Roses reunion!
NYC TRASH…
I'll end this anniversary column with my exit from December 2011. Funny how this still rings true, just like it was yesterday.
"This year challenged my love for New York more than others. There were some pretty big transitions, but adapting to change is like taking a breath these days. I love my city, and it's proven itself to me in 2011. Those characters are definitely here. You may have created similar ones yourself, and are just as amazed that you can live where they do. I'm still surprised every day."
Until next time...

Links: