By Christine Baker
On the Trail, USA
---
Christine Baker and Jessie
Recently, I was hiking in the rain. It was at least 85 degrees out so all my raingear did was trap more sweat and moisture. My boots and socks were soaked through. I couldn't see more than a foot or two in front of my face. Every minute felt like an eternity.  In short, I was absolutely miserable.
I learned two lessons on that day:
1. Raingear really doesn't do much to keep out the rain.
2. Everything is temporary.
More often than not, when we look at our own lives, we are caught in this sense of slow motion - that things are happening slowly. But then when we look back on a year or a month, we realize the incredible pace of our lives.
Life is fluid. Each moment leads to a new moment with new possibilities. Buddhism teaches us that all things are temporary. It also teaches that while there is always suffering in life, happiness may always be found in celebrating friendship, family, and the gift of being alive. Yes, suffering is a fact. From our feet hurting after a long day to the pain of losing a loved one, there are different levels of suffering each of us must endure in this life.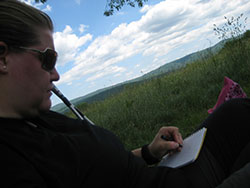 Christine Baker, On the Trail
When you wake up worried sick about a big meeting or presentation, don't stress over it. Look at it in a new way: In five or six hours, it will all be over. If you are dreading that dinner with your in-laws or the piles of laundry you have to fold, switch gears and just change your outlook. It is temporary. You will get through that dinner and you will fold that laundry. Your discomfort is just temporary. And maybe, just maybe, at the end of the line is a great glass of wine with your name on it.
That doesn't mean you can't allow yourself to feel miserable in the middle of a bad moment, but it just means that instead of carrying that misery around with you, just let it go and believe deep down in your soul the next moment or the next day or the next month will be better.
On the flip side, the realization that all things are temporary should make you enjoy the good moments even more. I remember spending time playing cards with my grandparents as they aged. I loved those moments because I knew my grandparents would not be with me forever, and I realized how much I was savoring every moment I spent with them. I wasn't worried about all the other things I could have been doing, but I simply enjoyed my time with them for what it was. No more and no less.
It's no surprise to the people who know me well that I tend to have a Type A personality and I like to control things. Hiking has stripped that Type A down to a Type F. The F stands for Flow. I've learned to go with the flow. I've learned that even in the moment when I am wet and tired and miserable, it is temporary and I know there is a sunny, warm, and dry day just waiting around one corner or the next.
Christine Baker, On the Trail
Don't give in to the discomfort of daily life. Move through your life with purpose. Take every step with a sense of pride that you are doing your very best to move forward. And remember, whether you're walking in the sleet or rain or in the shadow of the sun, everything is temporary.
Links:
www.walk4good.org
Facebook: walk4good
Twitter: @thewalk4good
YouTube: walk4good
Tumblr: walk4good
All opinions expressed by Christine Baker are solely her own and do not reflect the opinions of Stay Thirsty Media, Inc.