By Anna Murphy
New York, NY, USA
---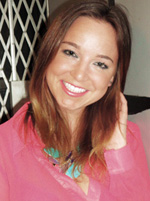 Anna Murphy
August means that the summer will come to an abrupt end in just a few short weeks. And while many of my comrades chose to fly the coop every Friday, jetting off to the Hamptons or other beach locales, I have been holding down the NYC fort the past few months.
Even the dog days of summer have flown by because, by year four (see also summer #4), I know how to keep busy:
Outdoor concerts: As a lover of all things live music, I firmly believe that the only thing that can make it better is an outdoor venue. Combine a starry night, warm weather, friends and great bands with food trucks and even WINE trucks and you get the truest of love. I attended Dirty Projectors at Prospect Park Bandshell in Brooklyn recently. While it's quite the trek from Manhattan, you feel as if you've been transported to a festival lawn. My biggest takeaway (other than noting the awesome acoustics of the great outdoors) was that everyone there looked so cool. Like music's fashion elite all squeezed into one awesome audience.
Cut to a show at Central Park's Summerstage to see Beach House. Victoria Legrand (female vocalist and half of the dream pop duo) sounded magical. Her voice was so powerful - round, resonating and enveloping, even though we were under a big open sky. I felt like I had left the sights and sounds of New York far behind. Even when it started to rain, the show went on, and like true New Yorkers, we all just brought out our respective umbrellas and sat it out. Looking out on the crowd from the bleachers (somehow we scored some optimal seating), I realized that the sea of people resembled a beach littered with colorful umbrellas.
Baseball games: Baseball is my favorite sport to watch. Now let me defend this before getting prematurely judged. Baseball is a social sport. By that I mean, you can watch with a group of people, carry on conversations, still keep your eye on the ball and take note of the score. One night, a pack of seven of us watched the Nats play the Mets at Citifield. Hailing from the Washington, D.C. area, I was rooting for the Nats. But as I live in New York, I was a fashionable 30 minutes late and had to track down a drink (wine) stand before actually getting settled in. I also picked up a spicy veggie dog too, because yes, these exist now. Also, in New York, you don't have to wear the hometown jersey and a baseball cap. I opted for a long, flowy skirt and plenty of chunky jewelry. My shoes may have also had a heel. What can I say? Baseball may be America's pastime, but when in New York...
Proximate bodies of water: We are an island, therefore we are surrounded by water; the East River on one side, the Hudson on the other. And from my experience, where there is water, there is also a breeze.
One Sunday morning, I took myself (along with trusty friends the iPod and a very worn Shades of Grey paperback) out to the river to catch some rays. Because most of the females I saw could have been doubling for a shoot of Sports Illustrated, I decided to lay among approximately ten scantily clad European-looking men, in various levels of undress. The most popular option was the bright spandex speedo, followed closely by what appeared to be briefs. I wish that was acceptable for us; to just strip down to our undergarments and lay out. It was so quiet and peaceful that I stayed there a full two hours (in a bathing suit I should add), only moving when it was time to turn over.
I'm also training for my upcoming October marathon and I have chosen the river trails as my preferred track since there are no holdups akin to those on city sidewalks, i.e., stop lights or baby carriages.
So while I must admit I have spent many-a-weekend this summer traveling, New York City in the summer isn't half bad and not the least bit boring…although I doubt I'll be that homesick when visiting my Hamptonite best friend at her summer home.
All opinions expressed by Anna Murphy are solely her own and do not reflect the opinions of Stay Thirsty Media, Inc.