#39 - 2012 JULY
By Sarah L. Myers
Editor-in-Chief
New York, USA

It's my favorite New York City bar, my favorite New York Dolls song, and now it's my favorite way to get trashed.
The fact that I begin every "Trash" with "it's finally here!" just proves what an incredible year it's been thus far. Last month I laid out our Stone Roses plans, and now the trip of a lifetime stands two weeks in the past. I had that great epiphany while in London – "I really feel at home here, I could do this." I slipped right into the scenery and stopped thinking of it as a vacation spot. Do I sense a better quality of life than in my NYC? Just as stimulating, just as full of endless possibility, but without the crush of 7,999,999 other people on your back. Every visit adds more to the What If box. Like anything, we'll just have to see what happens. In the meantime, the adventures of Two American Girls Abroad begins…. NOW!
England's Dreaming…
After a taxing flight into the UK (massive delays and gut-poking turbulence), Stephanie and I finally touched down on our overnight red eye. Our sunrise was their late afternoon, and the adjustment took longer than expected after having been awake 24 hours. We hit the ground running, meeting up with Pete and Alice for an epic night of pub-hopping in Angel. My mantra for the night went from "I think I'm starting to feel okay" to "there's no way I can hold a conversation" by 3am, and we took to the cold, wet London streets for the most impossible task of all – trying to get home! (NYC: 1, London: 0) Trying to stay awake became an experiment. Fueled up on iced coffees by the hour, we spent the entire next day in Camden. The clouds broke, then sun came out, and we browsed the Stables for quirky little treasures. England hadn't yet lost to Italy and the pub crowds spilled out onto the sidewalks in raucous waves. With our trip to Paris just hours away, Stephanie made the smart decision to rest up in Whitechapel. It was a running gag that we waited for the inevitable travel hiccup. Well, the next morning…
Je t'aime... Moi non plus…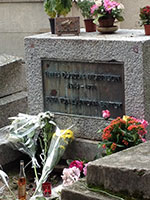 Grave of Jim Morrison
We missed our first train to Paris by seven minutes. In the first of many blessings, we made it onto the next one at no charge. Coffee was just more important that morning! The entire ride had my stomach coiled as a spring. It felt like a journey to Oz. The rolling green and roaming lambs reminded me of Scotland, but pulling into the station I felt completely transported. Coming up out of the Metro, seeing the first iron rails and whittled stone buildings, I've never felt farther from home. Our snug little hotel, tucked into the 10th arrondissement, showed us the real Parisians, far away from the touristy areas we desperately wanted to avoid. Our first meal had us pointing to other tables to order, so we started our day with red wine and beef and noodles. We stopped at the nearby florist for red roses and headed out the Pere-Lachaise. Having just rained, the moss shone almost neon green against the cracked, gray tombs as we searched out Edith Piaf and Jim Morrison. My red rose landed upright on its petals against a bottle of bourbon, testimonials gracing every inch of Morrison's gravesite. Our night concluded along the Champs-Elysees, which seemed completely American with its glaring advertisements and luxury chain stores. Back at the hotel we soaked our aching, blistered feet in the tub while sharing a bottle of wine in plastic cups, laughing hysterically out of pure exhaustion and astonishment. We made it to Paris!

Notre Dame

Sarah at Serge Gainsbourg's
apartment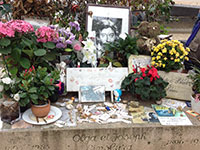 Grave of Serge Gainsbourg
The next couple of days were of the 18-hour variety. We hoofed it to every monument in the books. Sainte-Chapelle's stained glass took our breath away, Notre Dame's gargoyles and buttresses are so majestic they hardly look real, and the Eiffel Tower is so spindly and intricate it looks like a collection of taught wires. Our night on the steps of the Sacre Coeur was a surprise (who knew it became Panama City Beach at sunset?) but not even the aggressive, scamming wanna-be lotharios could spoil the view. Pulling out the big guns does come in handy at times, and the city has taught me well! (NYC: 1, Paris: 0)
My favorite part of the trip came the next day, which was dedicated to all things Gainsbourg. The Left Bank, with its cafes, bookshops, and winding streets, reminded me of the West Village. I thought of Fitzgerald sitting there, Picasso sitting over there, and Rimbaud stabbing Verlaine inside there. I put the whole of Montparnasse in a mental diorama and watched it all play out. The cemetery, much smaller than Pere-Lachaise, is elegant beyond words. Gainsbourg's grave was an explosion of letters, trinkets, flowers, and other offerings. Kisses adorned the marker, "Love on the Beat" scrawled next to his name. His apartment, on the Rue de Verneuil, was just the same. Not an empty inch of wall on the entire corner block. I could've spent hours reading each piece. We left our lipstick prints, gave the wall one last touch, then went in search of our next adventure, this one of the culinary type! In our defense, the café tables in Paris are very small, so when the waiter brought a second one to accommodate our lunch, I wasn't that embarrassed! We had an incredible moment at the Verres et Vins de Prestige, a tiny wine shop where we were welcomed in by the owner, his two sisters, and 8-year-old granddaughter. We sat near the back, sharing stories about our travels and a bottle of rose, while the little girl drew pictures for each of us. It was a wonderful way to spend our last night in Paris, and always the first story I'll tell when I recount the trip. Only about twelve hours stood between Paris and Manchester, and the whole reason for the trip was yet to come!
This Is The One…
I am a fanatic when it comes to the music I love. The LES gave me my Ramones, Dead Boys, New York Dolls, Blondie, and Patti Smith. Manchester earned my love at the same age, when I discovered the Stone Roses, Oasis, Joy Division, and The Smiths. I simply had to get there. The Roses announced their Heaton Park reunion shows, sending my head spinning and concocting a journey with Stephanie. We had about a month to throw it all together. The morning of was like Christmas. We boarded our first class train to Manchester, loaded up on coffee and amused by the boys aboard already drinking their Guinness and singing along to iPods turned up at top volume. It was like being on a plane to Vegas!

Stephanie and Sarah at
Heaton Park
Only when we reached Heaton Park did we feel crushingly American. Sundresses in sandals in a sea of Wellies and layers! The weather actually worked in our favor, and we only got a little muddy, though at that point we could've cared less. We were in heaven. Reni hats were everywhere, amyl nitrate bottles came out of pockets, and Mancunian men danced their drunken asses off. I expected a full riot when the beer queue became an utter fiasco, with the servers pulling the curtains, causing several guys to jump the counter and run off with cases of booze. The crowd of 70,000 pushed in as the Vaccines became the Wailers, who became Primal Scream, who did a shorter version of their 2010 "Screamadelica" set. Finally, as we stood on tip toes in the back, those first primary colors jumped up on the screen as selected letters formed STONE ROSES and Mani's thundering bass line introduced "I Wanna Be Adored". Ian was just a small figure from where we were, but his stance was still larger-than-life on the big screen. I loved how the crowd actually sang along to the guitar intro, something I'd only seen in videos up to that point. I'll let you readers watch videos, read NME reviews, and view crowd photos to get the full recap, as the proper descriptions of that night escape me. There are only two other shows I'll drop everything and cross the world to see, and both will be in England. I'll be writing my next Trashes from when Oasis reform, and when the Verve finally make up and return to Haigh Hall. Singing "Made of Stone" that night, off key, with a sea of people, was indescribable. I only wish the show had come at the beginning of our trip, as "I Am the Resurrection" coincided with us hitting the physical wall. It was the end of our marathon and our legs gave out. The sky exploded into fireworks as a friendly Mancunian walked us to the nearest Metrolink, sending us off for three short hours of sleep before boarding a 5am train back to London. The next morning's cab ride took us through Burnage at sunrise, which cast a warm glow on the squat, red-brick buildings of Liam and Noel's hometown. Manchester Piccadilly, littered with passed-out revelers and white-knucklers from the night before, was Port Authority with accents. (NYC: 1, Manchester: 1) It was a long trip back with red-rimmed and burning eyes, but we had a flight to catch. Switch a few time zones and we landed back in NYC, our journey behind us. That aforementioned travel hiccup never occurred… until I left my keys in the front door of my apartment that night. Yes, they were stolen. This is New York, after all.
Until next time...

Links: