By Robert Wolf
Decorah, IA, USA
---
Robert Wolf
Background: In the summer of 1966, on summer break from college, I stayed with friends Ross and Tom on Canyon Road in Santa Fe. Across the street from Ross's rental was the studio of Hal West, one of the last of the colony of older Santa Fe artists.
In late summer 1968, when I returned to Santa Fe from New York, Ross and I stood at the front of Claude's bar on Canyon Road thinking of our summer two years before. That was a summer of discoveries—meeting people, exploring the city, visiting a family on a nearby ranch, learning about a city that was so different from any other I had known.
That was a summer of excitement, and when I was alone I would wonder, "What are Ross and Tom up to now?" That summer I think we all lived with a constant sense of anticipation and excitement. What was next? Who might we meet? What might we see or learn?
"That," said Ross as we stood in Claude's, "was a golden summer."
We played melodramas Friday and Saturday nights in a 1880s saloon—the Tiffany Saloon in Cerrillos—which paid our way through that summer. The Tiffany was a survivor of the 1880s mining town situated about thirty miles from Santa Fe. Los Cerrillos, "Little Hills," grew from a tent city in 1879 to a boomtown with 21 saloons and four hotels in the 1880s. Today a few hundred residents live among a handful of the remaining old buildings.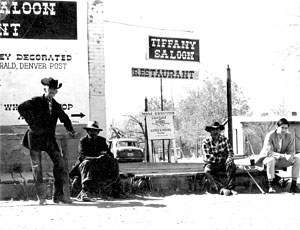 The Tiffany Saloon Street Corner
Cerrillos, New Mexico (1966)
Sometime in the spring of 1966, a friend from St. John's and I were having lunch at the Tiffany, which had an ample buffet of roast beef, creamed spinach, tacos, bean soup and much more that drew crowds of diners from Albuquerque and Santa Fe. The Tiffany's owners asked the two of us if we were interested in creating a summer melodrama. I was. I told Tom and we assembled a cast and ordered plays. The Tiffany's owners renovated the grocery store adjoining the saloon into a theater and rented a truck that we used to haul theater seats from Albuquerque. We began playing a month before school let out.
When school ended, many of the original cast left for home. Tom and I stayed and recruited Ross and Linda Durham, a former Playboy Bunny. I wrote two plays with small casts to maximize our take. Our piano player was one of our St. John's tutors.
For two weeks at the start of the summer, I stayed at the Palace Hotel, a three-story rock structure at the end of town that earlier had been headquarters for Henry Triggs' ranch that ran from Cerrillos almost clear to Golden. I spent nights playing melodrama and sleeping at the Palace, but the days were spent roaming long stretches of barren rock and sand, thinking that I would one day write, but all the time setting down nothing on paper. After two weeks in Cerrillos, I moved into Ross's Santa Fe rental, across the street from Hal West.
Hal was a western artist I had wanted to meet and now, on the first day of our meeting, I wanted him to join us for our plays.
"The three of us are in a melodrama out in Cerrillos," I told Hal. "We're doing a show tonight. Would you be our guest for dinner and the play?"
"A melodrama?" Hal said excitedly. "Why, hell yes, I will."
We decided we would eat at the saloon. Ross and Tom took off, while I stayed with Hal.
"You know, kiddo," he said to me as he dressed, "these impromptu parties are some of the jolliest." He put on an English tweed cap, a tweed sports jacket, and a green wool tie. He looked natty. To complete the picture, he grabbed a cane.
We crossed the street, got into Ross's car, and roared off for Cerrillos. Hal and I strolled around the dusty streets of this near ghost town as sunset approached, arm-in-arm. "You don't think it's odd my taking your arm, do you?" he asked.
"Not at all," I said.
"I'm not quite as firm or as strong on my legs as I once was. You might have to keep me from falling."
At the time Hal came to the show, we were presenting two short plays I had written. My favorite, The Authentic Life and Death of Wild River Jack Johnson, featured a cowardly bad man and braggart inspired by a St. John's classmate who drove an expensive motorcycle, but claimed to come from a family of Irish white trash. He also claimed to have sailed as a merchant seaman, ridden Brahma bulls, and been a Golden Gloves boxer. He was always going to "straighten someone out." Months after he made these claims, I saw him bouncing in a saddle, trying to ride a horse. I figured the rest of his brag was of the same piece.
The Tiffany Melodrama Players (1966)
After his first visit, Hal came to every performance. He cheered the villains and belittled the heroes.
Primed with drinks they bought before the show or from waitresses who constantly worked the aisles, the audience yelled advice and warnings to the hero and heroine. They threw peanuts at me (the villain in both pieces), and once they even threw such a continuous hail of peanuts that pin-pricked my face that I walked off stage, afraid for my eyes. (Later that same night, one customer even threw a Coke bottle at me.) Tom was upset and wanted to know why I left. I explained, but it didn't penetrate.
Those were great evenings on stage, roaring lines, losing lines, howling, shouting, hamming for the great crowds that poured in from the restaurant after they had dined. Standing at the crowded bar before the show or between plays or moving through the diners packed at tables, I felt the room electric with excitement.
We asked Hal if he would make a poster for us and he did. With brush and ink he drew a pretty little heroine, mouth open, being strangled by a villain who has his big hands around her throat. Standing beside the villain was the citified hero, holding a gun pointed at the villain's head. Tom learned to make silkscreen prints and made multiple copies with black ink on brown wrapping paper, which we posted around Santa Fe.
Ross and I never did have another summer like that one: we were now in the workaday world. As for Cerrillos, it was almost a ghost town when Tom and Ross and I played melodrama there, but not long after the summer of 1966, it lost two of its most prominent survivors from the 1880s—the Tiffany Saloon and the Palace Hotel, both destroyed by fire.

Link:
Free River Press
American Mosaic with Robert Wolf
All opinions expressed by Robert Wolf are solely his own and do not reflect the opinions of Stay Thirsty Media, Inc.