#38 - 2012 JUNE
By Sarah L. Myers
Editor-in-Chief
New York, USA

It's my favorite New York City bar, my favorite New York Dolls song, and now it's my favorite way to get trashed.
It's finally here! Loyal Trash readers know I am a summer girl. After surviving Chicago winters, I could live without ever seeing a snowflake again. I get depressed when the sun goes down at 5pm. Now that it's June and our daylight stretches past 7:30pm, I'm pulling out the sundresses and sandals and permanently setting up shop at Coney Island (how I love you, Freak Bar). So let's kick off the season with a special summer edition of Trash, shall we? Here we go!
Simple Summer Pleasures in New York City
Mermaid Parade
(Sarah, Whitney Ward and Jordi)

Sarah and Stephanie

1. Concerts! We're hitting the road this year for a proper festival gig – Firefly! Just how many city dwellers can fit on a train to Delaware? Hopefully this trip erases the pain I felt at having missed Jack White's two NYC appearances. Back home in the city there are too many to list. I can't wait to hit up my Mercury Lounge, Piano's, Bowery Electric, The Delancey, the old faithful Trash Bar, Fontana's, Terminal 5, and so many more. You can literally jump from one venue to another in the same night!

2. 200 Orchard, our home away from home. I can't think of anything better than Tuesday night trivia with Jade serving Guinness behind the bar. Add in our two favorite Irishmen, Ramie and James, and it's going to be a perfect summer. There's even a photo of our Erin's O's beloved, Ali from Stiff Little Fingers, hanging in the bathroom!

3. Mermaid Parade! I cannot stress enough how imperative it is to experience this just once. Truly unlike anything I've ever seen, the Mermaid Parade could only exist in NYC. Readers know what it is, so I won't digress. But expect nudity, drunkenness, glitter, beer and more beer. I'll be across the pond for this year's melee, but I'll leave it to the gang to represent.

4. Coney Island, of course. Dangerously strong mixed drinks at Cha Cha's, dangerously delicious chili cheese fries at Nathans, and the just plain dangerous state of the boardwalk after the sun goes down! This place is my heart.

5. The outdoor garden at Yaffa Café on St. Mark's, margarita pitchers and tater tots at Trailer Park in Chelsea, caipirinhas and calamari at the legendary El Quijote, the fabled ass juice at Double Down (don't ask), steak frites at Les Halles (downtown, always downtown), and beyond spicy curry in the LES. We tend to overeat in the summer…
Stone Roses Trash…
Sarah and Stephanie
This is the big one, you guys! I started planning my next trip to London in April, pretty much the second my plane touched down at Newark. I was hell bent on attending one of the Stone Roses reunion shows in Manchester, yet knew I had to wrangle the perfect partner in crime. Just one week after the initial discussion, Stephanie bought us two tickets to Stone Roses and Primal Scream at Manchester's Heaton Park. If there was one thing I truly never thought I would see, a Stone Roses show ranks at the top of the list. As a massive Oasis fan, I always loved the Roses. "Waterfall" is one of the most beautiful songs I've ever heard. Knowing I'll see Ian Brown sing those words in his hometown, in front of a sea of people in the middle of summer, is almost too much for me to think about right now. We're also taking a short trip to Macclesfield to pay our respects to Ian Curtis, which holds more personal significance than I can express. Stephanie and I detour to Paris for three days, so expect a VERY international version of Trash next month! The adventures continue!
After a summer that's already included interviewing Rob Zombie, hanging with The Adicts, meeting back up with my dear friends The Dirt Daubers, and a week in the paradise of San Juan, I know the next couple of months are going to be beyond thrilling. Stay with us every step of the way as we bring you a truly Trash-tastic summer!
See you on the boardwalk!
Until next time...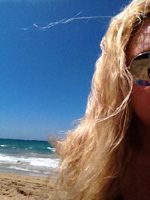 Links: